What are the best conversion tracking booking plugins for WordPress?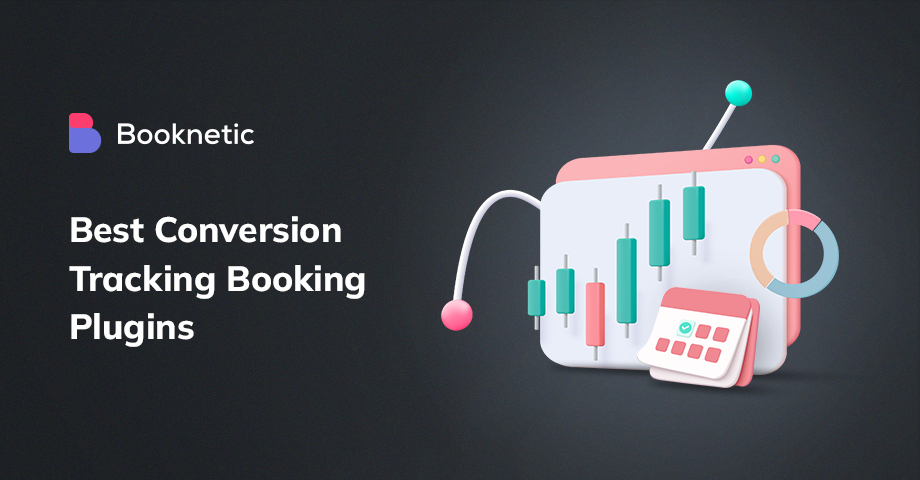 A good ad campaign does one thing and one thing only: it gets you leads, generates traffic, or however you might call it. The process of turning these leads into customers is what we call conversion.
Conversion is something that seals the fate of many businesses. They either get it, or they fail entirely. The worst part, most of them don't even know if they nailed or failed until the very end!
Today we describe how a good conversion process should be and list some great WordPress conversion tracking booking plugins that can help you determine if you are going strong or if you are on a path of failure.
What are the benefits of conversion tracking
Tracking conversion can help you determine if your strategy is working, but how?
Implementing a conversion tracking system can help you assign value to your business and design practices, measure them along the way and tweak it according to your goals. A sound conversion tracking system can show you all the gaps in your strategy and help you fix the problems quickly and efficiently.
Below are several conversion metrics that can help you find ways to generate traffic, leads, and sales and track how your marketing campaigns and overall customer acquisition strategies align:
Lead conversion rate - shows how many users actually saw your campaign actually turns into leads.
Time to convert - explains how much time visitors spent before deciding to use your services.
Cost per conversion - this one is self-explanatory. It shows how much it costs you to convert one lead to a customer.
Lead value - with it you can measure how much you can make on average from a visitor to your site.
Lead-to-sale conversion rate - describes which percentage of your leads actually turn into your customers.
Conversion ROI - it helps you to track how much is your return on investment per conversion.
How a good conversion model look like?
We discussed how you can build a powerful conversion model in your business in our 6 Tips to Build a Profitable Sales Funnel on Your Website blog. Conversion starts where lead generation ends, so you should make that transition as seamless as possible to create the best experience.
A good conversion model should be data-rich. To build lasting customer relations, your website should touch on the pain points of the prospect, meet expectations and cover interests with the correct content marketing strategy. For the second step, a model should focus on establishing clear communication channels with potential customers. With these communication channels, you can effectively contact customers and nurture them. It is also good practice to offer something for free or for a really good bargain to make the customers feel like they won.
How to know if your conversion model is good?
You may include all the details mentioned above in your overall plan, but still seem to not get the results you want. To minimize these problems, you should keep track of your conversion metrics. Conversion tracking varies depending on your industry, but the main industries are as follows:
Services/booking
E-commerce
These industries are vastly different from each other. For example, in an e-commerce site, conversion can be considered as completing a purchase, an act that involves money transactions and requires a certain amount of research. For services, however, a successful conversion may just be an inquiry or schedule a demo call.
That is why you should customize your conversion tracking according to KPIs and successful conversion criteria. In the next section we will mention several conversion tracking plugins for each of these industries and what makes them an excellent choice.
Note that most of the conversion tracking in WordPress websites is done through Google Analytics. You can check our blog about Google Analytics WordPress plugins if you want to learn more.
8 Conversion Tracking Booking Plugins
To survive in the services sector, you need to be above the curve as it is arguably the hardest industry to stay afloat as a business. You should prioritize collecting quality data to ensure that you are aware of all the metrics in your website.
You need to make use of webhooks and events to keep the attention of your prospects and nurture them into making an appointment. Keeping track of users in each step of the conversion is a must-have feature and you need to see what your users are doing at all times. WordPress lead generation plugins can help you to find and collect leads but still may not quite be fit for acquiring and collecting users. If you are looking for WordPress booking conversion tracking plugins, you have come to the right place.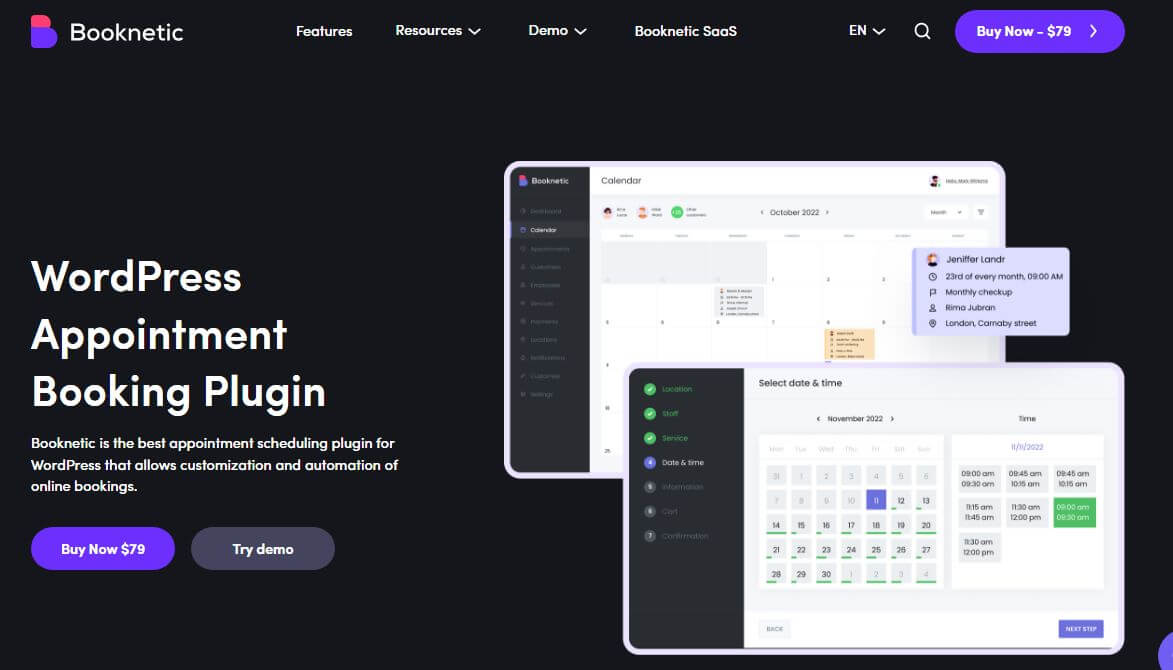 Booknetic is a WordPress appointment booking plugin that also supports conversion tracking across your website. Thanks to its sleek design and easy-to-understand interface, you can see what your users are doing until they book an appointment. With its many useful features, it's simple to set up a fully automated online scheduling system on your WordPress website.
This conversion booking tracking plugin allows you to effectively nurture your prospects and guide them into being your customers. With webhooks, it is straightforward to build an interactive website that responds to users' actions. You can send automatic notifications, request to fill in contact information or show a booking calendar to make the sale right on the spot.
Its distinct and powerful feature conversion tracking lets you see all the important information about the booking process at a glance. You can see when users loaded the booking panel, selected location, service, staff, date, time, when the information step completed, booking completed with or without payment and if any errors occurred.
Features:
Fully automated booking calendar
Custom booking forms
Conversion tracking
Webhooks
WooCommerce integration
Email, SMS, WhatsApp and Telegram notifications
Automation with workflows
Google Calendar and Zoom integration
Multiple location and staff management
Stripe, Square, PayPal, Razorpay and Molly payment gateways
Pros:
Pleasing user interface
Powerful tracking options for better understanding
Lifetime license
Cons:
Price: $79 for lifetime license
Start Booking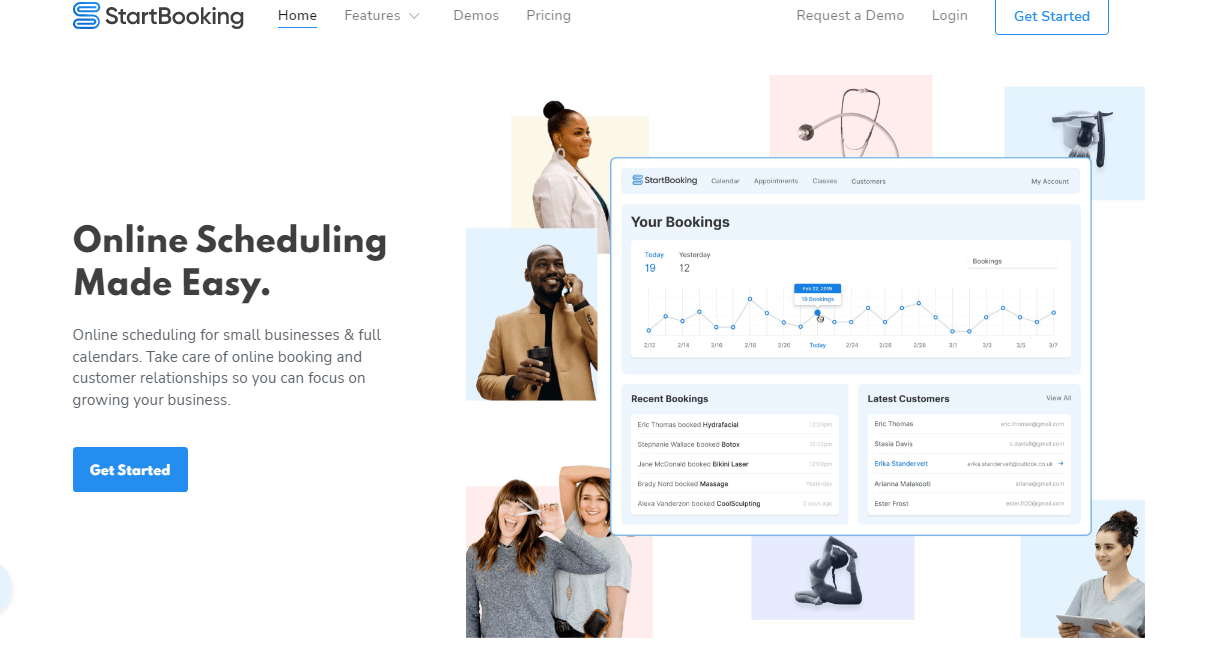 This versatile plugin comes with plenty of features with your business in mind. Visitors can see open appointments and times, schedule appointments and manage them with ease. Its integrated CRM module also helps to build a strong retention strategy in your business.
With its Google Analytics integration, Start Booking turns into one of the best conversion tracking booking plugins out there. It helps you to better analyze consumer behavior with real-time page views, impressions and eCommerce metrics.
Features:
Online booking calendar
"No coding required" approach
Class and group scheduling
Customizable forms
Automatic reminders
Google Analytics tracking
Google Calendar and Zoom integration
Stripe payment gateway
CRM support
Pros:
Real-time page views
No coding is required to set up
Cons:
Price is higher than competitors
Can only accept payments via Stripe
Price: $25/Month for basic plan, $75/Month for business plan
Simply Schedule Appointments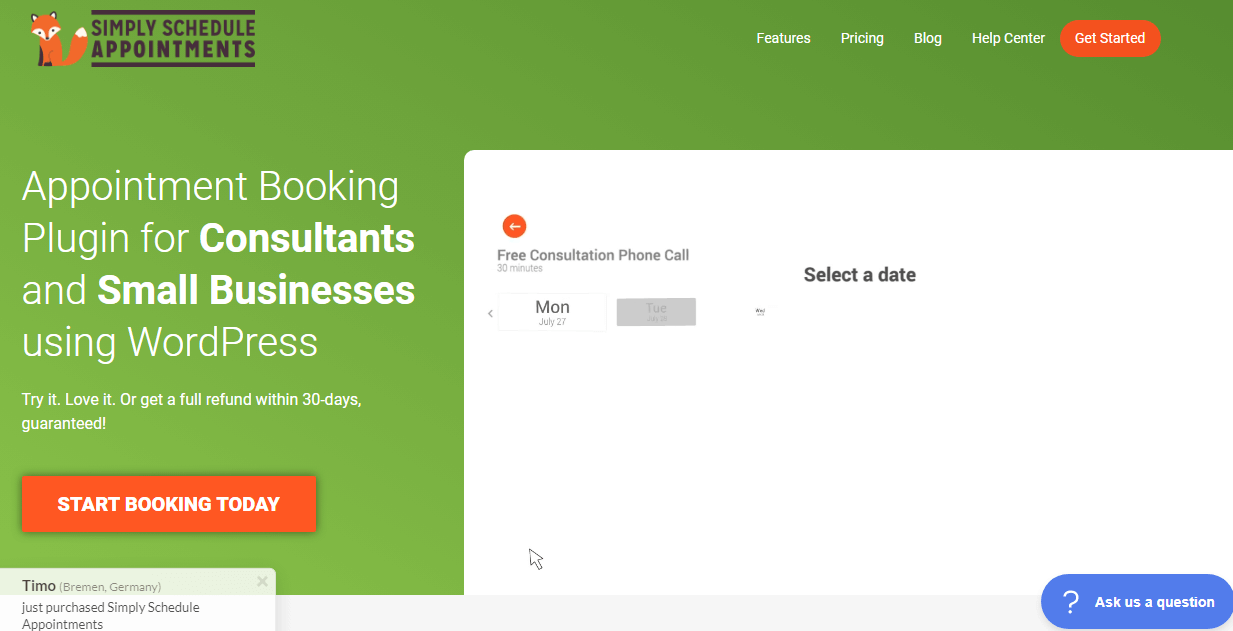 As evident from its name, Simply Schedule Appointments makes it straightforward to schedule appointments. This is valid not only for the customer but also for the business owner! As a small business owner, you don't need to know any code to set up this plugin on your website.
Although it doesn't come with as many features, it still gives the basics and many powerful features to complement your online scheduling business. Simply Schedule Appointments comes with Facebook Pixel, Google Tag Manager and Segment integration, which even the most powerful WordPress plugins for conversion tracking fail to provide.
Features:
Setup wizard
Customizable online calendar
Wide range of scheduling options
Webhooks
Conversion tracking
Custom email reminders
Google Calendar and Zoom integration
Class and group bookings
Stripe and PayPal payment gateways
Pros:
The setup process is simple
You can put the calendar anywhere you like
Lifetime license
Cons:
Lacks major functionalities
Price is higher than competitors
Price: $99 for plus, $199 for professional, $299 for business edition
Amelia

Amelia is one of the most popular conversion tracking booking plugins out there. It comes with extensive features and opens the gates of online scheduling to your small business.
When it comes to features, Amelia truly shines. Among conversion tracking booking plugins for WordPress, this plugin offers versatility with customization. It supports both Google Analytics and Facebook Pixel tracking to maximize the information flow and utility of your website. Combined with webhooks, you can easily tweak your website to get maximum benefit.
Features:
Customizable online calendar
Webhooks
Conversion tracking
Email, SMS and WhatsApp reminders
Group and class bookings
WooCommerce integration
Google Calendar and Zoom integration
Mollie, PayPal, Stripe payment gateways
Pros:
Customizable user experience
Comes with a lifetime license
Cons:
Lifetime license cost is extremely high
You need to pay extra for advanced features
Price: $199 for basic, $399 for pro lifetime licenses
Conversion tracking eCommerce plugins
WooCommerce plugins need to have a lot more functionality to correctly measure all the data inputs made by the user. In e-commerce sites, giving up a little bit of speed for more functionality is mostly accepted behavior. Here are a few plugins for e-commerce conversion tracking.
Actionable Google Analytics for WooCommerce
WeDevs WooCommerce Conversion Tracking
Exactmetrics
Analytify
Actionable Google Analytics for WooCommerce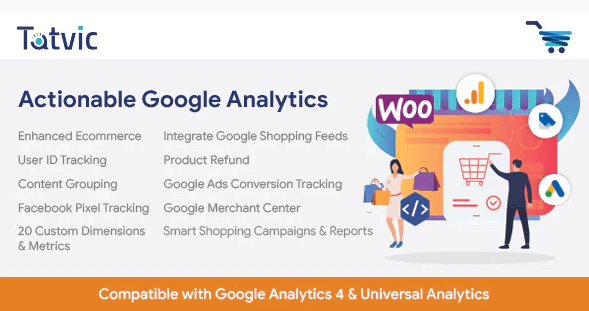 This plugin is among the top conversion tracking plugins for WordPress you can use in your e-commerce website. Alongside Google Analytics' advanced e-commerce tracking, this tool also comes with Google Optimize for snippet support and Facebook Pixel tracking.
With this plugin, you can see how users interacted with your website, what they added to their wishlists and carts, how they checked out the products and how many suggested products they viewed. It is a great option with its lifetime license and affordable price point.
Features:
Audience, Behavior and Acquisition
All GA Enhanced eCommerce reports
Checkout and shopping behavior tracking
Extensive reporting
Facebook Pixel support
Product performance tracking
Google Optimize and Google Merchant integration
Pros:
No coding required to set up and use
Supports many platforms and tracking features
Data rich reports
Cons:
No support for custom events out of the box in the Facebook Pixel tracking
Can't categorize product types
Price: $155 for lifetime license
WeDevs WooCommerce Conversion Tracking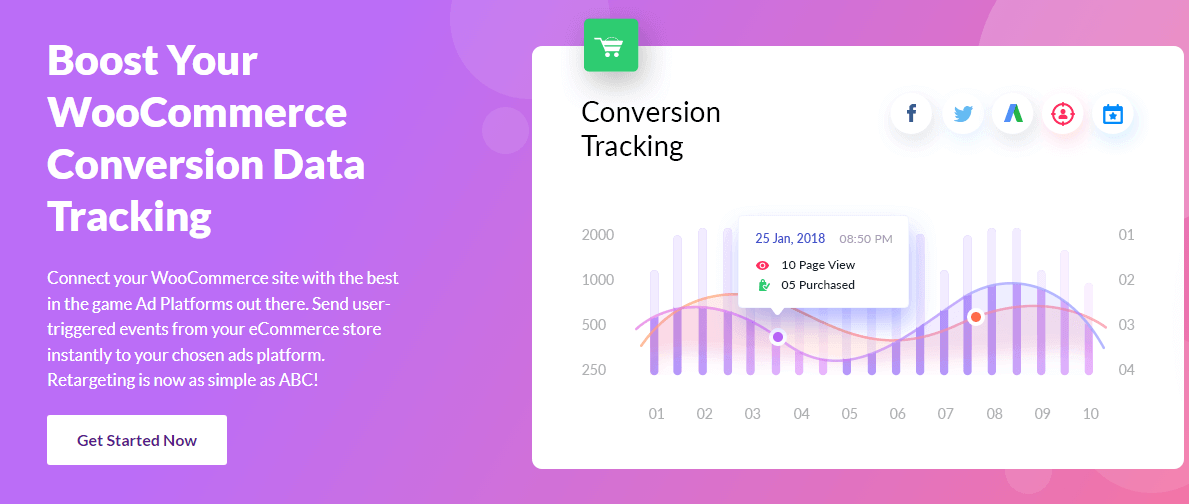 This versatile WordPress plugin for eCommerce conversion tracking makes it easy to track your conversion across the internet. You can see the performance of your business through multiple platforms. It is possible to track with Facebook Pixel, Google Adwords, Microsoft Advertising and Twitter.
With this tool you can create custom tracking rules, which can help you define the ground for specific KPIs of your business or you can make use of tracking from many platforms. It is possible to see what people searched, what they added to their carts and wishlists, how much time they spent and what was their behaviour during the checkout.
Features:
Google Adwords, Facebook Pixel, Microsoft Advertising and Twitter tracking
Product category and catalogs for easier tracking
Search and lead tracking
Registration and user tracking
Wishlist and cart tracking
Perfect integration with WooCommerce
Pros:
Easy to use with WooCommerce support
Setting events as trigger to increase interactivity
Great re-targeting options
Cons:
Requires to know coding to implement advanced functions
Doesn't offer Google Analytics tracking functions
Price: $99/Year
Exactmetrics

Exactmetrics is a premium conversion tracking plugin that enables a lot of tracking options with no coding required. You can track all user activities with this powerful plugin and get detailed reports about the most important metrics for your eCommerce business.
The tool allows you to see the real-time activity of users, see which content on your website is getting more views and enables you to build a better website with its A/B testing options. Also, you get a detailed summary of your business every week via email.
Features:
Google Analytics 4 support
Real-time tracking
Affiliate and outbound tracking
Detailed Google Analytics dashboard
Ad and eCommerce tracking
Behavioral analysis and tracking
Pros:
Wide range of useful features and detailed reports
Simple design and easy-to-use interface
Google Optimize integration with wider options
Cons:
A little bit expensive
Can weigh on your website
Price: $199/Year for plus plan, $399/Year for pro plan
Analytify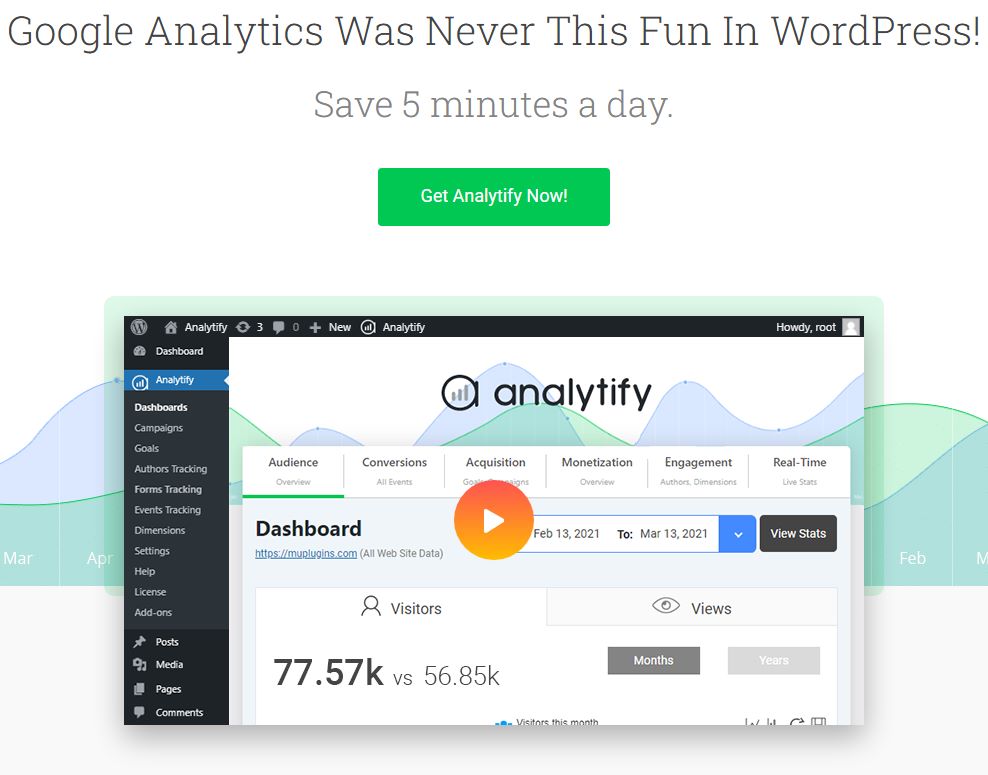 Analytify gives you the power of a fully functional Google Analytics plugin while also saving you the trouble of setting it manually. Thanks to its simplified design and statistics page, you can see the most important data for your website at a glance.
You can keep the track of real-time user activity, as well as the performance of your ad campaigns throughout the internet and analyze the geolocation of your visitors to better serve your products in an eCommerce setting. With its automated email reports, you don't need to remind yourself every time to check your dashboard.
Features:
Custom post types and post tracking
Google Optimize and Events tracking
Enhanced link tracking
WooCommerce tracking
SEO score tracking
Real-time tracking
Weekly reports
Geographical tracking
Pros:
1 click setting up
Easy-to-understand metrics
Enhanced eCommerce tracking
Cons:
Price can be a little high
You need to pay extra for addons
Price: $99/Year for pro plan, $199/Year for conversion plan
Bottom line
Overall, setting up conversion tracking on your website is crucial for your website. If your website is an eCommerce platform or a newsletter/blog, you can give a shot to the conversion tracking plugins we mentioned above, but if you are operating based on bookings, then Booknetic is your best option.
Among conversion tracking booking plugins for WordPress, Booknetic is flexible that provides you with a WordPress booking conversion tracking plugin functionality and lets you build an online appointment booking system from the ground up. Try Booknetic now!
Sign up for our newsletter
Be the first to know about releases and industry news and insights.
Let's

get started

on something great
Booknetic is a simple yet powerful plugin for accepting online bookings & payments on your WordPress site.