Top 5 Plugins to Build a Recruitment Software on WordPress
Creating a website for jobs and recruitment can be an interesting business idea because with a credible website you can sell job listing places to employers to earn money online along with ad revenue. But all of this begins with having a foolproof, professional-looking platform that can compete with some of the largest online job websites.
While you can build a custom web portal from scratch with the help of professional web developers, it is going to be a long and expensive process. On the other hand, you can start out with a WordPress-based website and use various plugins and themes to build software for job posting and recruitment.
When it comes to website development, WordPress is presently dominating the web hosting market by powering 43% of the websites on the internet. WordPress is only an easy-to-use website development platform but the millions of WordPress plugins and themes make it the most versatile web tool as well. It can be used to develop almost any type of website including a recruitment and job board website. The WordPress community offers endless options of plugins for job board websites and here we have shortlisted five of the best WordPress recruitment and job board plugins for you.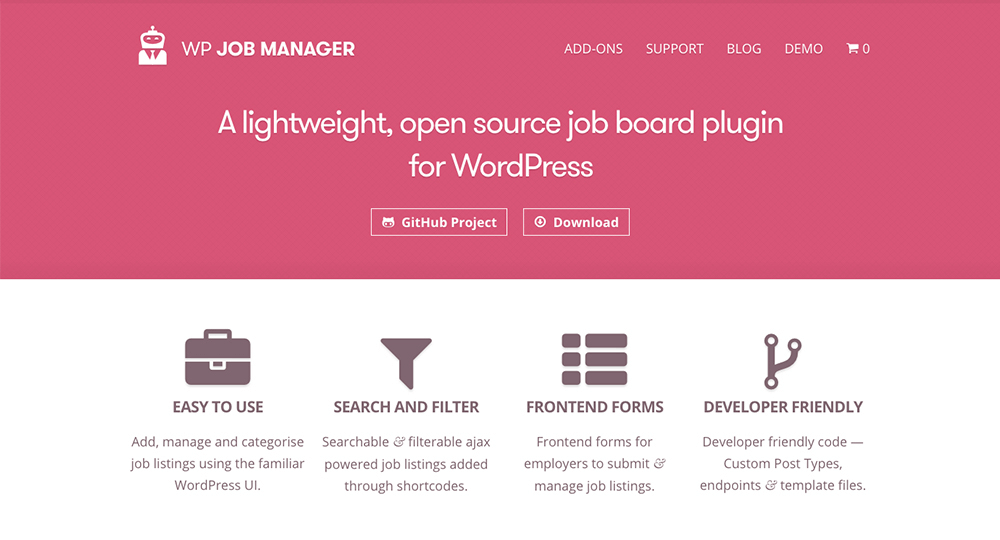 If you are dabbling in WordPress website development for the first time and don't have any design and development experience, use WP Job Manager. Trust us, it doesn't get easier than this!
With WP Job Manager, you can start building your recruitment software on WordPress from scratch and end up with a high-quality job website with cool features and UI design. The plugin is easy to set up and highly developer-friendly, which means the code is simple, clean, and can easily integrate with any WordPress-based website. If you wish to extend your job board website with custom elements and complex features, you can also hire a developer who can easily modify the code to include your desired additions.

Here's everything that WP Job Manager offers:
Sophisticated job portal dashboard and UI
Filterable job listings
Frontend employer forms
Resume manager add-on
Payment portals
Email alert add-on
The best thing about WP Job Manager is that the core plugin is free and it can be used by anyone to build a simple job board website. However, the premium add-ons for functionalities like email integration and resume manager are paid.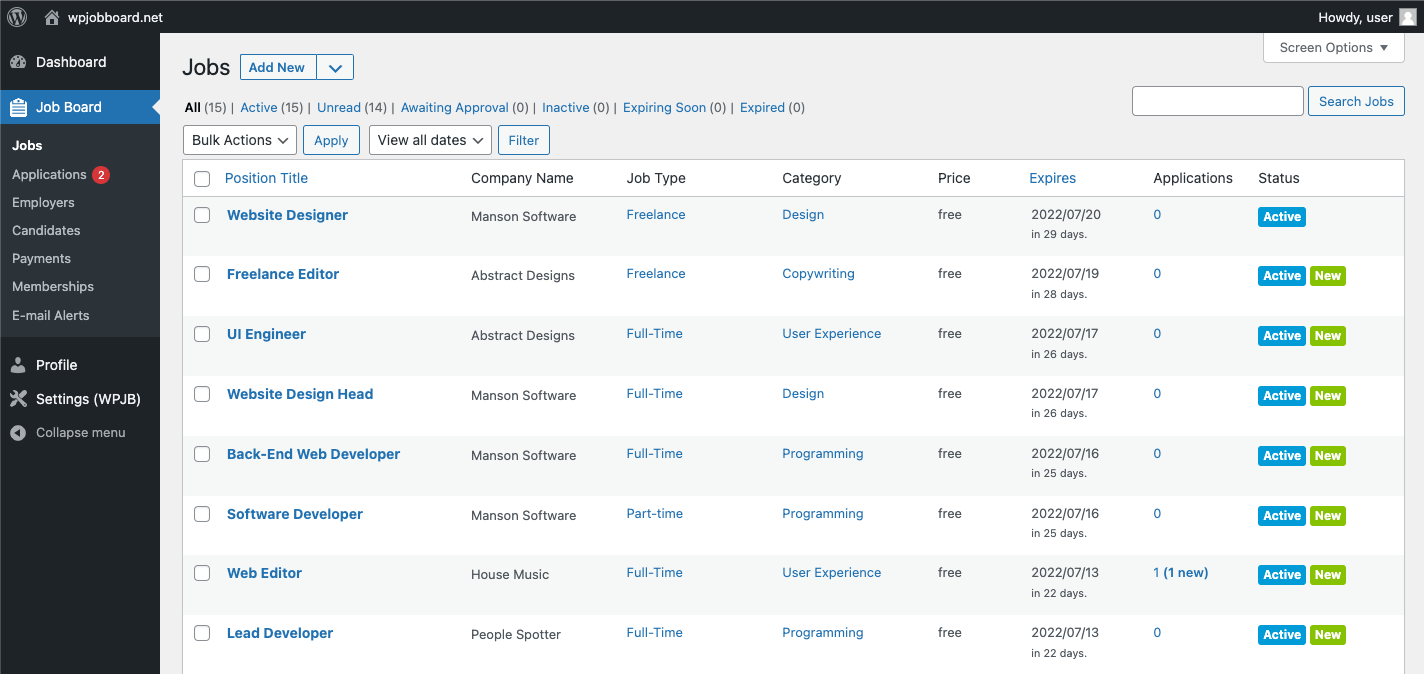 WPJobBoard is another feature-rich plugin that offers a wide range of functionalities to run a job board website. It is best suited for solo entrepreneurs that want to build their own job and recruitment software on WordPress because it offers a complete toolkit to build, deploy, and manage a job board. From customizable job board themes to dedicated frontend dashboards for job candidates and employers, WPJobBoard has it all.
The main features of the plugin include:
One-click installation
Frontend dashboards for employers and job applicants
Easy job submission forms
Drag and drop editor
Payment gateway integration
SEO and social media features
WPJobBoard offers two types of licenses, personal and business, that cost $97 and $199 respectively for a year-long subscription.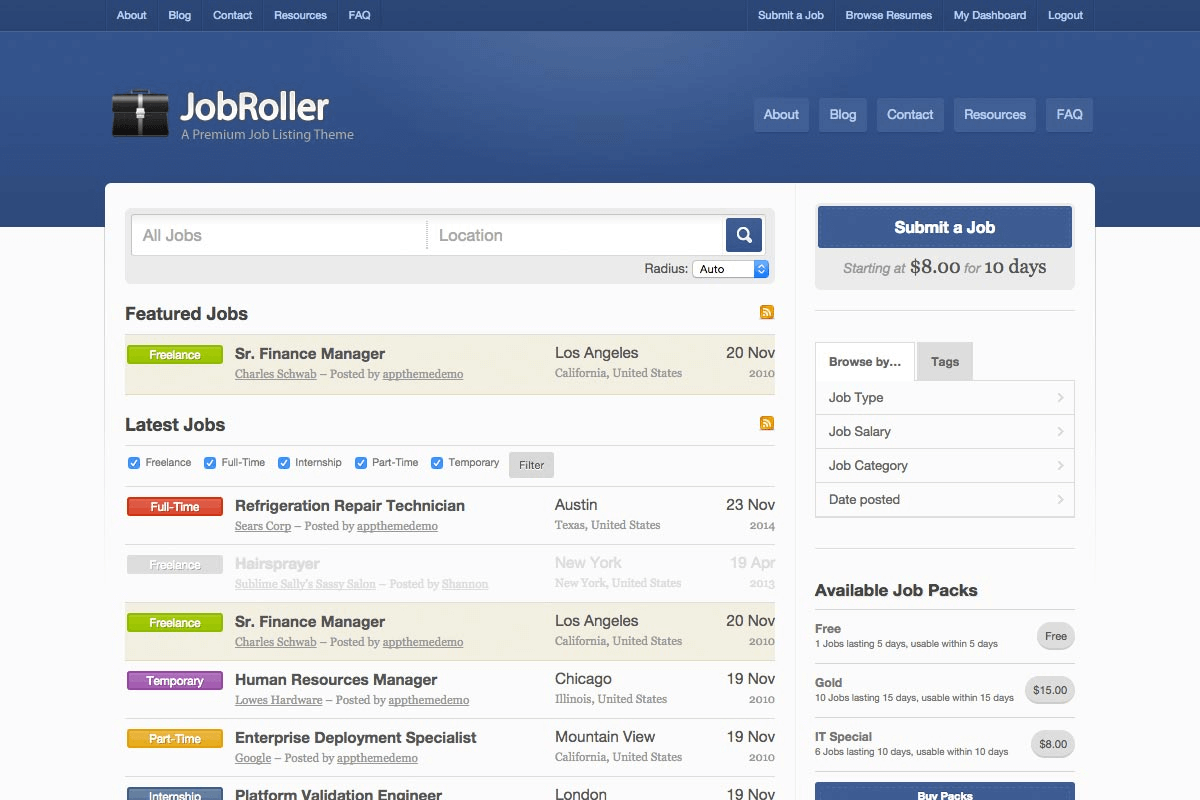 JobRoller is another great option for a WordPress recruitment software plugin that offers a comprehensive set of functionalities at competitive prices. With JobRoller you do not have to worry about not having a professional developer to build and maintain your job board website. It is ideal if you wish to save yourself from the long and laborious website maintenance work because JobRoller simplifies everything for you.
It offers features that make it easy for you to post job listings, maintain and update information, receive applications, and streamline the entire job application process. JobRoller offers separate web portals for employers and job seekers and each portal provides useful tools to its intended user group.

JobRoller offers the following amazing features:
Dedicated portals for job seekers and employers
Customisable job categories
Structured and searchable databases
Secure online payment
AJAX & jQuery features
In terms of pricing, JobRoller has a simple policy with two packages of $69 and $199 with tons of cool functionalities.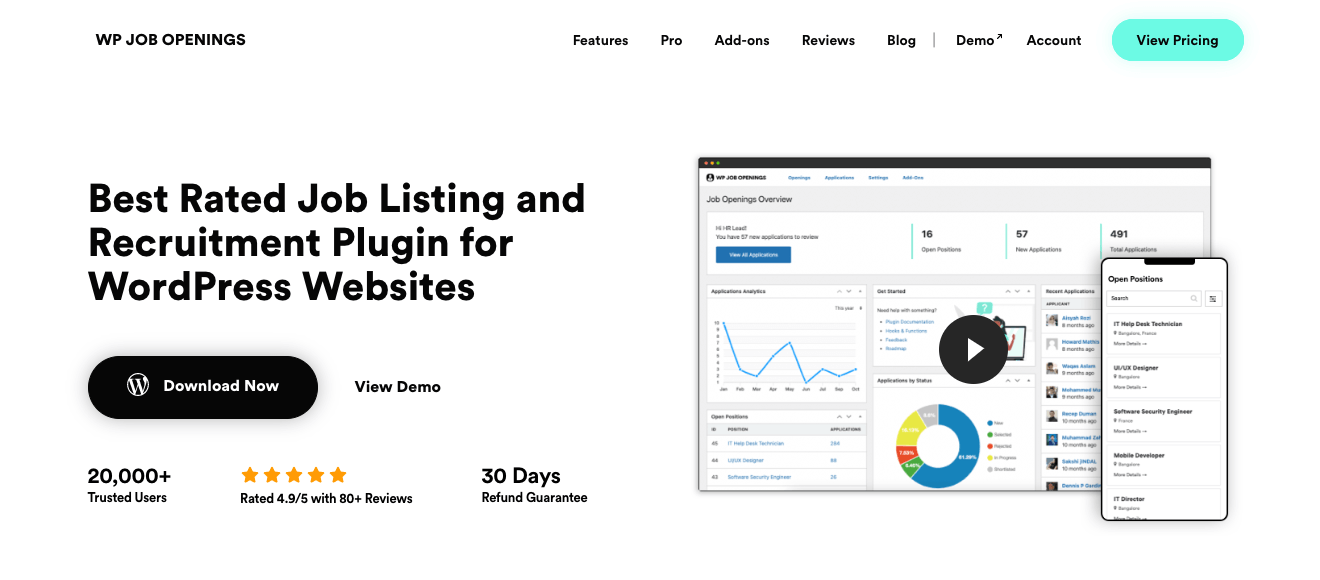 If you are looking to simplify the process of building recruitment software on WordPress, WP Job Openings is all you need. It has 20000+ active installations and great reviews that prove how useful it is. WP Job Openings offers a wide range of tools and job listing layouts that makes the website development process simpler. The main features of the plugin include:
Responsive website templates
Customisable forms
Powerful search functionalities
JobListing schema
Emailing system and templates
Whether you are looking to build a careers page for your company's website or start a job web portal as a business, you can use the WP Job Openings plugin to create a professional-looking website.
WP Job Openings offers multiple pricing packages based on annual and lifetime subscriptions, starting from as low as $49 per year.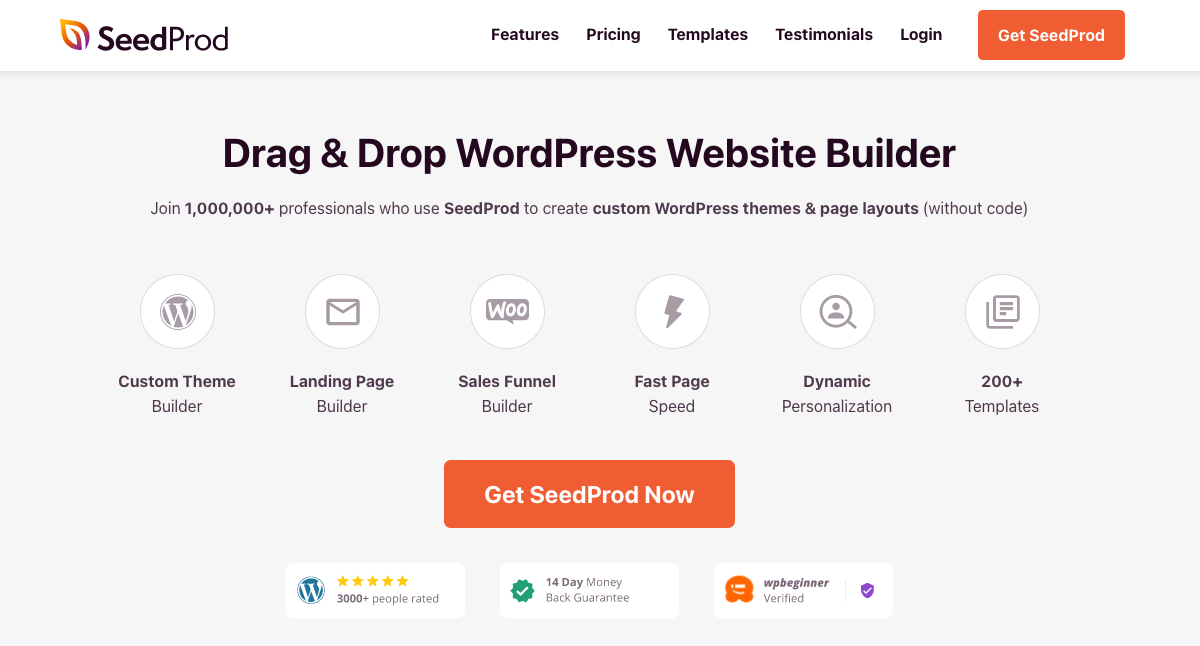 SeedProd is another top plugin to add to your recruitment software on WordPress. It is famous for its customizability and user-friendliness because it makes no-code website development extremely easy, even for newbies. With SeedProd you can build an attractive landing page for your recruitment website and customize the design to match your brand with practically zero coding and design experience. Yes, that's how easy it is!
You can install the latest SeedProd version and choose from the already available site formats and templates and customize elements of the design using its drag and drop builder. In case you want a fresh website design and avant-garde layouts, you can simply import a template of your choice and build the landing page and job board that you desire.
The key features of SeedProd include:
Website templates
Theme builder
Drag and drop page builder
Subscriber management tools
Email Marketing Integrations
Domain Mapping
SeedProd offers multiple packages at different price points starting at $79 for a basic yearly subscription.
==> Also read: User Registration Plugins
Conclusion
There you have it, the top 5 WordPress plugins for recruitment and job boards. While there are tons of other similar plugins on the market, we have narrowed down our choice to the five aforementioned plugins because they are the most user-friendly, cost-effective, and reliable options. So start your recruitment website development journey by choosing a plugin from our top picks and don't be afraid to experiment and customize elements to make your job board website stand out.

Sign up for our newsletter
Be the first to know about releases and industry news and insights.
Let's

get started

on something great
Booknetic is a simple yet powerful plugin for accepting online bookings & payments on your WordPress site.