8 Best Music Studio Booking Software for Recording Studios (2023)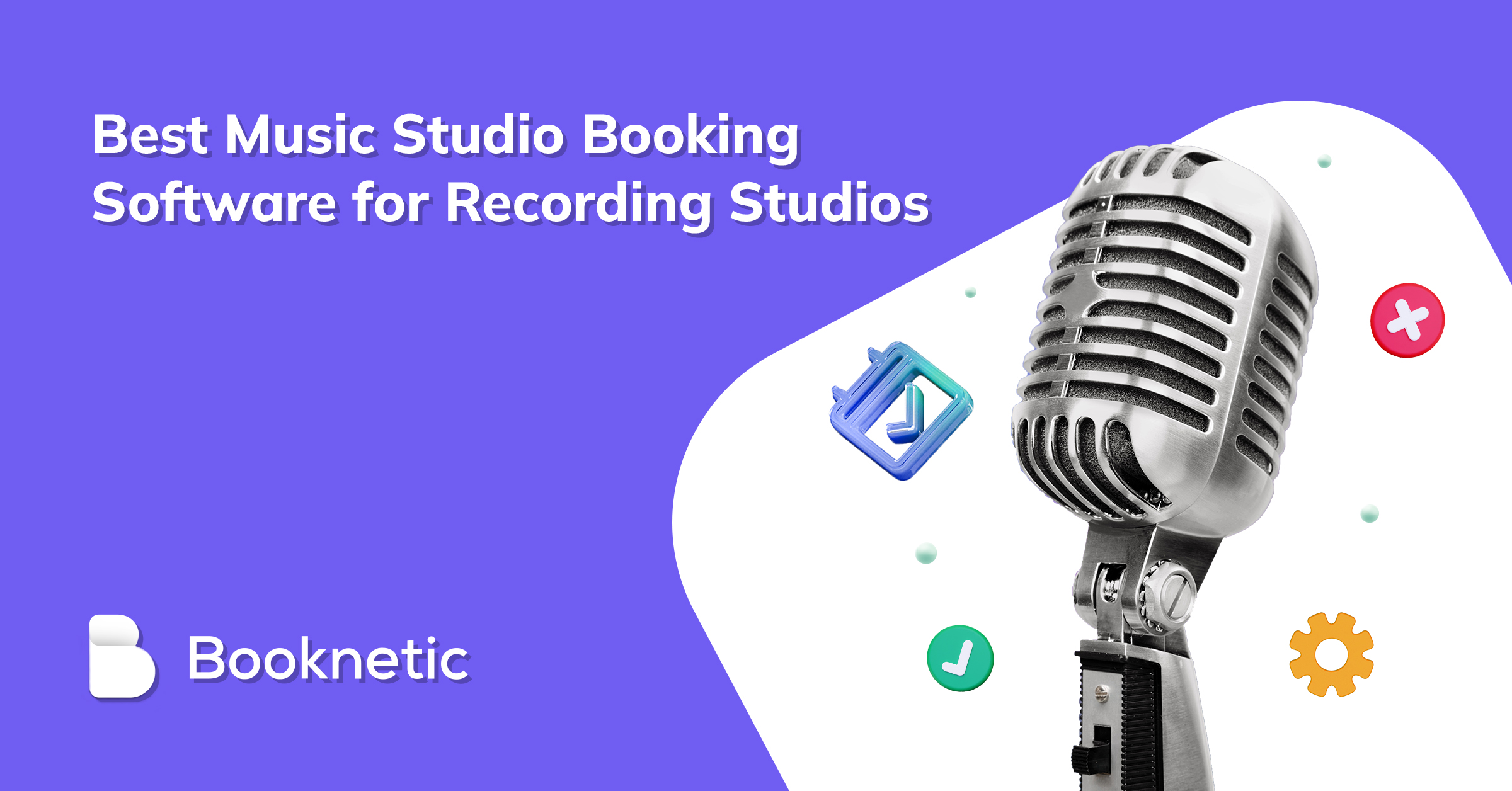 By using music studio booking software, you will handle the majority of your task online and have more time and budget for necessary matters.
Manually receiving studio bookings can be a tedious task to keep up with. This does not only impact your thinking but also your ability to efficiently complete administrative tasks. This blog is about improving your recording studio management via record studio software.
What is music studio booking software?
Music studio booking software provides solutions for recording studios to monitor and receive multiple event types. Automation of manual booking saves your staff from going back and forth with phone calls or emails.
In addition to studio recording scheduling solutions, these tools have client data management solutions. They come helpful to maintain user retention and see the needs of potential clients who called back at some point in the customer journey.
Advanced recording studio booking apps contain other features like payments, notifications, upselling capabilities that directly impact your revenue generation. These features give you more time to effectively manage your studio by using fewer resources.
8 Best Scheduling Software for Music Studio Recording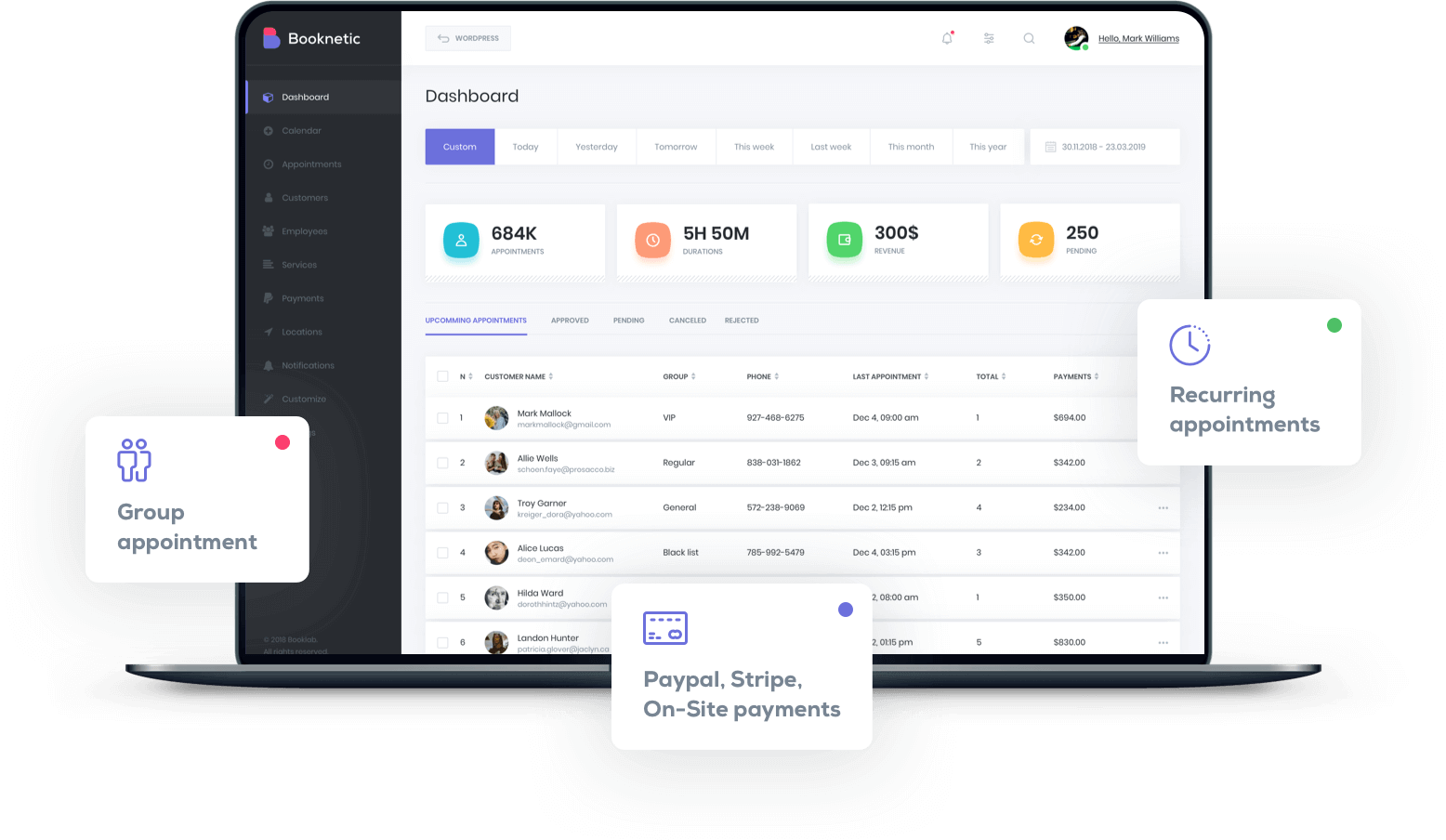 Booknetic is a multi-purpose WordPress appointment booking plugin with comprehensive features. As music studio booking software, it lets you customize your booking panel with color codes and adjustable booking panels.
Its customer relations management feature stores client history along with their booked services and payment details, and visit frequency.
Features:
Fully automated booking experience
Unlimited location, services and staff
Double-booking protection
Custom durations for appointments
Waiting lists
Service extras
Two-way Google Calendar synchronization
WooCommerce, PayPal, Stripe payment gateways
Accept deposit payments
Pros:
It is simple to use after setting up
Booknetic offers Telegram, WhatsApp, Email and SMS notifications to connect with your customers
The support team is really helpful
Cons:
Initial set up process can be a little challenging
Price:
You can get Booknetic at a $79 one-time payment for all features and future updates. With its 5-star customer support, you will get answers to all your questions and queries on time.
Our opinion:
Booknetic is really helpful for small businesses starting out and middle size businesses growing out. It offers multiple management and employee tracking features to simplify the management process.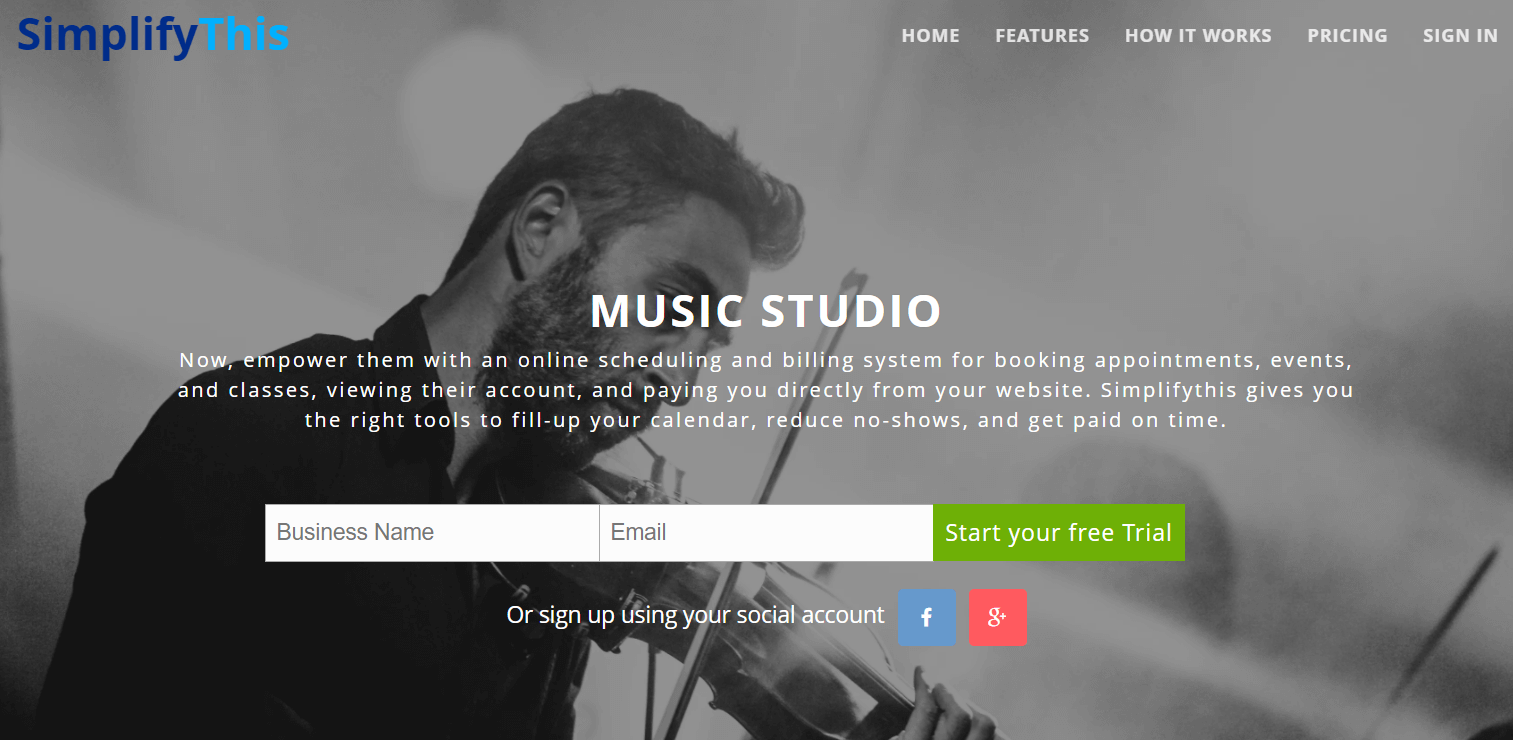 Simplifythis is a scheduling tool developed for a variety of businesses. Its scheduling capability can be utilized for music studio recordings, events, or classes. Record studio scheduler gives you tools to fill in your calendar, reduce no-shows, and get paid on time.
Google Calendar Sync helps to connect your booking calendar with existing booking channels. You can put the booking widget on your site to make book studio time online for users.
Features:
Flexible Calendar
Integrated Billing
Mobile Apps
Client Portal for Online Booking
Sync with Google Calendar
Package Your Services
Pros:
With its personal account feature, your clients or student can access their booking history, review invoices & payments, and also download them.
The account management page easily integrates with your site. You or your webmaster can easily match it with your website style.
Its calendar allows you to maintain separate calendars for each staff and also create multiple schedules for effective dates.
With its packaging and bundling feature, you can set up campaigns and determine dates for certain events.
Cons:
Pricing can be a bit too much
Number of supported staff members forces you to buy higher tiers
Can be a little hard to learn
Simplifythis is also a recording studio booking app for mobile devices. Additionally, notifications and email templates are also available with this music studio booking software.
Price:
Tall - $18 for 2 staff members
Grande - $29 for 5 staff members
Jumbo - $39 for 50 staff members
Our opinion:
SimplifyThis is really helpful if you need to manage all your music studio booking needs in one place, however we recommend budgeting out carefully to avoid cost overruns.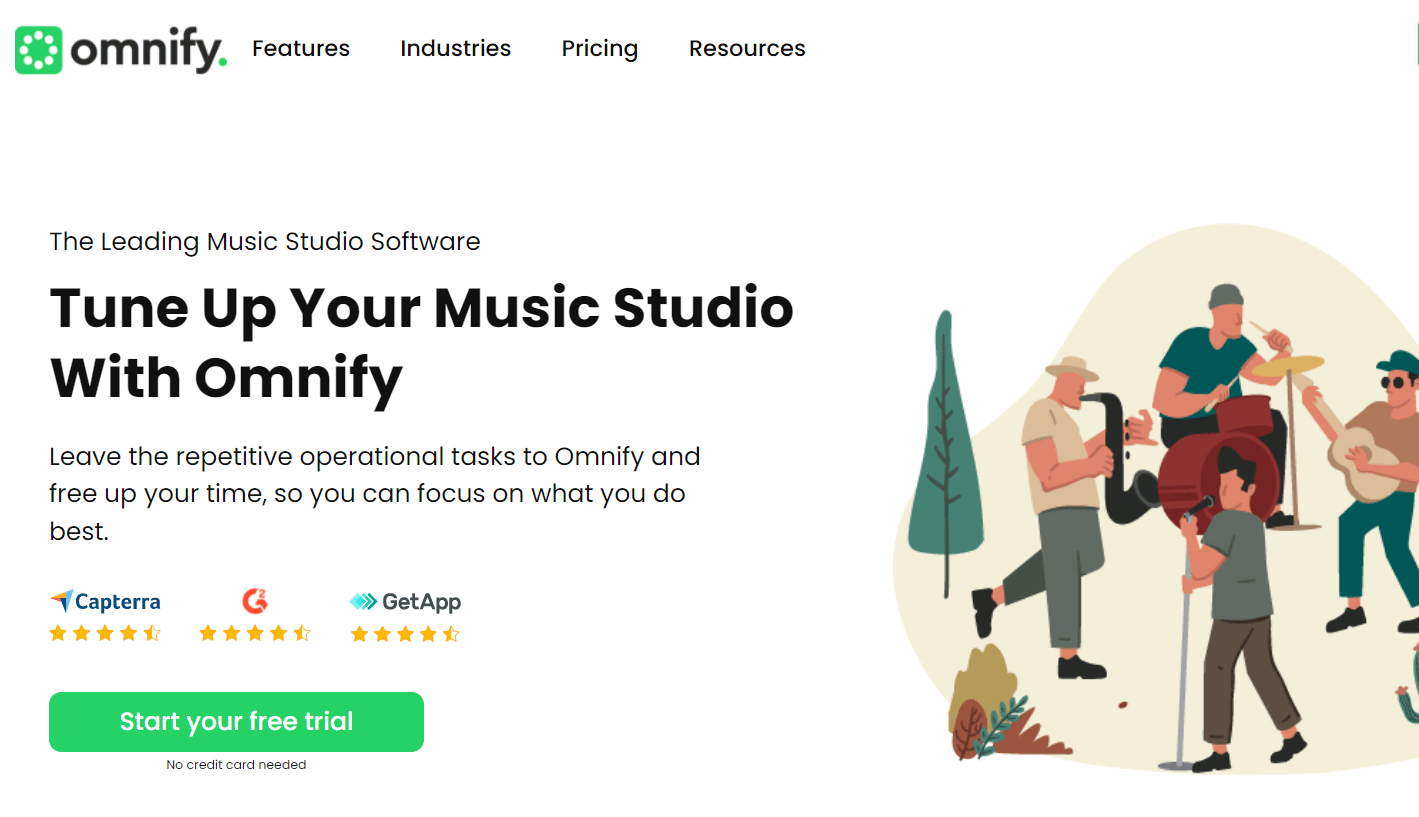 Omnify is an all-in-one booking system for managing businesses. You can integrate its online booking system into your website. It allows you to host events, one-time or recurring classes, workshops, webinars from a booking calendar.
With the attendance manager, you can check-in attendees, reschedule, view customer information for mobile or laptop.
Its reporting tool lets you build your reports. By connecting with over 100+ analytics tools, it lets you track bookings, registrations, and payments more deeply. It supports reliable payment gateways like PayPal, Stripe, Razorpay to receive online payments for events.
Features:
Service Store
Seamless Scheduling
Client Profiles
Bookings & Payments
User-First Platform
Sales & Analytics
Pros:
It is a full solution, from management to booking to billing and even QR code check-ins.
Cons:
The price is too high if you need simple features
Price:
Free with 2 team members and 5% transaction fee
$79/month for 5 team members and 2% transaction fee
$199/month for 10 team members and 1% transaction fee, custom domain and onboarding specialist
$499/month for unlimited team members and 0.5% transaction fee + everything included in the previous version
Our opinion:
Omnify is really useful if you manage a small team and do not want to lose time configuring or managing everything. If you have a "let me pay you and manage everything for me" mindset Omnify is right for you.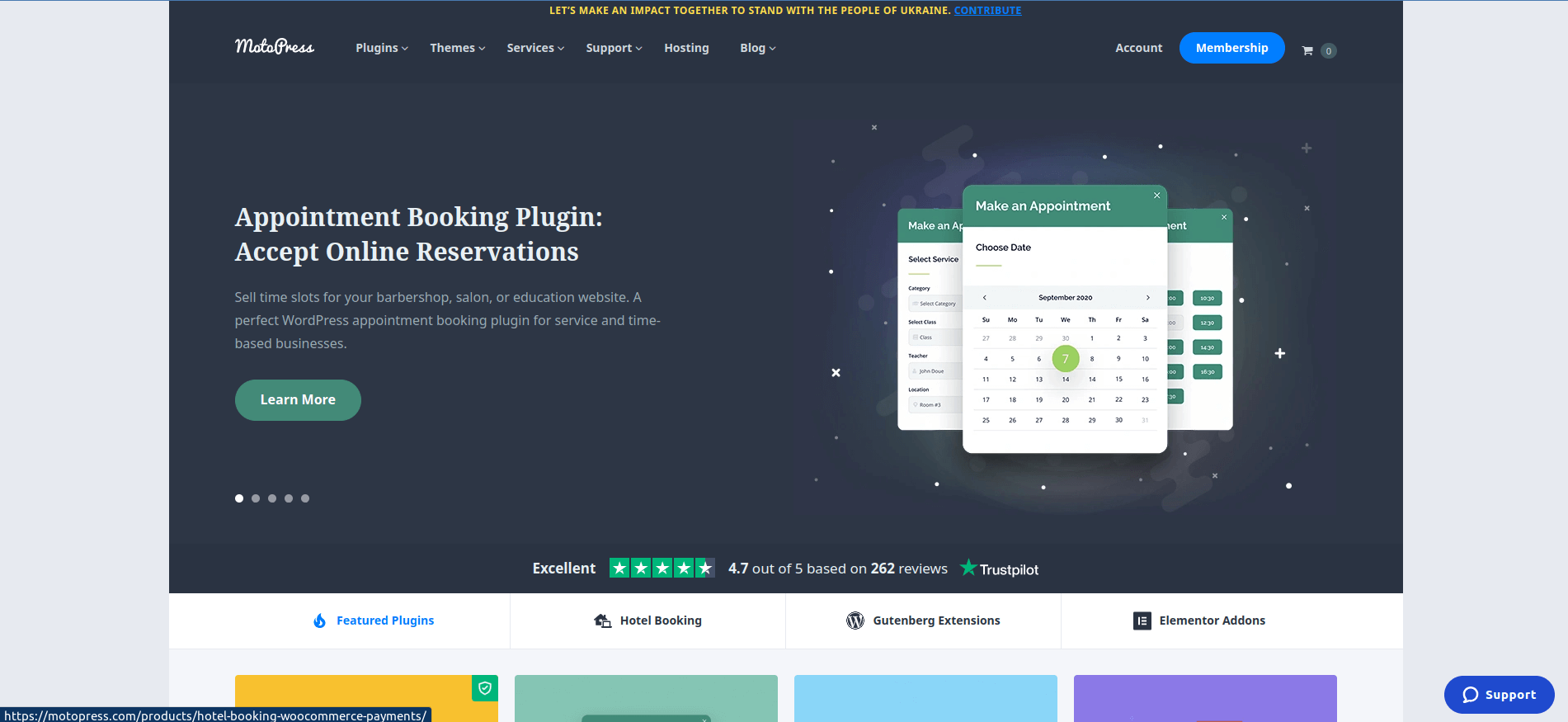 This studio scheduling software comes in handy to manage online appointments and embed a mobile-friendly booking widget into your WordPress website. You can assign individual services to different staff members, add multiple locations, enable deposit online payments, and accept online (Paypal, Stripe) & offline payments.
The plugin allows you to set flexible staff schedules and include breaks, days off, and holidays there. What's more, there are new Appointment Manager and Appointment Employee user roles. Booking details will be available in a calendar view. It's possible to edit existing bookings and sync appointments with an employee's Google Calendar.
Clients will be able to add multiple services to the cart at one go. It takes a few clicks to provide discounts for them via coupon codes.
Features:
Accept Online Payments
Customizable Booking Wizard
Appointment Reminders & Notifications
Employee & Service Management
Add & Manage Unlimited Employees
Flexible Employee Schedules
Allow Booking for Groups
Pros:
It is similar to the overall WordPress design aesthetics
Comes with a lifetime license
Cons:
It is similar to the overall WordPress design aesthetics
It lacks advanced functionality
Price: WordPress Scheduler plugin by MotoPress has a free version available at WordPress.org (has a limited toolkit). The premium version costs $59 for use on a single site and $199 for use on unlimited sites.
Our opinion:
If you want to use a lower cost solution that covers the basics, this is the choice for you.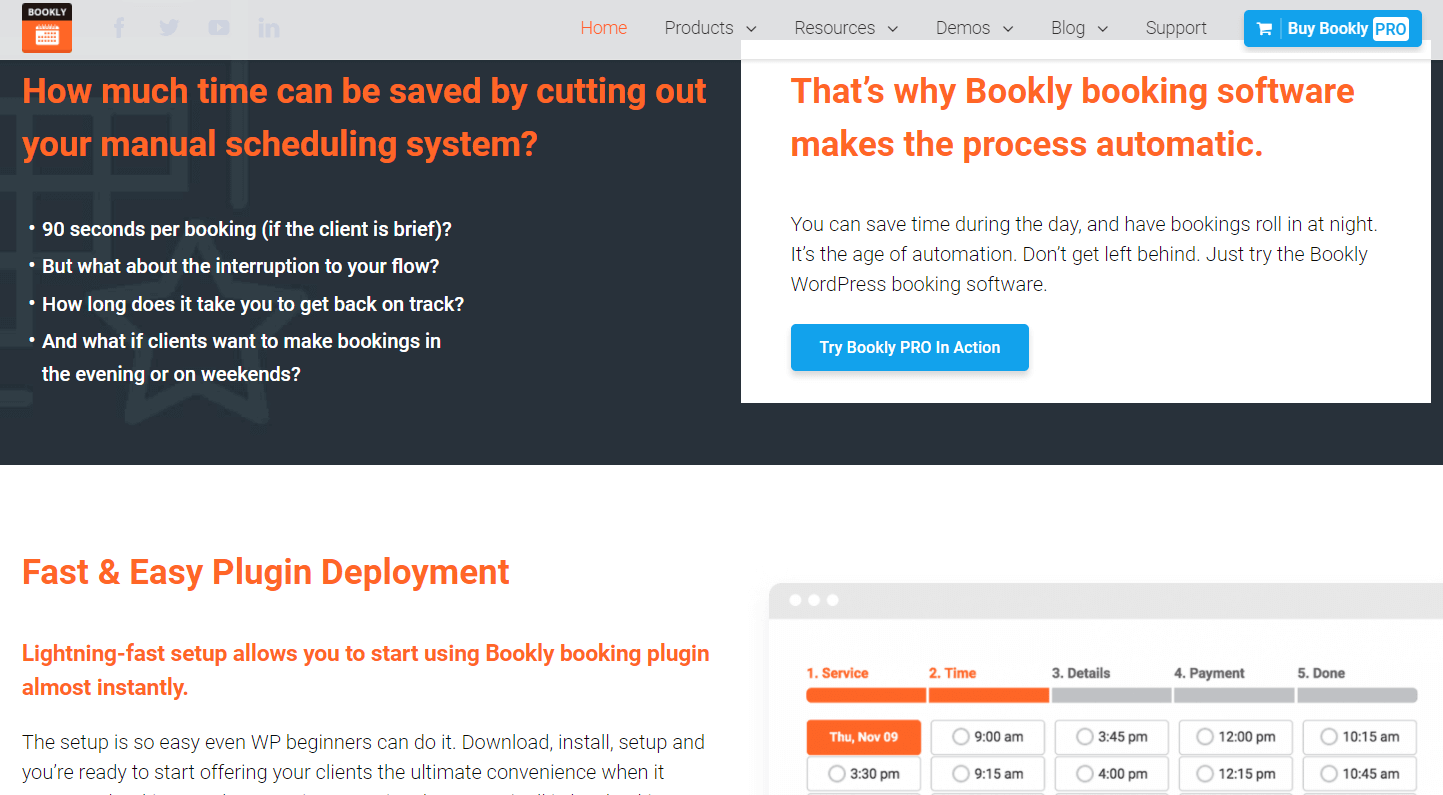 Bookly Pro is another WordPress booking plugin for a range of businesses. A friendly booking panel can be accessed on any device and browser. Its music booking solutions help reduce the hassle of going back and forth between client calls and messages.
Its customizable booking form can be designed for your music studio style. Also, it lets you filter, sort, and import your booking lists.
Features:
Built-in analytics
Google Calendar Sync
Dashboard to see appointments
Unlimited staff and service support
Pros:
Simple learning process
Stable product
Cons:
Core product is too simplistic
Price:
Bookly Pro offers $89 for full services along with 6-month customer support. But you need to pay extra for add-ons if you need
Our opinion:
If you want a simple product that just works, this is the right solution for you. With minimal configuration, you can easily set up and be good for life.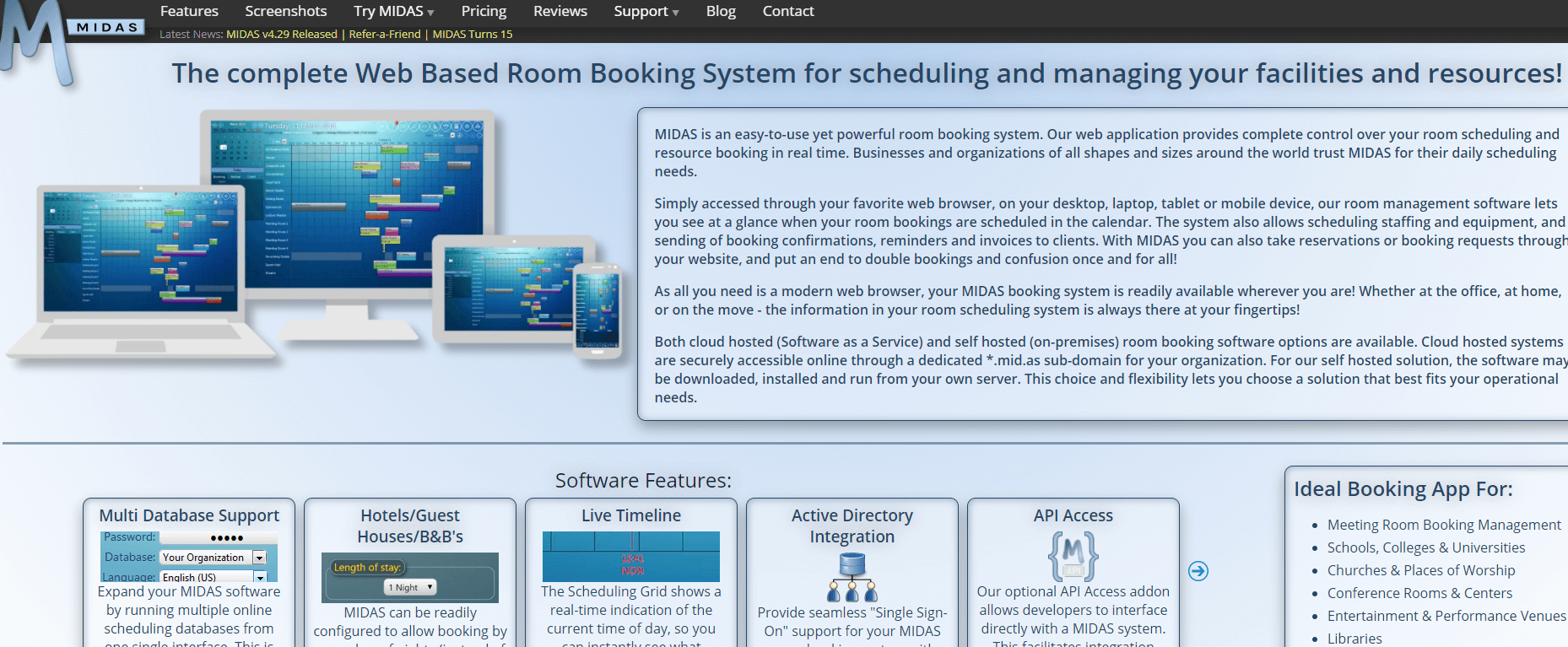 MIDAS provides full solutions to recording studios to facilitate bookings. With bookable time slots, you can take booking requests from customers.
Embeddable calendars let you attach your monthly calendar to your website. You can display your available rooms, upcoming events in the public calendar and get bookings directly from there.
The integrated invoicing feature lets you invoice clients, send via emails, set fees for cancellations within scheduling software. Notifications can be enabled to notify staff about bookings or over the course of resource usage.
Its multi-database design ensures to add multiple locations, lots of staff, and service types to the system. Plus, it has color-coded calendars to distinguish events, services, or staff from each other.
Features:
Automatic daily backup creation
Email notifications
Google Calendar, Outlook integration
Slack and Teams integration
Pros:
Operating in the music studio software field for over 6 year
Cons:
Pricing:
$29/month for cloud software version
$619 for a lifetime license for local version
Our opinion:
The software has a rahter outdated, but unique interface. You may give it a try for as it offers a 30 day free trial.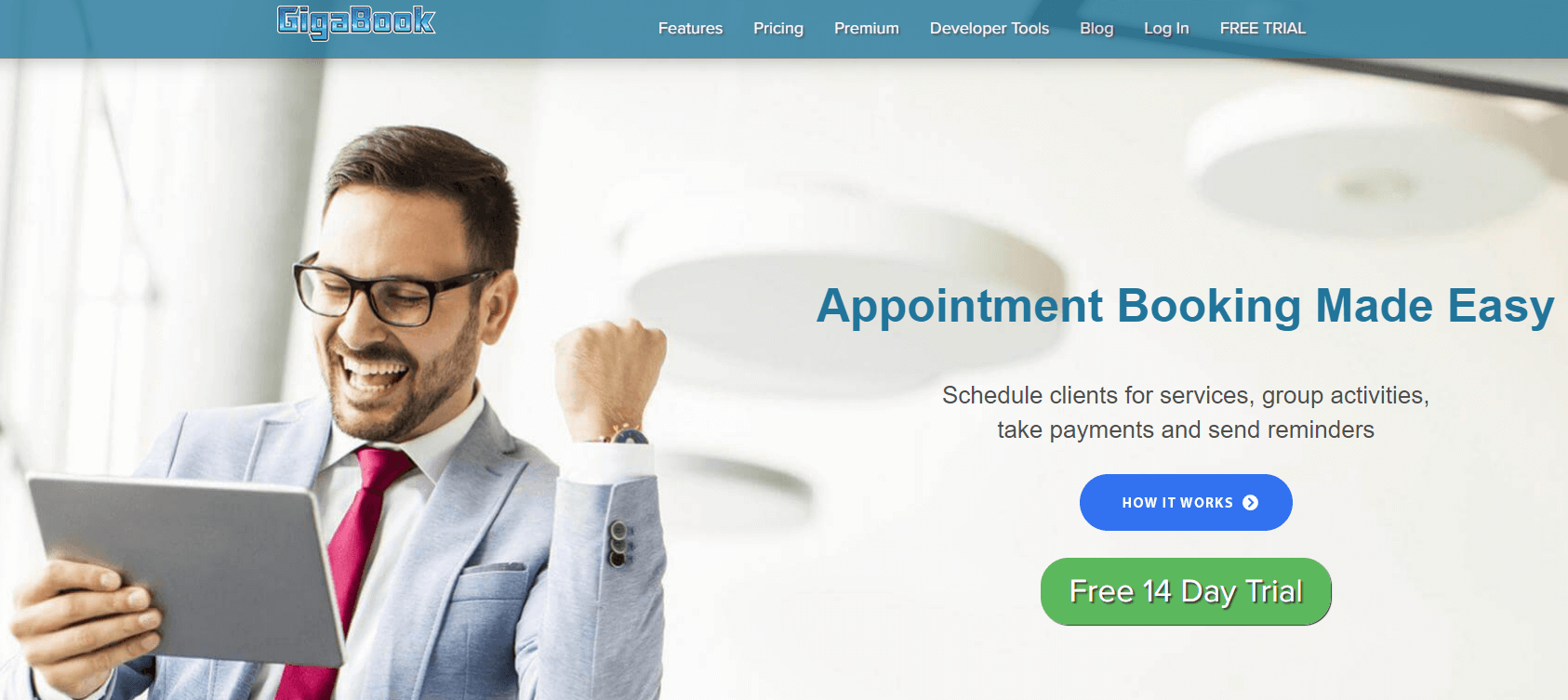 GigaBook is another appointment booking software with record studio scheduling solutions. Its code structure is compatible with WordPress websites, SquareSpace, Weebly, WIX.com. GigaBook is supplied with all necessary solutions required for music studio booking software.
A free booking page can be used for appointment scheduling and client rescheduling. It allows you to customize bookings for your business. You can enable group bookings, manage client entries, add multiple locations based on the size of your music studio.
There are also different SMS notifications and custom reminders for clients and staff. Dynamic pricing feature lets you put different price packages for various services.
By using its Open API, you can connect your unique features with the scheduler. To-do lists, downloadable reports, project management solutions are also available in this studio scheduling software.
Features:
Email and SMS Reminders
Calendar Sync
Online Booking
To-Do Lists
Downloadable Reports
Pros:
All-in-one solution starting from accepting bookings to collecting payments
Cons:
Design is fairly outdated
Price:
GigaBook has two different pricing packages. In a solo plan, you can pay $15 on monthly basis. If you add extra staff or extra resources you will pay an additional $8 for every extra unit. The offered solutions are also different in these plans. The solo account includes basic features like scheduling, calendar, or notifications. While the second plan has more business and project management tools.
Our opinion:
This studio booking software also has a free trial, albeit 14 days just like the previous one. It is best if you want a cheap solution as a solo business owner.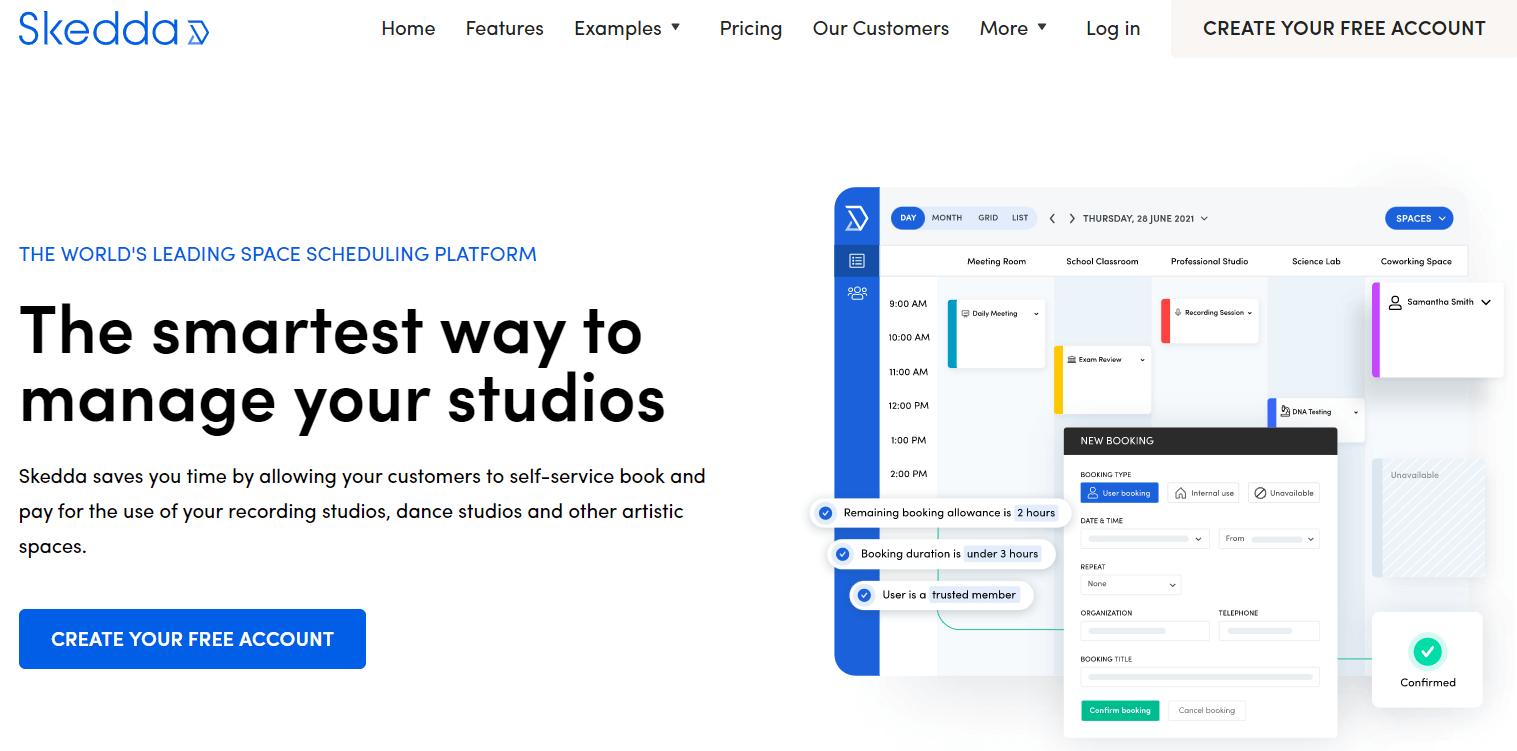 Skedda is a space scheduling software for academic labs, consulting rooms, coworking spaces, meeting rooms, desk booking, and other similar fields. It lets your customers self-schedule their appointments and pay for the use of services.
It has 4 different booking calendar views: daily, monthly, grid, and list view. According to the calendar view type, you can see running types of information about the events including their names, grouping similar events, filter bookings, and more.
As a recording studio booking app, it lets your users easily access the scheduling panel on any device. Skedda has multiple sign-in options such as Twitter, Facebook, Google, Microsoft, and SAML SSO.
With Stripe integration, you can securely accept online payments for recordings. Also, it lets you set automation rules for your service usage and also manage user interaction with the system.
Features:
Mobiel app for IOS and Android
Custom subdomain
Unlimited bookings and services
Color grading
Pros:
Focused primarily on the space booking industry
Ease to use
Cons:
You need to pay extra just to connect Stripe and accept payments
Price:
Free plan
Pro plan starting from $50
Premium plan which uses custom quotes
$25 to use Stripe and another $25 for iCal feeds and Zapier integrations (included in the Premium plan)
Our opinion:
It is best if you want an easy to use solution to power up your business. If you have more sophisticated needs or need to manage multiple locations, you need to look at a different solution.
How does studio scheduling software help to get more bookings?
Depending on the size and volume of client flows, recording studios use different studio scheduling software. While some of them have just a simple booking calendar some offer calendar integrations, customization, management features in the website.
The best software for music studio booking can boost your booking process by providing end-to-end solutions. Here are the 5 benefits of music studio booking software to improve your studio management.
Event types
In a traditional way, you can only add the event title and its description. Those methods did not have customization features for needs specific to music recording studios.
When booking in the music production industry, you must acquire precise information such as the type of event (mixing, recording, revisions, etc.), which studio room is blocked, user assignment, and so on. You are most likely to miss out on a great opportunity if your calendar doesn't include clear data entries about the booking.
While studio scheduling app provides solutions that are specifically made for music professionals. Such features allow you to manage various types of events. You may give the event a title, a description, a type, create reminders, assign users to the events, link the event to a project or contact, and more.
Multiple rooms
Lots of music studio booking software allows you to add multiple rooms to receive different types of recordings. This gives you the flexibility to choose between multiple bookings and easily organize based on rooms and their facilities.
By reviewing your booking calendar, you can see and filter the booked and available rooms.
Booking history
Using music studio booking software makes it way easier to track your booking history and see their details in one spot. Usually, given on a separate page, the booking history panel displays clients' data, date, and important details about the event type they have booked for.
Best software for music studio booking also lets you view booking details on an individual level. Let's say you can access clients' profiles or room settings to track their booking history in separate form from the general studio booking history.
Integration
Many booking solution providers have 3rd part integrations to simplify the booking process. Mobile compatibility ensures the timeless use of a recording studio booking app. Your customers can schedule events, view their calendars, or make payments on every device.
Also, you can check your studio booking, confirm or cancel events on a laptop or phone.
Automated billing
Music studio booking software enables you to automate the payment processes within the booking process. Whenever you receive a booking, you can determine their payment method as on-site or through payment cards.
Bottom line
Managing a music recording studio can be a real challenge. You have to keep eye on studio assets, available rooms, customer bookings to keep efficiency in management. While studio scheduling tools can solve most of your trouble.
These tools fit client management, reminders, staff management, and payment solutions into a booking scheduler software. Each of the mentioned tools here offers practical ways to simplify your studio bookings. Depending on the price feature bundle, you can go with one.
Tell us which music studio booking software was your favorite.
Sign up for our newsletter
Be the first to know about releases and industry news and insights.
Let's

get started

on something great
Booknetic is a simple yet powerful plugin for accepting online bookings & payments on your WordPress site.