Essential Sales Demo | Tools, Tips & Examples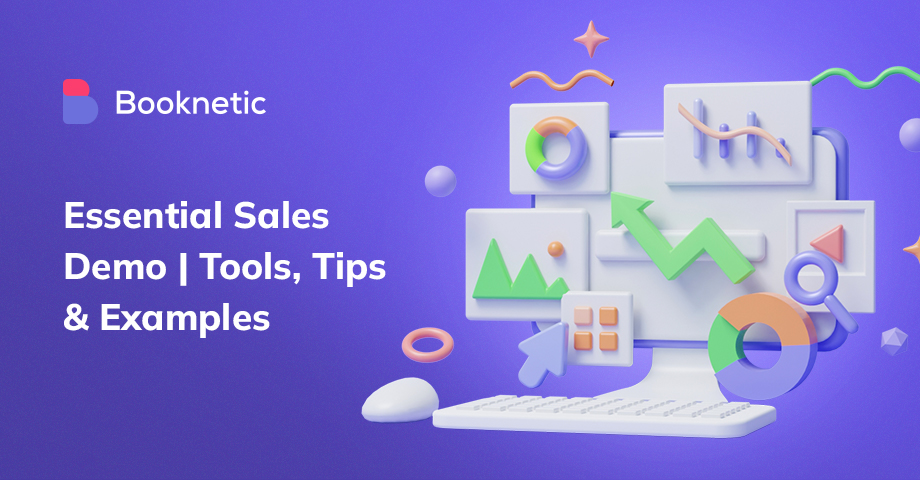 Sales demos are essential for any business looking to make a sale. They provide an opportunity for you to show your product or service to a potential customer and answer any questions they may have.
In this blog post, we will discuss the basics of sales demos and give you some tools and tips to help you create successful ones!
What is a demo?
A demo is a live, interactive presentation of your product or service. The purpose of a demo is to showcase the features and benefits of your offering in a way that will convince the buyer to make a purchase.
This principle applies in nearly every purchase, including the process of home buying, where real estate agents often showcase properties to potential buyers to convince them to make an offer.
When should you give a demo?

The timing of your sales demo will depend on where the buyer is in their journey. If they're just starting their research, you'll want to give them an overview of what you offer and how it can help them solve their problem.
On the other hand, if the buyer is further along in their journey and has already expressed interest in your product, you'll want to give them a more detailed demonstration that focuses on specific features and how they can be used.
The essential sales demo is the penultimate part of a sales funnel - it allows you to show off your product or service in the best possible light and close the deal.
However, nailing the perfect sales demo isn't always easy. In this blog post, we'll give you some top tips on how to deliver an effective sales demo that will win over even the most skeptical prospects.
Why is the Essential Sales Demo important?

The Essential Sales Demo is important because it allows sales reps to communicate the value of their product or service effectively.
By demonstrating how their product or service can solve a specific problem, sales reps can more easily close deals.
The Essential Sales Demo also allows sales reps to build relationships with potential customers. By taking the time to understand a customer's specific needs, sales reps can create a custom demo that will resonate with them.
This personal touch can go a long way in establishing trust and rapport.
Finally, the Essential Sales Demo is an excellent opportunity for sales reps to practice their presentation skills. By delivering multiple demos, they can fine-tune their delivery and learn how to handle objections better.
With each successful demo, sales reps will become more confident and persuasive, which will only help them close more deals.
If you're a sales rep, make sure you're doing the Essential Sales Demo right. It could be the key to your success.
Here are our top tips for delivering an effective sales demo:
Start by clearly defining your audience and what you want to achieve with the demo. This will help you tailor your content and messaging to ensure that it resonates with your audience.
Make sure that your product or service is actually demonstrated during the course of the demo. This may seem like an obvious point, but you'd be surprised how many salespeople try to wing it and end up just talking about their product rather than actually demonstrating it.
Keep your demo focused and to the point. Prospects have short attention spans, so try to avoid going off on tangents or getting too technical.
Be prepared for questions and objections. Have a solid understanding of your product or service so that you can effectively address any questions or concerns that prospects may have.
- Finally, always follow up after the demo. Send a thank-you note or give them a discovery call to see if they have any further questions. This will help keep you top of mind and increase the likelihood of closing the sale.

Best Sales Demo Tools
The essential sales demo tools are a great way to increase your sales productivity. By automating repetitive tasks, you can free up your time to focus on more important things. Here are some of the best sales demo tools that you should consider using:
Canva
If you're looking for a sales demo tool that is both easy to use and produces great results, Canva is the answer. With over two million templates and tools available, all with varying levels of complexity, you can create any kind of sales deck you need.
Plus, thanks to its drag-and-drop interface, you don't need any design experience to get started. Simply select the template you want to use, add your text and images, and voila! You have a professional-looking sales deck that's ready to impress your clients.
Figma
Figma is another great option for sales demo tools. It's a vector graphics editor that allows you to create complex illustrations, logos, and other graphics with ease. Plus, Figma is easy to use and learn, so you won't have to spend days training yourself on how to use the software.
And, if you ever need help, there is an active community of Figma users who are always happy to help out. It's used by product designers at companies like Google, Facebook, Netflix, and more. Figma is a great sales demo tool because it's easy to use and has a wide range of features. Plus, it's free to use!
NETHUNT CRM
The best sales demo tool on the market is Nethunt CRM. It allows you to manage your sales pipeline, track customer interactions, and forecast future sales.
Nethunt also has a built-in email client, so you can stay in touch with your customers without leaving the app. With its robust features and affordable price, it's the perfect tool for small businesses and startups.
NETHunt offers a great way to keep track of all your clients in one place as well as automate some of the sales processes. It can also help you manage your time by giving you the ability to see which tasks are taking up the most of your time. Overall, it's a great tool that I would recommend to any small business or startup!
PowerPoint
PowerPoint is the best sales demo tool because it is easy to use and familiar to most people. It is also effective in communicating information visually. However, PowerPoint presentations can be dull and boring if they are not designed well.

To create an effective PowerPoint presentation for your sales demo, follow these tips:
- Use high-quality images that are relevant to your product or service.
- Make sure your slides are easy to read by using clear fonts and simple designs.
- Focus on one key message per slide.
- Use strong storytelling to engage your audience and communicate your messages effectively.
- Practice your presentation several times before delivering it to ensure that you are confident and prepared. following up after the meeting with a thank you note, or email is also a nice touch.
Livestorm
Livestorm is the best sales demo tool because it is easy to use and has all the features you need to give an effective sales demo. You can easily share your screen, record your demo and even live chat with your potential customer. Plus, Livestorm integrates with Salesforce so you can track your potential customers' engagement.
If you want to get more deals, you need to start using Livestorm for your sales demos. It's the best way to engage your potential customers and show them why your product fits their needs. With Livestorm, you can make more deals and grow your business.
Visme
Visme is an easy-to-use tool for creating presentations, pitch decks, whitepapers, and other types of content. With Visme, you can create professional-looking presentations in minutes, not hours, because it has a great variety of templates, infographics, graphs, charts, etc. It also includes a drag-and-drop editor, so no matter your role or level of design skills with Visme, your work life is easier.
Some of the helpful features you can find in this tool are:
Import and edit your PowerPoint presentations online from your web browser
Record yourself while presenting and easily share your presentations with your audience.
Excellent for real-time collaboration with your team.
Conclusion
To have a successful sales demo, it is important to be well-prepared. You should know the inside and outside of your product and the features and benefits that distinguish it from its competitors. Additionally, you should be able to answer any questions potential customers may have. Having a clear and concise pitch will help keep the demo on track while making a good impression.
Finally, always come prepared with tools like product samples or images that can help explain your purpose. By following these tips, you can be sure to deliver a winning sales demo every time! If you like my blog, please visit our website for more information.
Sign up for our newsletter
Be the first to know about releases and industry news and insights.
Let's

get started

on something great
Booknetic is a simple yet powerful plugin for accepting online bookings & payments on your WordPress site.