Best Platforms to Buy Cheap WordPress Plugins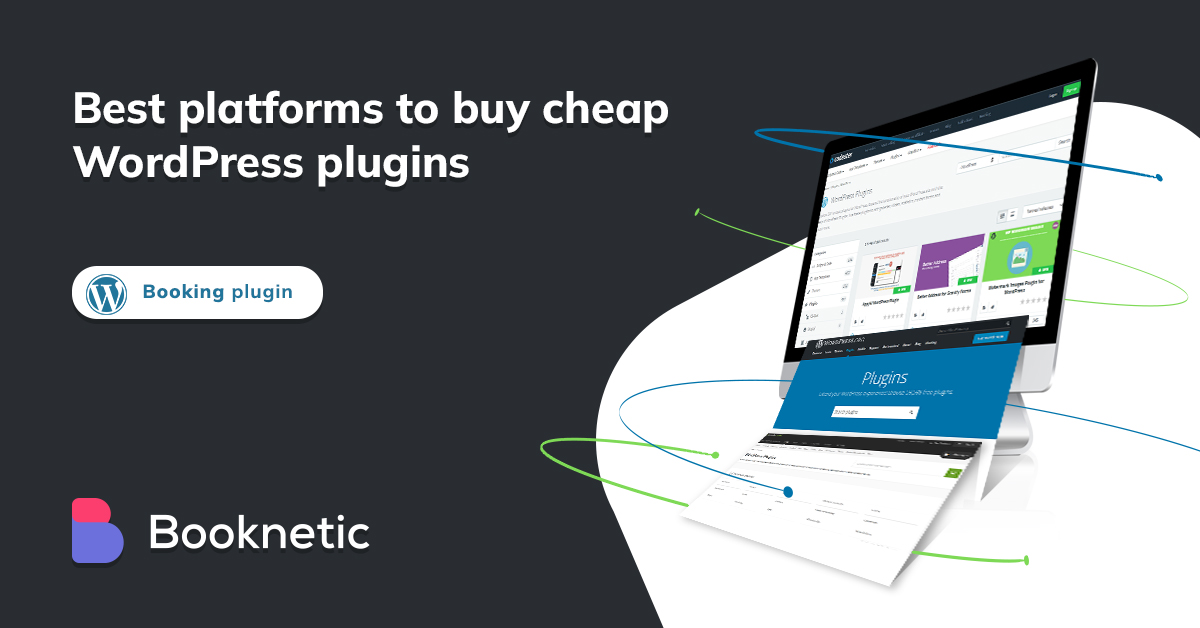 Since it is a tedious process to select an appropriate plugin, platforms offer lots of options to buy cheap WordPress plugins.
Why should you get cheap WordPress plugins from a marketplace?
If you just launched your professional WordPress website you have a small number of features that are not even attractive to customers. This will also show itself in your sales figures and revenue table.
Instead, you can expand its features and application areas with the help of WordPress plugins.
But the problem at this stage is that you are not sure where to get affordable WordPress plugins that do the job. Some plugin developers tend to sell on marketplaces rather than on their websites at the initial phase. From sellers' point of view, platforms have higher discoverability than single websites.
The idea also applies to consumers. Marketplaces are more popular among customers than websites.
When you buy affordable WordPress plugins from a random website you put yourself at a risk. Such as
Developer bias
As we all may agree, developers have biased opinions towards their codes. It is related to the fact that consumers and developers have different opinions and expectations about the functionality of products.
Developers' concerns almost end after the successful deployment of code. While customers are super sensitive about plugin features throughout entire product usage. In the case of misunderstandings between plugin providers and clients, platforms put the latter in favor.
Sufficient amount of customer reviews on platforms
The probability of seeing neutral comments on plugin websites is very low. Instead, they use to display only positive reviews and higher ratings on their testimonials section. The worst thing is that these testimonials are not tailored for putting on a website's front page. Meaning, that the comments do not precisely cover how the product helped the users' websites.
Transparency about price
Usually happens when you purchase a product from the website itself instead of the platform. Merchants tend to hide certain information related to pricing, taxes, and feature coverage which contain a mark-up price. You purchase the plugin, want to use its features, and BUM. You are required to pay an extra fee.
WordPress marketplaces provide transparency about the terms of payment and their feature coverage. Whenever the terms are changed, platforms inform their users upon updates.
Security
If you face any problem during the running of plugins, you can proclaim your concerns to the platform or add them to the review part. Plugin providers tend to be more watchful and guarded due to the fear of losing their reputation on those platforms. When you buy cheap WordPress plugins from platforms you get more peace of mind than with a regular website.
Who does not like variety?
When you buy affordable WordPress plugins from platforms, you come across a range of products along with a comprehensive list of features. Platforms provide a structured view of WordPress plugins including their product categories, price options, provided features, and languages.
Instead of preparing a separate Excel sheet, you can use the filters to compare the available options on the platform.
Best platforms to buy cheap WordPress plugins
Compared to WordPress themes, there are a relatively small number of platforms to get affordable WordPress plugins. The majority of marketplaces are specialized in selling templates, or graphic design products. But, we handpicked the best platforms to get cheap WordPress plugins.

As an open-source software for building websites, WordPress has its own platform for displaying dedicated to expanding its services. WordPress.org is a separate directory for listing WordPress plugins and templates. In fact, it is the largest WordPress directory of free and open-source WordPress plugins.
While you do not actually buy cheap WordPress plugins here but you can download lite versions of the submitted plugins.
Enter the related keywords to the search bar in the Plugins tab. In the opening screen, you can view the developing company name, tested version, and active installation counts of the plugins. You can click on the plugins whose indicators seem attractive.
Plugin profiles provide more information about its features, installation process, and compatible version. You can see compatible WordPress versions, supported languages, PHP versions, and the last update history to be sure. Also, it has a separate Review tab where you can get genuine user opinions.
Keep in mind that when you download a free version of premium plugins, you get limited access to their features. You will be required to upgrade them for advanced features. But, this is different from what we said as a price transparency issue above. Developers use WordPress. org to expose their products and increase traffic to their websites.
You can also get completely free plugins by just downloading from the site.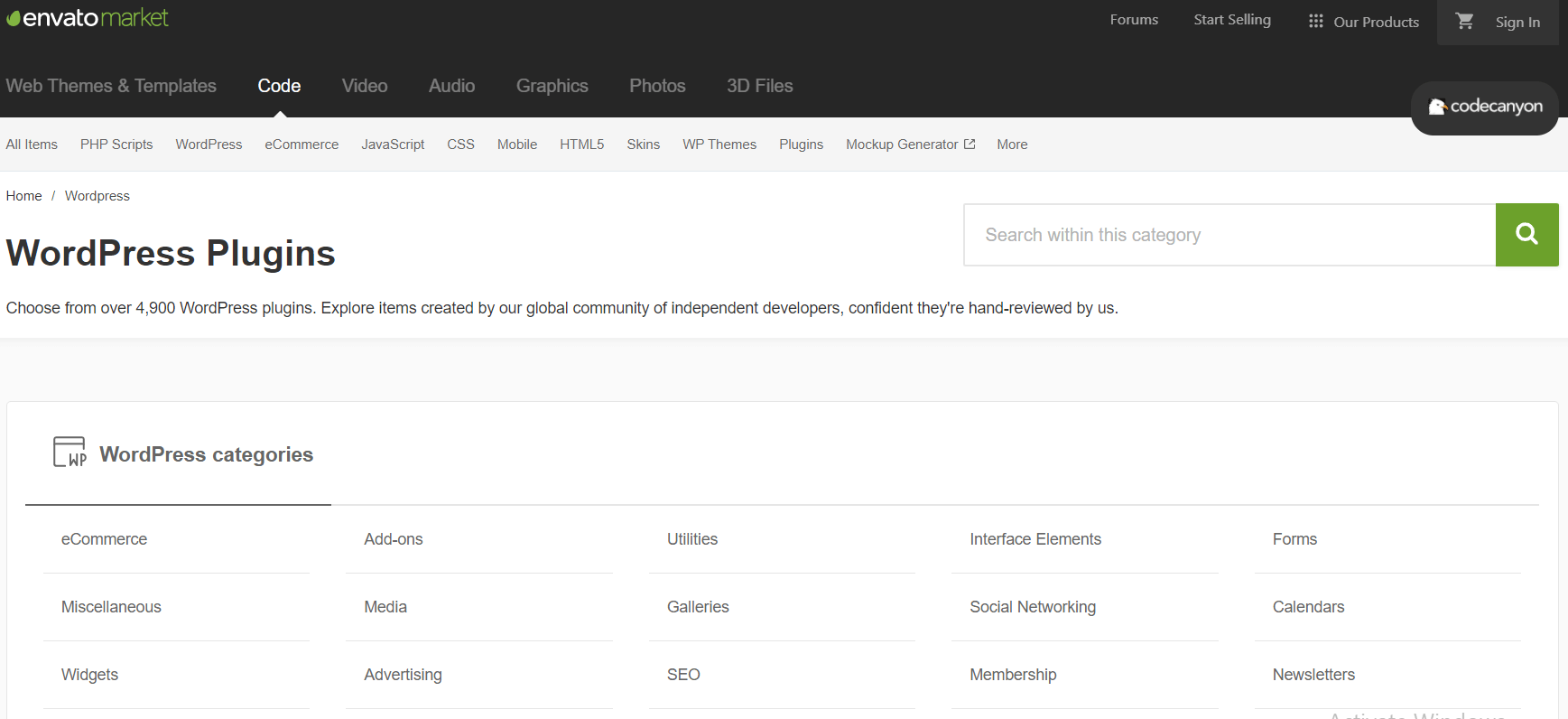 CodeCanyon is by far the largest and the most known market to buy cheap WordPress plugins and themes. It is one of the most popular sites in Envato Market. It allows clients to purchase plugins directly from the authors.
The platform is fully dedicated to facilitating the work of customers. When you land on CodeCanyon.net you see the WordPress box along with other product categories. Or, you can click on the Plugins box to directly view plugins. Each box contains links to the newest and the best seller products of all time.
It has a comprehensive list of plugin categories such as e-commerce, social networking, advertising, forms, galleries, media, and more. You can select the appropriate tag to quickly view plugins.
The directory page displays crucial information like developer name, ratings, price, and purchase counts.
Plugin profile contains extensive information about the product along with screenshots and written explanations. It has three different sections for reviews, comments, and support.
In the details part, you can see the names of supported editors, supported plugins, software versions, and compatible browsers
The best part about CodeCanyon is that it provides rewards to the best developers by giving loyalty and other types of signages. You check the right-hand side of the screen to check which rewards the developer got. The more rewards they have the more CodeCanton relies on the plugin.
You can also view the best sellers of the year from the list. If you want a more specific list of features, you can click the appropriate category above the names of plugins. Since the list is updated weekly you would not need to worry about their viability in the meantime.
Booknetic appointment booking plugin is also sold through CodeCanyon. Due to the functionality of the products and the quality of service, we were selected as the best plugin in the market. You can check our CodeCanyon profile and see the number of earned rewards ?
3. Codester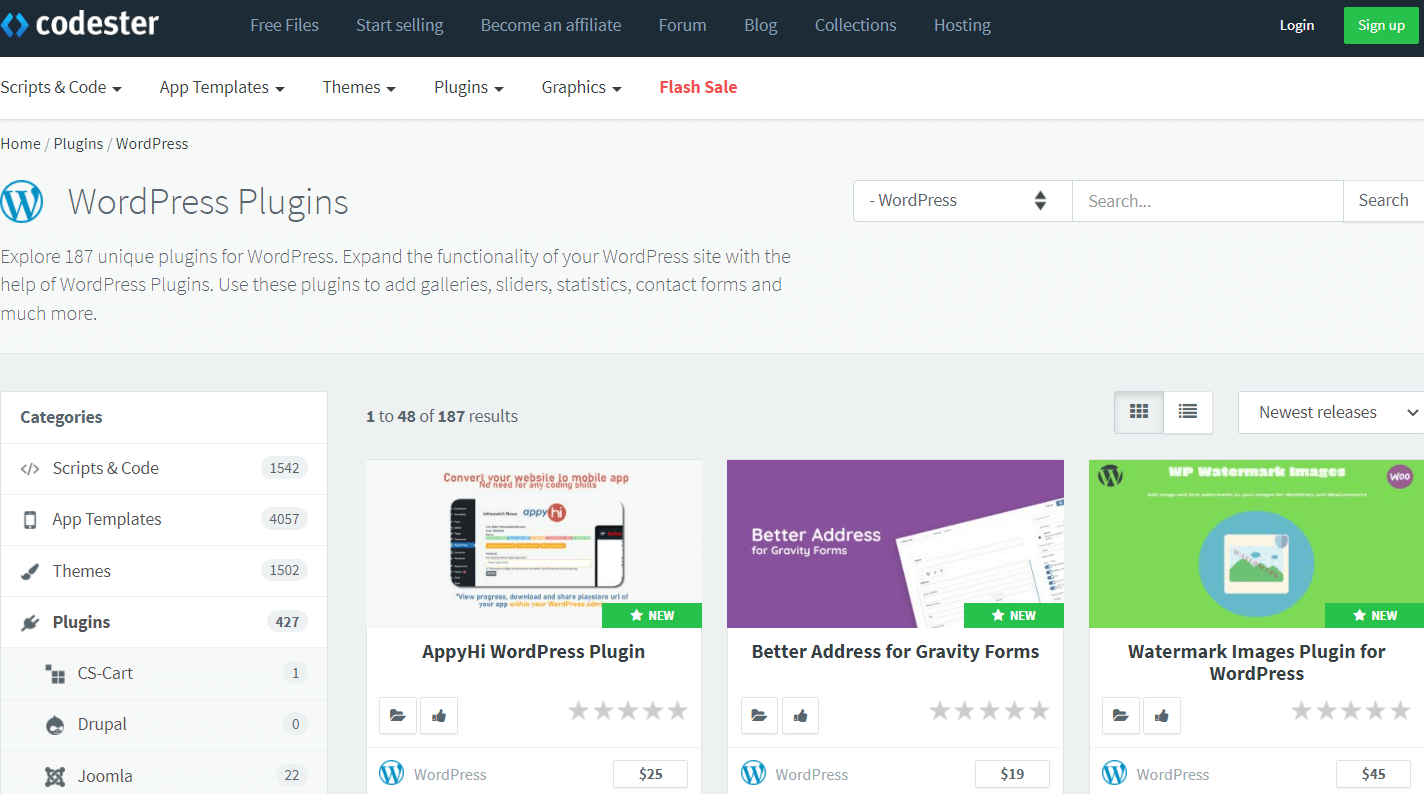 Despite being new in the market, Codester provides great opportunities for buyers and developers. Once you create an account on Codester, it allows users to download 4 files for each.
To find out the general list of WordPress plugins, click the Plugins tab and choose WordPress from the list. On the opening screen, filter the plugins according to their latest ratings, most popular, best sellers, highest price, or lowest price.
Since the requirements for developers are low compared to other platforms, the prices of plugins are very low. You can get a range of WordPress plugins such as galleries, sliders, contact forms, and more.
Product descriptions include supported plugins, product categories, latest updates, and file formats. Whether you want to buy affordable WordPress plugins, scripts, or templates, Codester is definitely worth checking.
4. Mojo Marketplace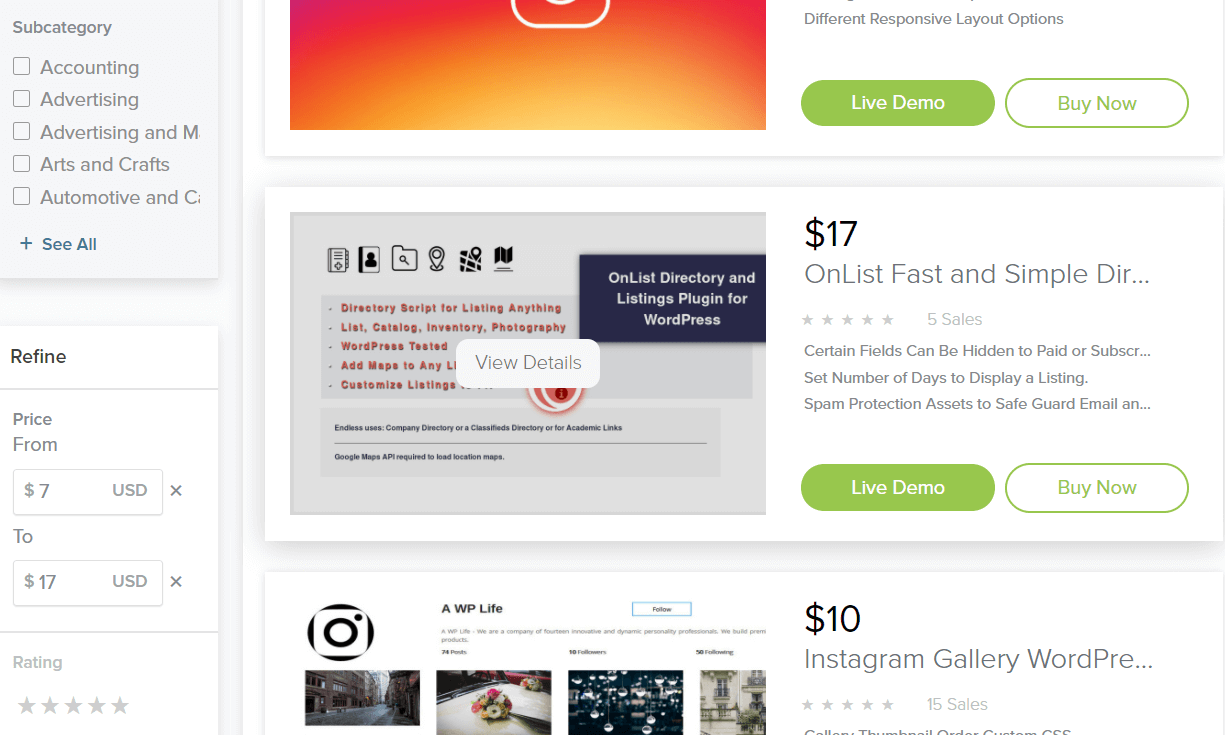 Mojo Marketplace is another secure platform to buy affordable WordPress plugins. To organize your feed you can select plugin subcategory, price range, minimum sales number, added date, and tags like visual composer, and eCommerce.
Plugin profile includes details of WordPress version, features, and compatible browsers. Mojo Marketplace also has a comprehensive blog to educate its users from creating websites to choosing the right plugins.
An advantage of Mojo Marketplace over other platforms is that it directly integrates with hosting services. This means you can discover and get cheap WordPress plugins right after you create your website.

As mentioned above, WordPress plugins are sold only in limited marketplaces. This is why we are extending our list with alternative options to get affordable WordPress plugins.
5. WooCommerce
As you may already know, WooCommerce is the biggest and most used e-commerce plugin in WordPress. Since its community of developers and buyers has been increasing from day one, it offers a bunch of products along with the plugin.
Although these products are not essentially in the plugin category, when packed with WooCommerce they expand your website's functionality.
It has different products like product bundles, add-ons, composite products, Google Ads, and more. You can use these extensions to boost coupons, improve your Google My Business account, and automate marketing campaigns. Offers seem advantageous where you pay half the price you would pay for a single plugin.
Also, these product packages let you purchase personalized bundles and create a product kit compatible with your product needs. Since these plugins are quality checked by WooCommerce you would not have to worry about security concerns.
6. AppSumo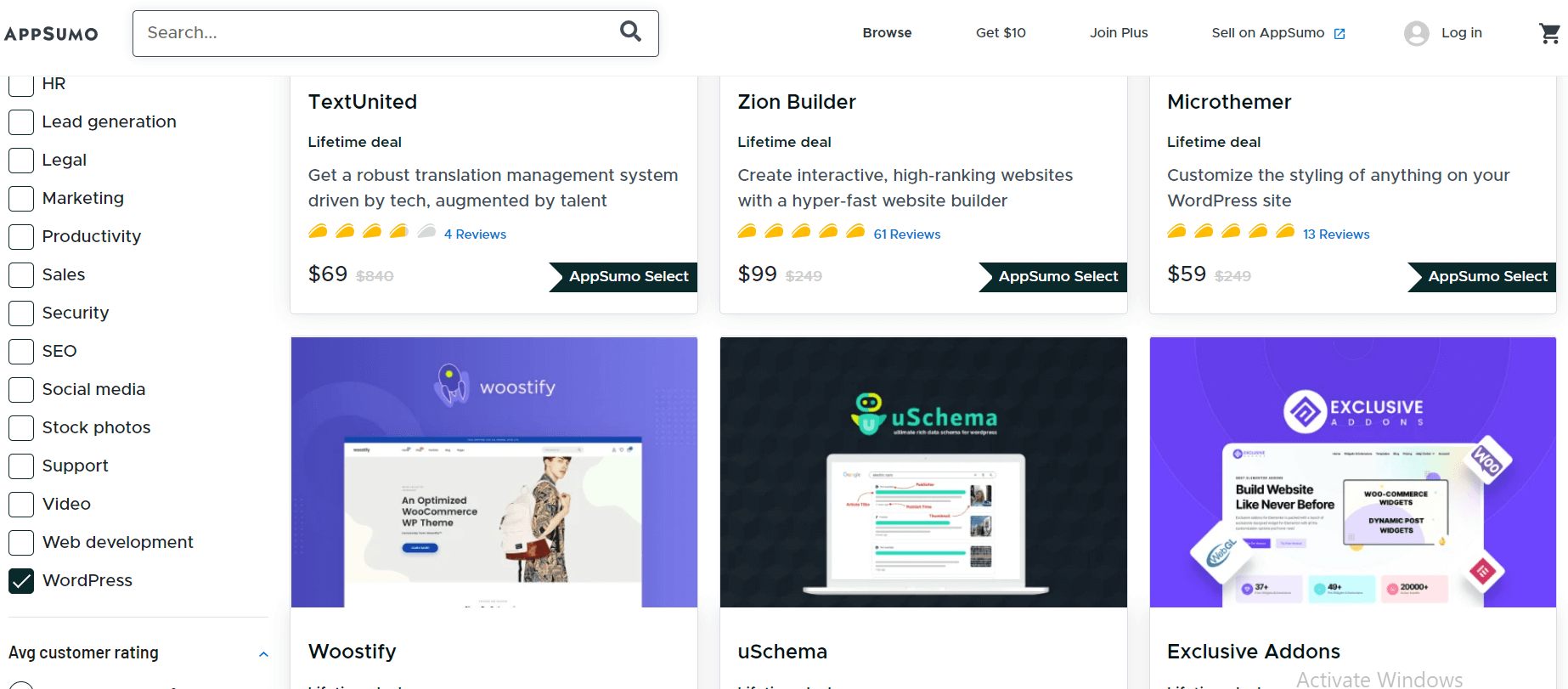 Another great option to buy cheap WordPress plugins is the AppSumo market. It is a daily deals website for digitally distributed goods and services. It works like this: software deal is available as a lifetime deal for a fraction of the price you would pay annually.
Every day AppSumo brings 3 software for a deal. The best thing is that AppSumo can offer multiple deals at the same time for the product. You can review the selected products from its homepage. Or, you can click on the Browse tab and then choose WordPress from the available categories.
The plugin profile includes an extensive list of features along with user reviews and comments.
7. Review websites
The last option in our list is checking review sites on the internet. These sites help users to choose the right software and services based on peer-to-peer reviews. GetApp, Capterra, G2, Trustpilot are popular review sites you can check.
The first way to find available plugins on these platforms is to pick the right category from the software or products section. Or, you can enter the name of a specific plugin and click on its alternatives.
They have different sections for product features, reviews, pricing, and features. A drawback of review sites is that they give software lists comprising WordPress and other platforms.
But the best part is that you can select similar products and see their real-time comparison.
Keep in mind that not all review sites have a direct link to the sales page, they do provide links to free trials and demo pages.
Wrap up
So, which platform will you choose to buy cheap WordPress plugins? Remember, there is not a set guide for choosing the repository. To make things easier, you can use the Privacy Policy, Terms, and Conditions of the mentioned websites to further ensure the security of your site. Also, have a look at the range of listed plugins. As you may not find out the exact matching plugin in small directories.
Sign up for our newsletter
Be the first to know about releases and industry news and insights.
Let's

get started

on something great
Booknetic is a simple yet powerful plugin for accepting online bookings & payments on your WordPress site.