Best WordPress Plugins for Hotel Booking System in 2023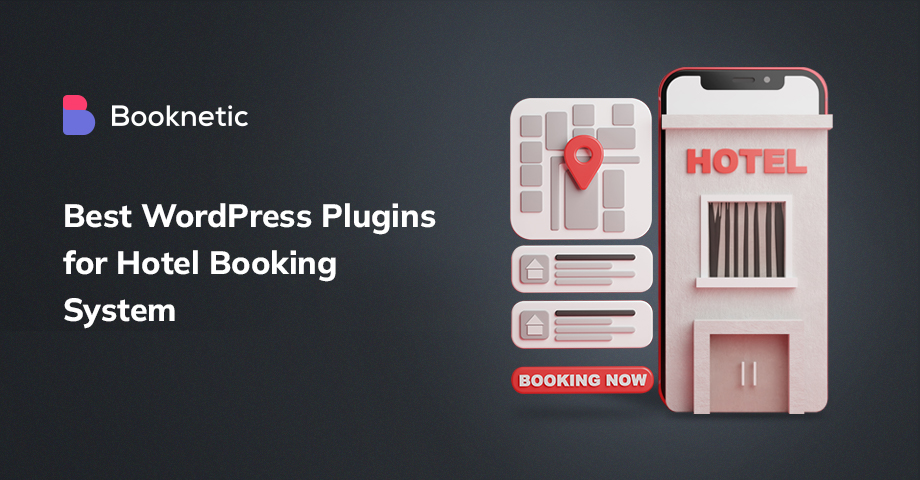 Vacation is a time everyone looks forward to. It is the fruit of your hard work throughout the year and as a business owner in the hospitality sector, you can take a piece of the 3.5 billion dollar pie by offering your services online and getting customers to make their bookings well ahead of their actual stay. But, how are you going to achieve this?
Well, the most popular option right now is online booking services. You can either offer it on your website or partner with big platforms such as Booking.com, Agoda.com, and Hotels.com. The best practice is to have both options available for the customers.
In this post, we will list the main features that you should look for when searching for a hotel booking system plugins and the best Best WordPress plugins for hotel booking system.
What features do you need for a top-quality hotel booking form WordPress plugins?
Mobile-first design approach
Most online bookings happen through mobile devices so keep a mobile-first attitude when designing and implementing your booking system plugin. It is also important that hotel booking form WordPress plugins comply with WordPress themes for hotels.
Customizable Calendar
Customizable calendars are a must-have feature. People define all of the important details of their booking in calendars available on your website. Make sure that your calendar offers as much functionality as possible.
View my bookings section
There is no explanation needed for this section. People should be able to see the booking and all details about it: how long they will stay, which extra services they will receive and how much they will pay.
Payment options
This is the last but not least important feature that you should look for in a hotel booking WordPress plugin. Your choice of booking system plugin should be able to accept payments, differentiate types of payments and make refunds if needed.
So, we have learned the most important features of booking system plugins and now we will list the best booking plugins for WordPress sites.
Best WordPress Plugins for Hotel Booking Systems
1. Bookly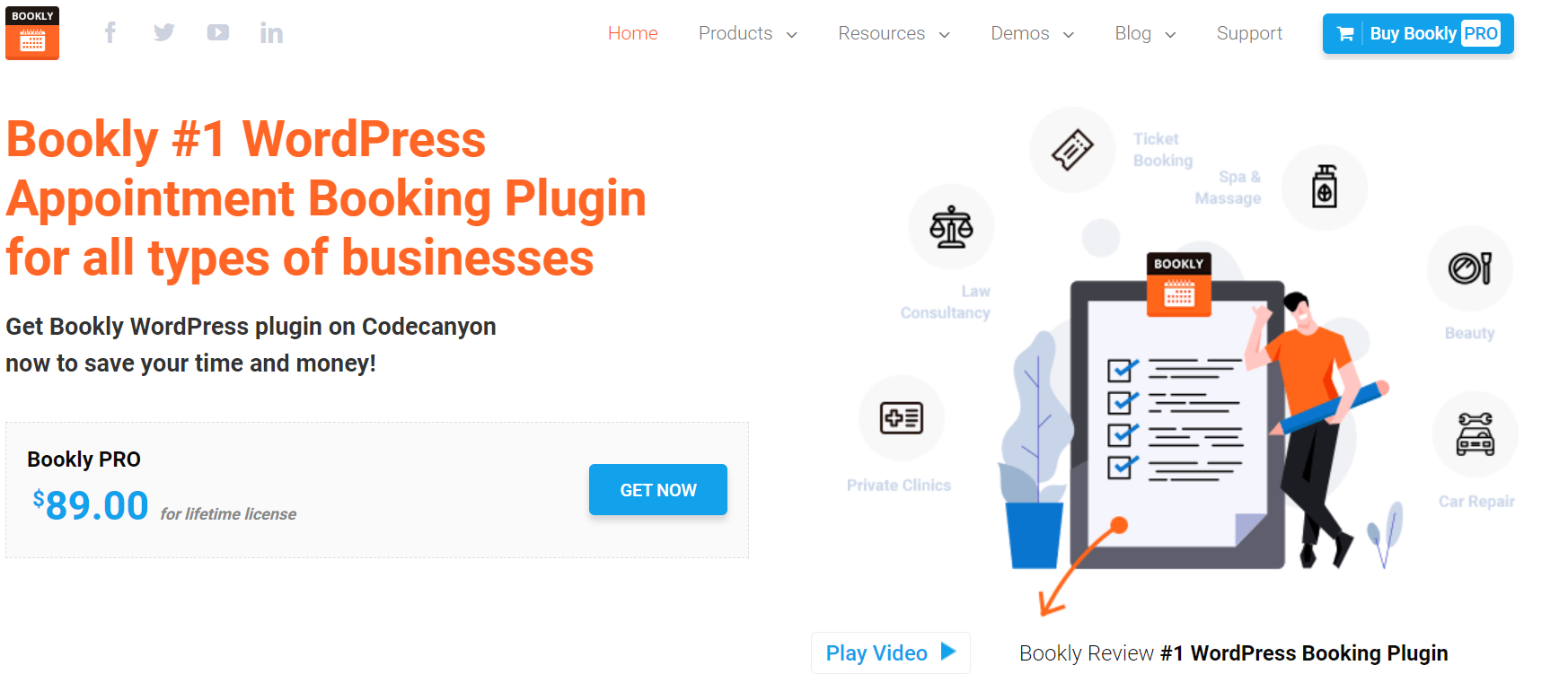 Bookly is an all-in-one appointment booking plugin. Even though it offers a broader booking and appointment system, its features are great for hotel managers and owners. Bookly has a responsive and customizable design which you can fit your taste.
Bookly offers all the options to guide visitors through the sales funnel and offers payment services such as PayPal alongside deposits and pay-later options. You can even remind people with automated emails and SMS messages to make sure they don't forget their bookings.
However, Bookly may not be the perfect fit for your business as it is not tailored for hotels specifically as others in this list. Most of the features are developed with other customers in the mind and you might face some difficulties while using them for your platform.
Main features:
Mobile-friendly bookings
Fully customizable widgets you can place anywhere on your website
Easy-to-understand admin panel for managing bookings and extra services
Dashboard to see reports and analyze previous records
Rating system to increase transparency
Automatic and manual approval systems
Payment support for Stripe, PayPal, Authorize.net and a deposit add-on
Email and SMS reminders
Price: $89
2. WP Hotel Booking

WP Hotel Booking is a great option for hotel booking businesses looking to minimize costs. Despite being offered for free hotel booking WordPress, WP Hotel Booking comes with all the essential features to build a relatively comprehensive hotel booking system. It includes functionalities such as coupons, managing bookings, accepting payments and creating reports.
Also, being an open-source project, it can help fix your problems yourself if you have an in-house developer team.
A strong repelling disadvantage of this plugin is the lack of constant and reliable support. As seen from the reviews on WordPress, developers sometimes abandon the project for a while and many requests on support remain unsolved.
Main features:
Room, bookings and customer management
Flexible pricing plans and coupon options
Accepting multiple currencies for hotels in different parts of the world
Blocking bookings on special dates
Reports and data collection
Stripe, PayPal, Authorize.net and Offline payment support
Price: Free
3. MotoPress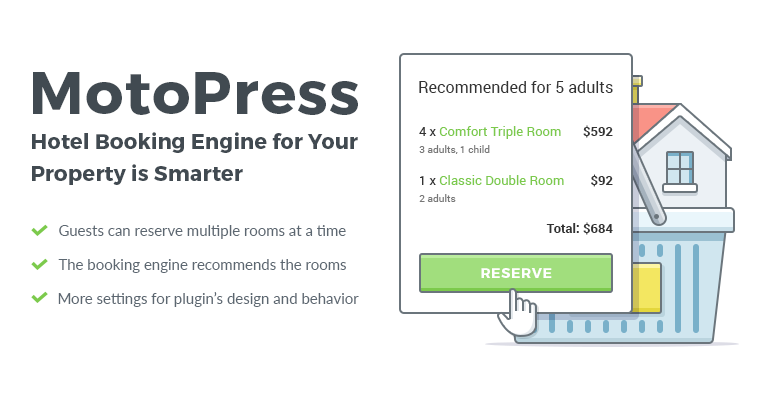 MotoPress is perhaps the most comprehensive plugin among hotel booking system plugins. It offers the most functionality among all the listed options and limits time loss by a considerable amount.
The most important feature of this plugin is iCal synchronization. This system sends and receives data about bookings from all the providers and eliminates the possibility of overbooking.
The main drawback of MotoPress is its price, which may not be affordable for all. On top of that most of the extra functionalities come with add-ons and the cost of using this service quickly escalates becoming unreasonable for many small businesses.
Main features:
Mobile-friendly and responsive design
iCal integration
Real-time calendars showing available time frames
Dynamic pricing based on season, availability and time of stay
Clear invoice system that lists all of the costs and also the taxes
WooCommerce integration
Great online community and support materials to help pass the learning curve
Manual and Automatic approvals
Email and SMS notifications
A broad selection of payment gateways (PayPal, 2Checkout, Stripe, Braintree, Beanstream, Pay on Arrival)
Price: $99 for a single site and $199 for unlimited sites
4. HBook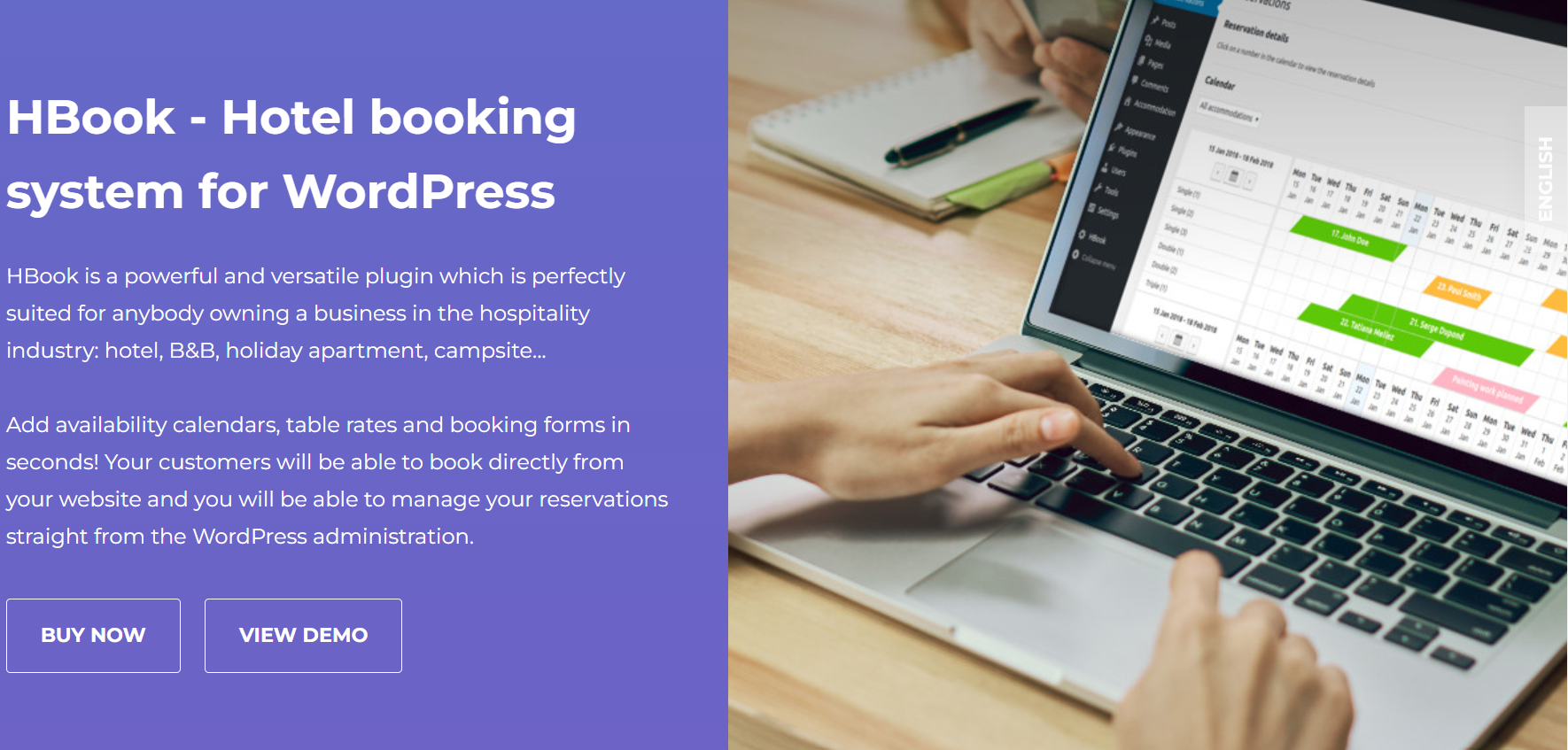 HBook is another WordPress plugin for hotel booking developed specifically for businesses in the hospitality sector. This plugin offers a pleasant experience for you and the visitors of your website. It is built on small code and snippets, so you can put the booking calendar, details about booking and other functionalities in any place on your website.
You can also show detailed information about reservations, booking details and time of stay and create invoices with all the fees, discounts and deductions included in the breakdown. The Plugin also supports iCal synchronization you can be sure that you will never face an overbooking problem.
Despite its great features, HBook has some limiting factors. For example, customers can't schedule multi booking appointments at the same time, reducing the number of group reservations you will get. Filtering properties is also not available in this plugin.
Main features:
Flexible design that fits your website
Booking management and calendar view
Pricing updates based on the changes in reservations
iCal integration
Ability to set fees and show detailed price breakdowns
Automated email system for confirmations
Payment support for Stripe and PayPal
Excellent customer support
Price: $65
5. VikBooking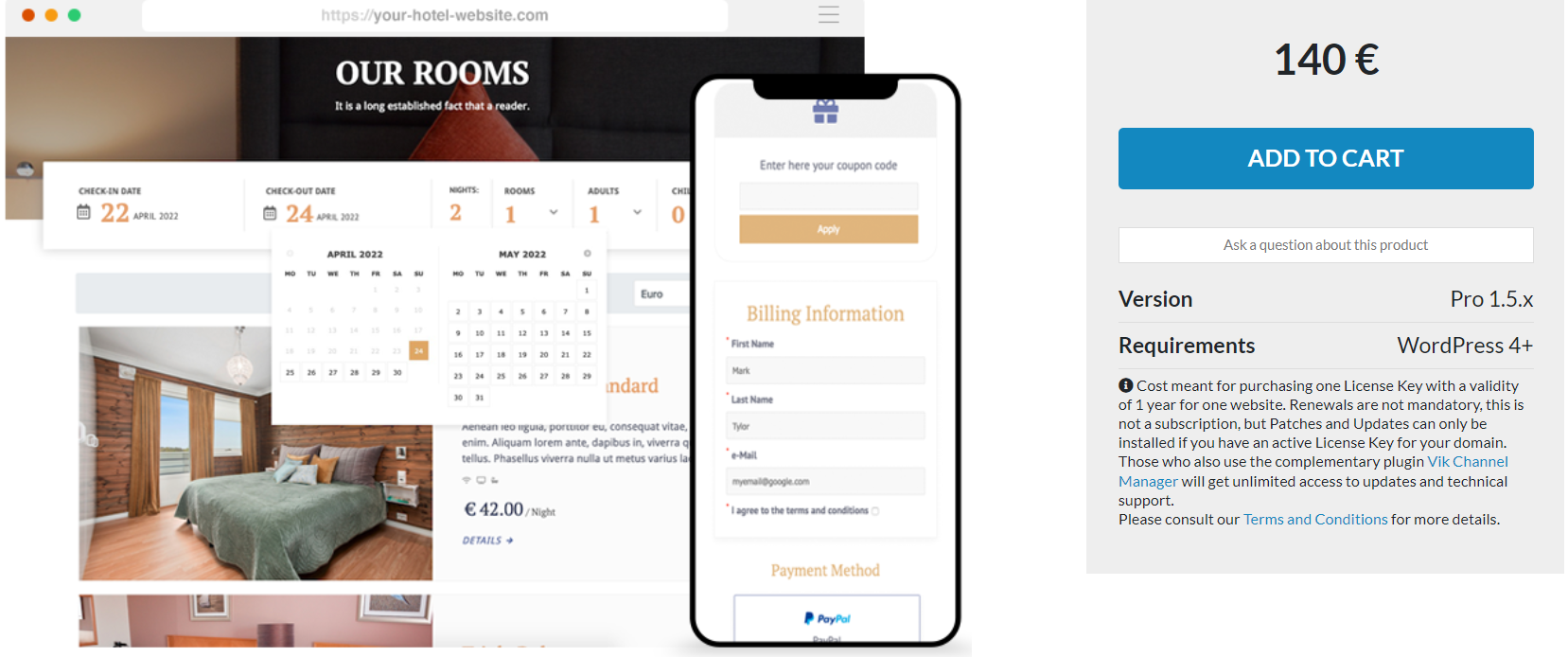 The last plugin on our list is VikBooking. As a native WordPress plugin, VikBooking offers both free and pro versions. The free version is described as a trial and developers recommend upgrading to the Pro version after you evaluated the free version and deemed it worthy.
VikBooking offers real-time room availability and you can list a lot of other details about the room. Also, a lot of pricing options are available ranging from nightly, occupancy-based and length-of-stay pricing.
This plugin also supports a much more developed version of the iCal system with a channel manager. Channel managers add another layer of security and make the booking process even easier.
However, this plugin shares the same problem with MotoPress. You need to pay for a lot of functionalities even if you get the premium version. VikBooking supports a lot of payment gateways but it requires payment for all of them separately. The only gateway that comes included in the pro is PayPal.
Main features:
Availability calendars
Wide range of pricing options
Channel Manager to avoid overbooking and other problems
Electronic invoices with price breakdowns
Different registration functions with the no-show option
Multi-language support
Dynamic pricing
SMS and email notifications and reminders
Accepting over 60 different payment options (with add-ons)
Price: €140
Bottom line
The hotel business requires a lot of nitpicking about what you need and what you don't need. We listed the best WordPress Plugins for Hotel Booking Systems above and you can decide which features you need and which plugin is the best for you.
In our opinion, if you are a big and established business looking for quality, VikBooking is the best for you. But if you are a small business or you are entering the market for the first time, WP Hotel Booking and HBook are your best options.
Sign up for our newsletter
Be the first to know about releases and industry news and insights.
Let's

get started

on something great
Booknetic is a simple yet powerful plugin for accepting online bookings & payments on your WordPress site.