Best Employee Scheduling Software of 2023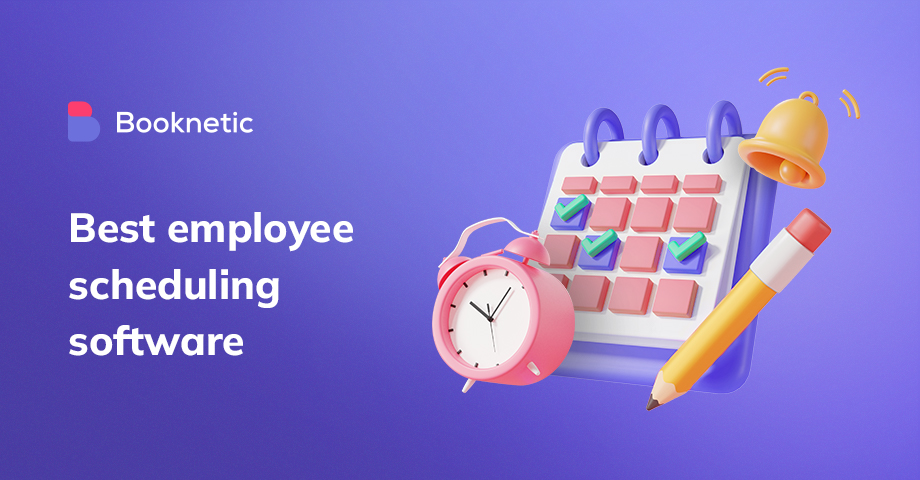 As a business owner, you know that managing your employees' schedules can be a full-time job in and of itself. The last thing you want to do is waste time trying to figure out who's working when and for how long.
That's where employee scheduling software comes in. This type of software makes it easy to create and manage employee schedules. In fact, it can save you hours each week, freeing up your time to focus on other aspects of running your business.
There are a number of employee booking software options on the market, so how do you know which one is right for you? To help you make the best decision for your business, we've created this guide to the best employee scheduling software.
What Should Every Employee Booking Software Have to Offer?
Automated Scheduling: Best employee scheduling software should allow you to create a schedule in as little time as possible. Options such as drag-and-drop functions make creating and editing schedules a breeze. The best solutions offer auto-populate options that fill in shifts automatically based on the availability of employees, making creating a schedule even faster.
Ease of use: Your scheduling software should be intuitive and user-friendly. If it is difficult to use, no one will want to use it, leading to inefficient processes and frustrated employees.
Notification Options: The best scheduling software should also offer notification options such as email or text message alerts so that employees are reminded of their shifts and other important tasks. This will help ensure that everyone is aware of any changes to the schedule, which will save time and money in the long run.
Customizable Reports: An effective employee scheduling software should offer customizable reports that allow you to view data such as attendance, overtime hours worked, average shift length, etc. With the right solution, you can get a clear picture of how your employees are performing so that you can make informed decisions on scheduling and other matters.
Scalability: Your employee scheduling software should be able to scale with your business as it grows. This ensures that you have the features and capacity you need to handle larger staff and more complex scheduling issues.
Cost: The cost of the employee scheduling software should also be taken into account when making your decision. While there are solutions available at different price points, make sure you select one that offers all the features your business requires without being too expensive. Free trial options or money.
Tracking: A powerful software to schedule shifts of employees should have a way to track their performance, or at least the results of their performance. It can be either conversion tracking for the whole business, or simply tracking individual activities of employees.

6 Best employee booking software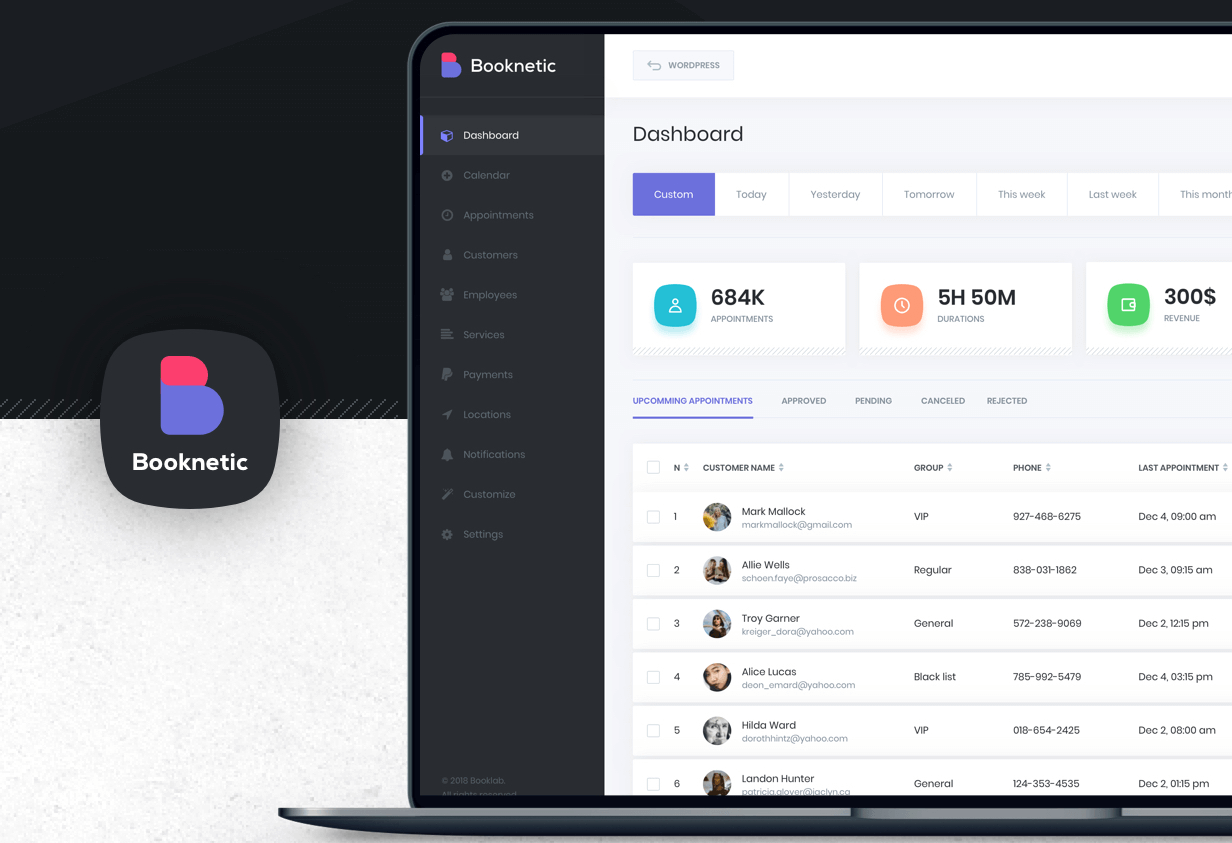 Booknetic is the perfect choice for businesses of all sizes. It has a plethora of features that can make your life easier when it comes to managing and scheduling appointments.
The plugin is sold through the Envato market, where it has a 4.98 rating from customers. As for its customer support and the usability of its features, Booknetic ranked number 1 in the Envato market.
With advanced integrations, you can easily connect with various services such as Google Calendar, Outlook, Apple Calendar, and others.
The drag-and-drop builder helps you create the ultimate booking panel according to your needs and the reporting feature gives you insights into real-time statistics. Lastly, its top-notch customer support makes it one of the best employee scheduling software options on the market in 2023.
Features
Unlimited services, employees, and locations to set your booking panel
Online payments through the most secure and popular payment gateways like Paypal, Stripe, Mollie, Razorpay, and more.
SMS, email, WhatsApp, and Telegram notifications are used to send notifications to clients.
Continue with Google and Facebook accounts
Features include coupons, gift cards, and holidays.
To prevent spam scheduling, users can also access Google ReCAPTCHA.
Form-builder feature
User Role Manager
2. Acuity Scheduling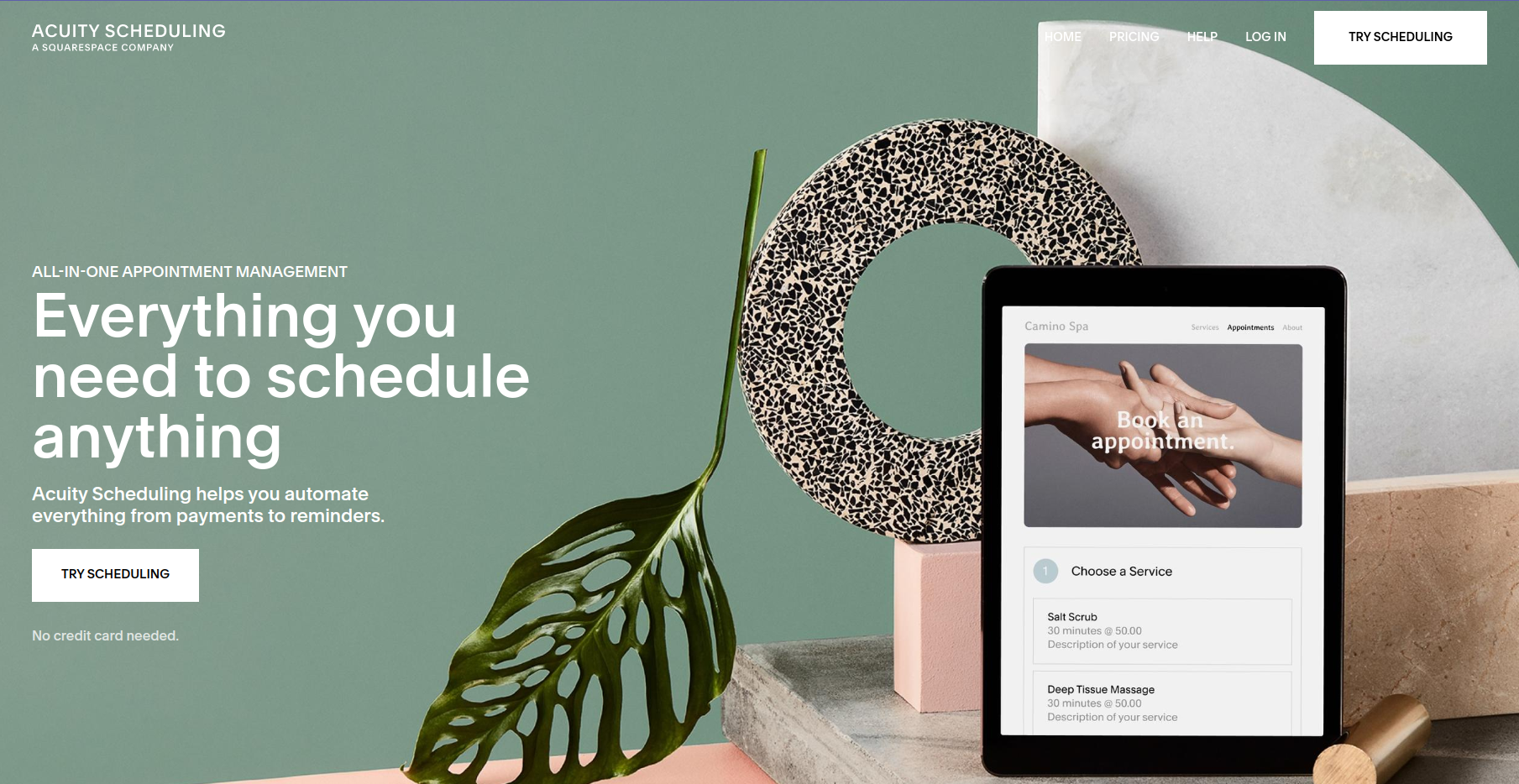 Acuity Scheduling is one of the best employee booking software that is designed to make it easier for businesses to schedule and manage their employees. It offers a wide range of features such as online appointment scheduling, automated notifications, online payments, and customer management. With Acuity Scheduling, businesses can easily keep track of their staff's availability and bookings while providing customers with an efficient scheduling system.
Acuity Scheduling simplifies staff management by offering detailed reports on employee hours worked as well as attendance so you can analyze performance in real-time. The software also allows managers to set up shifts quickly and assign tasks to the appropriate employees. Additionally, managers can monitor team progress and give feedback on individual team members' performance from one central dashboard.
Features
• Automated notifications - Send automated appointment reminders, follow-up emails, and more
• Online payment processing - Accept payments from customers online
• Customer management - Keep track of customer preferences and make sure they get the best experience each time
• Real-time reporting - View reports on employee hours worked and attendance for better performance analysis
• Team progress monitoring - Monitor team progress from one central dashboard with data over time
• Shift assignments & scheduling - Quickly set up shifts and assign tasks to employees.
3. Monday.com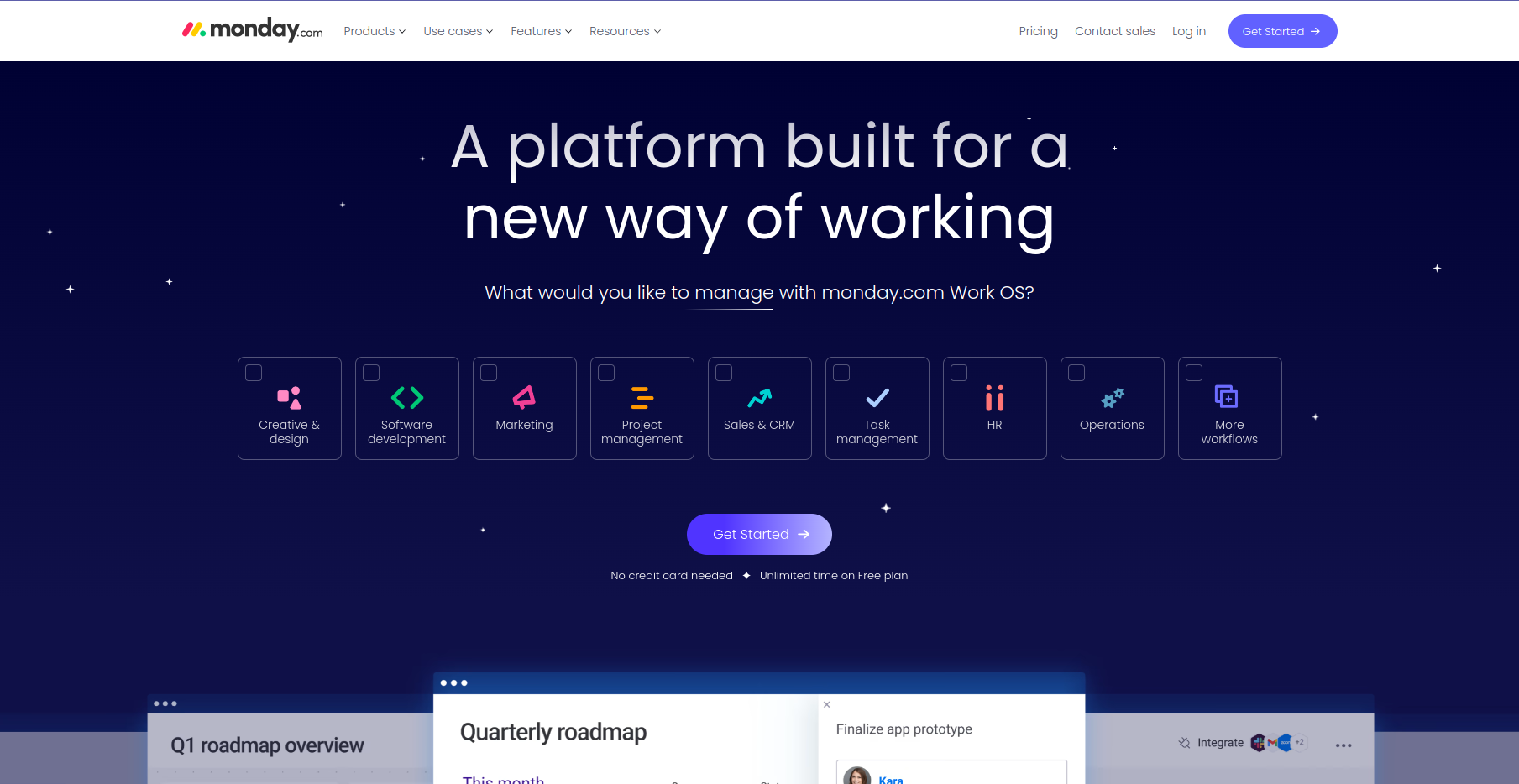 Monday.com is one of the best employee scheduling software available. It has an intuitive user interface that makes it easy to plan, track and synchronize work assignments for both small and large teams. With Monday.com you can easily create weekly or monthly schedules, assign tasks to staff members, view their availability, set due dates, manage vacation requests, and more.
Plus, all these features are integrated with various third-party tools such as Slack and Google Calendar which allows your team to stay organized even when working remotely. Monday.com also provides advanced analytics so you can understand how projects are progressing and make data-driven decisions about staffing needs and project management strategies.
Features
A drag-and-drop user interfaces for creating and managing schedules.
Ability to assign tasks set deadlines and track progress.
Integration with third-party apps such as Slack and Google Calendar.
Advanced analytics to monitor team performance and make informed decisions about staffing needs and project management strategies.
Easy vacation request management and notifications for staff members.
Customizable templates for quickly creating repeating tasks or projects.
4. Calendly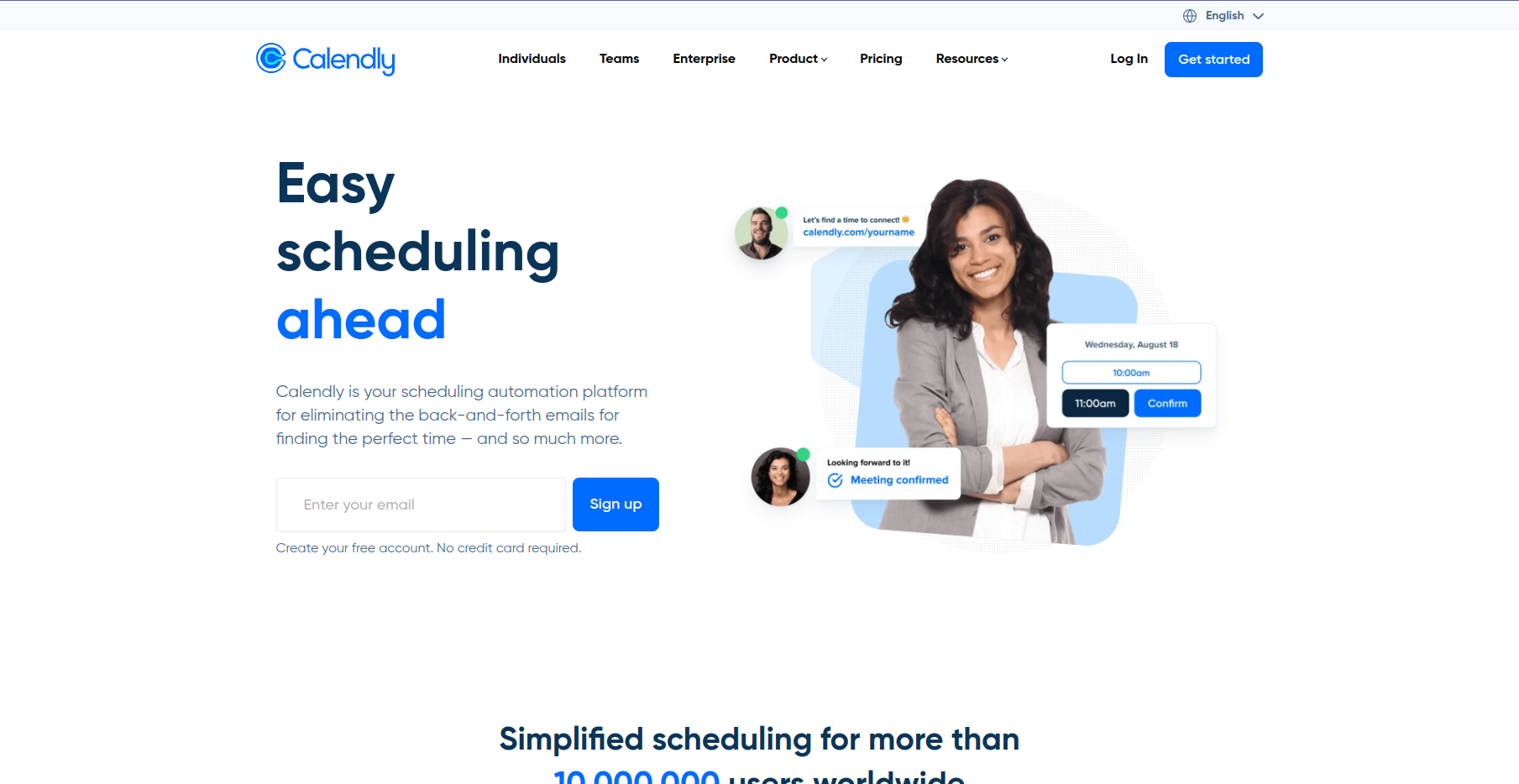 Calendly is an excellent employee booking software that simplifies the scheduling process. It allows you to share your availability with everyone in your organization and quickly set up meetings and appointments. Not only can you easily create, move, and reschedule events, but you can also customize time slots and buffer times between meetings.
Calendly comes equipped with a range of features designed to make managing your schedule easier than ever before. You can send automated reminders for events, integrate the software with your calendar applications, track responses from invitees and view analytics on past events. Calendly is highly user-friendly, efficient, and secure so it's perfect for any business or team looking to streamline their scheduling process.
Features
• Easy customization: customize event types, buffer times, and time slots to fit your scheduling needs.
• Automated reminders: set up automated reminders for events so you don't forget about them.
• Calendar integration: sync with Google, Outlook, or Apple calendar applications for quick access to all of your upcoming events.
• Track responses: track responses from invitees so you can stay on top of who is attending an event and who isn't.
• Event analytics: get insights into the past performance of events including attendance rates and response times.
5. Connecteam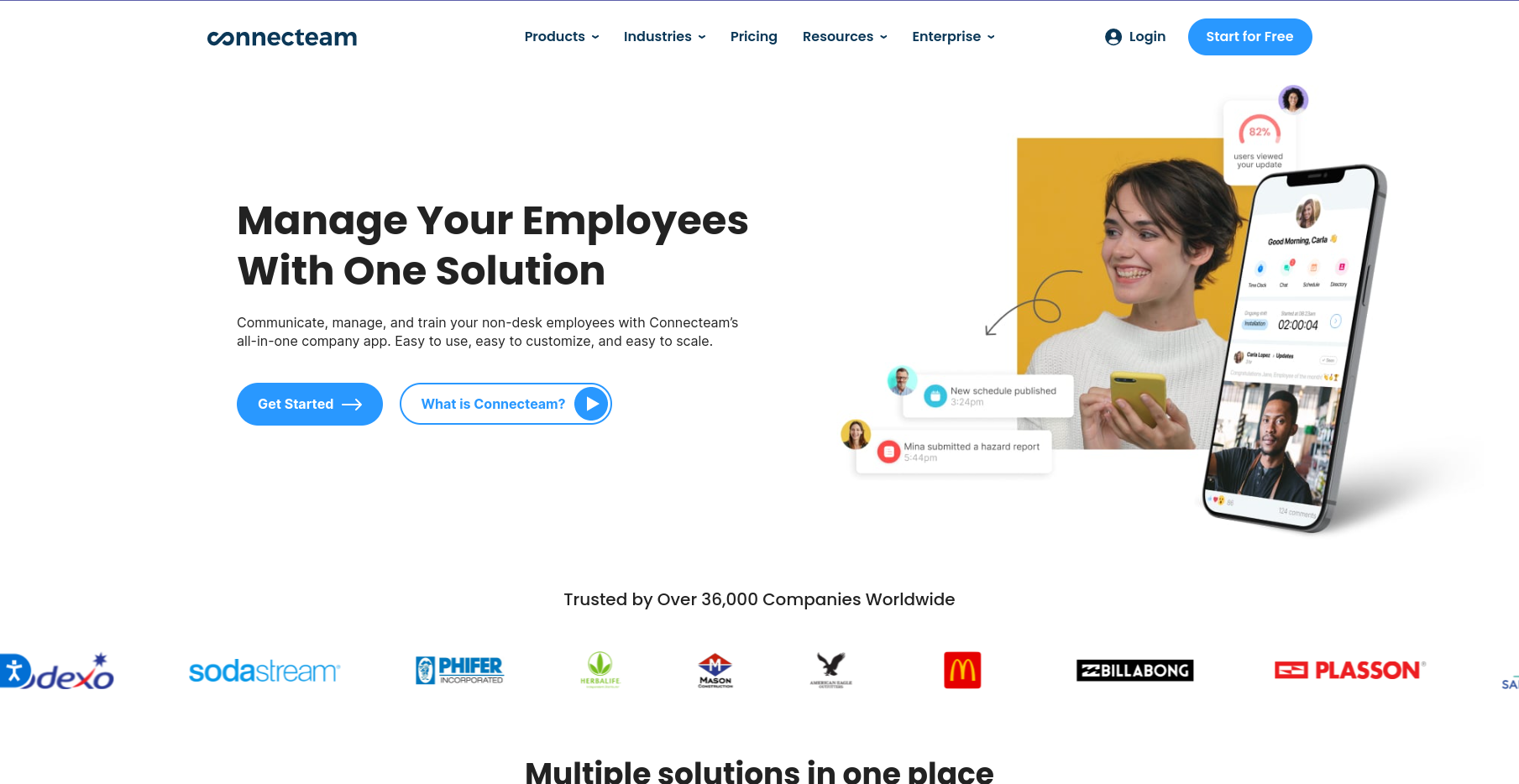 Connecteam is the best employee booking software that can help businesses streamline their workforce management. With this solution, employers can easily manage scheduling, track hours and attendance, and monitor employee performance. The system is easy to use and helps streamline the entire process of managing employees in a single unified platform.
Connecteam also provides advanced features like real-time notifications, shift-swapping options, expense tracking, payroll integration, and more-allowing employers to stay up-to-date on all employee activities.
Furthermore, the system is highly secure with robust security measures in place to protect confidential data from external intruders. By utilizing Connecteam's employee booking software, businesses will be able to maximize efficiency while removing administrative headaches commonly associated with manual processes.
Features
• Advanced Scheduling: Create flexible work schedules and easily adjust them to meet the needs of your business.
• Time & Attendance Tracking: Track employee arrivals, departures, and absences with ease.
• Employee Performance Monitoring: Monitor employee performance in real-time, helping you identify areas of improvement or reward top performers.
• Real-time Notifications: Keep everyone informed via email or text messages about changes in the schedule or progress on tasks.
• Shift Swapping Options: Allow employees to swap shifts amongst themselves without requiring administrative approval.
• Expense Tracking & Management: Automatically track expenses associated with each shift, simplifying bookkeeping and expense management processes.
• Payroll Integration: Connecteam integrates with popular payroll systems, making it easy to export payroll data and ensure accuracy.
6. Paycor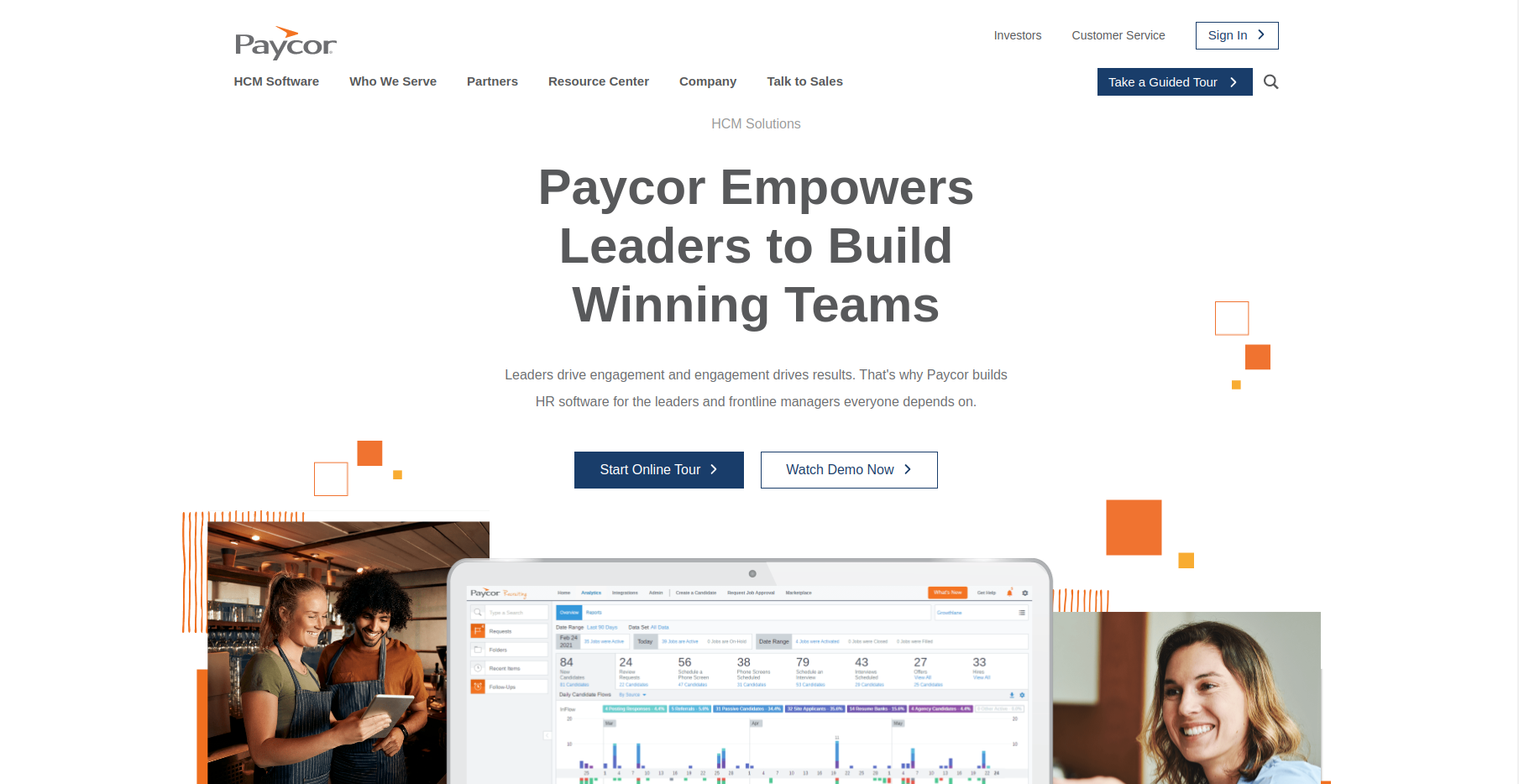 Paycor's employee booking software provides businesses with a comprehensive system to manage their employee scheduling and bookings. With its easy-to-use interface, the software makes it simple for employers to set up shift schedules, assign tasks, and track time off requests. It also has advanced features to help ensure accurate recordkeeping and compliance with labor laws. Businesses can even customize the software to fit their specific needs.
The user-friendly design of Paycor's software simplifies the process of creating organized, efficient schedules that enable employees to get the most out of their workdays. Employees have access to an intuitive dashboard where they can view all upcoming shifts and request time off if needed. They can also use the mobile app to quickly review their shift assignments and stay organized.
In addition, Paycor's comprehensive reporting tools provide businesses with detailed insight into their workforce utilization and overall productivity. With this information, employers are able to make informed decisions about when and how to best utilize their employees' talents.
Features
• Automated scheduling: Quickly set up and adjust schedules to ensure optimal staffing levels.
• Time off requests: Easily track and manage employee vacation, sick days, and other time off requests.
• Compliance assurance: Ensure accurate recordkeeping that complies with labor laws.
• Customizable reports: Generate comprehensive workforce utilization reports for better decision-making.
• Employee self-service: Allow employees to view their schedule and make changes without employer approval.

Conclusion

After analyzing the best employee scheduling software of 2023, it is clear that Hubstaff offers the most comprehensive and user-friendly solution. It was the unanimous favorite among reviewers for its ease of use, time-tracking capabilities, reporting features, and customer service.
Sign up for our newsletter
Be the first to know about releases and industry news and insights.
Let's

get started

on something great
Booknetic is a simple yet powerful plugin for accepting online bookings & payments on your WordPress site.