Benefits of Online Appointment Scheduling for Small Business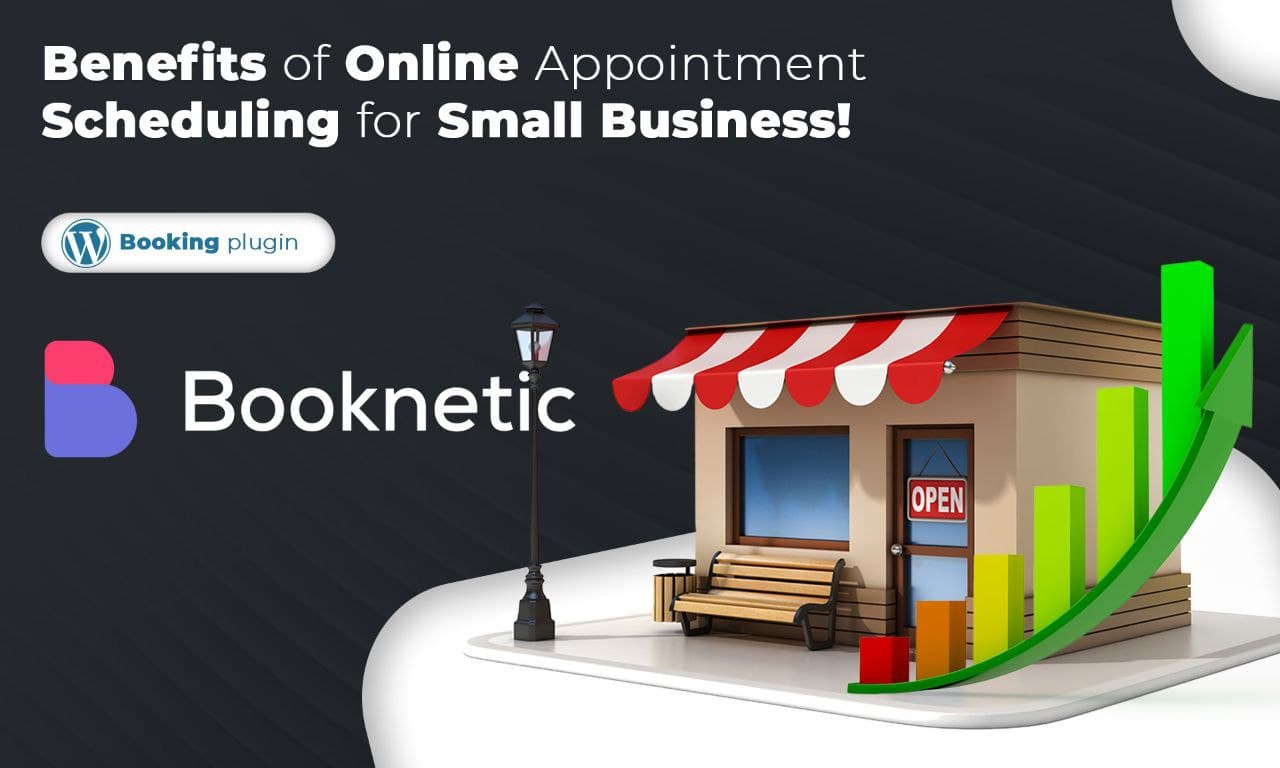 Most companies cling to antiquated phone-based processes that necessitate manual calls and bookkeeping when it comes to reservations. It's time to use scheduling plugins for your small business. There are many benefits of online appointment scheduling plugins for your small business.
We have seen the effect of scheduling plugins like ours and how it can positively influence a company as a tech provider of online bookings. Online scheduling software and appointment management software are also terms used to describe the framework. An online scheduling system for WordPress websites helps people to schedule appointments and reservations online from any Web-connected smartphone simply and safely. Clients and companies alike face frustrations, and real-time online appointment management is a workaround.
If you question the advantages of using an online scheduling program over conventional approaches, we can help. We'll go into the benefits of using an online scheduling platform for your small company in this article.
Increase your sales and expand your company
With its online payment feature, an online scheduling booking platform will help your company pull in the bacon. You will also bill consumers for no-shows or late cancellations. If you're trying to make money, online scheduling will help you do just that. Another significant advantage of online booking software is the ease you can make, post, promote, and sell online. You can mix and match the services or let consumers pick their kit. That will boost the sales even more, and consumers will be able to get what they want. It would be best to incorporate upselling into the booking process, allowing you to provide consumers with context-specific deals.
Build a relationship with your clients
It can sound counterintuitive at first, but scheduling saves customers time. Clients would be able to use your services more quickly if you use online scheduling.
An online scheduling app is competent to deliver same-day or next-day sessions if you want to do so. Powered with strong email and communication channels, online scheduling let small businesses build lasting relations with customers.
When a client's calendar allows it, they can conveniently make these last-minute appointments. An Appointment Scheduling Software can organize client meetings and makes it simple to deliver high-quality service. Consumer retention contributes to a higher customer lifetime value as well as brand loyalty.
Expanding and defining your customer profile
Few online appointment scheduling plugins, such as ours, provide functionality that records the client's details through their interactions with the company. This information, which is kept for a more extended period, acts as a repository of meaning for client, their preferences, and behavior.
There are many advances that employees love about online booking. Most of the time, the customer support department handles phone calls, explains options to clients, and manages plans, all of which can be automated. Your opportunities would benefit from the time-saving incentives in the same way. Individuals who wish to schedule an appointment with you do not have to take time out of their busy schedules to contact you.
They will do so while continuing to perform their respective responsibilities. If the room is available on a specific date, the customer can choose their choices and select dates and times that suit them best. If the appointment is set, the system will give them an email confirmation, all without requiring any human involvement on your part.
This method frees up the employees' ability to do more critical tasks. This is a significant advantage of online booking plugins and one that can significantly support your business.
The advantages of online appointment scheduling software in terms of saving time convert into financial savings. The time you would have spent while booking appointments is now used to focus on other revenue-generating tasks. The services that were formerly allocated to scheduling appointments should be redirected to more efficient activities.
When handling business appointments, a scheduling scheme can often remove the need to hire additional business personnel or require the current team to work longer hours. This method could result in a significant increase in annual savings.
Customers have to prepay for their appointments via an online scheduling system. They can pay with PayPal, Stripe, and WooCommerce methods. Online booking platforms allow you to cash in on new revenue as soon as players make their reservations. You should expect your attendees to pay before they book, boosting your income even more, and you won't have to think about payments when they arrive. You will still retain part of the money with the deposit payment feature of Booknetic in the event of a no-show.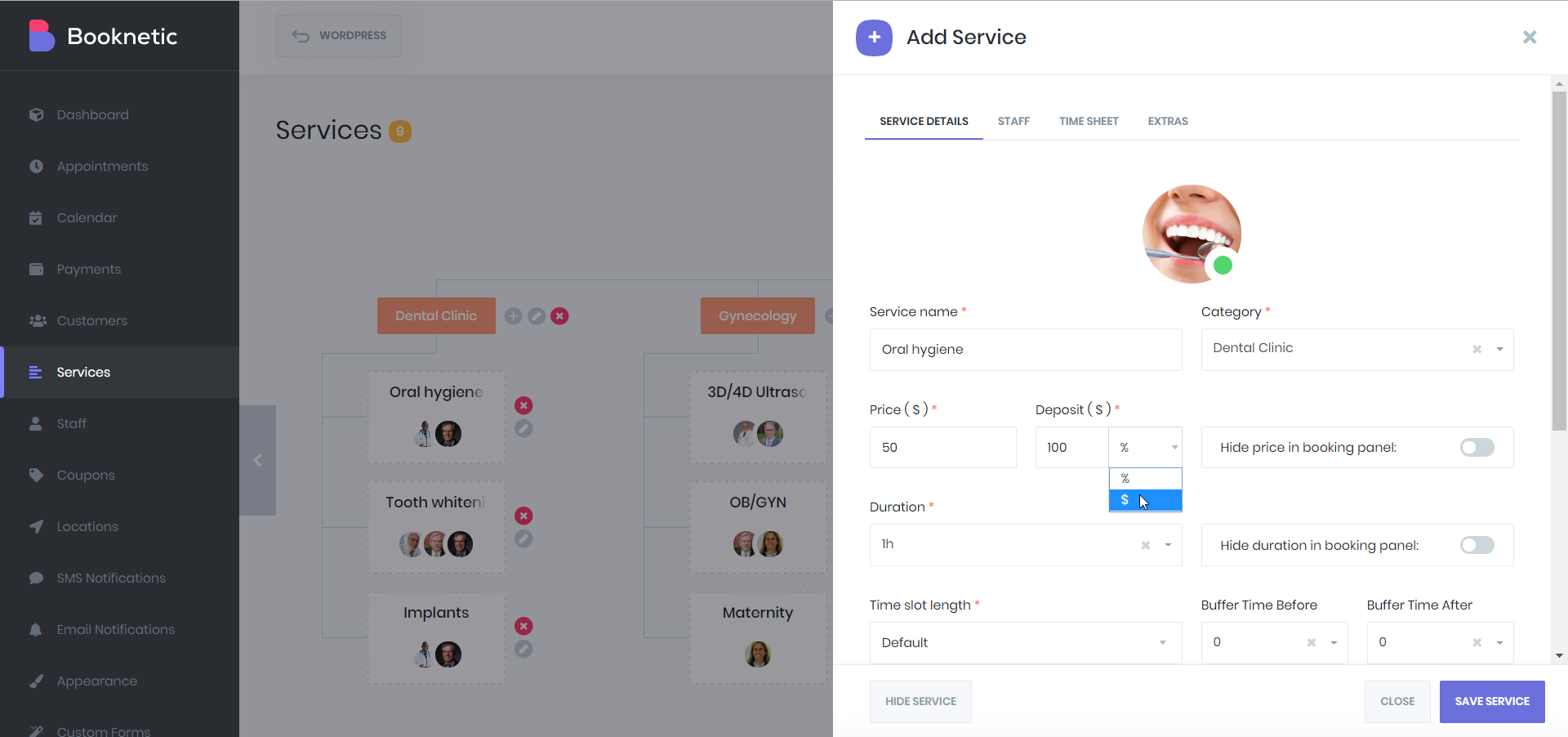 Synergy in Sales and Marketing
Now you can book with a single press. Buttons and ties on the website and social media account not only make schedules easier, but they're both great marketing resources. You're adding unnecessary problems for your clients by forcing them to abandon your product page or website to place a booking order. This creates pressure, and their chances of getting the types of impulse bookings that pull in vast amounts of money are limited.
There will be no more no-shows
Clients who regularly no-show, postpone, or attempt to reschedule their appointments at the last minute exist in every industry. You will watch how much a customer cancels by using automated email and SMS notifications. Based on the number of meetings they have, business owners also closely consider their hiring and preparation for the week.
Having email and SMS updates is critical for making money and avoiding lost chances due to a customer forgetting when their appointment was scheduled. Make rescheduling and canceling reservations a breeze. Once again, the booking plugin will come in handy. You will make it easy for your clients to reschedule by encouraging them to change their reservations online.
Email and SMS reminders are important
Like how you don't want client calls to interrupt your job, your clients won't be interrupted during the day to answer your calls if you use email and SMS appointment reminders. The advantages of using an online appointment booking scheduling plugin and appointment notifications are to serve your company and your clients.
Not every customer spends their days in front of a phone or at a device. Your clients will be reminded of upcoming appointments by email and SMS if you use Booknetic's SMS, email, WhatsApp, Telegram, and Webhook notifications features.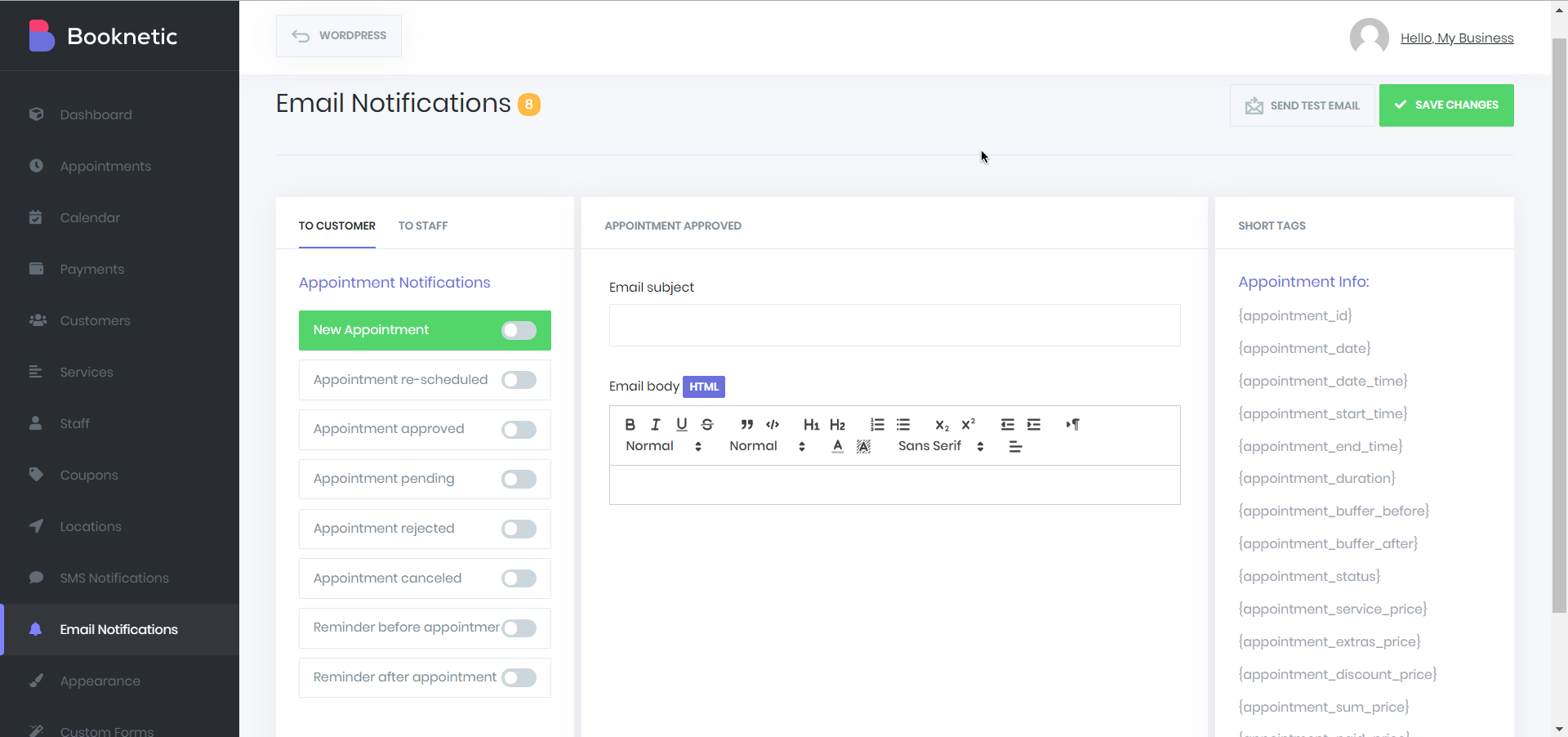 Customers will have a better booking experience
Even though email is accomplished instead of the phone, the conventional method of scheduling appointments can be time-consuming and requires several back-and-forth communications. Not only does the procedure take a long time, but it also allows for human error and miscommunication. Customers can use an appointment management website at their leisure, eliminating the need for back-and-forth emails. The device lists the programs you have and all available time slots, allowing the user to choose the most convenient for him. Dealing with a busy, disrespectful, or distracted person can be stopped entirely.
Self-scheduling minimizes communication gaps and miscommunications
Consider how much you are left proposing potential days and opportunities while attempting to schedule an appointment. It isn't easy to have any of the options, and it's much more challenging to get the client to accept it at times. You've failed to book a client once again. One of the most appealing features of self-scheduling apps is the ability to track down any of those missing appointments. Customers can see the availability of programs and plans on the self-scheduling booking board, making an informed decision.
The system with centralized information
Online appointment scheduling plugins provide customer data storage as part of the kit. The company will create a centralized location where patients' data can be saved, updated, managed, and analyzed. Recording, reporting, and reviewing those data helps to control a customer's case file. It will cut down on the amount of paperwork and the time it takes to get physical evidence.
Provide quick and convenient access to critical market data to help the company make everyday and long-term strategic choices. It's also easy to stop making duplicate consumer data entries.
You gain valuable insight into your business
Are you trying to keep track of the expansion of a small business? Are you part of a more significant enterprise that wants to increase its organizational efficiency? Detailed reports available in online scheduling applications can help you make smart choices regardless of your business size.
An analytics dashboard is included with most online booking systems, allowing you to assess your success metrics quickly:
The total number of no-shows
Number of appointments completed by employees
Productivity comparison
The number of sessions that were scheduled as a part of a publicity plan
A customer's complete appointment history
The metrics mentioned above are only a few of the many available. Most appointment scheduling plugins also help you to generate regular or quarterly data on revenue and customers. This fast and straightforward access to critical small business data will help the company make short-term and long-term strategic decisions.
You can avoid overbooking
Have you ever had the experience of seeing two customers show up at the same time? This is nothing new for a small company, and mistakes like these are becoming more common. An online appointment scheduling system must be implemented to prevent such failures, which would eliminate any duplication in the booking process.
Conclusion
The popularity of online appointment booking plugins is growing. There are a lot of benefits of online appointment scheduling for your small business as we listed above. Furthermore, there are many reasons why you should adopt this technology. As we previously mentioned in the post, the service enables companies to create a streamlined infrastructure for handling and booking reservations.
Booknetic plugin is incredibly adaptable, scalable, and has several features. For learning about these features try Booknetic's demo version.
Sign up for our newsletter
Be the first to know about releases and industry news and insights.
Let's

get started

on something great
Booknetic is a simple yet powerful plugin for accepting online bookings & payments on your WordPress site.