Appointment Cancellation Policies and Best Practices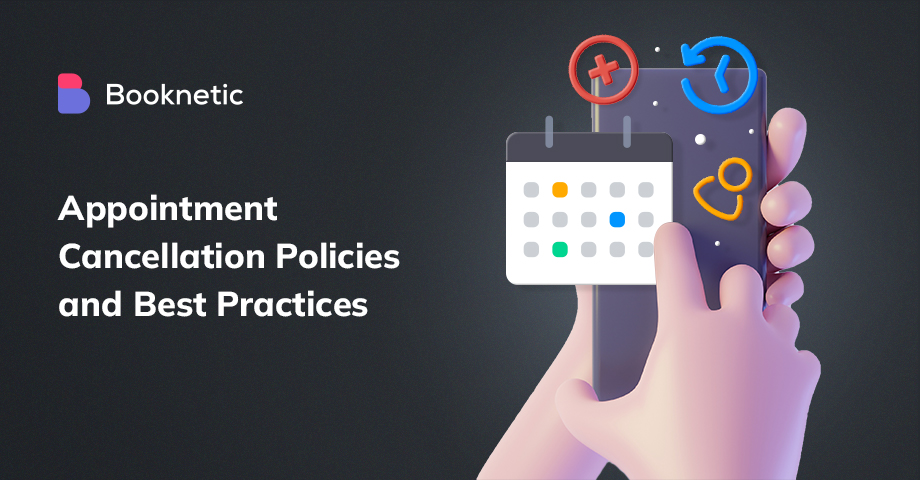 Scheduling is a crucial part of customer service, and you need to provide your customers with a great experience. An unreliable client can be a real headache for businesses, but most service providers know that the best way to get clients back is to care about them. Nevertheless, a well-crafted cancellation policy is essential to your bottom line. Having too many no-shows can be costing you quite a lot of money and time.
The best way to avoid cancellations or late show-ups is to set up a cancellation policy on your website, preferably on the booking page. It is also good to include the link or reliable information to the cancellation policy in any appointment reminder emails or SMS messages you send your customers. Before setting up a cancellation policy, you have to define your business needs and goals by asking the following questions:

Do you charge a booking fee for your service? If so, what is your priority to determine during the refund process?
How long before the customers must inform you about their need to cancel?
Do you want to charge a cancellation close to the appointment time? If so, what are the customer benefits if you cancel the booking?
When you are ready with your answers, now you can create a cancellation policy for your business. But it is recommended to update or build a cancellation policy according to your customers' practices by analyzing the data and their actions/behaviors towards the bookings. Below, some of the examples for different types of business are listed. This list can give you a great idea and ground to build your own template.
With that being said, let's take a look at the list.

How to create an Appointment Cancellation Policy

There can be various reasons why clients might not show up for their scheduled appointment. They may not have time for an appointment because of other prior commitments or a sudden change in plans. It is also possible that they may not be able to get there because of reliable transportation.
Another possible reason might be a bad experience that clients faced a long time ago or dissatisfaction with their service.
Few examples:
A fitness coach session isn't helping someone achieve better results after a specific time period.
Financial assistance can't help manage the project's budget based on laws and regulations adequately.
A skin-care treatment isn't helping in getting rid of wrinkles.
A favorite restaurant makes changes to the time slots without considering customers' needs.
​​​​​​​The list can go all the way down if we consider every detail. But the worst part happens when customers simply forget their appointment. Either way, it can badly affect your business. Therefore, the most important solution is to send well-timed reminders via email or SMS to the clients. Reminders are a good idea, but you know what's even better? Imposing cancellation policies and notifying your clients of the consequences will help your customers when they try to cancel appointments during the booking process.
We have a dedicated Salon cancellation policy blog that mostly talks about the use cases for salon owners. But in this blog, we will cover the topic on a general level.
1. Set a time frame for cancellation
How long should clients have to notify you about canceling an appointment before penalties apply? Probably, your answer will be based on your practices.
It is always better to let your customers know when they can cancel their appointments or bookings to avoid the penalty fee. You must indicate the specific time period for the cancellation on the booking page. You can do this by using scheduling software. It allows you to set in advance how much notice clients need to take when canceling or rescheduling appointments. This will help your small business avoid last-minute cancellations or no-shows.

Let's say you have a dental clinic, and one of your clients has an appointment on Monday. It is better to give the client a cut-off time like 5 pm on Friday as it gives more flexibility to reschedule appointments and program for the next appointment. Once your customer client cancels the appointment, you turn to a new client from the waiting list.
2. Charging fees
This part is a bit tricky. In general, people do not cancel their appointments if there is a cancellation fee. But it depends on the business or service that they address. In some cases, this policy can decrease your client numbers as people don't take the risk to pay a fee in general. Therefore, learn how to offer pre-payments for every booking. This will make it easier for you to get booked and leave happy customers who have ensured beforehand that they had the budget for a great event like yours!

But if you don't accept pre-payments, it can be worth seeing if an appointment cancellation fee notice is applicable. This is useful in the event that they cancel at short notice.

Having a charging fee makes clients consider scheduling their appointments better, showing up for the booking, and properly managing their time. You can calculate late cancellation fees by factoring in how much time each appointment takes up and the percentage of people who cancel on short notice. Charge a fee to cover this loss.

3. Build an exception list

There might be some unprecedented situations in which you and your customer cannot do anything. Therefore, having a flexible cancellation policy might grab your customers' attention and increase their trust in your business. When considering this, think about the exceptions you can reasonably cover. This will let your employees handle the revenue management for you so that you can focus on other aspects of your business.
For instance, you can include contact details for emergency cases to have a cancellation call. But not treating your clients equally can cost you in the long run. Encourage exceptions only once or twice, not every time.

4. Communicate with your clients

Inform your clients about your cancellation policy as early as possible in your working relationship. This will demonstrate that you are a professional service provider and will ensure that you and the client are on the same page from the outset of their business relationship with you.
Always be patient and professional when addressing their queries. Ensure your customers are aware of all policies before booking the session. Communicate with them through a follow-up email or text message after the booking process is done.

5. Follow up reminders for your customers

First of all, you need to identify the root cause of the problem of why people cancel their appointments. In most cases, clients forget about their appointments. It is always a good idea to send a reminder message for meeting well in advance to a client. Reminders are best sent 20-30 minutes prior—the best way to grab the attention is to send reminders as a text message or an email reminder.

Automating your appointment scheduling – e.g., using an online tool to send appointment confirmation emails and reminders automatically – can be very helpful, as you won't have to spend time manually sending these yourself. When scheduling events, it's good to offer a range of other hours if the initial time is unavailable. This allows customers to still come without the need for cancellation.

Also, formulate unique reminders to avoid impulsive reactions from the customers. For instance, instead of sending, "You have a booking at 1 pm, if you can't make it reply to this message", you can write "Please call us at XXXX to get in touch with us regarding any queries concerning your appointment." This is a better way to communicate with your clients and avoid cancellations. It's worth hearing out to your clients and pushing them to reschedule first if they can.
Final Remarks

No matter what type of business you run, having an online booking system will automate your workflow and save you time. The main goal of all these automation and management tools is the same: to build a solid relationship between your business and customers.

When deciding on a booking plugin for your WordPress website, it's essential to explore the various demo options available. There isn't a single plugin that every company will be interested in. Explore other plugins and see what features and functionalities they offer.

After setting up a booking system on your website, work on your booking policies, including cancellation notice. Cancellations happen, but having an appointment cancellation policy in place will help your business stay afloat. A solid cancellation policy can help you save time. It reduces no-show rates and helps fill the slots in your schedule when patients cancel.

The cancellation policy should be clearly stated with an attached consequence and communicated to customers. Keep in mind that the no-show policy is not intended to generate more revenue for your practice. The true goal is to stop missed appointments, which can end up destroying a lot of patient and staff time. With more busy days, this will help your bottom line. You'll have fewer gaps in your schedule and more opportunities to meet with clients.
Sign up for our newsletter
Be the first to know about releases and industry news and insights.
Let's

get started

on something great
Booknetic is a simple yet powerful plugin for accepting online bookings & payments on your WordPress site.