How to Cancel Appointments Properly: Tips and Template for Cancellation Policy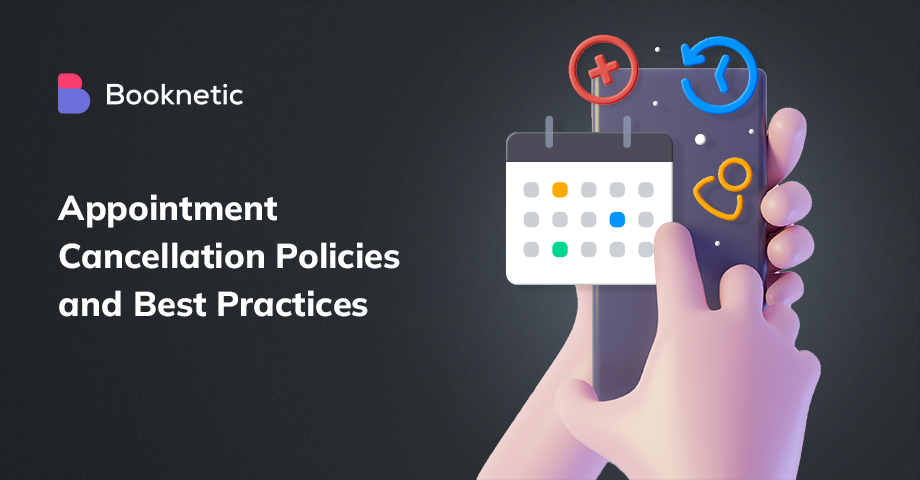 Having reliable customers is a source of joy for any business. Good customer service matters, but let's not overlook the other side of the coin: the unpredictable, sometimes unreliable clients.
They can greatly affect your revenue and can be a source of problems, impacting the smooth run of your business. That's where a well-crafted cancellation policy comes into play. It serves as your safety net, giving you a sense of security and control.
A strong cancellation policy doesn't just protect your profit; it's also crucial for maintaining customer satisfaction. Your clients will appreciate knowing the guidelines upfront, reducing any possible confusion.
That way, both parties are on the same page, leading to a more confident and optimistic business relationship.
Questions to Define Business Needs
Before you roll out your cancellation policy, it's crucial to understand your unique business needs. Tailoring your cancellation policy to fit these needs can be more effective in reducing last-minute cancellations and no-shows. Here are some questions to guide you:
Charging Booking Fees and Refund Process: Would you require a deposit upfront that's non-refundable? If so, how much?
Timeframe for Customer Cancellation Notification: How much notice would you require from a client who wishes to cancel? 24 hours? 48 hours?
Charging Cancellation Fees Close to Appointment Time: Would you charge a fee for late cancellations? If yes, how will this be communicated to avoid any communication problems?
Customer Benefits if the Business Cancels the Booking: On the flip side, what compensation will you offer if you must cancel an appointment?
Answering these questions is the first step to create a cancellation policy that ensures the fair treatment of both parties. Having this clarity benefits not just your business but builds a sense of trust with your clients as well.
Creating an Appointment Cancellation Policy
If you're excited to take the next step in safeguarding your revenue and relationships, then it's time to craft your appointment cancellation policy. Remember, a one-size-fits-all approach won't work here.
Tailoring your policy according to customer behaviors and data analysis will be more impactful.
For example, a yoga studio may require a 24-hour cancellation notice and offer a free class if they have to cancel. On the other hand, a legal consultancy might charge a fixed percentage of the consultation fee for cancellations made less than 48 hours before the appointment.
Customizing your policies like this ensures that you're considerate of your clientele's specific needs and can be a crucial element in your overall business strategy.
Strategies to Create an Effective Cancellation Policy
It's not just about having a policy; it's about having an effective one. Here are some strategies to make your cancellation policy truly useful and customer-friendly.
Set a Clear Time Frame for Cancellations: Make sure your clients know exactly how much notice they need to give to avoid penalty fees. This leaves no room for ambiguity and ensures fair play.
Use Scheduling Software: Modern problems require modern solutions (insert meme here). Scheduling software not only allows you to manage appointments easily but can also send automated reminders through email or SMS, reducing the chance of no-shows.
Charge Cancellation Fees: While this might sound harsh, it actually encourages better appointment management. Your time is valuable, and a nominal fee can serve as a reminder of that.
Build a Flexible Exception List: Life happens. Sometimes clients have genuine reasons for last-minute cancellations. A little flexibility can go a long way in building long-lasting relationships.
Early Communication is Key: Make sure your cancellation policy is communicated early and clearly. Whether it's on your website, appointment confirmation message, or even an initial consultation, early communication minimizes the chance for misunderstandings later.
These strategies not only make the cancellation process more transparent but also strengthen the relationship between customers and businesses. It's a win-win, leaving both parties feeling content and hopeful for a smooth experience.
Importance of Follow-Up Reminders
Have you ever forgotten an appointment? You're not alone. The most common reason for appointment cancellations is actually forgetfulness.
Thankfully, there's a simple solution that could bring a great sense of relief: reminders. Effective reminders can significantly reduce the risk of no-shows and late cancellations.
Sending and writing well-timed reminders through various channels, like email or SMS, can serve as a nudge for your clients. These notifications make clients feel cared for and enhance their overall experience with your business.
Automation Tools for Reminders: There's a whole host of automation tools specifically designed for sending appointment reminders. Many of these tools can be integrated with your existing scheduling software.
The reminders can be customized to your needs, making your business communication efficient and effective.
Offer Alternative Time Slots: Sometimes, cancellations are unavoidable. In such cases, offering alternative time slots is a proactive way to retain that booking. It not only shows your willingness to accommodate your client's needs but also ensures that you don't lose out on revenue.
Key Takeaways
So, what have we learned? It's evident that having a robust cancellation policy and effective communication tools like reminders can improve business efficiency dramatically. Here are some key points to remember:
An Online Booking System Saves Time: Utilizing an online booking system helps to automate the workflow, leaving you more time to focus on delivering exceptional services.
Choose the Right Booking Plugin: There are various plugins available that offer different features. Make sure you choose the one that fits your business needs the best.
Clear Communication Prevents Missed Appointments: Never underestimate the power of clear communication. It's your first line of defense against missed appointments.
The Goal is Not Revenue from Penalties: While cancellation fees can deter no-shows, remember that the end goal is to reduce missed appointments, not to profit from them.
Pro tip: Create a reminder template to automate the follow-up process and make sure to personalize it to each prospect.
You should aim to make the process as hassle-free as possible, making your clients feel confident and optimistic about using your services.
Template 1: Strict Policy for Medical Clinics
Appointment Cancellation Policy
Thank you for choosing [Your Clinic's Name] for your healthcare needs. We understand that unexpected situations arise. However, we request your cooperation with our cancellation policy:
Advance Notice: Cancellations must be made at least 48 hours before the scheduled appointment time.
Late Cancellation Fee: Appointments canceled less than 48 hours in advance will incur a fee of $50.
No-Shows: Failure to show up for your appointment will result in a $100 charge.
Your understanding and cooperation with this policy allow us to accommodate other patients who may be in urgent need of an appointment.
Template 2: Moderate Policy for Salons and Spas
Appointment Cancellation Policy
Welcome to [Your Salon's Name]. Your appointment is reserved specifically for you. We understand that plans change, so we offer the following cancellation policy:
Advance Notice: Please cancel at least 24 hours before your scheduled appointment.
Late Cancellation Fee: Cancellations made within 24 hours of the appointment will be charged 50% of the service price.
No-Shows: A 100% service fee will be charged for no-shows.
We appreciate your understanding and look forward to serving you.
Template 3: Flexible Policy for Freelance Consultants
Appointment Cancellation Policy
Thanks for choosing to consult with [Your Name or Company]. We understand that life can be unpredictable, so we strive to be as flexible as possible:
Advance Notice: Cancellations should be made at least 12 hours before the appointment.
Late Cancellation Fee: Appointments canceled within 12 hours will incur a fee equal to 25% of the consultation price.
No-Shows: No-shows will be charged 50% of the consultation fee.
Thank you for your understanding and cooperation.
Template 4: Relaxed Policy for Yoga Studios or Gyms
Appointment Cancellation Policy
Welcome to [Your Studio's Name]. We aim to offer flexible scheduling to meet your needs:
Advance Notice: Please cancel up to 4 hours before your class or session begins.
Late Cancellation Fee: Cancellations within 4 hours will result in a class credit deduction.
No-Shows: No-shows will forfeit the class credit.
Thank you for respecting our time and the needs of other clients.
Template 5: Virtual Services Policy
Appointment Cancellation Policy
Thank you for booking with [Your Company's Name]. We offer the following cancellation policy for our virtual services:
Advance Notice: Please cancel at least 6 hours prior to the appointment.
Late Cancellation Fee: A fee of $25 will be charged for cancellations within 6 hours of the appointment.
No-Shows: No-shows will be charged the full service fee.
By booking an appointment, you agree to these terms.
Sign up for our newsletter
Be the first to know about releases and industry news and insights.
Let's

get started

on something great
Booknetic is a simple yet powerful plugin for accepting online bookings & payments on your WordPress site.