Acuity Scheduling vs Square Appointments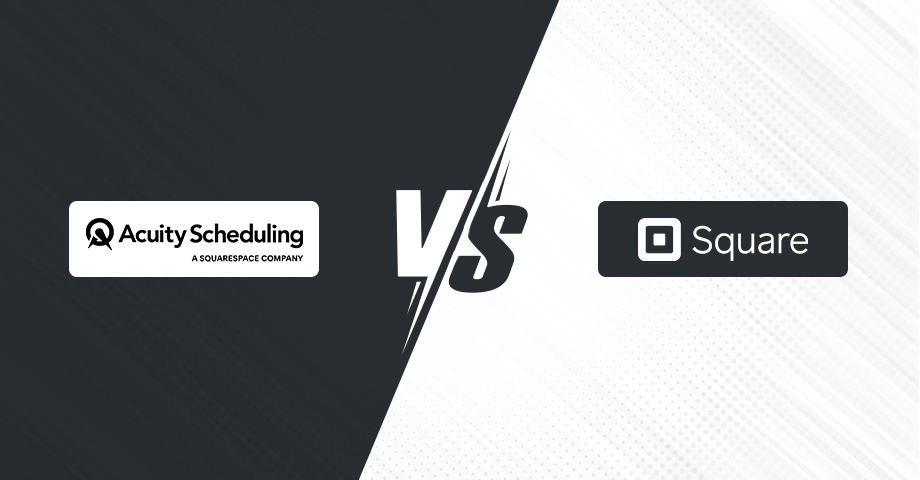 Struggling to decide over Acuity Scheduling vs Square Appointments? This post aims to bring a one-on-one comparison of two of the most known appointment booking software: Acuity Scheduling vs Square Appointments. From features to pricing to target customers, we will look at each point to help you define the best option for you.
What is Acuity Scheduling?

Acuity Scheduling is a booking management system that helps you organize customer information and manage your team's availability. The customizable software is well-equipped with all of the features you require. It enables users to schedule resources from many locations while automating booking and payment processes.
Acuity Scheduling is compatible with different industries such as beauty salons, massage therapies, interviews, workshops. There are lots of Acuity Scheduling alternatives users are searching for.
What is Square Appointments?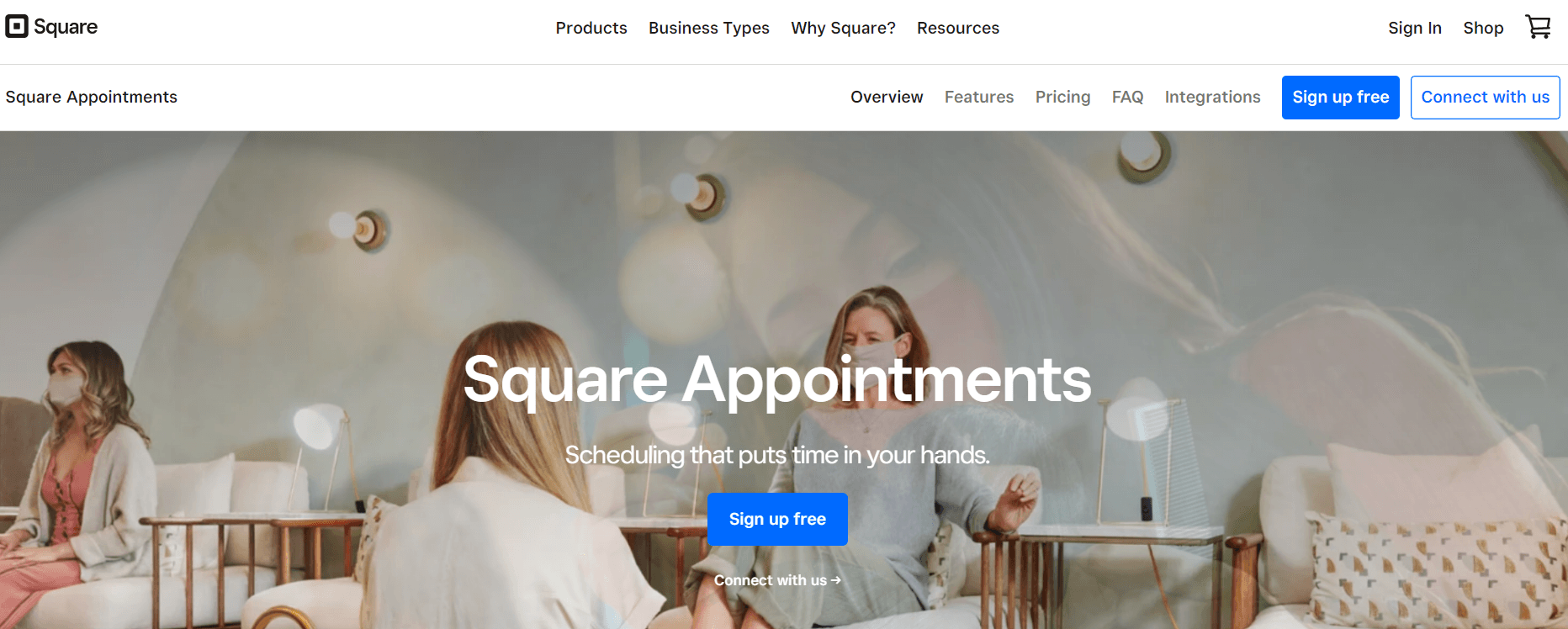 Square Appointments is a minimalist-designed and user-friendly appointment scheduler. It works for eCommerce, developers, retails, banking, consulting businesses to manage their bookings.
The software comes with all required tools to manage your bookings and customer relations such as multi-staff appointments, POS, multiple locations, multiple time zones, appointment notifications, and more.
Acuity Scheduling vs Square Appointments | Features
Online scheduling
With Acuity Scheduling, you have two options to receive online bookings. The first is through creating a booking website. The second is to add a booking widget to your existing website. Plus to add the booking calendar to your site, you can share it on Facebook, Instagram, or email.
Its drag and drop appointment booking calendar makes it easy to change time and update the appointment status. With the color-coding feature, you can add unique colors to each service and easily distinguish one another. This includes the client-self scheduling feature as well.
Square Appointments also allows you to create a booking website or generate widgets to put on your website. Not strong as Acuity customization, it also lets you choose templates and colors for booking. With Google Calendar Sync, you can block personal events to clash with client bookings.
Automated reminders & notifications
Automated reminders are the most common way to reduce no-shows and increase the appointment attendance rate. You can send confirmation, reminders, follow-up emails, and text messages worldwide with Acuity and Square. You can activate these features both for staff and clients, and let them confirm the events.
Multiple staff locations
Given in both scheduling tools, these features help to create multiple user logins, their calendars, and relevant locations in the system.
Timezone conversion
Automatic timezone conversion of Acuity can be enabled for different locations and staff. You can also use this feature with calendar sync on Square for multiple locations and calendars.
Customization
Acuity Scheduling is a highly customizable booking system where you can change email and messages templates and the appearance of the booking panel. You can display your logo, add branding elements, remove the "Powered by" tag, sign for HIPPA compliance, and even use custom API & developer tools for further customization.
Though Square Appointments has a wide feature coverage, it has less space for customization. You can make slight changes to the booking page or use API for payment processing integration.
Multi-device compatibility
Both Square Appointments and Acuity Scheduling app can be used on the web, Android, and iOS devices. But in the mobile app performance comparison of Acuity Scheduling vs Square Appointments, Square's ratings are slightly higher.
Client management
You can find a comprehensive list of Acuity Scheduling customer service features. Using the bulk uploading feature, you can add or edit clients' data. In client, the profile shows a simple view of each client, her records, and upcoming appointments.
But when compared, Square Appointments has advanced client data management system. From auto-created customer profiles to automated contract sending, it lets you store all clients' data, media files, and upcoming appointments in the customer management system.
Payment processing
Both tools provide online and on-site payment options. In the payment system comparison of Acuity Scheduling vs Square Appointments, the ladder takes the lead. Square natively integrates with Square Payments and has its own hardware POS systems. It also provides a free mobile reader when you sign up for a paid account.
Here you can accept credit and debit card payments, contactless payments, plastic & eGift cards, and send professional invoices.
Acuity Scheduling lets you accept online payments through PayPal, Stripe, and Square.
Reporting
Square Appointments provides complex and customizable reporting to free and paid subscribers. You can keep track of inventory, average and total sales, team, and labor sales, employee performance, commission reports, export reports, and create custom reports for the operations.
Compared to Square Appointments, Acuity Scheduling does not have an advanced reporting system. You can only see the status of appointments, no-shows, and employee performance.
Group booking & recurring appointments
Since Acuity Scheduling also works for classes, workshops, it supports group booking and recurring appointments. Square lacks group scheduling features only providing recurring appointments.
Team management
Acuity Scheduling has multiple user logins and calendars. But it integrates with different tools team management tools. While Square has team management and additional payroll management tools that come at a high price. It has different tracking systems that can be added to time tracking, break tracking, employee performance, set wage rates, and more.
Not surprisingly, Square integrates with different team management tools in addition to native features.
Customer base
Through Acuity Scheduling has various customizable options, it mainly appeals to small-and-medium-sized businesses. Freelancers can also utilize its features with a limited feature bundle.
On the other hand, Square Appointments provides a large areal of features to small, medium, and enterprise customers. We can relate the low-customizability of Square features to its wide range of features.
Reviews
Acuity Scheduling reviews are quite high in terms of functionality, ease of use, value for money, and customer service. They provide an online, knowledge base, and video tutorials for Acuity Scheduling customer service. According to Finances Online, Acuity has 95% user satisfaction.
Square Appointments reviews are also high but on functionality, it slightly lags behind Acuity Scheduling.
Acuity Scheduling vs Square Appointments | Integrations
Calendar Integration
Acuity Scheduling has wide calendar integration with Google Calendar, iCloud, Outlook.com, Exchange, and Office 365. While Square Appointments only supports Google Calendar.
Virtual meeting tools
Acuity natively integrates Google Meet, Zoom, and GoToMeeting for online meetings. You can set up and run virtual meetings from the tool itself. Square Appointments does not have native integration with online meeting tools.
Marketing and CRM
MailChimp and Active Campaigns are similar marketing software that both tools natively integrate.
Additionally, Acuity integrates with AWeber and Pipedrive for client management, while Square has vCita on board.
Accounting & invoicing
In spite of being appointment booking systems, both tools are equipped with invoicing features to provide full service. Acuity integrates with QuickBooks and Freshbooks, while Square has more tools like Xero, TaxJar, and several others. The number of integrations allows Square to appeal to a larger group of customers.
API integration
In addition to all integrations, Acuity Scheduling has API integration. This feature allows you to customize everything about your use of Acuity Scheduling. You can also use Square Appointments API for payment compliance and using Square hardware.
Blog Integration
For marketing purposes, especially SEO goals that you want to achieve for your website, there are third-party blogging integrations available. You can create a fully-functioning SEO blog for Square and Acuity Scheduling for content marketing purposes.
Square Online has native blog functionality, but it only has basic features, not enough for a fair SEO tool. Acuity Scheduling does not have a blogging feature, but third-party options are available and easy to integrate. Most of them have free trials you can sign up for to test their functionality.
Acuity Scheduling vs Square Appointments | Pricing
Acuity Scheduling vs Square Appointments price comparison can be linked to the number of users. The interesting fact is that Square appeals to businesses and enterprises, it has a free account. The Free account offers scheduling, online bookings, team management, client management, reporting features.
The cheapest plan Acuity offers starts at $15 with no free trial. Yet it provides a timezone converter, online scheduling, customization, virtual meetings, and all integrations for a single user\ location.
Yet, other paid plans of Acuity are cheaper than Square Appointments pricing. Since Square has its payment processors and various hardware solutions it is understandable that they work for large businesses.
==> Also read: Calendly vs SimplyBook.me vs Acuity Scheduling
Bottom line
This was a quick comparison of Acuity Scheduling vs Square Appointments. We looked at their overall product descriptions, major features that are needed for scheduling software, customer reviews, and pricing. Though both offer online booking features the depth of functionality and supported system vary in each.
While Acuity Scheduling does not have a complex feature base, the quality of them and customization is the main selling point. While Square Appointments has large-scale solutions and hardware compliances, it does have much customization.
Up to your expectations from a tool and its price performance, you can decide on one. Yet, there is also a third option for WordPress users where you can use a booking plugin for a considerable low cost.
Booking plugins help to enhance your booking experience. Booknetic appointment booking plugin offers complex features to connect your website with potential customers. With the updated version, you can add only the necessary features and keep your site lightweight.
Sign up for our newsletter
Be the first to know about releases and industry news and insights.
Let's

get started

on something great
Booknetic is a simple yet powerful plugin for accepting online bookings & payments on your WordPress site.