Top 9 Tools to Automate Your Business Management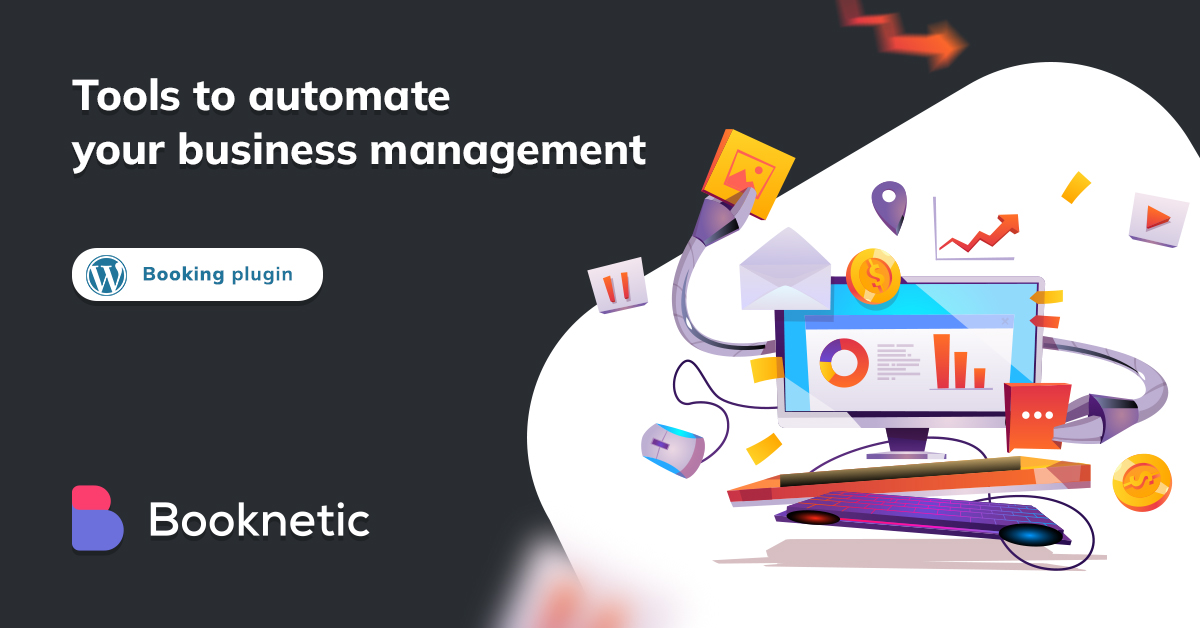 By relieving the stress of time-consuming and repetitive tasks, business automation tools tackle management's efficiency and customer satisfaction issues.
How does business automation software help management?
No matter what business niche is, the success of any company largely depends on the ability to hack repetitive tasks into a manageable and efficient workflow. Business process automation transforms organizational management by getting more work done within less time.
Reducing human error and automating manual and repetitive tasks is the cardinal principle of business process automation. But as the years pass, the role of automation gets more extensive in our work ethic. Bringing business automation tools to your company culture can make a big difference in:
Preventing human mistakes
Creating followable processes
Building a collaborative team environment
Making smarter management
Freeing up preoccupied minds
Technology empowers us to save time and money while orchestrating human and system operations into an automated business process. Whether sales, marketing, or workflow management software, these tools can take care of business by heavy-lifting mundane tasks. In this manner, business automation software has a significant role in building greater resilience and moving your place to new heights.
The main automation tools for business that every small and large-scale firm should add to their arsenal are:
Workflow management: for automation of manual task delegation and coordination of team engagement.
Email marketing: email marketing software enables organization contacts, campaigns, and promotional materials.
Customer management: if you do not take care of your existing and ideal customers, you are eventually convicted of failure. CRM applications are integrated with a wide array of third-party apps, ensuring the complexity of client data.
Third-party integrations: although many automation tools integrate with other apps, it is unlikely that you can build your software infrastructure via native integration. Third-party integrations facilitate the exchange of information between different apps.
9 business automation tools to scale your operations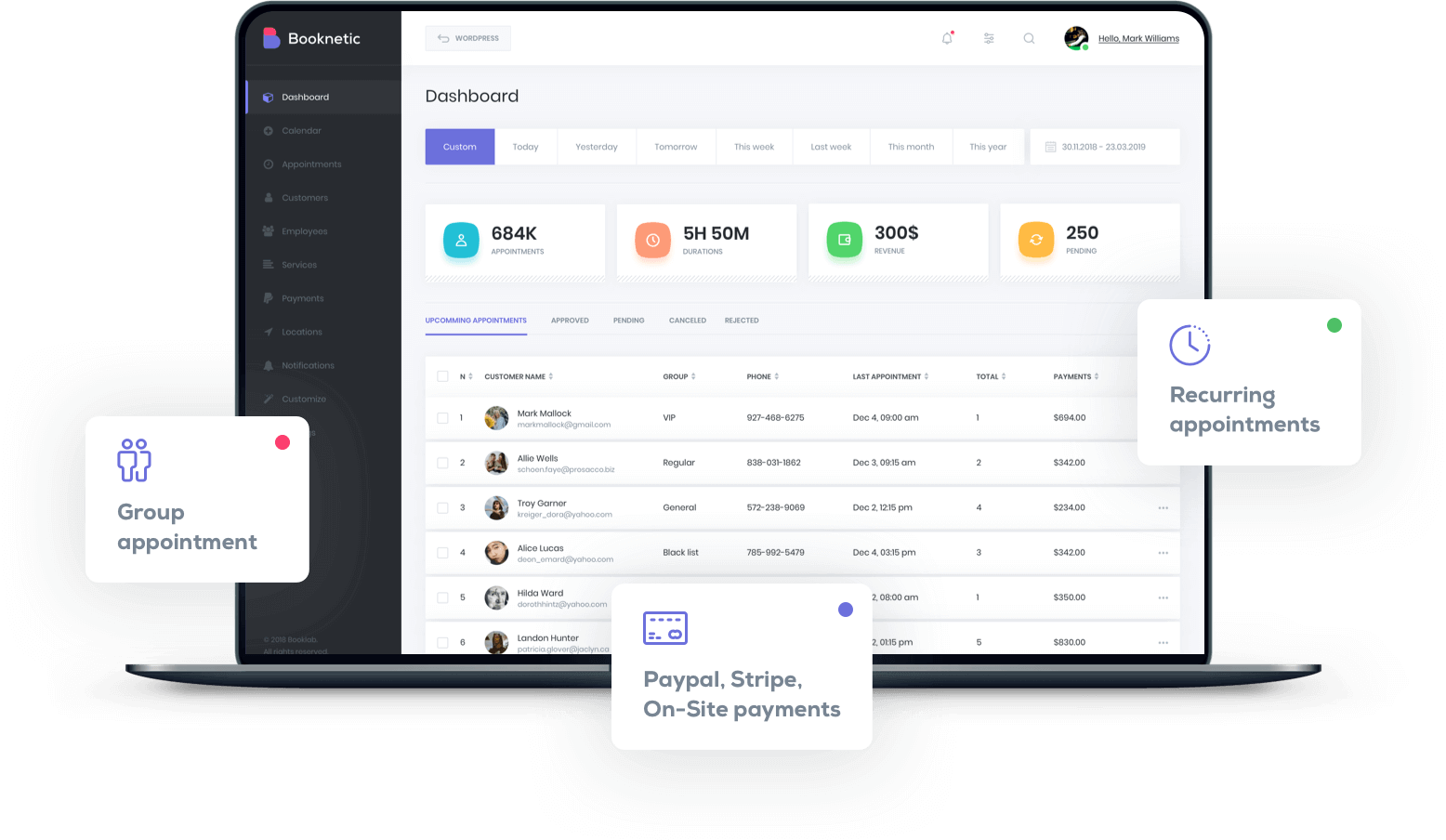 Primarily being an appointment booking plugin, Booknetic helps a range of businesses to automate their booking processes. The flexibility of its functions makes the software fit for law firms, consulting offices, educational courses, fitness trainers, medical institutions, and other business types of any industry.
Due to calendar sync, all created events are automatically saved in both clients' and employees' calendars. This gives managers control over staff workflow and adjusts their schedules accordingly.
To further increase the appointment attendance rate and reduce the cost of cancellations, it has automation notifications and reminders features. You either use the ready shortcode or write your reminder messages. Unlike most business automation tools, Booknetic has email, SMS, and WhatsApp notifications.
Online payment gateways are part of the business automation process. The plugin has native integration with PayPal, Stripe, and WooCommerce gateways where you can seamlessly hold transactions and sell e-commerce products. Facilitated billing allows users to handle invoice and tax bills within the platform.
Zoom integration is its star feature that lets consulting-based businesses streamline virtual meetings via the plugin. The dashboard provides insights into the number of scheduled events per location, service, and employee. You can compare the results and create better business decisions based on the results.
Booknetic offers $79 for all the mentioned features and the rest, including future updates. To know more about the automation process, you can now check the live demo.
2. ActiveCampaign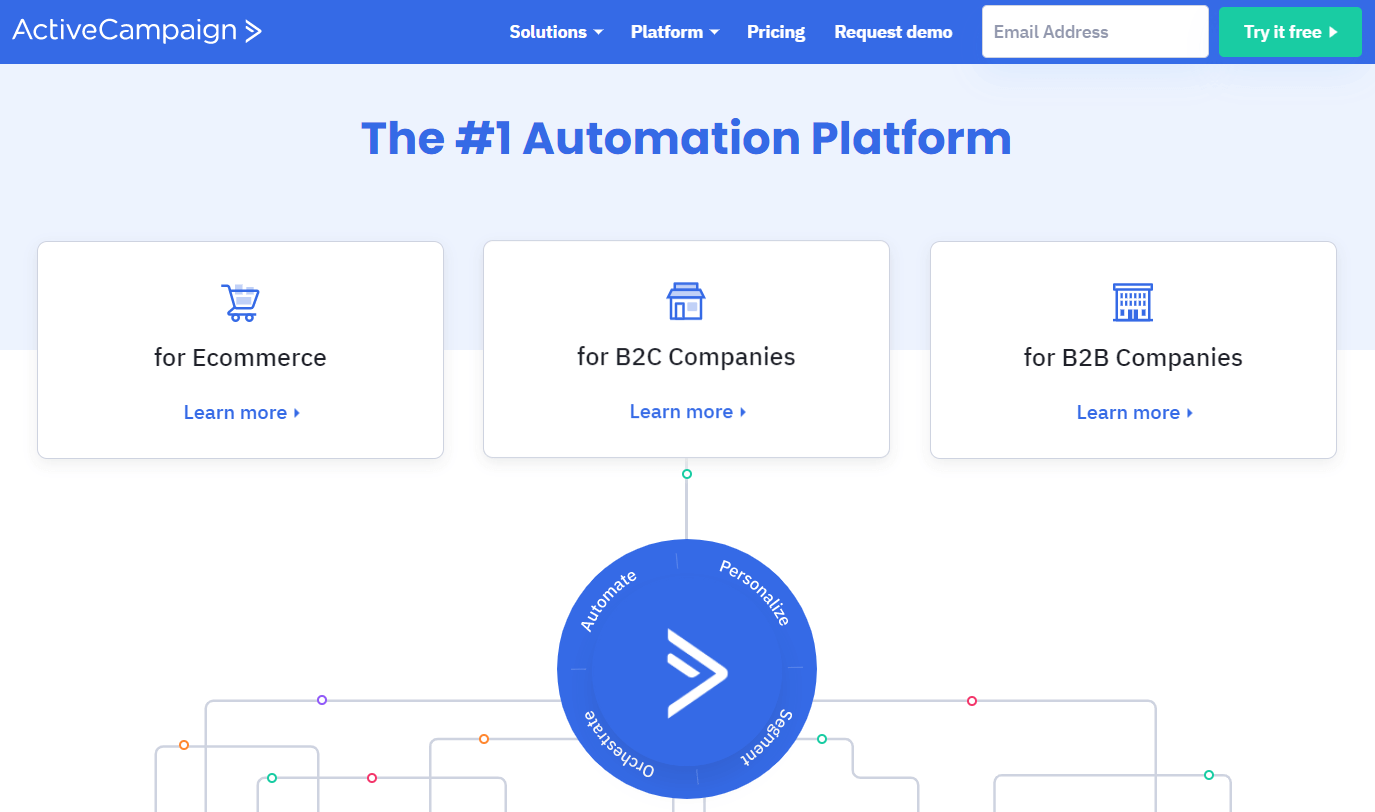 ActiveCampaign is a CRM management software that matches businesses of B2B, B2C, and e-commerce. To provide a unique customer experience, it features different other marketing automation, email marketing, sales, and support services into its platform.
You can smoothly move prospects through your sales loop through well-prepared customer engagement. Automation segmentation and lead scoring data tell users which opportunities to prioritize and when to contact. This business automation software uses all customer details and sends automated messages to increase sales engagement.
As a marketing automation tool, you can design an overall marketing campaign, add offline and online generated customer details to the system, and plan follow-up emailing.
In addition, it is one of the first visual workflow builder tools in the market. It comes with over 200 templates to send welcome emails, feature abandoned cards, gather feedback, tag contacts, etc.
ActiveCampaign has an excellent customer support policy, where it provides tutorials and one-on-one onboarding meetings. If you want to move from your current CRM software, ActiveCampaign migrates that for free.
For all business types, its cheapest version starts at $19 per month, where you can add 1K contacts. But depending on the complexity of your needs, you can require a demo before purchasing.
3. Slack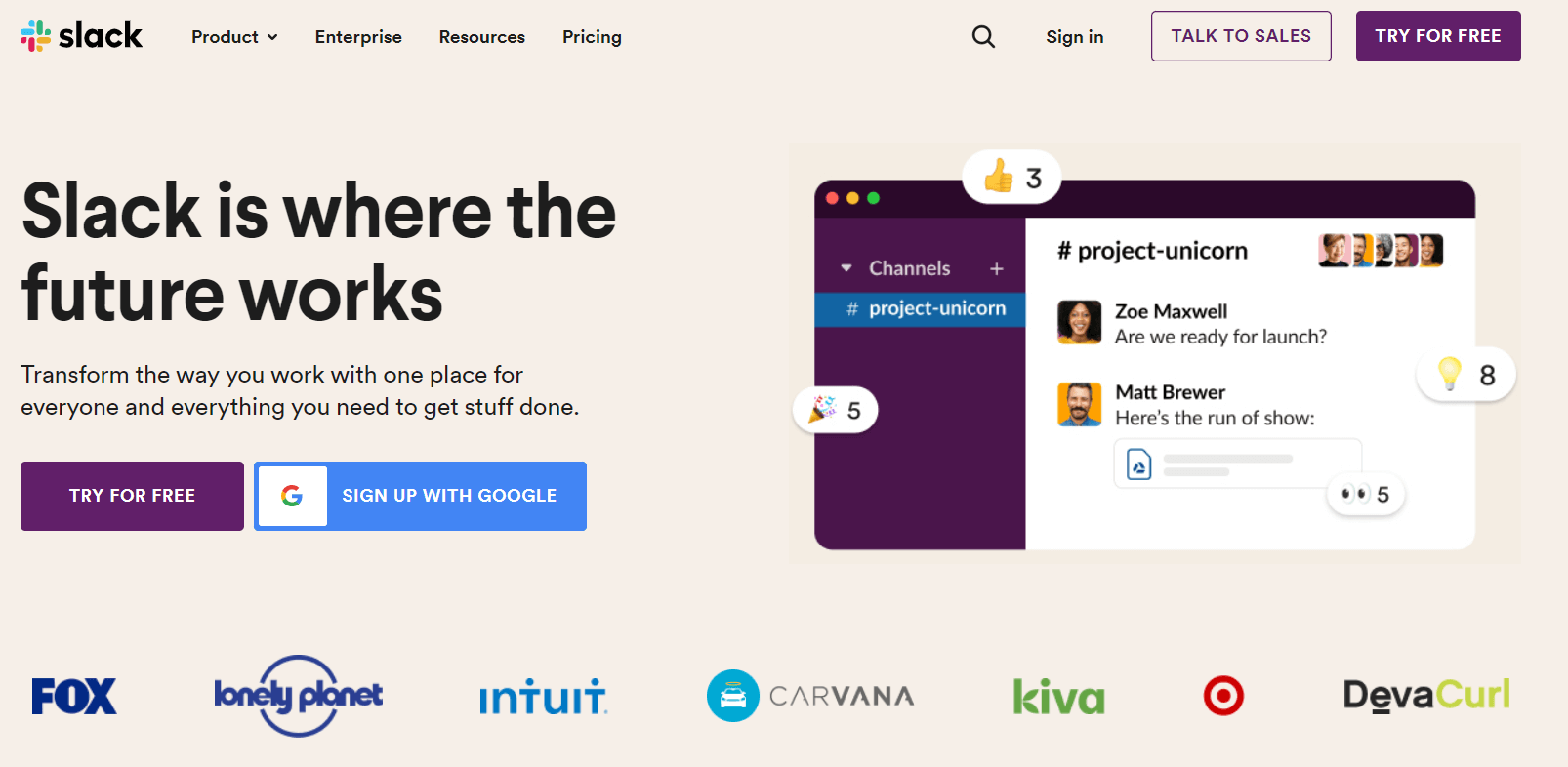 Even though email stays the most preferred customer communication channel, you can reduce its usage between staff. When it started to operate, Slack marketed its unique selling proposition as reduced emails within teams. Now, it handles tons of jobs for agile teams, product managers, startups, and large businesses.
Slack is a digital workspace for remote and office-based teams to communicate between members and coordinate their workflow through integrated applications. To delegate projects for responsible groups, it has organized spaces called channels. Channels can also be used to comment, file sharing, and interlink between multiple platforms. Bots and task manager is part of workflow management for fast and effective delivery.
You can use built-in voice and video calls for one-on-one communication and utilize screen sharing. But, by connecting video conferencing tools, you can instantly start or join video calls from the app. Additionally, it can be integrated with over 2000 tools from the app directory. Yet, you can use Slack API to create your custom app and connect other apps to it.
The key reason why professionals prefer Slack over many other digital workspace apps is easy connecting and costless integration. Slack comes with free and several paid plans for teams of any size. The free program includes one-on-one voice and video calls, 10K message history, and ten integration channels. While the Pro accounts cost $7 per month with unlimited message history, integrations, and group calls up to 15 minutes.
4. Omnisend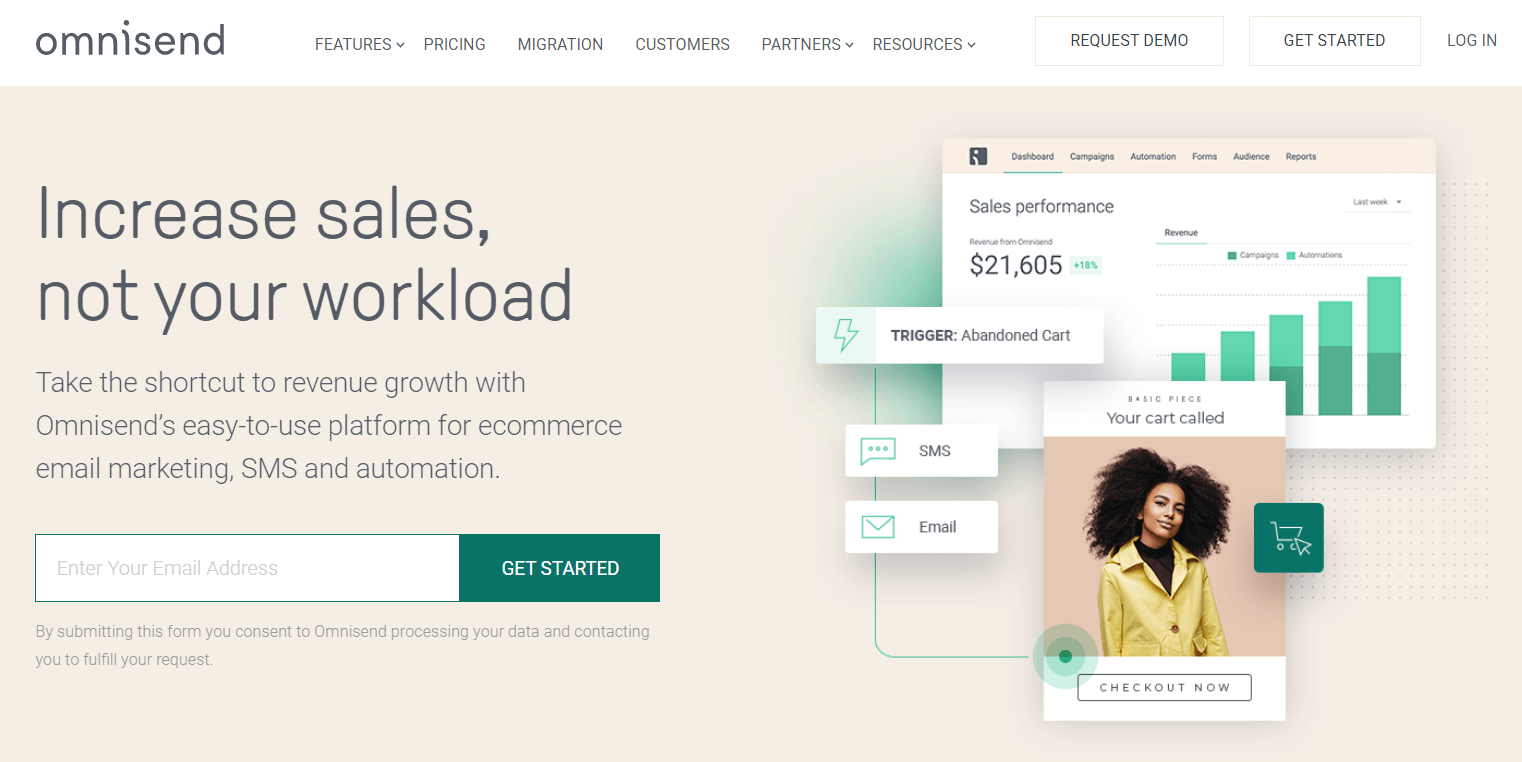 Omnisend is one of the best marketing tools to automate your business relations. The omnichannel platform is specifically developed for e-commerce to empower their different marketing channels and ultimately boost sales. It fully integrates with Shopify, WooCommerce, and other e-commerce platforms where you can track your customer data. It dynamically syncs customer details into Facebook and Google for a practical ads experience.
You can start a series of messages for all interested visitors by identifying the email subject line and workflow. It has a drag and drop builder to facilitate the adjustments. There are also automation splits and A\B testing to optimize your sales incentives later and make data-driven decisions.

The various transactional events and customer behavior let you filter your customers and deliver intelligent customer campaigns. Reports give insights into how the audience engages with emails, which campaigns drive more sales, and track all KPIs in one place.
Omnisend has a free account for starting businesses, where they can send 500 emails, create sign-ups, run A\B testings. By paying $16 per month, you can automate emails, send unlimited web pushes, and get a customer success manager.
5. Zapier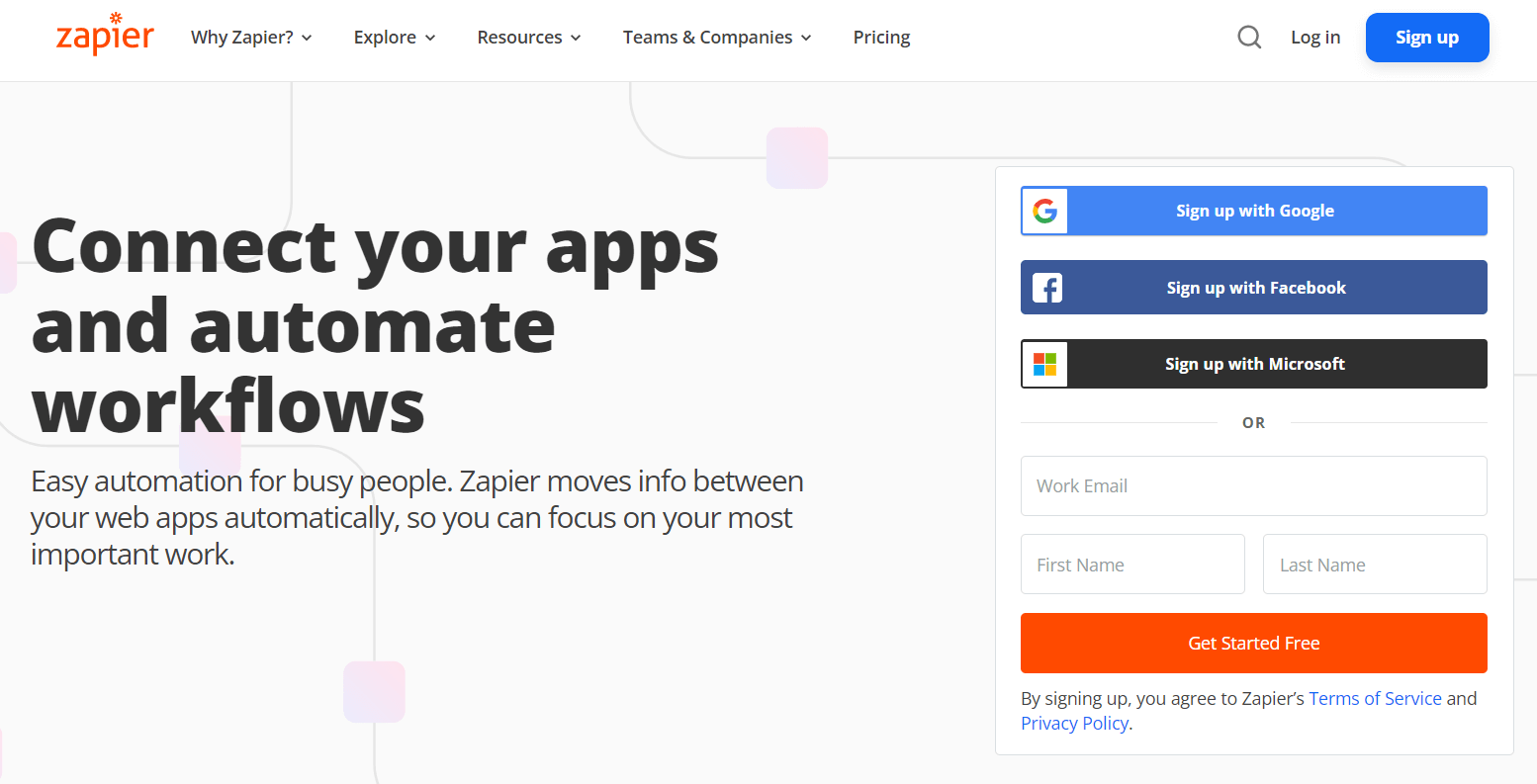 Zapier comes high on the list of business automation tools. Connecting over 3K web apps lets business people save time and boost productivity.
Once you connect your apps, it automatically moves info between apps, helping you focus on the important ones. The integrated channels send notifications on new quests, customer feedback, opened boards, etc.
You can use built-in templates or tweak them to tailor automated workflow. When customers interact with your content or product, you can automatically add their contacts to an email list or CRM and use them in marketing campaigns.
A customizable dashboard provides insights into actions like task history, connected apps, zap creation, zap account, and Google Sheet import.
Additionally, it has a reformatter you can use to convert data into your preferred format automatically. The best thing about the business automation tool is you don't need coding knowledge to connect it.
You can add 100 tasks and five zaps per month with the free account. Starting from $20, premium packages include webhooks, unlimited integration apps, and zaps.
6. Asana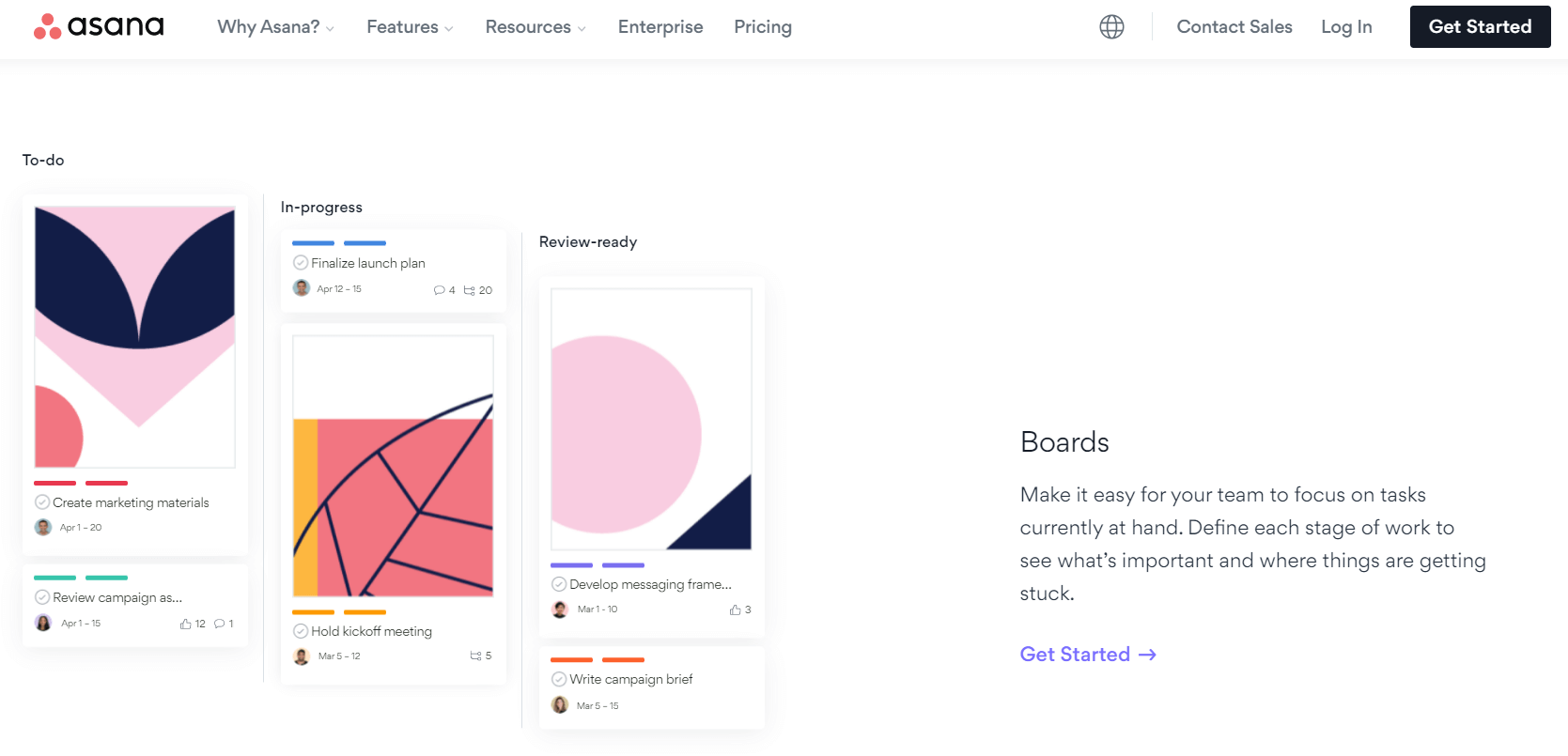 Asana is amongst the best tools to automate your business regarding project management. It assists with outlining business processes and organizing tasks. Its drag and drop visual builder helps to create boards that encourage interaction quickly.
Multiple workspaces allow business owners and managers to manage separate tasks without hassle. With team calendar software, all team members can concentrate on projects and track deadlines. Users receive auto-updates, automated notifications upon the status of events.
Reports tab provides real-time insights into the team performance by their priority, assignees, projects. You can also create customizable dashboards and charts, download or share them with the team. It directly integrates with GSuite, Azure, Dropbox, Slack Tableau, Salesforce, Jira, and other preliminary apps used in software development companies.
Starter teams and individuals can use the free version to create unlimited projects and collaborate with 15 individuals. Teams of upper size can get a Premium account at $11 per month for unlimited dashboards, task templates, admin consoles, and portfolio management features.
7. Sprout Social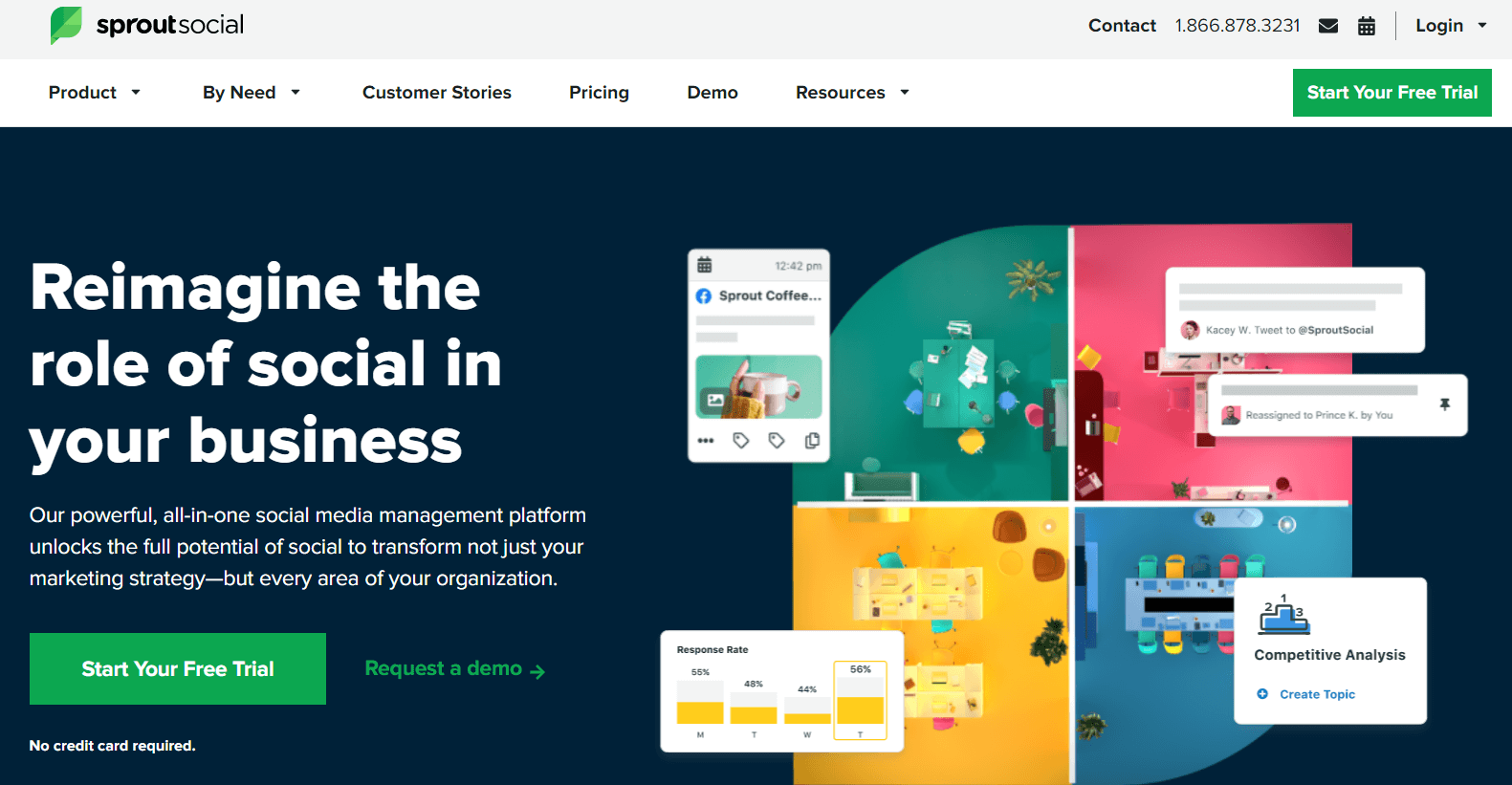 Sprout Social is one of the top social media management software with social listening solutions. It comes with several marketing optimization tools to automate your business presence and reach KPIs. It integrates with the most used social media platforms for tackling organic and paid campaigns.
Social listening tools allow users to extract actionable insights from industry conversations. This includes competitor research, sentiment analysis, influencer recognition, and other vital areas you gather customer data.
While the analytics gives reports about business pages and profiles, PPC campaigns and tracks competitor research to make more strategic decisions about social media marketing. Collected data helps find the best time to post and run boosted Facebook campaigns.
As part of team collaboration, you can plan and deliver social content across platforms, assign members for each task, and view the performance. With integrated catalogs, you can drive more sales and generate positive ROI.
Enhanced features make the business automation software fit for agencies, small and enterprise-level companies to scale their marketing strategies. Sprout Social has three pricing packages with different profile and reporting features. The cheapest plan starts at $89 with five profiles, social CRM, post level reporting features.
8. Freshdesk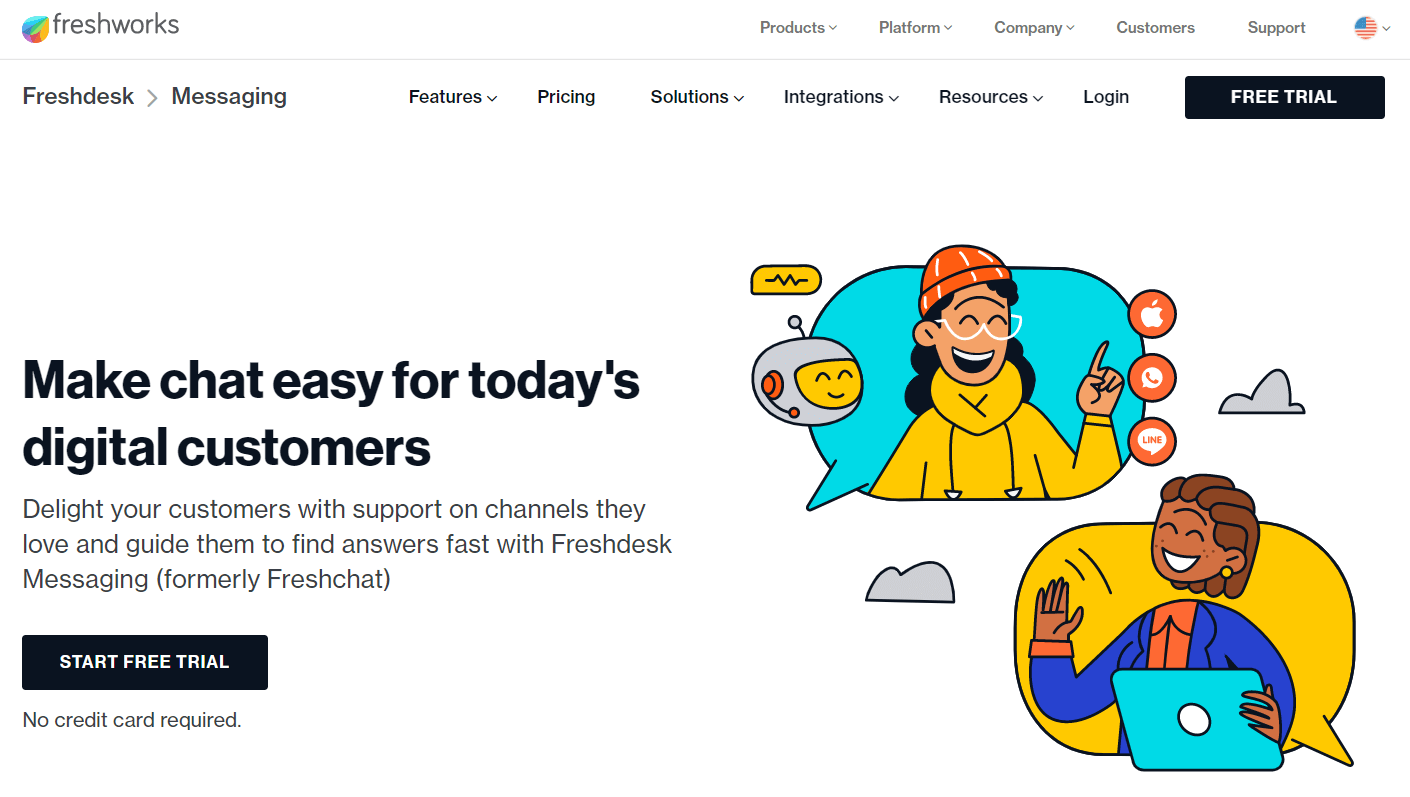 We couldn't pass the business automation software solutions list without touching a customer support tool. Freshdesk is an AI-powered tool to automate your business management and customer relations.
You can view messages from web chat, in-app chat, Facebook, Messenger, iMessage chats in one inbox. Depending on where customers reach you and the topic, it automatically assigns inquiries and prioritizes them. Tasks are also given to agents based on their previous engaged matters, current workload, customer service channels, or sent equally among them.
You can create AI-powered chatbots based on each platform. Analytics gives insights into the active hours of users and lets you send messages during those hours.
As with other customer service automation tools, Freshdesk also has a free plan where you can add 100 agents and create your chatbots. Paid accounts start from monthly 15 dollars where you get premium features like Facebook Messenger, segment users, and live translation.
9. GetGuru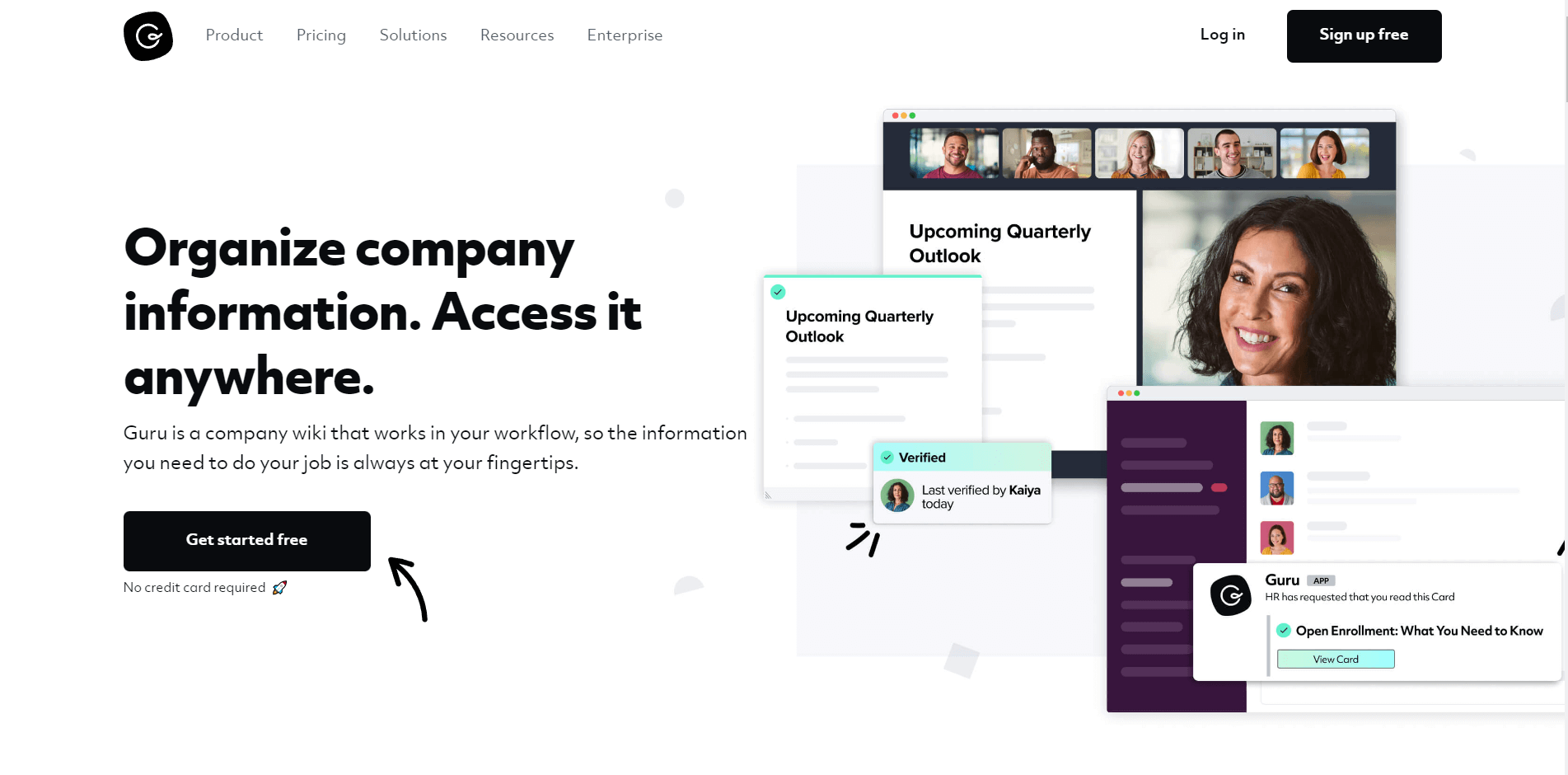 GetGuru is a knowledge management tool that lets you create knowledge bases--centralized and universally accessible sources of important company information.
GetGuru is used by some of the world's largest companies to improve customer support, reduce training costs, and speed up product development.
With the integration of AI, your team will be coached in real-time within the Zendesk Suite. You can establish a single source of truth with Guru across all knowledge sources, documents, and teams. With Q&A functionality, you can also suggest the appropriate subject matter expert to answer your questions based on context.
You get access to templates, from onboarding to SOP templates, that help you create databases of information that amount to nothing less than the totality of all organizational knowledge that people can access when they need it. With GetGuru, you can find the answers to your customers' questions faster and easier.
GetGuru also allows you to share your knowledge with your team so they can be more efficient in their work. Its tiered pricing ranges from free (with $5 per additional user) to 10 and 20 dollars per user per month.
Conclusion
Managing a team is hard. Managing a team of experts is even more challenging. Because every professional has their approach for reaching the target thus have their priorities towards that. To track the performance and increase your bottom line, you need to purchase the right tools to automate your business. Thankfully, many business automation tools will let you stay on top of your workflow and drastically improve your management's efficiency.
But keep in mind that if you can afford that, you do not need to turn your workflow into a high-end tech hub. Pick the best business automation software within the context of your business needs and goals.
Sign up for our newsletter
Be the first to know about releases and industry news and insights.
Let's

get started

on something great
Booknetic is a simple yet powerful plugin for accepting online bookings & payments on your WordPress site.