Tools Similar to Google Calendar to Coordinate Your Workflow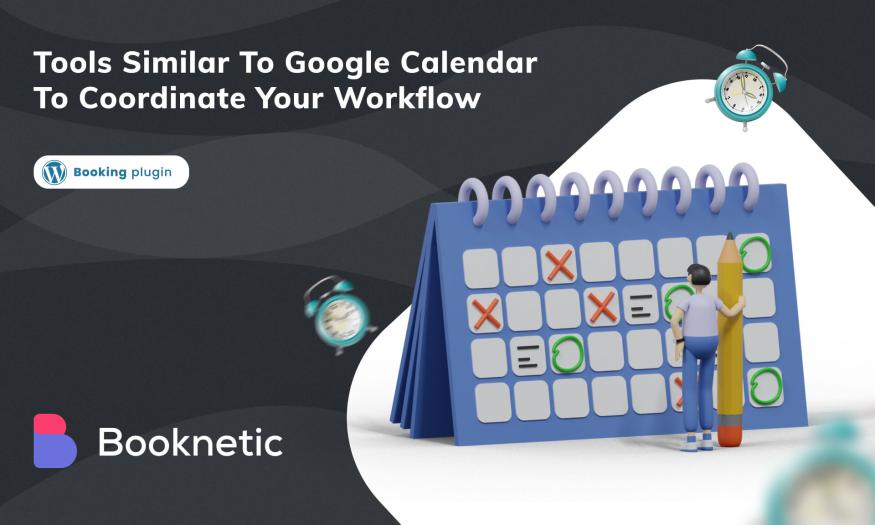 When browsing for a calendar app similar to Google there comes lots of alternatives. In the agile development era being on top of your calendar is key to the effectiveness of management and success of any product. Online scheduling software helps businesses to set achievable goals with respective deadlines, accomplish their job in a timely manner, minimize distractions and eventually create a productive work environment.
Released in 2006, Google Calendar is one of the most used time-management software in the world. As a recap, the software helps users easily create events, send invitations, and keep track of their daily tasks. The app allows teams and individuals to efficiently manage their time with lots of offered enhancements.
Users can create multiple calendars to separate their tasks, personal matters, and holidays in one calendar and share them with prospects. It is also accessible in every part of the world and for any device category, you may use. Integration with other work management software had an enormous impact on the rising usage of the tool.
However, the rising need for advanced functionalities in appointment booking apps stimulates teams to switch to tools similar to Google Calendar that.
What factors to consider when searching calendar app similar to google
Before choosing a Google Calendar similar app several factors need to be taken into account.
User interface. Users have to be comfortable interacting with the software. The designed software should have a slick interface that allows users to navigate through with reference points like colors, events, and emails. Visual clarity and consistency are key to facilitating the user experience in every part of the software.
Notifications. It is inevitable to miss a deadline while juggling multiple tasks and meetings at the same time. Notifications keep employees informed about corresponding events. Software similar to Google Calendar should send notifications when a new event is added to the schedule when there is an event update or any customized notifications made by the users.
Multi-device optimized. Since 54.8% of website traffic comes from mobile devices, calendar apps similar to Google should have responsive designs for device categories and also optimized for iOS and Android to automatically adjust for screen sizes. It also helps to instantly respond to notifications.
User feedback. You may need answers on security, and customer support before making the purchase. It is essential to examine user reviews before opting for a calendar app similar to Google. Reviews help to better understand the product functionality, clarify any doubt on features or see if it is worth paying the price.
Integration. Calendar integration with internal communication tools helps to boost instant communication and keep workflows moving smoothly. It also improves client satisfaction by integrating with product development, and customer relationship management tools.
5 Google Calendar similar apps
There are tens of calendar apps similar to Google for a variety of operating systems, browsers, and team sizes that can benefit enterprises and individuals.
1. Microsoft Outlook Calendar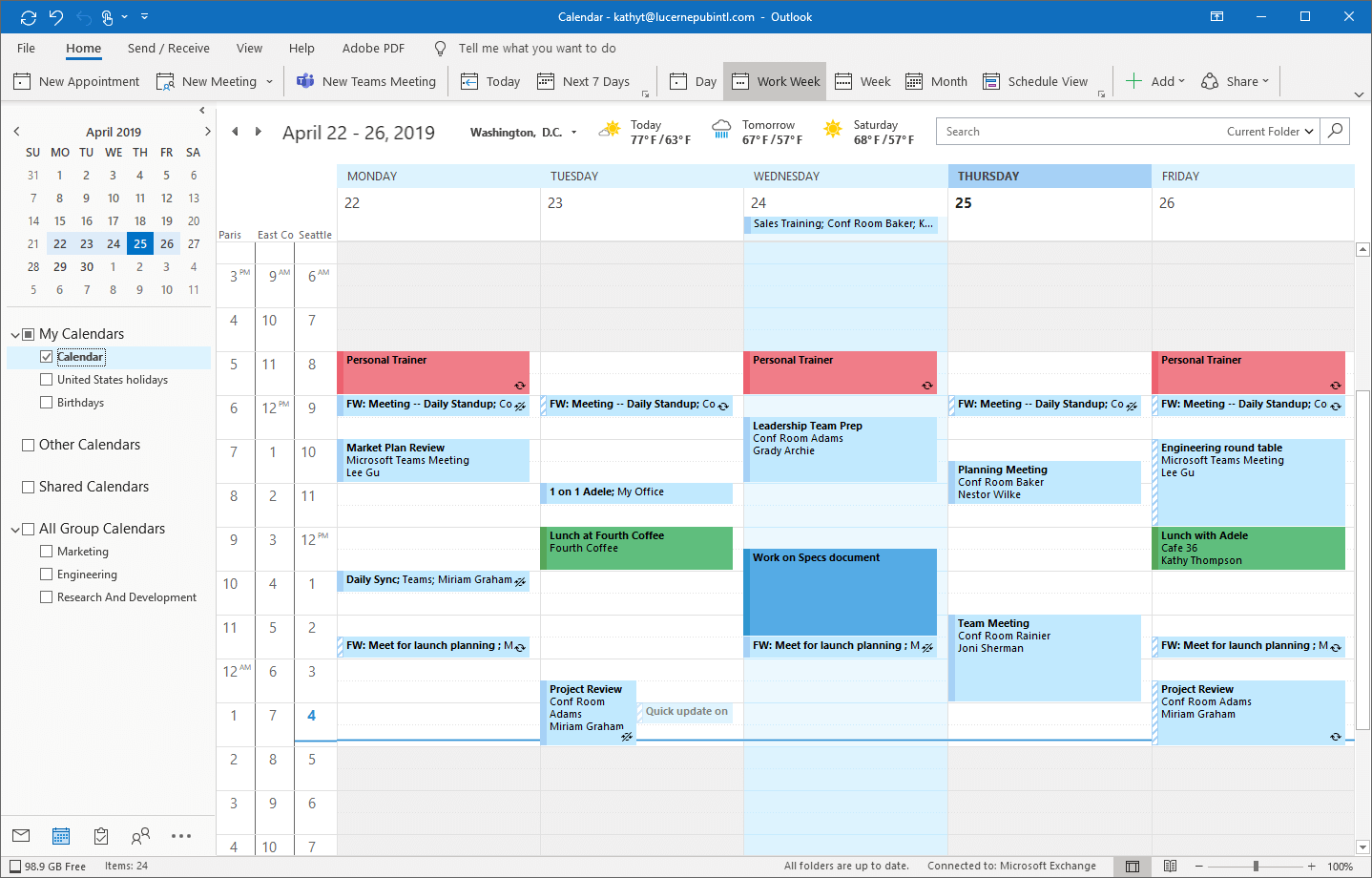 As a primary email management software, Microsoft Outlook includes features like scheduling, task management. Built-in calendar helps to adjust emails and event schedules from a single place. Free access to other Microsoft products helps businesses to easily handle file sharing, documentation practices.
You can organize your daily, monthly calendars and keep track of recurring meetings once you set the schedule. Similar to Google Calendar incorporating calendar with mail makes contacting and event management so much easier. Outlook offers the Scheduling assistant feature that informs you about the availability of the prospects on the chosen date or time through various color shortcodes like busy, out of office, etc. Each user is free to select where to display their availability or full details. It also has the Time zone tool that organizes meetings to fit everyone's schedules.
We could stress security as the most outstanding benefit for enterprise customers. Data encryption is used to ensure the privacy and security of users.
2. Edo agenda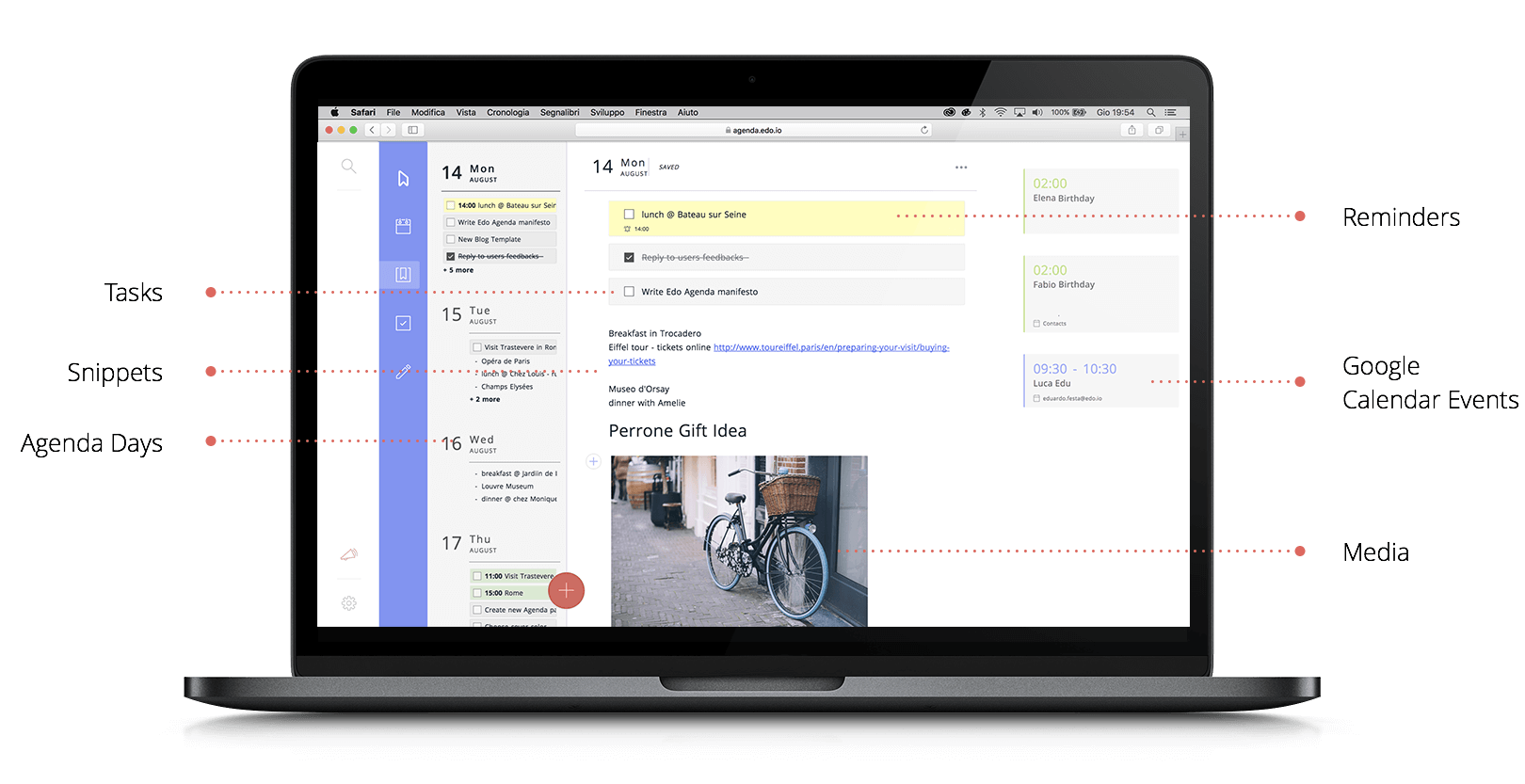 The second Google Calendar similar app on our list is Edo Agenda. It is an all-in-one daily planner and scheduling tool designed with freelancers in mind. Edo Agenda is perfect for solo workers or individuals to keep track of their day-to-day tasks, calendars, and ideas. You can either connect your Google Calendar or add the URL of other calendars services you use.
On the Planner tab, you can set your daily, weekly, and monthly schedules, and add tasks for each event. You can also switch through the timing of the event by just dragging the event boxes to the changed date. The app has individual boards for to-do lists, projects, notes, and floating tasks that do not any specific deadlines. With reminders set by yourself, you will always be alerted to what's coming next. The best part of the app is that it is available for desktop, Android, and iOS. Free charge and easy simple sign-up make every productive worker take benefit of its features.
3. Teamup calendar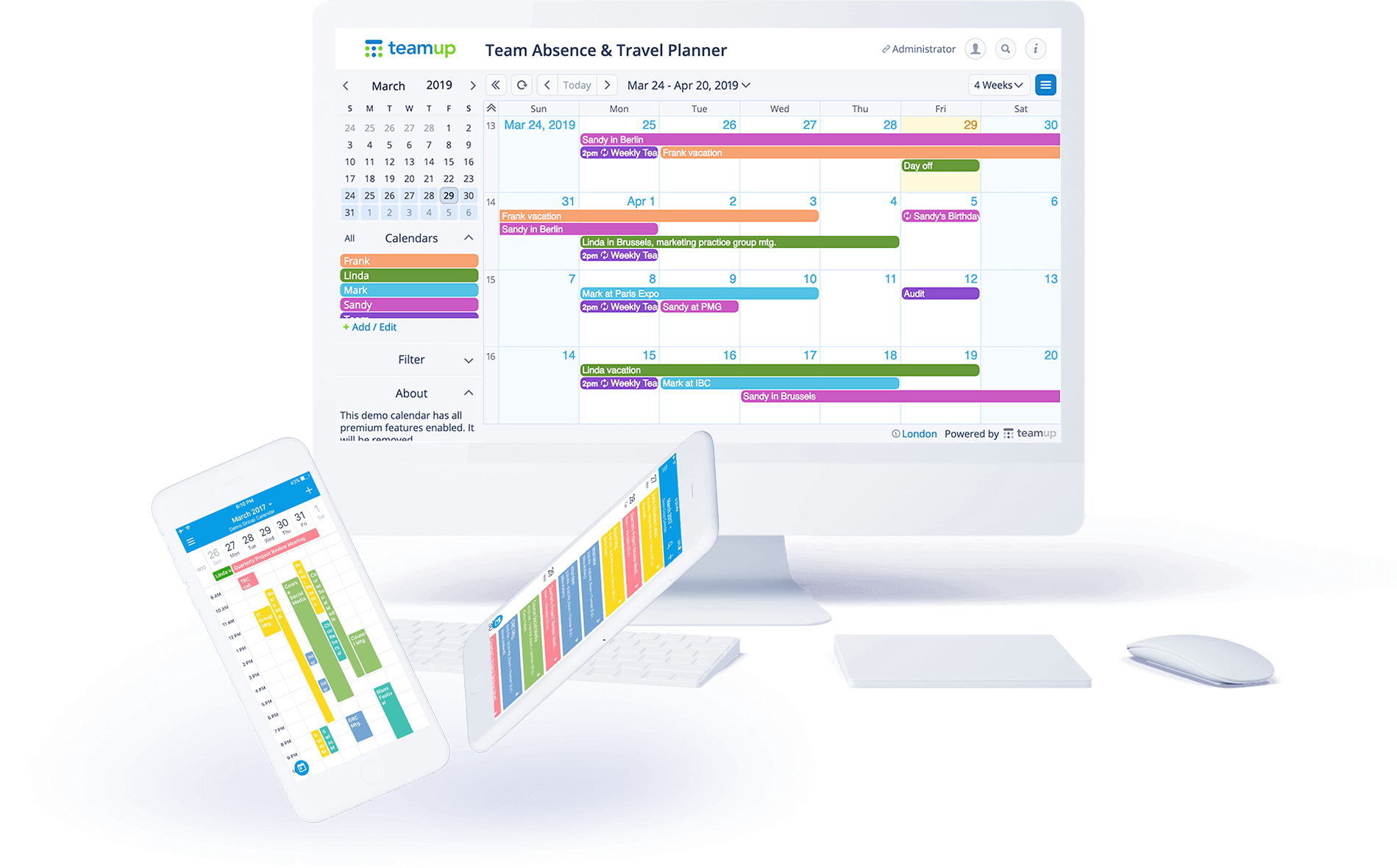 The next tool similar to Google Calendar is the Teamup calendar. It simplifies managing teams with shared plans and scheduled events. Teamup's value proposition is flexibility and efficient management of work with reduced email, and messages.
Color-coded events, 11 calendar views, and time zone support are the major features that help to organize work anytime and anywhere. Through shared links, you can add attendees without creating a new user account. Permission-controlled sharable calendar ensures users the security of events. To keep management at a high level, Teamup also integrates with work management tools like Zapier, Slack, and Trello. You can either use the desktop version or download it on Google Play or App Store.
It has free and paid plans with respective functionalities offered. Small teams can opt for the Free Plan which includes up to 8 sub-calendars and 1 year of historical data. You can increase the number of sub-calendars, add files & photos, and custom fields to the events with the premium packages.
4. Chili Piper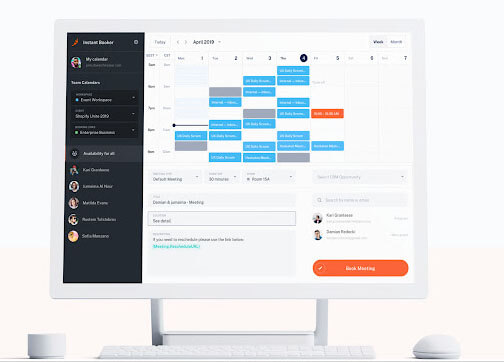 Chili Piper is advanced scheduling software developed for B2B enterprises. The product team developed Meeting Lifecycle Automation which processes all data, messages, and user actions to simplify scheduling a meeting, follow-ups, and reporting. Plus to be similar to Google Calendar, Chili Piper integrates with calendar apps, customer management tools, has video conferencing tools, and workflow management services that boost the revenue generation process.
It has personal booking links, personal pages, meeting buffers, and reserved meeting times that can be accessed with the Free plan. In the Pro subscriptions you can get access to meeting template reminders, integrate with CRM tools, the track held meetings, no shows, reschedules, and cancellations. If you want to increase your B2B sales with comprehensive scheduling and automation, opt for this product.
5. AddEvent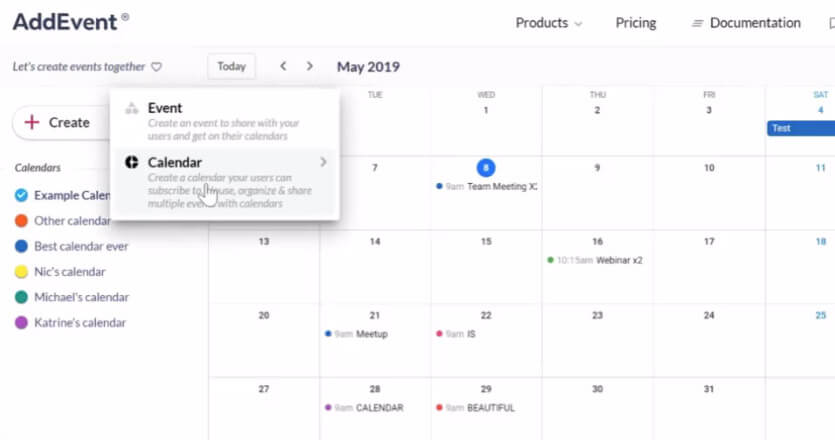 Add event is the next calendar app similar to Google that schedules events, shares links, and analyzes the booked meetings. You can create events and multiple calendars to manage tasks without crushing different works. It also has notifications and Time zone support that ensures timely management of events. AddEvent's functionality allows end-users to add created events through subscribing to your calendar.
You can also enable users to add your events to their calendars through sharing on social media or email automation tools. With the Analytics tool, you can access created events and calendars both scheduled within the Dashboard or with using APIs. It shows graphical illustrations of subscriptions to your events, calendars.
The Small Business plan of $19\ monthly billed annually allows creating one user account. You can create 50 events and calendars, receive up to 2 000 subscribers per month. The product is perfect for teams who regularly hold events, publish newsletters, or product launches.
BONUS
Never forget the WordPress users) Though it is not a pure calendar app similar to Google but more of appointment scheduling software that can be adapted to WordPress sites and improve the overall efficiency with extended scheduling options.
Booknetic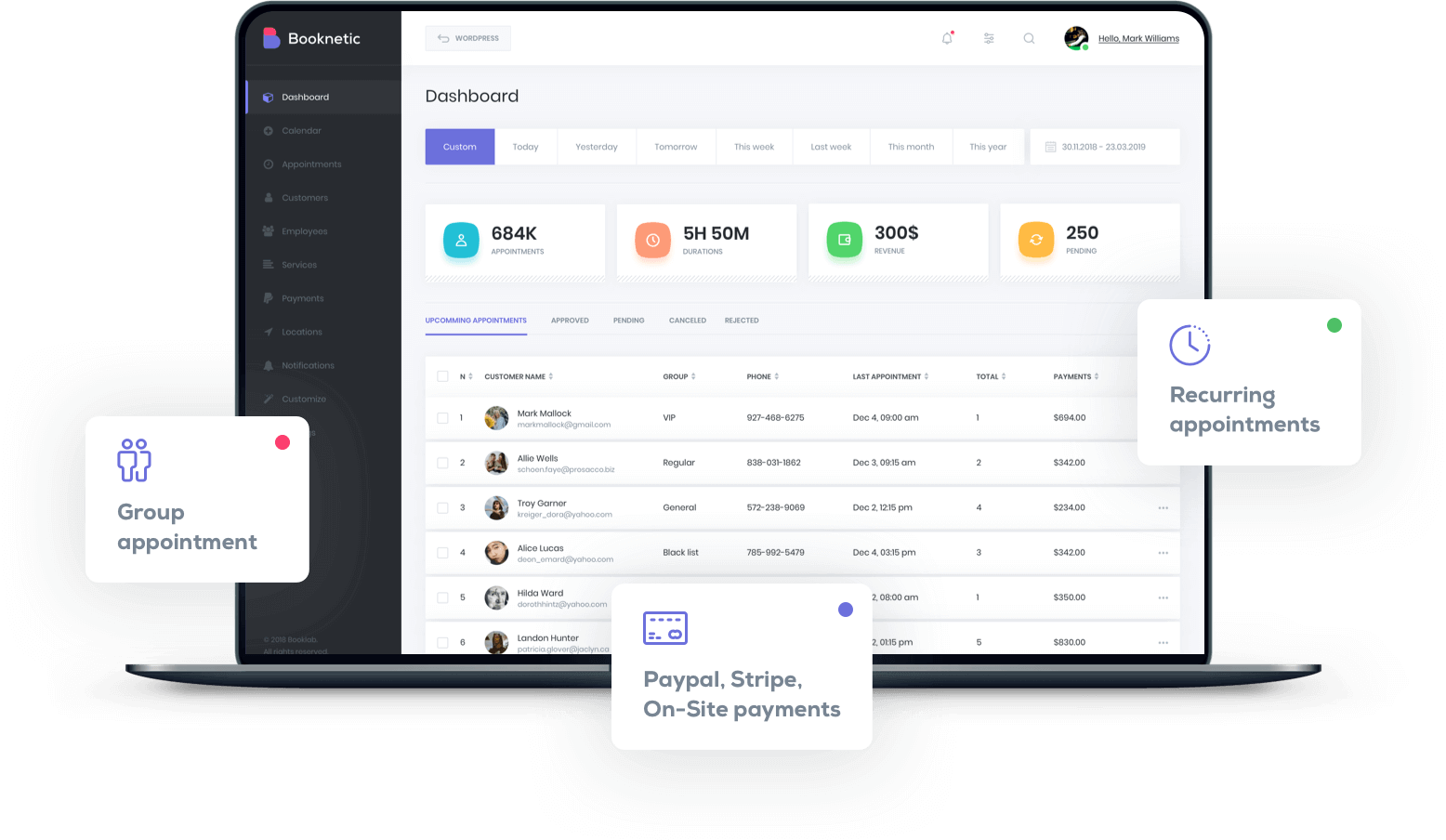 Booknetic is a WordPress appointment booking plugin for automation and full customization of online bookings. The broad feature set allows the creation of seamless online bookings for your service. You can create customized designs and booking forms, and add multiple locations, and employees for each of the service categories you offer.
Must-have features like Google Calendar sync and Zoom integration help organizations and solo consultants achieve their business goals anywhere the customers are available.
Multi-level notifications ensure that each party is alerted to what is coming next. Plus to being Google Calendar similar benefits, Booknetic provides CRM functionality that helps store customer data in a single platform. It has other extra services that can be used to boost customer engagement and generate more revenue within the platform.
With a one-time payment of $79, you will get access to features, updates, and 6-month customer support. If you want scheduling software to carry all your business management in one place, Booknetic is the optimum choice for your business.
==> Also read: The Top 10 Best Free SEO Tools to Use in 2023
Wrap up
A calendar app similar to Google is designed to schedule daily tasks and manage overall workflow within the organization. You have to consider your business type and its needs when picking the right app. Try Booknetic Demo to see all available features before making your mind.
Anything to add? Write in the comments below.
Sign up for our newsletter
Be the first to know about releases and industry news and insights.
Let's

get started

on something great
Booknetic is a simple yet powerful plugin for accepting online bookings & payments on your WordPress site.