What Are 5 Features of a Salon Software?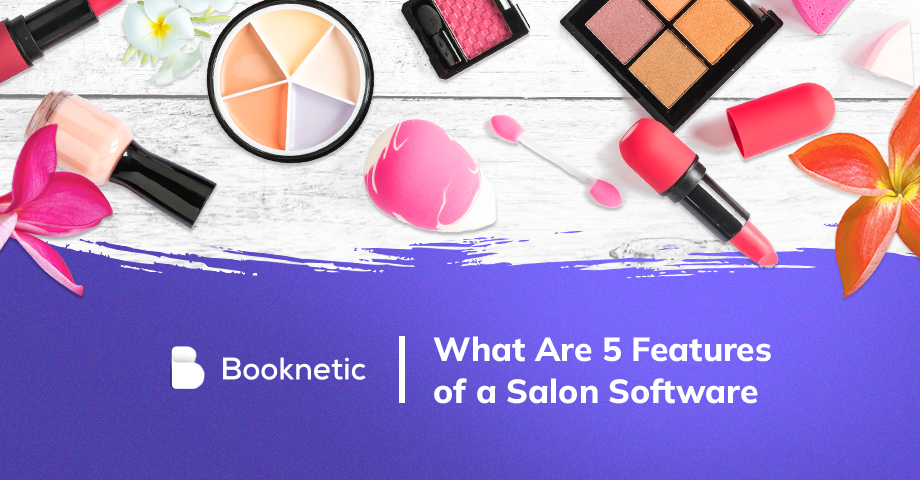 Managing a business with the help of software is now as common as wearing clothes. You don't think it is optional to choose but a necessity. The research of the competitors shows you how they handle their business. It is up to you to choose whether you want to adopt their key methods or want to upgrade them to something more efficient.
Following are some features which can help you decide the features you need to have in your management software:

1. Online Form Facility
These forms are customizable for your salon management, membership holders, and new clients. This facility saves you from the paperwork that your management staff has to deal with almost every day.
After filling in, these forms are saved on client profiles with the clients' information. Like personal information, emergency contact information, medical records, log of every visit to the salon, history of every service, and price. These forms can be accessed from any device at any time, anywhere.
It also saves a lot of time for staff which they can use in such important matters which need more attention. Clients who need guidance about a specific service or membership program can be guided easily and quickly with this feature.
These forms are also sent to the new customers to put their data in our database. So that more time is saved in appointment calls and walk-in appointments. Enrolling staff will already have everything they need and will need to confirm the time client excepts.
2. Automation In Admin-Tasks
Admin duty involves a lot of things under its thumb. Some of them are specially tailored for the clients, like the service of reminding the clients about the appointment they reserved. These can also involve telling them to drive carefully, birthday wishes on their date of birth, after-service care tips, etc.
If you had the same idea but were thinking of doing all this for each client manually, which can also be set on automation. There is a great chance you might send an appointment reminder to someone else. Or you might end up sending a birthday wish message to someone else.
That is where automation helps; automate the tasks with the help of software, and now every new and old customer will receive all the messages you need them to. No human error or typo mistake will make your business and campaign trustworthy.
3. Online Booking
The time-consuming tasks of manual booking are not in trend now. The management staff of your salon has no need now to take hundreds of detailed calls to book appointments. The piles of paperwork are also reduced to almost no paper. The manual booking can also make you lose a lot of clients due to the workload on a few landlines.
If your business site is online, your clients can easily search for the service and time most suitable according to their timetable on the updated scheduler of the software. The online facility provides clients the freedom to open the mobile app or website of the salon software to book an appointment at any hour, 24/7.
The salon staff is still the authority in booking the appointments because they will be the ones to approve the booking or deny it due to a major reason, which doesn't happen much often.
You can easily tailor the online booking forms of the clients according to your needs. And you can also change them whenever you want. It gives you control of your business and provides the client with the control to select the services under their preferences. In both ways, it's a win-win.
4. Inventory Check
Keep yourself in the loop of the products your salon is taking in and spending on. The software is the key to achieving this goal in the most efficient way possible known yet. The software's inventory management feature allows you to see the history of the products you have had so that you can easily know what products you need to order for stock and what exact amount.
This facility also helps you in keeping an eye on the stock. And lets you know the sales and use of products in the salon using visuals. This makes it easier to understand, and you don't need to go through a long sales sheet to observe the difference. These colored visuals can use pie charts and bar charts the way you want them to be.
Keeping in check with the stock management saves a lot of the time you used to thoroughly observe the sales and then make a separate sheet to send to the supplier. This salon softwarespares you the mercy of this. And now you just need to download and send the list of products you need to order.
5. Staff Management
The use of software can allow you to keep a detailed observation of all the staff members of your salon. Before the introduction of software, hiring and managing staff was not a child's play like these days. The recruitment team of any customer care services business had to hire the staff. Either based on their words or the leap of faith.
The procedure was to hire them and observe whether they are a good match for the salon. And by the time they may have done something which causes a major loss for business such as a potential client.
But now they have experienced and goal-oriented recruitment staff that uses the advanced knowledge of this era to get an idea about the applicant's personality. This is still not enough because humans can be tricked easily, but the fun part comes. Each moment is recorded and observed when they are recruited and start their shifts.
This way, the history of their every call with the client, emails with the clients, words shared with other staff, check-ins and check-outs, attendance, etc., are kept confidential until the time comes to use them.
Wellyx provides you with the exact software features you are looking for to boost your business management. This is the best way to get ahead of your competitors to manage and run a business most efficiently in the town.
Conclusion
Adopting salon management software is essential for efficient business operations. Features such as online forms, automation, online booking, inventory check, and staff management streamline processes, enhance customer experience, and give your business a competitive edge. These features are also advantages of online scheduling software.
Embrace technology and thrive in the salon industry!
Sign up for our newsletter
Be the first to know about releases and industry news and insights.
Let's

get started

on something great
Booknetic is a simple yet powerful plugin for accepting online bookings & payments on your WordPress site.