Which is Best for My Site Between Positive SSL vs. Comodo SSL?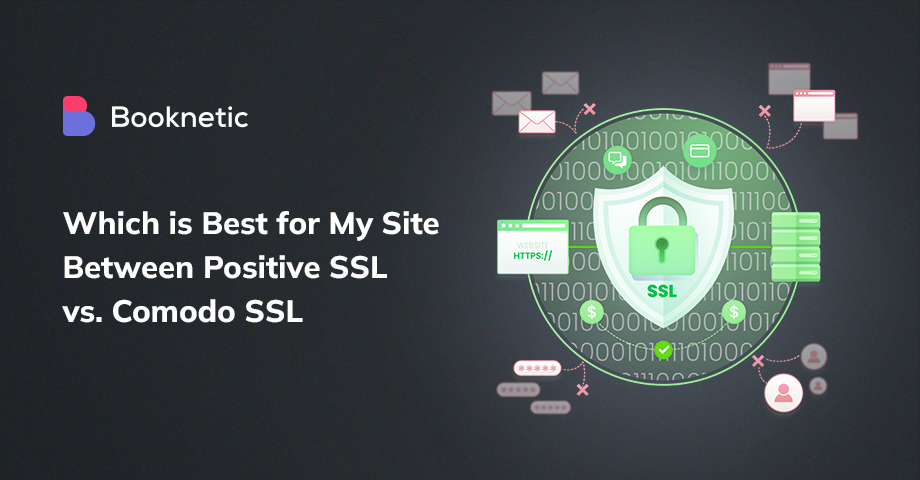 Do these two standard SSL certificates clash with one another? Do you not know which one will be best for your website? Comodo SSL and Positive SSL come from identical brands but have a few differences, which can easily be distinguishable.
As they are created for two distinct objectives, with Comodo SSL offers multiple features, and Positive SSL focuses entirely on getting the maximum benefits for your bucks. However, it is understandable that while searching for premium SSL certificates, you might be swamped by various available options, such as coverage, brands, warranties, and more!
This article has performed an apple-to-apple comparison between PositiveSSL and Comodo SSL. Let us get straight to it!
What is a Positive SSL Certificate?
PositiveSSL is one of the best market leaders in digital website security and a subsidiary of Sectigo, providing top-notch security solutions to different companies for two decades. This PositiveSSL offers industry standards of 256-bit encryption algorithms for every certificate type.
On top of that, the trustworthy CA, a certificate authority, provides this SSL certificate and has a wide array of budget-friendly SSL certificates. Start-ups and small businesses, which do not need to spend much on their website security, can select this certificate to safeguard their data.
At a meager cost of $8/year, Positive SSL certificates can make your site protected and provides you with a warranty of $50K if any unforeseen thing ensues.
Benefits of Positive SSL Certificates
Assessing the website's identity.
Higher SERP ranking.
It offers domain validation.
Maximum of $50,000 SSL certificate warranty.
It enables padlock images and HTTPS.
Maximum coverage up to 6 years.
What is a Comodo SSL Certificate?
NETSCAPE developed SSL in 1995 because of the surging security risk while scouring the internet. Their main objective was safeguarding the web server and client communication. Hence, over the years, SSL has been installed for full-fledged web security.
Here comes Comodo SSL certificates, the most renowned brand in the online security field. However, Comodo was the first in this security community to discover the trust erosion in the SSL padlock.
This brand excels in founding the Browser or CA forum to set up identity validation ethics and build the Extended Validation SSL certificates, demonstrating a higher validation to a secured padlock on the secured web pages.
Benefits of Comodo SSL Certificates
Super-fast validation, hassle-free installation process, and fast issuance.
No hassles of monthly annual commitments.
Protected Site Seal boosts confidence in proposed clients.
Its different collections of SSL certificates provide several cross-selling and upselling opportunities.
Availability for your product offerings.
Discount costs for bulk resellers.
Similarities between Positive SSL and Comodo SSL
Every SSL certificate provides in-transit data encryption that ensures the website visitor's data is fully encrypted from external sources as it navigates between destinations. Furthermore, any SSL certificate you opt for will allow HTTPS on your website.
It has become a norm in terms of website security. Therefore, Comodo SSL and PositiveSSL provide seamless validation options ranging from elementary domain validation to extended one. The EV certificates allow the browsers to display visual indications and higher validation, and the DV certificates are the basic security solutions.
These EV certificates show a secured padlock, and your company's name will show under a padlock next to the website's address, which helps your visitors navigate your site easily.
The Key Differences between Positive SSL and Comodo SSL
Setting aside the correlations between Comodo SSL and Positive SSL, these certificates also have a few differences. One of the most common differences is the price, where PositiveSSL is comparatively more affordable than Comodo.
This price difference between these two SSL certificates displays differences in their features. This Positive SSL is available for as meager as $8 per year and comes with a $50,000 warranty. Moreover, it has a less-known seal than Comodo, which comes with a fabulous $250,000 warranty and a more widely renowned seal.
The leading differences between these two brands are shown below:
Warranty
Comodo SSL provides an extended warranty, which safeguards you if a CA fails. Positive SSL contains $50,000 of coverage, whereas Comodo SSL helps cover a maximum of $250,000. Therefore, it would be better to avail of low-cost or cheap Comodo SSL in the market.
Brand
This Comodo SSL possesses enhanced recognition than the Positive SSL brand. Therefore, using a top-notch and recognized certificate brand helps boost confidence and customer trust in your site.
Site Protection
Comodo SSL possesses a highly recognizable Sectigo branded seal or Comodo CA seal, whereas Positive SSL arrives with a Positive SSL brand seal. Therefore, with Comodo SSL, you can demonstrate that the names and reputation highly protect your website.
Additional
Comodo SSL is one of the vital parts of Comodo CA's exclusive offerings, which comes with fantastic promotional offers, for example, malware protection and PCI scanning.
What are the Steps for Buying a Comodo SSL certificate?
Visit the site to purchase the certificate.
Opt for your desired product from the vast array of SSL certificates.
Choose one and "Add to Cart."
Choose the years and quantity for an SSL certificate.
Once you have added the product to your cart, fill up the information, such as billing address, credit card details, and payment method, to buy Comodo SSL.
After placing the order, you will obtain a link to a signed-up account. Here, you need to complete the configuration process and validate the email link received in your email. Once it is done, the certificate authority will issue a certificate.
==> Also read: Best tech blogs to follow
Conclusion
Comodo SSL is the best in this thorough comparison as it is the world's biggest company offering sophisticated website security. However, to answer the question of which one to select for your website security, it can be said that Comodo SSL is a renowned brand offering a higher warranty, remarkable features, and more. Lastly, Comodo is the superior provider of SSL certificates due to its easy availability, strong encryption, low price, and paperless process, making the certificate acquisition easier.
Sign up for our newsletter
Be the first to know about releases and industry news and insights.
Let's

get started

on something great
Booknetic is a simple yet powerful plugin for accepting online bookings & payments on your WordPress site.