Why Use an Online Dental Appointment Scheduling Software?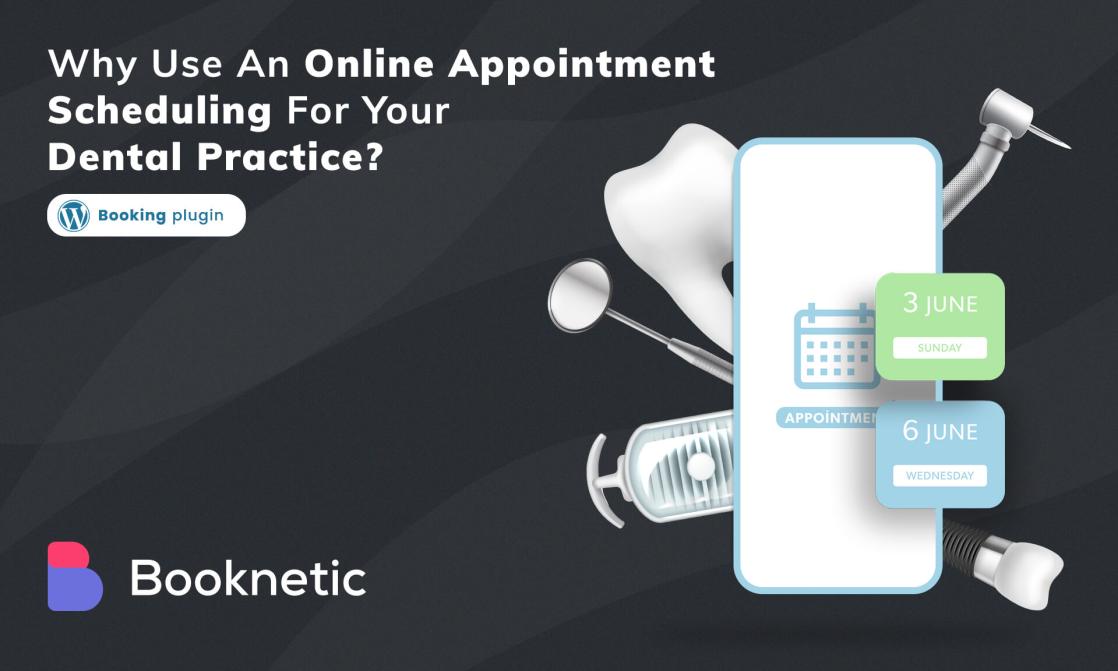 It is no surprise that online appointment scheduling has been integrated into various services including hospitality, entertainment, law, and dental care. Statistics show that 79% of patients prefer online appointment scheduling over traditional ways of booking for their dental practice.
A study conducted by DentaVox found that 37% of people do not book online dental appointments because it is not provided by the clinics. Having a quality website is a great way for increasing visibility and attracting patients to dental clinics. But having a large volume of website visitors is not enough for converting into sales. You need to provide your visitors with an easy self-scheduling system to book appointments from your website.
If your website is built on WordPress you can utilize the power of dentist booking plugins to improve the dental patient experience and on-site user experience.
Which features to look for in a dental booking plugin?
An appointment booking plugin is software developed for the unification of website and service management in a single place. Website admins can create calendars, set time slots for each service type, add staff information and customize booking forms in the back-end panel.
There are lots of features provided by online medical appointment booking systems that both patients and your employees are willing to use for dental practice:
Customization
As a dental clinic, you probably provide a range of services with lots of employees assigned for each. You may charge different amounts depending on service category, staff, or locations. You may also require distinct registration for each of the services.
Customization allows reducing the complexity of the booking process. You can group your services and add employees along with the locations that provide those services.
Integrated calendar
Calendar sync is a must for dental appointment scheduling software. Calendar integration not only helps patients to book for the available time but also keeps you updated about daily and weekly appointments, and employee engagement.
When you approve an appointment it is instantly saved to your Calendar.
Mobile-friendly
According to research by Perficient, 68.1% of global website traffic comes from mobile devices. Taking the statistics as a guide, you have to pick a dentist booking plugin that has a mobile-friendly interface.
Optimizing your site for multiple devices also helps to rank higher on search results and access wider reach. Booknetic is a WordPress appointment booking plugin that offers a mobile-friendly interface to businesses. Your patients can benefit from any feature with any device when they book dental appointments.
Payment integration
The availability of online payment options is essential for converting visitors into customers. It does not only facilitate your finance management but also makes it easy for customers to get involved in the technical stuff only once they register.
So, definitely, pick a dental appointment scheduling software that has at least one online payment integration in it.
Notifications
You need to make sure that your patients and employees are alerted about appointment updates or any changes to them. This is why you should choose an appointment booking system that is responsive to real-time changes.
The notification feature enables you to communicate with clients about appointment confirmations, time changes, cancellations, or reminders.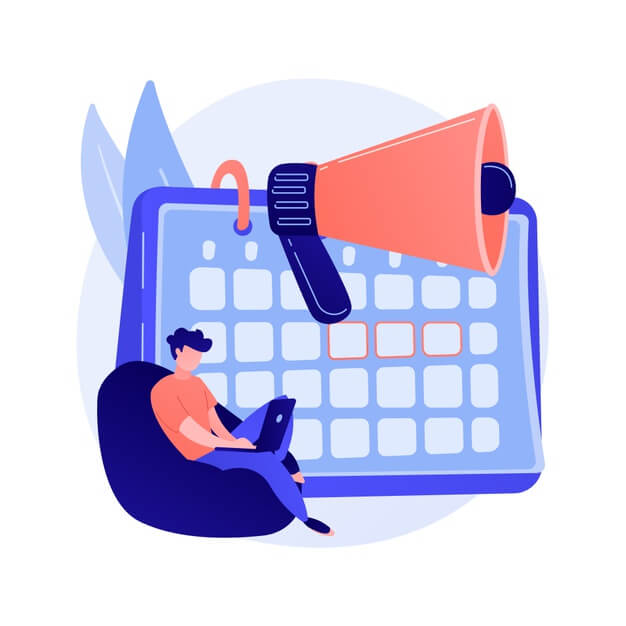 Why use dental appointment scheduling software?
Saves time
Perhaps the greatest advantage of the dental clinic appointment system is its time-effectiveness. Appointment booking systems give access to available dates, times, and clinic staff instead of discussing all the available options over phone calls.
When you are going for dental care, there are several pre-treatment registration forms that you should fill out. With the dental booking plugin, you add all the required information before visiting the dental office. This also helps dentists to have a better understanding of patients' conditions.
Convenient
If you are caught with a terrible toothache at 2 AM at night you have to wait for business hours to call your dentist and find out about available appointment times. But not with online booking systems. Dental appointment scheduling software allows patients to view their favorite dentist's calendar and book any time they are available.
Easy to manage
You can automate and organize all procedures including appointment booking, customer service, staff schedules, and payment processes within your dental clinic appointment system.
Appointment scheduling software makes it easy for clients to access your dental practice with any device and at any time.
Seamless payment
Online payment is another way of keeping the booking process on site. Automation of another time-consuming procedure enables you to receive payments as soon as the appointment is booked.
It does not only saves payment time for clients and your registration department but also secures dentist practices against no-shows or cancellations.
You need to build a dental booking plugin that integrates with secure and most used payment gateways. Booknetic successfully integrates with multiple payment systems that are widely spread around the world.
You can receive payments via PayPal, Stripe, WooCommerce payment, or local payment. The deployment of secure and popular payment systems into the website strengthens the quality of your service and increases the number of online payments you get.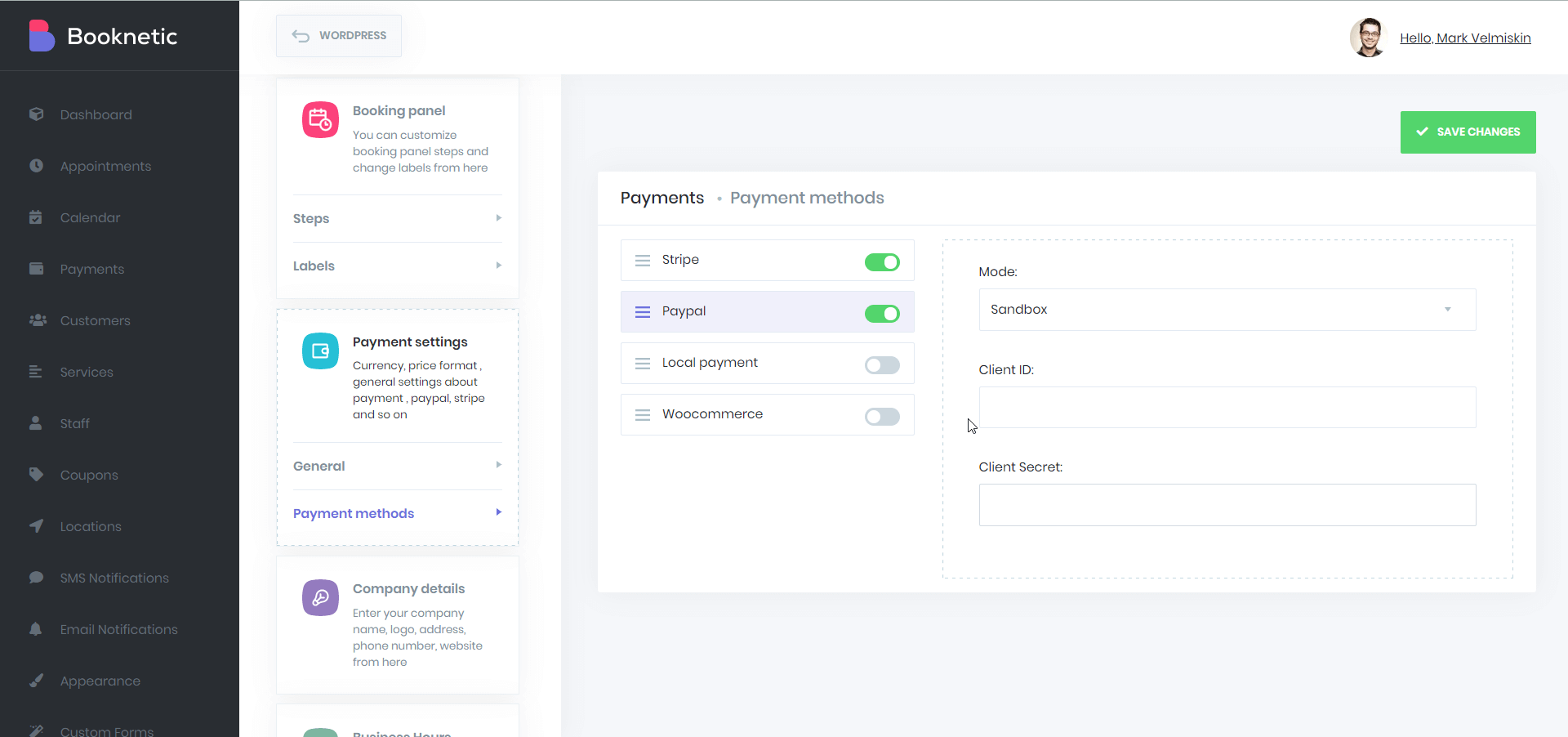 Improves quality of service
How? Thorough reporting of your dental office gives useful insights into your business operations. Reporting feature given inside of the appointment booking plugin is the nearest decision-making tool. It provides a preview of your daily activities and also sees the far with in-detail analysis. You can evaluate how your organization is engaged with multiple services, which employees receive more patients, which location gets more appointments booked, and investigate areas that need development.
The Reporting feature developed by the Booknetic appointment scheduling plugin gives an exhaustive analysis of your operations in real-time. With this, you can exactly see what time of the week, month, or year you get more appointments, which locations and staff receive more patients, and which services generate the most revenue.
The obtained data can be used to grow your dental practice.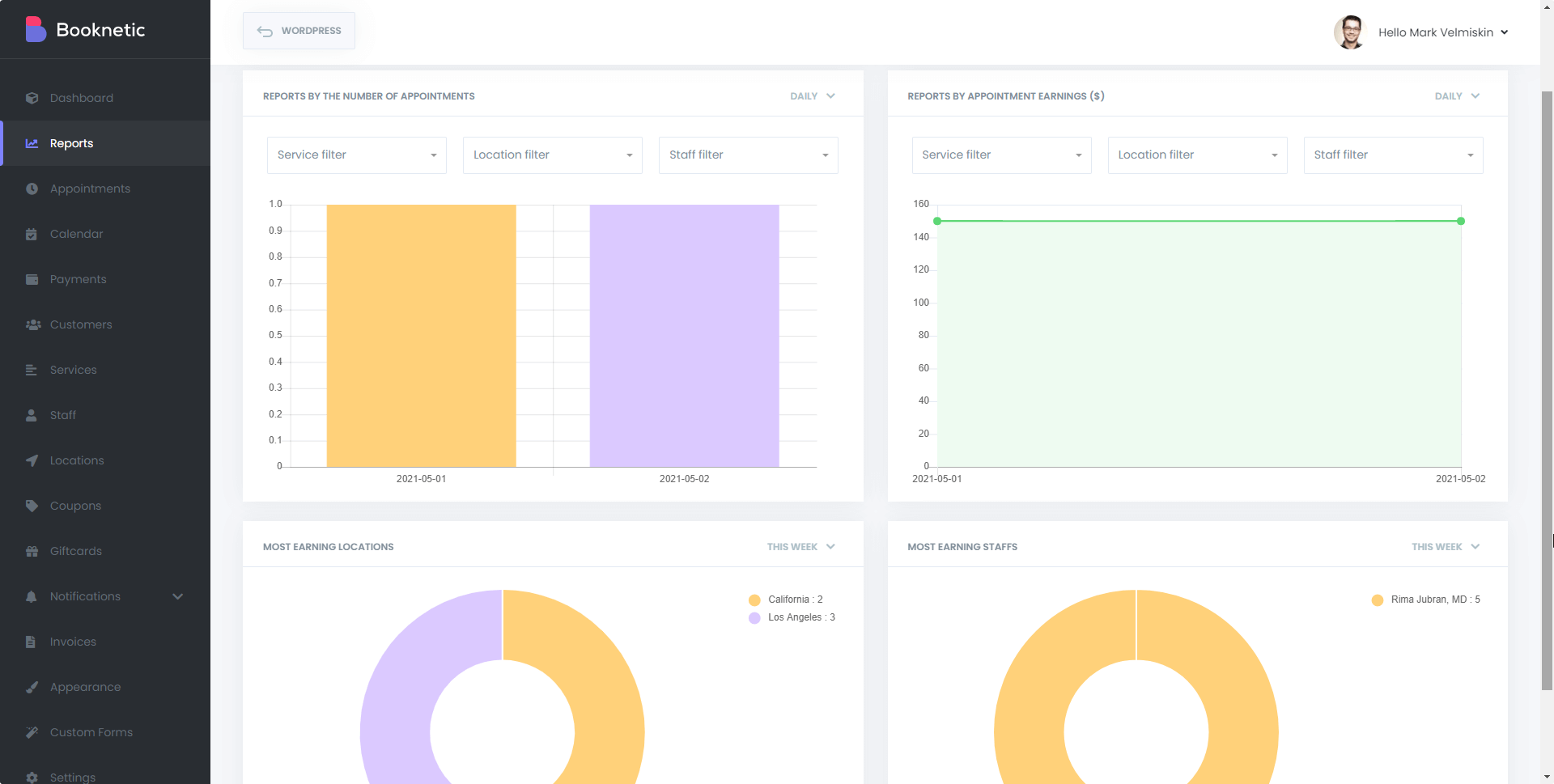 Secured service
Even if it is dental care, clients may forget about their appointments in the chaos of busy life. Thankfully, these are not even a problem in dentist booking plugins. Automated messaging services ensure that your clients and services never miss an appointment.
The notification function presented in almost all of the appointment plugins keeps clients updated about their appointments. The variety of notification options makes Booknetic stand out from a regular WordPress booking plugin. You can send email, SMS, WhatsApp, Telegram, and Webhook notifications to your customers about the date and time once they book an appointment on your website.
You can also set notification message templates for appointment approval, rejection, rescheduling, cancellation, and before and after appointment reminders to clients and your staff.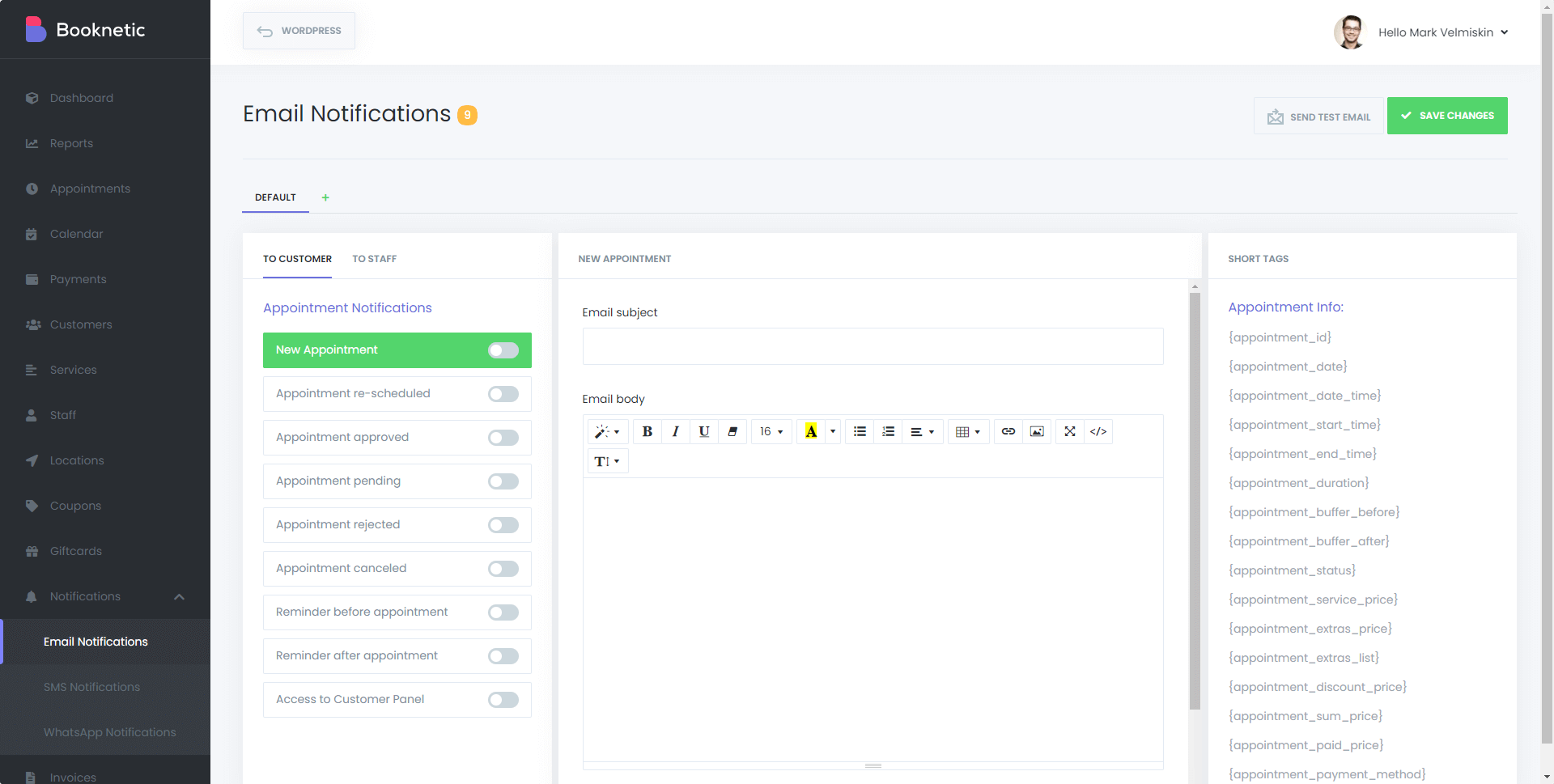 Improves customer experience
Dental appointment scheduling software allows complete automation of the booking process. Patients no longer have to wait for business hours to book appointments, wait in a phone queue, answer repetitive questions, and wish for the availability of a dentist.
The availability of lead generation tools helps to collect client information and create a customer database within your website. Once customers schedule an appointment their records are automatically stored in your database. Online appointment scheduling helps to oversee your patients and provide care for them whether they are inside or outside of your office.
Booknetic saves you from lots of repetitive procedures involved in the booking process. Integration of communication channels like SMS, and email notifications allows the plugin to build a comprehensive CRM system within the appointment booking system.
Dental care practice varies from patient to patient. Some may need to book only once a year while some patients have to visit your office regularly throughout the year.
With eye to repetitive services, Booknetic adopted a Recurring appointment feature that can be customized for your dental service. With this, you can decide interval options between each appointment, duration of appointments, or the number of appointments to be repeated.
Your patients will not have to add the same data over and over again. As part of customer satisfaction, you can further grant your loyal patients gifts and coupons all within the plugin.
Bottom line
Here we gave you an extensive list of benefits of using a dentist booking plugin. You have to be specific about your patients' needs and service categories when choosing a dental booking plugin. You also need to consider business growth opportunities provided in booking plugins. Do your research and pick one that will do the job at a reasonable price.
When you opt for Booknetic, you are allowed to use full customization features based on your business needs. Try Demo to find out more about the features.
Sign up for our newsletter
Be the first to know about releases and industry news and insights.
Let's

get started

on something great
Booknetic is a simple yet powerful plugin for accepting online bookings & payments on your WordPress site.