How to Start Online Art Classes? | 6 Key Takeaways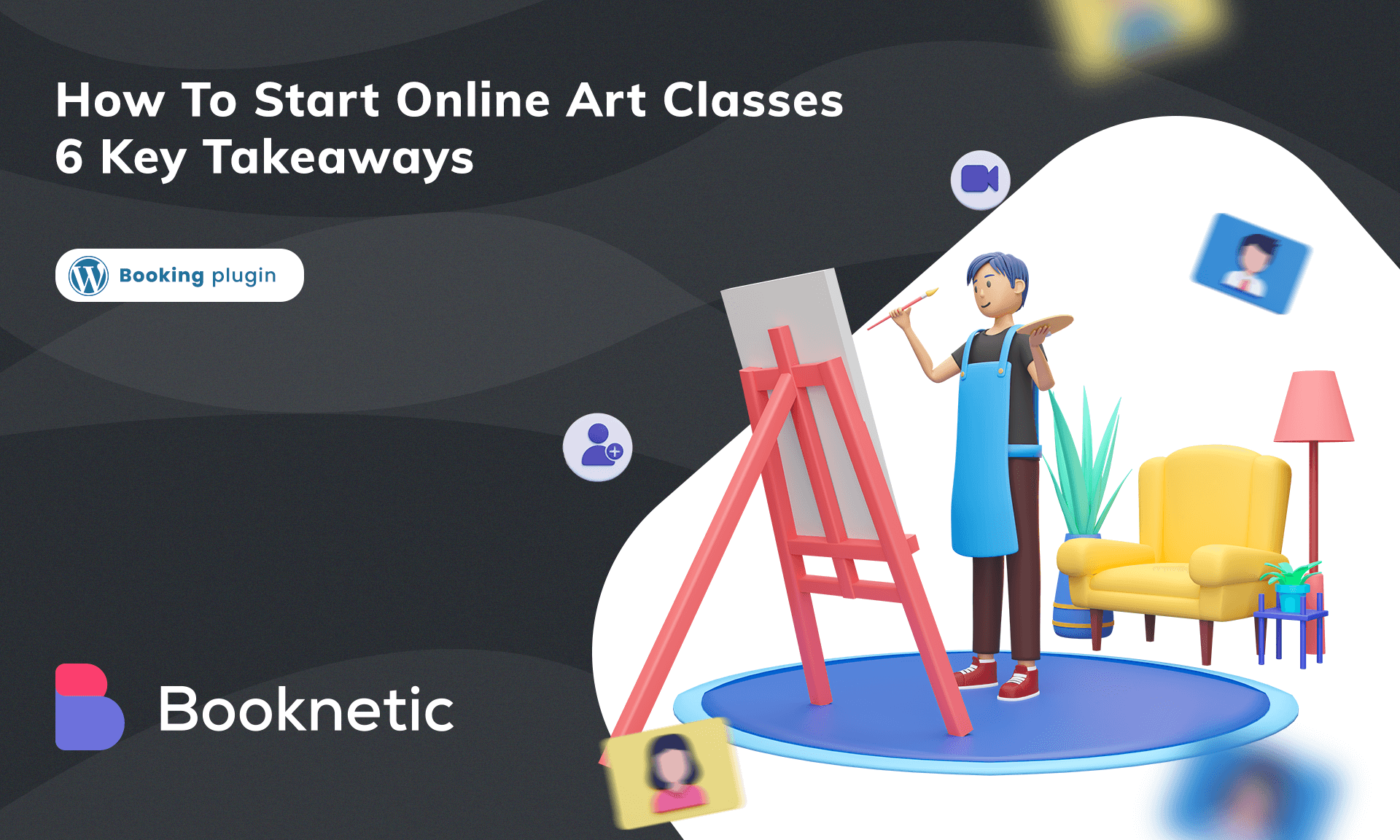 Whether you are a master art instructor or an amateur in teaching art lessons, understanding how to start online art classes will give you more flexibility in teaching style, broaden your horizon, and grow revenue from diversified sources.
"Creativity is contagious, pass it on," said Einstein. Even the greatest psychics, scientists are fond of art and learning of it.
I would describe art as a visual interpretation of human creativity. At all times it was a way of expressing people's ideas and imagination in their own way. As an art enthusiast, I am well aware of how art can uplift human morale, brush up on one's intelligence. This is why I will talk about how to teach online art classes that will transmit this infectious sense.
How to start online art classes?
1. Define course delivery format
There are several approaches to online art classes. Some instructors prefer live formats that intrigue discussions. While some choose to prepare materials and make editions post-production. This includes video cuts, showing different camera angles, muting background sound effects or enhancing lighting, and organizing text materials. To the great extent, the course delivery format depends on the type of lesson content. You can choose to create text, video, or audio lessons.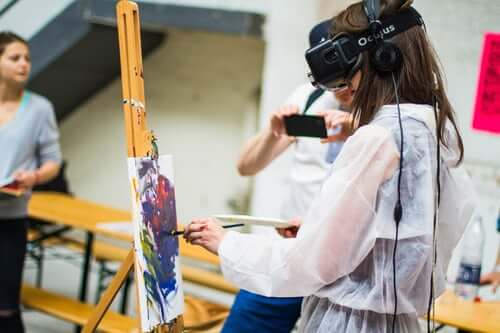 Incorporating different online teaching approaches into the class program would be better as people have different learning habits. The type of content also depends on the subject you are covering. For example, if you are talking about art history you do not necessarily need to sit in front of the camera. Blogs or podcasts can be more fitting for narrative content while the video for instructional subjects where you have to visually express your painting techniques, and hand movements. In this manner, identifying your topic is the first step of knowing how to teach an online art class. This brings us to the next step ...
2. Create a course outline
Part of the challenge of learning how to teach art classes online is to decide what you will offer. Because art is an incredibly broad phenomenon divided into subgroups, historical periods, and genres. To start with, you can design small programs that take a few hours to complete. As you know, people have very short attention spans online, thus giving students achievable projects will encourage them to keep at pace.
Before knowing how to teach art classes online you need to understand that you and students can have different interests in joining online art classes. Attendees may want to explore new knowledge or try their hobbies. You need to address their problem or interest that will be solved at the end of taking these art classes. Your response to this will identify the course direction. Provide them with learning outcomes that transform their current state of skills to the state of art.
Figuring out course objectives helps you move forward on how to start an online art classes guide. The next is to draw a course outline that will lead you to create course materials. Keep the outline simple and descriptive. Once you finish the outline, share it with students prior to taking classes. This will help to carry more effective online art classes by giving students plenty of time to prepare for the topic.
3. Host live classes
Along with its benefits, online classes have some challenges you need to beat. When you are teaching in person, you are more involved in the students' mannerisms, you can make instant responses, direct them when needed. It is much easier to control the environment there. In comparison to regular classes, you have a limited space to interact with students or suggest modifications. Although it can be a benefit for students who do not like to be interrupted or talk during painting.
While recorded videos are convenient for students and yourself there should be times that you have to live stream lessons to be more precise on your instructions, see the attendants' improvements in real time. There are a couple of things you need to think through for knowing how to teach art classes online. How many people will attend your classes? How long will the workshop last? Do you need the recorded videos afterward? Making a list of your needs will make it easier to find the best online hosting platform.
Zoom, GoogleHangout, Google Meet are the most popular platforms you can choose from. Zoom is an easy-to-use platform with one-click join and multiple view options for participants. You can use recording and other controlling capabilities with paid plans.
Free GoogleHangout is great if you hold small talk lessons with just a Gmail account. Google Meet is a professional form of Hangout for small group talks. It offers extra features like live polls, text chat, image & file sharing allowing to run more interactive art workshops.
No matter you sharp your technical skills are, you may still face difficulties during the class. It will be better to prepare for digital practices by familiarizing yourself with the platform. Test your microphone, try different angles of a webcam that will cope with your changing hand techniques. Film an experimental video from different angles, and lighting aspects, and ask colleagues for genuine feedback.
4. Invest in equipment
If you are looking for how to teach online art classes you need to care about your students' convenience. There are plenty of technical and professional nuances you have to pay attention to. You do not need to shoot from an art studio, but make sure you have the necessary painting, and sculpture supplies to use during the lessons or recommend students to use.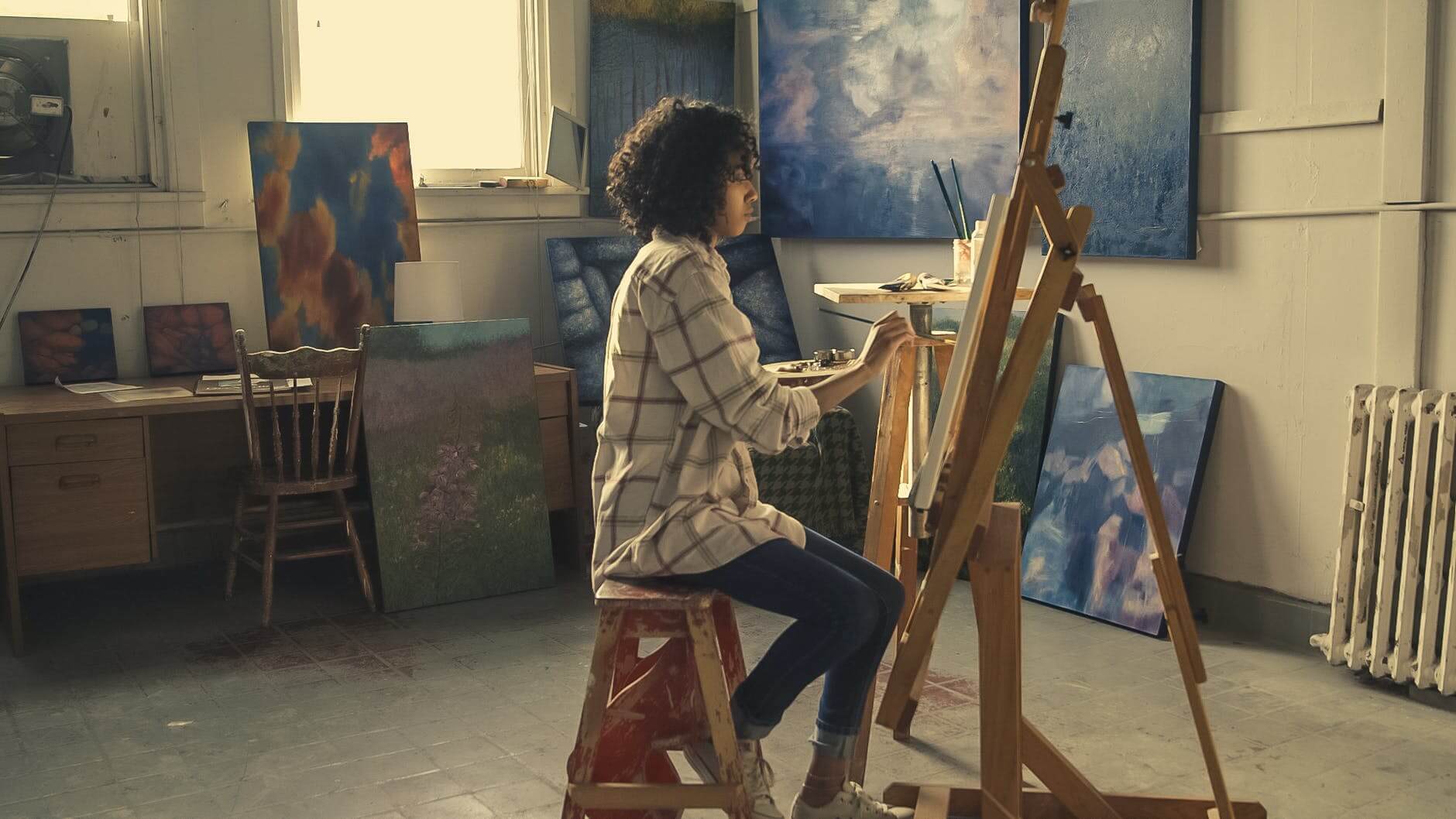 You can purchase a professional camera or simply invest in an HD webcam that will stream videos on a clear picture. For a video capture resolution, you can start from 720p and upper pixels. Having more megapixels means it will deliver more optimal quality videos.
Light sensitivity and frame per second (fps) rates are crucial elements to look for in a high-quality webcam. A low fps rate creates out-of-sync audio or choppy videos. You need also to check for pan, tilt, and zoom capabilities for distant camera location controlling. You can look for a built-in microphone or buy a separate microphone.
You can also use your smartphone or tablet. New generation smartphones have the same level of quality as professional cameras. Just ensure the lighting, microphone, and tripod are well fixed for the video.
5. Learning management system
After you crafted course materials you need to store them somewhere for online access. If you want to gather more students, make enrollment easy. There are multiple options you can choose from to teach online art classes. If you are at the beginning of a digital experience and do not know how to start online art classes, consider file hosting services like OneDrive, Google Drive, or Dropbox. This is an affordable way of sharing online lessons with link access.
A slightly pricier alternative is investing in popular Learning Management Systems. With over 40 million students around the world, Udemy happens to be the biggest online education platform. Supporting over 60 languages, you can easily reach interested students. There are education platforms like Skillshare, CreativeLive, and Craftsy that are mainly available for creative, art, or design backgrounds. You need to split the cost fees with platform admissions.
The third option is to develop your own website. Opposed to automated systems, this will take more manual effort. But having your website will help you build online branding and further promote your online course. If you want to quickly learn how to teach an online art class, consider WordPress. The most used website builder which is used by bloggers, small businesses, and e-commerce websites. The great thing is that its functionalities can be extended through pro plans, themes, and plugins. Incorporating
Important issues like class bookings, miss outs can be easily handled with appointment booking plugins. Provided functionalities help to enhance the quality of online art classes. Booknetic appointment booking plugin can help you to automate and streamline art classes online. Advanced features allow you to:
handle enrollment and registration with customized booking forms
set up one-time or recurring classes
send automated reminders and notifications via messages, WhatsApp, or email
streamline online payment gateways or charge on-site
sell your online art classes or artwork
6. Use digital marketing to reach students
Figuring out whom you are talking to is crucial before you research how to teach online art classes. If you are going to start online art classes, you need to target people who are already browsing the internet for art inspiration. A solid marketing strategy is what you need to spot those searches and land them on your online course page. If you are not sure about where to start or how much to pay for advertising, there are various digital marketing strategies you can look at.
Social networking platforms are the top places you can set up an online profile. Use art community groups on Facebook to share your works, and inform about upcoming courses. While Pinterest is the best visual platform you can expand your reach, draw attention to your works, and collect a dedicated audience from various global regions. Useful blogs on popular platforms like Medium or Quora are another authentic way to push your courses. While holding live events, creating instructional or assignment-based YouTube videos are more practical ways to prove the value of your art classes. These are investment types of activities that will always pay off as much as you continue on your efforts.
But, if you want to see the results fast, then spare some budget for paid digital marketing strategies. Depending on your budget you can choose to target on social media, collaborate with niche influencers, join collaborative events to raise awareness and increase the enrollment rate.
==> Also read: How to run a tatoo shop
Embrace art's power
If you already decided to run online classes, this quick guide on how to start online art classes will help you to provide valuable experiences to students through art lessons. Every takeaway will determine the price of courses and affect participant rate. Remember, knowing how to teach online art classes is a learning curve with an initial time investment. Your effort and enthusiasm will play a huge role in its success. Ask for students' feedback after each course completion and incorporate that feedback into future modules.
Sign up for our newsletter
Be the first to know about releases and industry news and insights.
Let's

get started

on something great
Booknetic is a simple yet powerful plugin for accepting online bookings & payments on your WordPress site.