What is the Best Escape Room Management Software?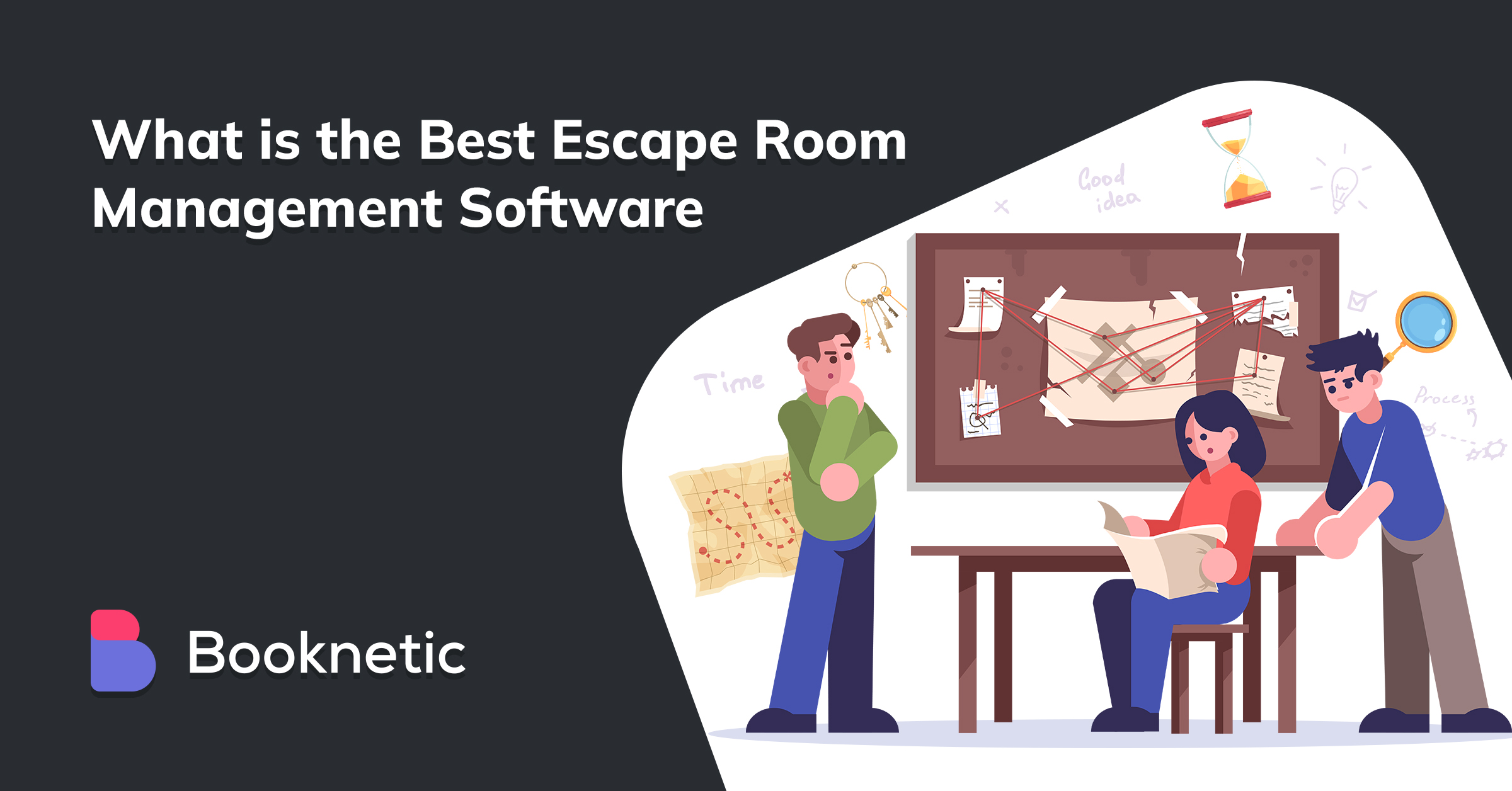 In our ever-changing world, even games have become different and colorful. Although scary games, exciting escape room games are one of the most popular games today. This is what we can say is the best escape room software that ensures entertainment businesses always accept bookings from your target audience.
As good as it sounds to enjoy other escape games and create your own escape room management software, the challenges you face can get you off the road. In this blog, we will allow you to overcome these challenges and show you the best escape room management software.
What is Escape Room Management Software?
Software is a software application that helps you manage your escape room business. It lets you track bookings, manage customer data, and create reports. Escape Room Management Software can help you run your business more efficiently by automating tasks and providing valuable insights.
For example, it can help you keep track of bookings and customers, so you never overbook or underbook again. It can also help you identify patterns and trends in customer behavior, so you can make better decisions about pricing, promotions, and more.
What to Look for in Escape Room Booking Software?
After installing the escape room management software, you now need customers to use this software. Bookings are the best way to attract people to your site. Today, making an appointment is used as a mandatory requirement. If you have a WordPress site, Booknetic will be the right choice for your appointment scheduling plugin.
For online reservations, you must ask for their personal information to be able to send them an order confirmation during the check-out process for your Escape Room software. You should be careful that the chosen escape room booking software supports more than one payment system. Payment methods such as PayPal and stripe are the most used.
Note that the program works even without an internet connection. In some areas, the internet may be weak or have no signal. In these cases, so that users do not encounter any problems, when choosing an escape room software, take care that they can use it without the internet.
Design is one of the important issues because if the player does not like the image at the first sight, they will not use the program. Make sure you can customize it for your user needs. Remember to provide your players with a clear escape room. Thus, you will have more customers and more incentives to play.
In the booking form on your site, it is important to have a booking calendar on your site so that guests can see which rooms are available on which dates.
5 Best Escape Room Management Software
Houdini MC is an escape room management software designed for players to interact. With this plugin, you can monitor your players, communicate easily.
It is an escape room booking software suitable for Windows-based devices that you can use for a lifetime for a price of $182. You can use display types such as text, gif or image, video, sound, and let your players experience more exciting moments with special background music. With the QR code support, you can view the scoreboards in your lobby and remotely control Raspberry, PI relays, and Phillips Hue.
I can say that software information requests make Houdini MC the best escape room software. You can get it by using a single software to provide convenience for you. It works in all other programs apart from Node JS and IIS Express. Extremely reliable, Houdini MC is a multilingual solution.
It offers all the wonders to give your players exciting moments with natural sounds. With the fully customizable in-room display, you can use sound effects as you wish, use private messages, and more. You can manage more than 2 rooms at the same time, but we do not recommend using it as it is not considered appropriate by the software developers. Internet connection required only for occasional license checks and updates
M3 is an escape room booking software with which you can set up an unlimited number of rooms. It offers a free trial period for 30 days. This escape room software, which costs $60 per month and $600 per year, can only be used on Windows platforms.
After configuration, Arduino requires programming knowledge of this best escape room software, which can be remotely controlled by Raspberry Pi. Additionally, Bookeo supports HTML and C# scripting. It supports scripts that should be considered by Escape Room owners, with scripts and coding-filled scenarios
One or More PLCs, DMX Lights, Hydraulics, JSON, MQTT Compatible Devices, Philips Hue Lights, Z-Wave Devices with more native support M3, I can definitely say that it is the best escape room software.
To use the M3, you need a Windows platform computer with 1 GB of RAM. Requires an internet connection to check for updates and verify your licenses when a connection is available, generally, no internet connection is required which makes the M3 different from some other escape rooms.
It is a great escape room booking software that supports Windows, Mac, Linux platforms. After a 30-day free trial first, you can optionally use this software with a lifetime subscription, which offers monthly pricing of $19.00. Optionally, additional room management is possible at the same time.
It requests an internet connection but initially works over LAN. You can reset or export puzzles. The customizable timer and remote puzzle control make the software different from some others. Display types such as text, video, audio, GIF can be used.
You can use multiple rooms and control multiple games at the same time. It offers a custom timer for gamers to find out how much time they have left, which is a great feature.
It helps you control and optimize your time with the players' daily progress log. The best is this escape room booking software is easy to use and does not require programming knowledge.
This best escape room software for Windows, Chromebook, Mac, Android/IOS platforms offers you a trial version on request. ESCAPE ROOM MASTER demands you to use it by purchasing it for $69 per month. It will work uninterruptedly after you install it only once. You can customize your own.
During installation, you can connect to the monitor via HDMI cable or Chromecast. Offers video, text summaries, more exciting realistic soundtracks, and sound effects for gaming experiences. A room ends when players escape or fail and get trapped within the given time and you can customize it as you wish.
It supports Arduino, Raspberry Pi, Phillips Hue. By using our handy, predefined tips, you can avoid typing and be ready to deliver messages with a fast and consistent user experience. It requires programming knowledge to be able to control your puzzles remotely. You can remotely monitor a room's video stream
With a lifetime license price of $149 for a room, it is one of the best escape room software you can use on PCs or tablets. When gamers need any tips, you can send pictures, videos, text messages and connect to home automation or microcontroller devices such as Arduino or Raspberry Pi.
You can only manage 1 room per license at a time. It is possible to increase it in accordance with your payment. You can customize with special sound effects, timer, as in every escape room booking software. You can add a countdown clock in games.
Support for MiraCast, Z-Wave Phillips hue, MQTT, DMX, and PLCs devices, plus the script editor is one of its great features. With the touch screen feature, you do not need to use any keyboard or mouse in the room. It is possible to run more than one room by connecting from a server at the same time.
==> Also read: Best Field Service Management Software
Summary
We have just come to the end of our blog. There are some important issues when choosing escape room management software, so do not forget to pay attention to them. Choose a platform that suits you, for example, if you are using Windows, be careful not to choose an escape room software that only supports only a single operating system.
Pay attention to how many rooms it supports and most importantly, make the right choice for its price. Improve your software information, do not forget that if you want to create escape room booking software in the best way, your software information should also be in the best way.
As you understand from the information we wrote in our blog, you will need an appointment scheduling plugin after installing your escape room management software so that you can control your customers correctly. With the best-designed booking form and wonderful integration with the booking calendar, Booknetic will be your best choice on this road. It allows you to send an appointment confirmation message with an email notification feature when any customer sells tickets or book your escape room. PayPal and Stripe integrations are available for you to make your payments securely.
Sign up for our newsletter
Be the first to know about releases and industry news and insights.
Let's

get started

on something great
Booknetic is a simple yet powerful plugin for accepting online bookings & payments on your WordPress site.