30+ Best Black Friday & Cyber Monday SaaS Deals of 2022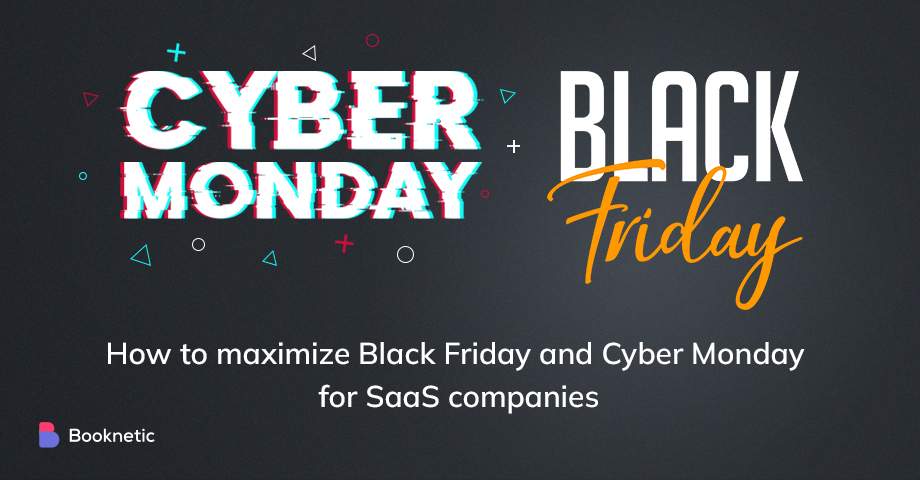 The biggest shopping event is on the corner. Black Friday is no longer just a retail event. After the rise of Cyber Monday, online businesses got immense opportunities to scale their sales during the discount season. In this blog, we will discuss every bit of sales opportunities that you can make on Black Friday and Cyber Monday for SaaS businesses.
What is Black Friday?
Black Friday in business is a shopping event across the weekend after Thanksgiving day. Cyber Monday started in 2005 is the continuation of Black Friday for online sales. Cyber Monday is celebrated by both SaaS and software businesses.
When is Black Friday?
The length, start, and end dates of Black Friday and Cyber Monday are not the same across the years. Black Friday in 2022 is November 25. But businesses start Black Friday and Cyber Monday deals starting from the beginning of the week to revamp sales and attract more buyers.
The discounts can last longer or shorter depending on the industry, companies, user demand, and overall market conditions.
How to prepare for Black Friday and Cyber Monday for SaaS?
Although there is still some time to launch Black Friday, there is so much to do to make the most out of Black Friday & Cyber Monday for SaaS businesses. Our advice is to start early to craft Cyber Monday for SaaS businesses.
1. Research
First things first. Conduct good research on discount campaign management for SaaS companies. The internet is flooded with articles and case studies of Black Friday sales. There are online businesses, software companies, SaaS businesses, and SaaS businesses in your industry, and the list goes on if you dive deep into buyer persona demographics.
Narrow down your search for your specific niche. There are industries that lack enough marketing or sales literature on the internet. Find thought leaders in your domain and reach out to them to learn more about maximizing Cyber Monday discounts for SaaS.
2. Analyze your previous Black Friday sales
Well, this one is applicable to businesses that are in the market for some years and ran Black Friday sales. Sure you analyzed your previous Black Friday sales post-factum. Take a look at your reports and also refresh your takeaways for new Black Friday sales for SaaS in 2022.
Don't just roughly go through sales figures. Compare the state of your product back then and now. Add the monetary value of your new features and brand reputation to the calculation. The things that you missed in previous years now are onboard and can be turned into money. This is what Cyber Monday is for SaaS.
All your branding and awareness campaigns should have to build a stronger and more credible brand in the eyes of prospective customers.
3. Create a marketing plan
Now it is time to turn your initial research & analysis into an actionable plan. Without a dedicated campaign plan, it is going to be hard to execute and track. Black Friday and Cyber Monday are the biggest sales events you can get momentum. You can't simply sacrifice this opportunity for a better discount season during a year.
So, jot down all the Black Friday marketing ideas that you have in mind. Later you will have time to remove ones that are not applicable to your product (at least in 2022).
Make a list of marketing channels that you will take up. Components of discount marketing campaign:
Unique value promotions (Your mission statement)
Messaging
Target market
Timing
Supporting channels (where you will need extra support like customer support)
Pricing
Budget
Which brings us to the next vital point
4. Prepare a marketing budget
Discounts are cool to acquire more customers. But they can be painful as well. Cautiously set a budget for your marketing campaigns.
Black Friday for SaaS companies can involve different forms of paid advertising like PPC campaigns, email marketing, social media ads, directly listing ads, PR listings, influencer partnerships, and some other forms as well.
Once you decide on what types of campaigns you will run, you can set a relative budget for them. This can be vice versa. If you are in a tight budget, you can also start by setting a budget and then decide on the most important marketing channels.
5. Segment customers
Most probably, you have different groups of customer segments that your product appeals to. The best way to segment customers on Black Friday and Cyber Monday for SaaS companies is to group them based on their customer journey. Your average customer segmentation can be like this:
Existing customers
New customers
Customers who churned recently
Customers who churned long ago
Customers who tried the product but never purchased
Leads who were interested but gave up for some reason
Marketing campaigns for these group also has to be designed for each customer segment. Such as marketing emails, target ads, landing pages, or individual sales approaches.
The last 2 customer segments are super vital steps for newly launched startups who still have not made a substantial user list or have not reached predictable MRR.
You probably collect your registered users. If you have a CRM system that is even better. Black Friday is the perfect time to reconnect with those customers with hot deals. Because you are already familiar with their needs, concerns, and price expectations. Tailoring your offer specifically to that group increases your chances of a high conversion rate.
6. Craft your offer
Your value proposition or Unique Selling Point (USP) is a near-static premise that your product advocate for a long time. Yet, you can play with your messaging across channels and through time communicate its value proposition.
Now that you have a different set of customer groups to talk to, you can craft your messaging and offer based on their specific needs and customer journeys. You may not have that strong data to deeply segment your customers but for sure, but you can differentiate your offers for existing customers and prospective customers.
Remember your user requests? Now, it is the time to call back those lost prospects or retain users with hot discount offers.
Cyber Monday deals are mainly developed for acquiring new customers. Yet, you need to remember your existing customers and have special offers for them as well. Black Friday can be the perfect time to customer loyalty with special offers.
Some of the Black Friday and Cyber Monday SaaS ideas are:
Offers discounts for upgrading to a new plan. Depending on the level of the customer journey, you can also offer some add-ons which still keep users at the same subscription plan.
Introduce new features at discounted prices. Exclusive offers to existing customers can be a good reward for loyalty.
Offer discounts to keep customers on board. Upgrading or extra new features may not appeal to all customers. For new customers, you can offer Black Friday discounts on recurring payments. Moving monthly subscribed customers to annual subscription packages can be win-win for both sides. This can also help to reduce the churn rate in the subsequent period.
7. Simplify the checkout process
The competition on Black Friday and Cyber Monday days is cutthroat. You can't really lose a prospect for a technical error or other inconvenience. Your potential customers can find a better product, a better offer in the blink of an eye. Calculate every predictable event that can happen during the purchase and checkout process.
For a new SaaS product, every single customer has an important role in the revenue generation of the business. Every customer will reflect back in your accounting spreadsheets, pitch deck, and financial reports.
So, it is by far the most important in the discount days to simplify the payment and billing process. Avoid endless purchase processes to minimize card abandonment.
Make sure that coupon codes and discounts are applied to the checkout process.
8. Scale your stuff
This applies to both human and technical resources. Black Friday and Cyber Monday are crazy days. Your system will be flooded with a number of customer questions and also technical queries.
Customer service will be the driver for acquisitions and retentions. Make sure your sales team can take care of all customer inquiries. Yet, the majority of request is expected to come through custom support through messaging.
The last thing you want to happen is to lose a customer due to missed queries. You will experience an increased amount of questions that have to be answered on time. If you appeal to a global market, make sure you have multiple customer service agents that will cover all questions from customers in different time zones.
And most importantly, make sure that your staff can professionally handle crazy questions in those crazy times.
9. Scale your tech stack
Just like your team, your tech stack has to be grounded for the big day. You will receive a comparably high volume of traffic, sign-ups, and new events in your app. Make sure that increased volume doesn't cause any outages.
Black Friday is simply not the day to experience technical errors in front of hundreds of new customers. Increase your server and database capacity before you receive technical error reports.
Don't mess up the months of hard work due to a missed detail.
How to promote Black Friday and Cyber Monday SaaS offers?
Launch email marketing
Email marketing is a prerequisite for Black Friday and Cyber Monday SaaS campaigns. You have to be super detail-oriented to boost email open rates. Email subject, headlines, and the right audience are the most important things to make discount emails get opened.
What we mean by the right audience is the segmented customers that we talked about above. When you craft your offer and messaging for each segment based on their customer journey, you need to accompany that customization throughout your messaging.
Once the email is opened, it has to be compelling enough to move the reader to your landing page. Catchy sentences, and clear CTAs together with the relevant design power up the context of email copy.
Definitely mention deadlines, if possible, put a countdown to visually tell the urgency of the deal to the email audience.
It is better to send a series of emails during the discount season such as teaser emails about what will be on sale during Black Friday, the main email with all the nitty-gritty details, and follow-up emails to shake up the last hesitated customers there.
Increase social engagement
For many SaaS businesses, social media is the easiest way to spread the word. This is also the time users are hyper-interested to check the social media of brands to make the best Black Friday deals.
About promoting your Black Friday deals, we advise you to start posting Black Friday-related content earlier. You can look for Black Friday content ideas to create awareness about your campaigns.
This is a tricky one. You can spread awareness about your products. But informing interested users about the deals and every detail beforehand can adversely impact your pre-discount sales. You can encourage your audience to keep tuned to your social media pages and website. Creating Black Friday social media campaigns can help you be on top of your calendar and strategically manage discount period.
The popularity of social media platforms changes from industry to industry. Make sure you focus on the right platforms where your audience looks for Black Friday and Cyber Monday SaaS deals. Online communities can be more helpful to create awareness in less time compared to your business pages.
You can also partner with an influencer in your niche to promote your Black Friday SaaS offers. When Black Friday offers are live then make sure you include all the details about your offer. The most important things to consider in your BFCM social media post are:
Mention the percentage off being offered. If it is for acquiring new customers, you certainly have a fixed discount to offer. Mention the offer and pre-discount prices to make your audience compare the prices.
Relevant visuals. Decorate your visuals with relevant themes to grab the attention. As your copy, mention the percentage off in your design for more attention.
Mention the deadline. As we said, there is no certain duration of Black Friday. Make sure you clearly mention the start and end date of deals to help users.
Include keywords. This is vital to maximizing your BFCM social media posts. Include holiday-related, brand-related, and product-related keywords in your copy to make it get more impressions.
Specific landing pages
Your home page or solutions page is simply for all to introduce your service and showcase your results. Landing pages are built with one single purpose in mind. Sales. Every part of sales landing pages aims to convert the audience.
Landing pages are hyper-focused on the main offer with minimal distractions. Sales landing pages have to be filled with visible call-to-actions directing the visitors to make the purchase decision.
Those landing pages are then powered up with social media ads or Google Ads to make them visible to only interested users. Compared to general web pages, landing pages are more precise to measure and analyze.
Run PPC ads
Pay-per-click ads are digital advertising where the advertiser pays each time the ad is clicked. Compared to organic promotion, you basically buy every action (every click). Based on your priority, you can set PPC ads on different platforms. Google Ads and Facebook Ads are forms of PPC campaigns you can try in BFCM.
You can display a set of ads for different stages of customers. You can refer to your customer segmentation and present offers via PPC ads. In the later rounds of Black Friday, you can switch to retargeting ads to bring back interested visitors.
Same to social media posts, keywords are crucial to get high conversion.
Display ads
Display ads are graphics advertising for attracting the audience to a website. It can be through banners, photos, text, videos, or audio messages on third-party websites. They can be helpful to reach out to the relevant audience.
Personal contact
This is a bougie step to power up your Black Friday and Cyber Monday SaaS offers. Both established and new SaaS businesses have a list of existing customers, leads, and prospects. Personal contacting them about customized offers can be highly converting compared to other forms of marketing.
Emailing or social media reach can be best for personal contact. In small startups, these approaches can be even better if made by owners via email. For relatively large SaaS businesses, account managers or sales reps can streamline the power of personalized messaging.
When we say personalization, it is above calling the receiver by their name. I mean c'mon, guys. As with automated email marketing, reaching out to specific segments of customers with offers specific to their needs can help to build lasting customer relationships.
Black Friday SaaS Deals
Black Friday is coming up, so we've covered you with a list of the best SaaS deals for 2022. Keep a close watch on these deadlines to take advantage of them before it's too late.
Marketing Tools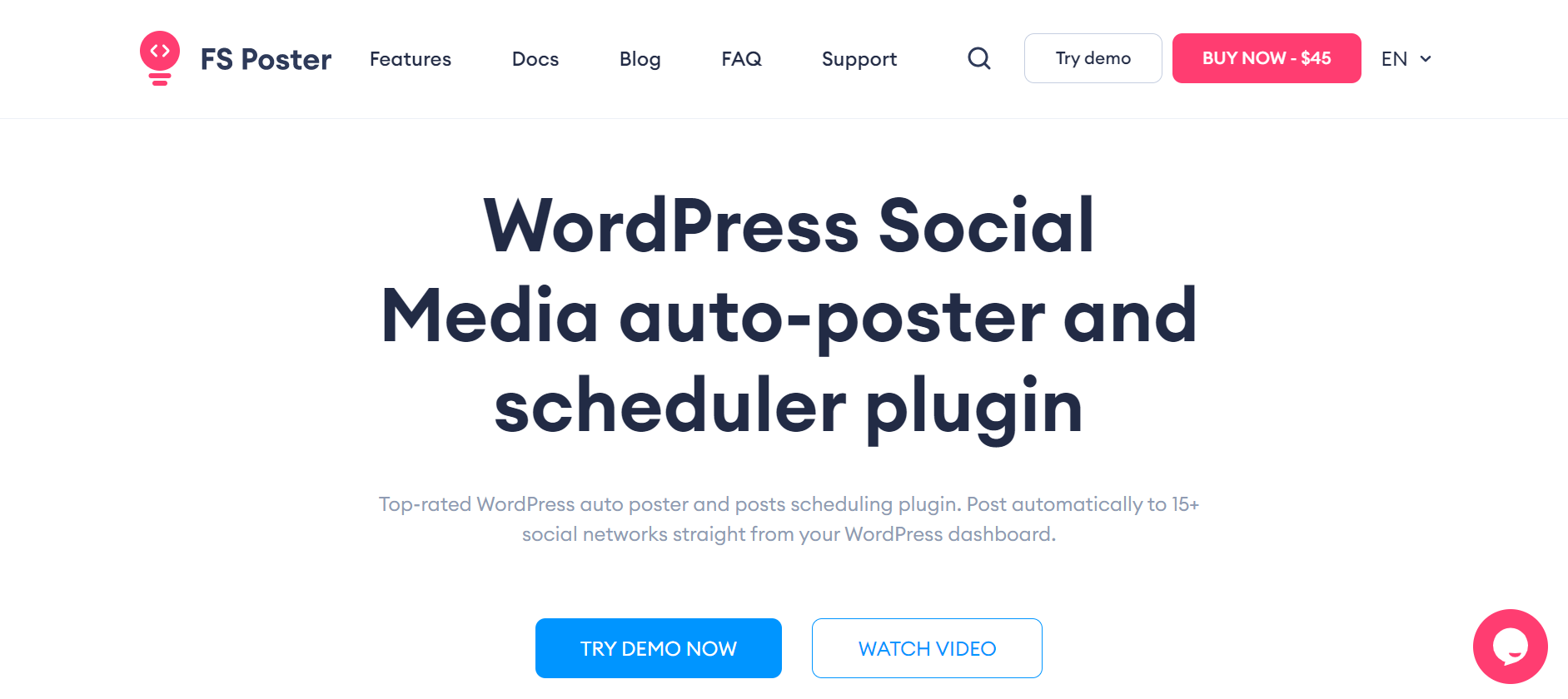 With FS Poster, users can connect your WordPress site to their social media accounts and automatically post your content on your schedule. It enables individuals, agencies, social media managers, and small businesses to maximize their marketing efforts by providing data-oriented insights.
Black Friday Deals: 30% OFF for the lifetime.
Offer Validity: From 22nd November to 5the December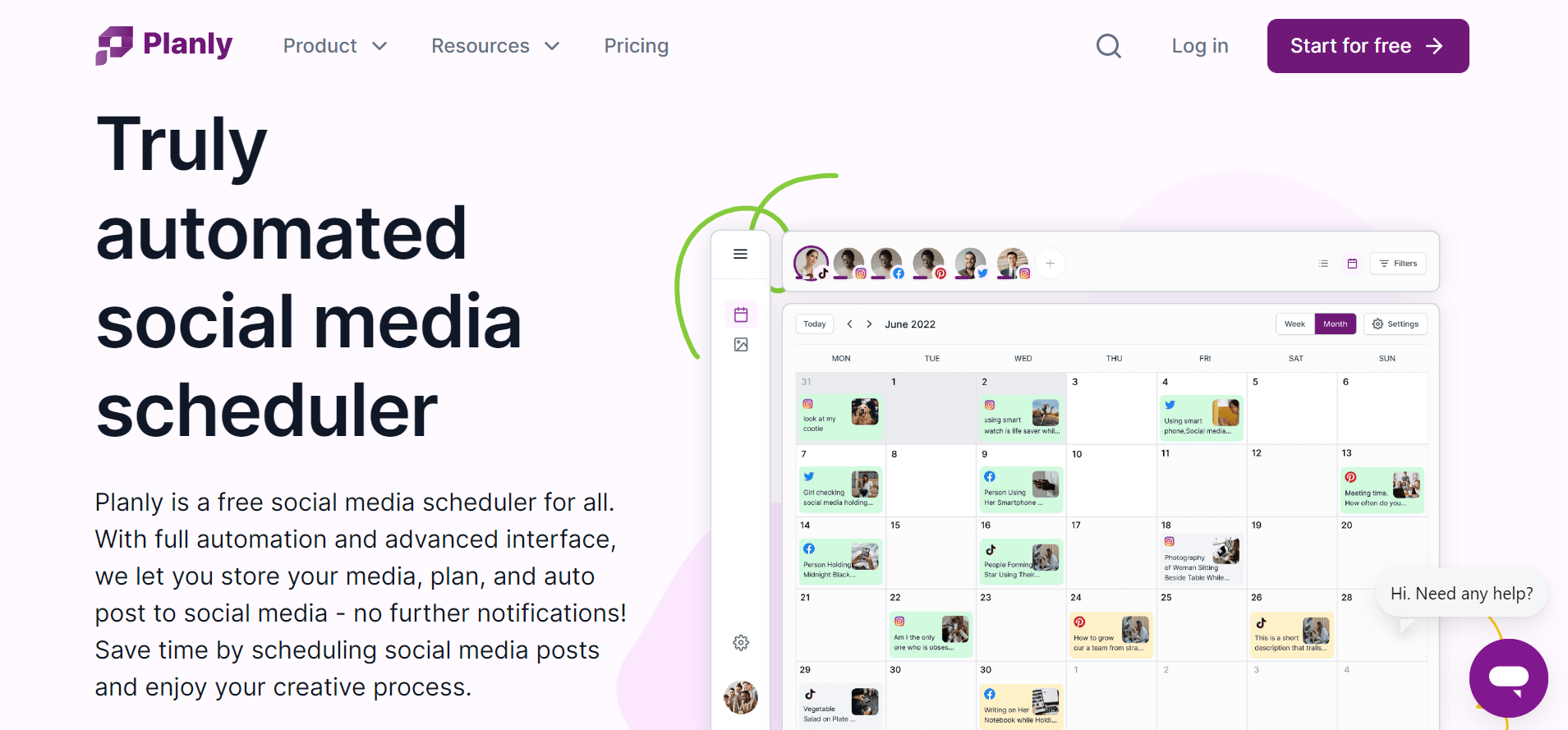 Planly is a social media scheduler that helps you plan and schedule your posts on TikTok, Instagram, Twitter, Pinterest, LinkedIn, Facebook, and Google Business Profile. It is the most user-friendly planner on the market, with a wide range of features that make it easy to use.
Black Friday Deals: 75% OFF on monthly plans and 50% OFF on annual plans
Offer Validity: From 20th November to 5the December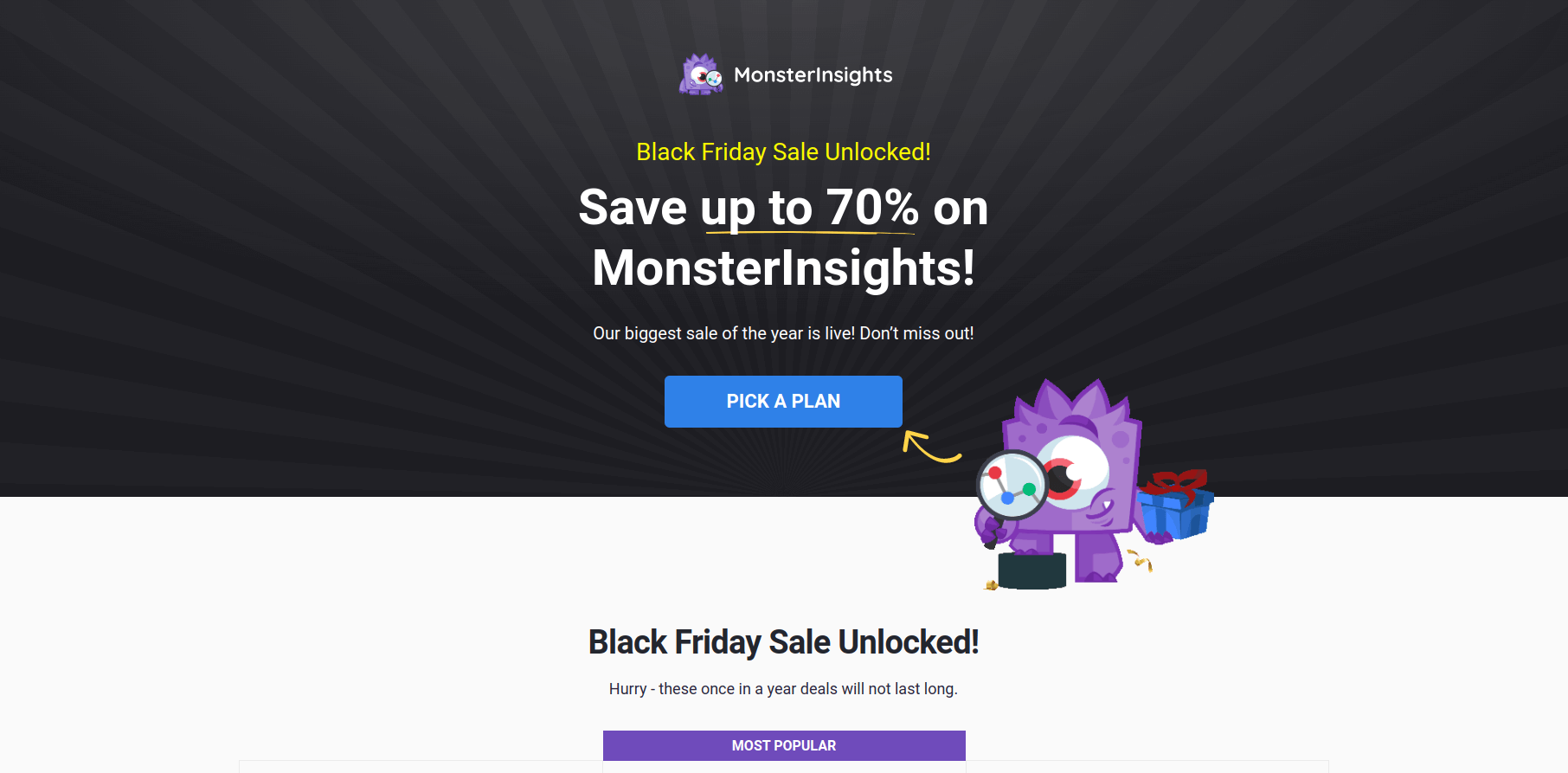 The BEST Google Analytics WordPress Plugin. See why 3+ million users count on MonsterInsights to grow their website with confidence!
Giveaway: MacBook Air M2
Black Friday Deals: Save up to 70% OFF, No promo code is required.
Offer Validity: The sale ends November 25th.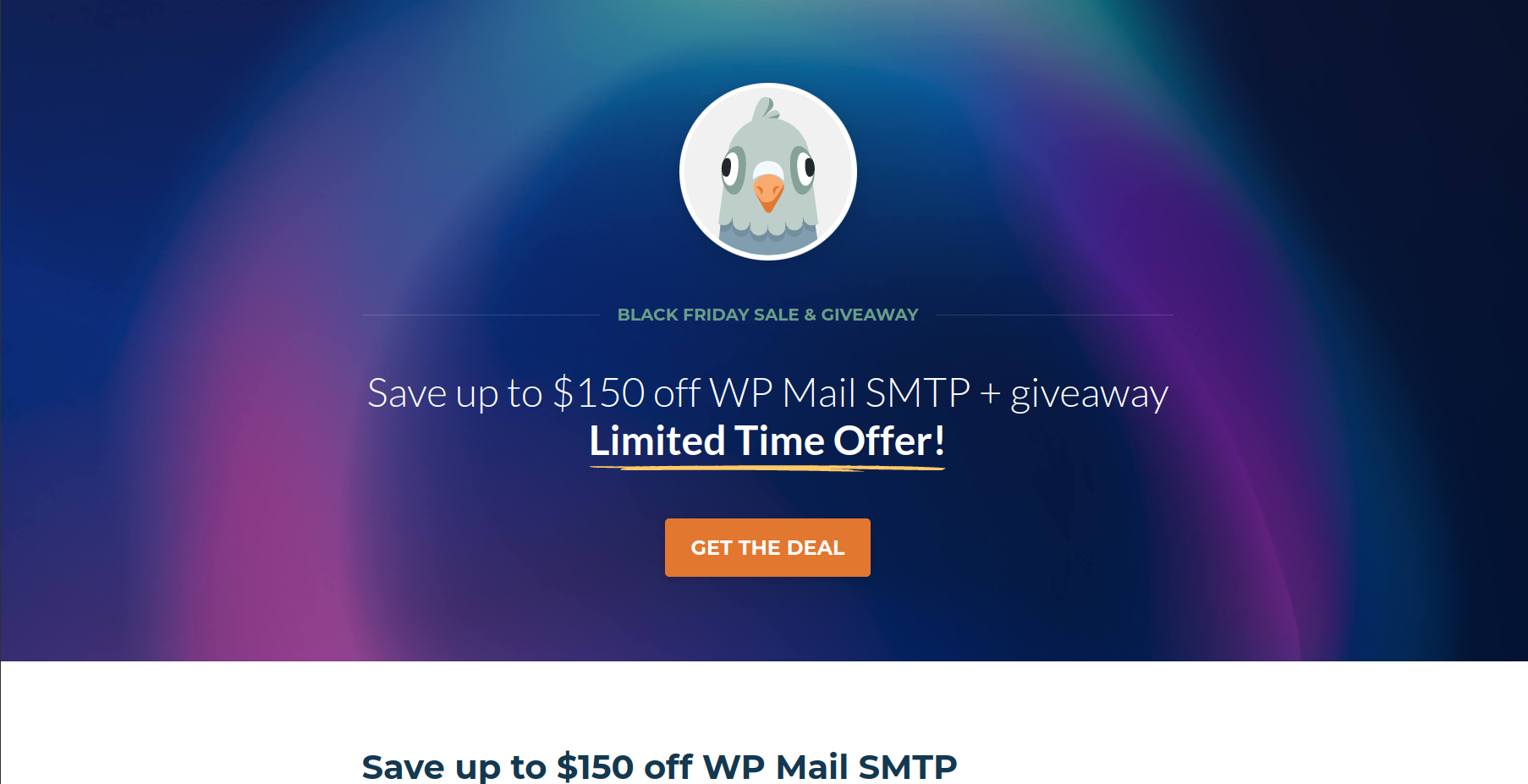 Join over 2,000,000 people who use WP Mail SMTP to fix their email deliverability issues!
Black Friday Deals:Save up to $60 OFF. No promo code required.
Offer Validity:From 21th November to 25the November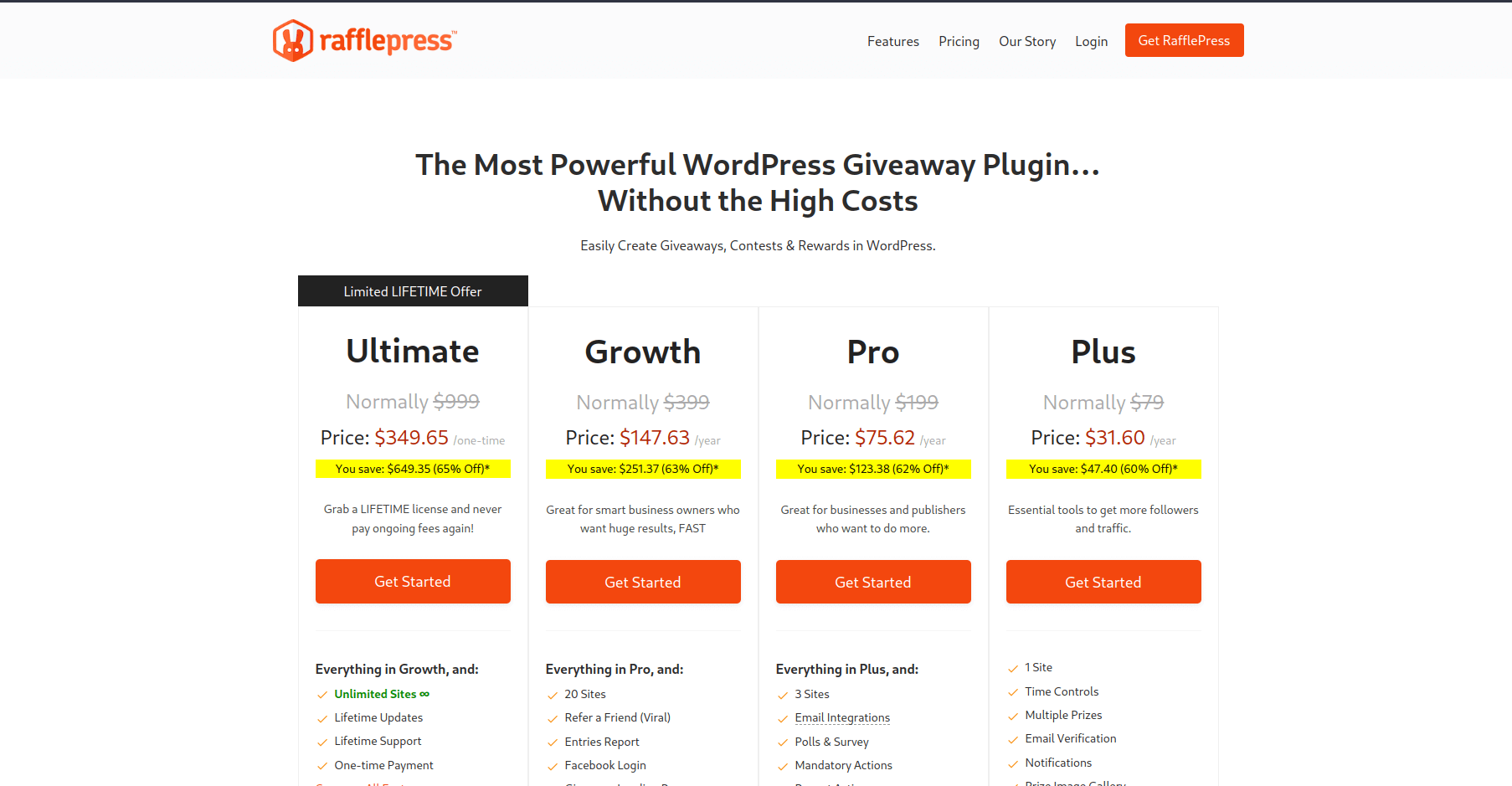 Grow your email list, website traffic, and social media followers with viral giveaways & contests!
Black Friday Deals:Save up to 65% OFF
Offer Validity: From 21th November to 25the November
5. AIOSEO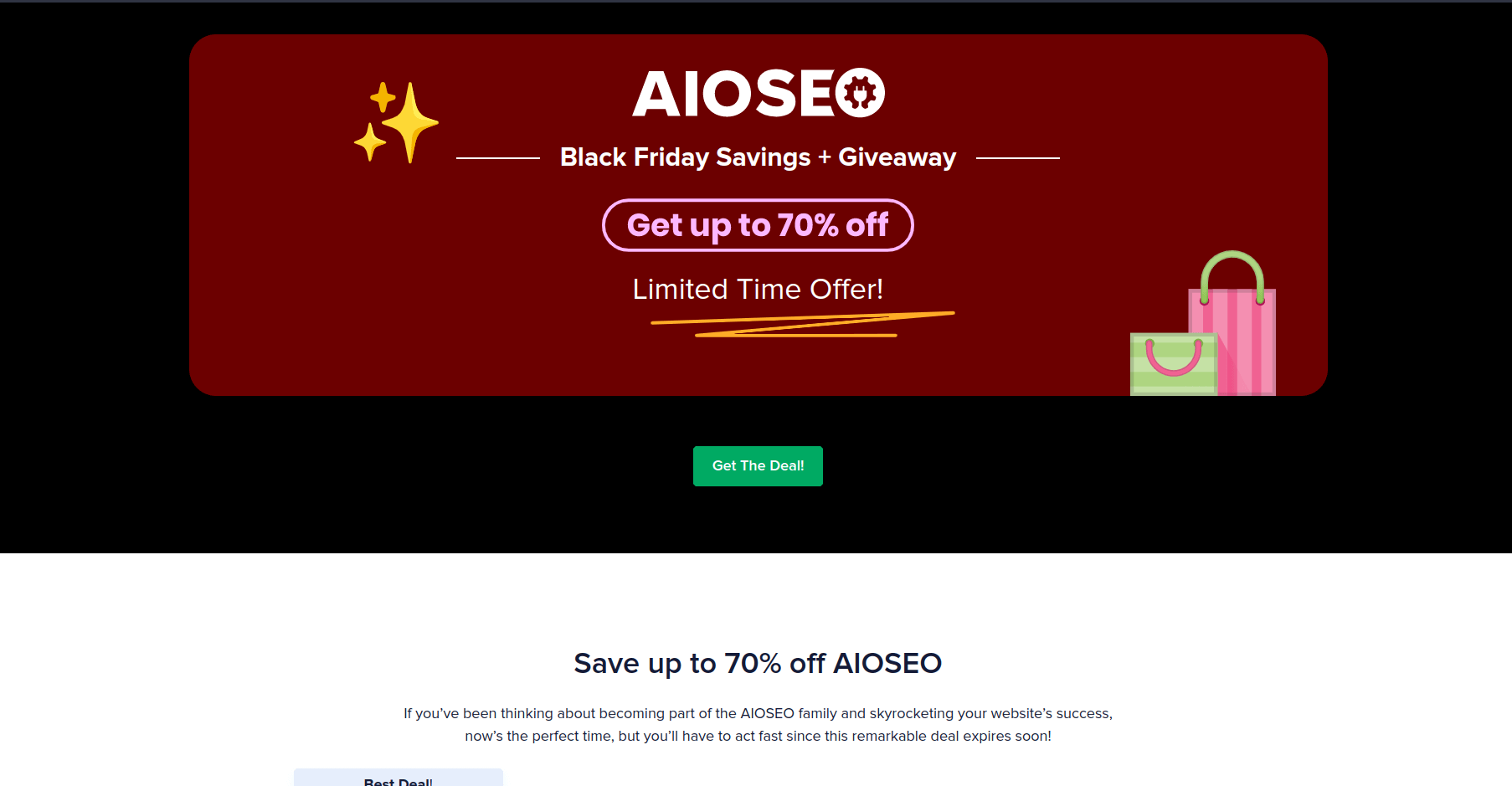 The best WordPress SEO plugin and toolkit — easy and powerful! Join 3+ million professionals who trust AIOSEO. No promo code required.
Giveaway: M1 Macbook Pro
Black Friday Deals:Save up to 70% OFF
Offer Validity: From 21st November to 25th November.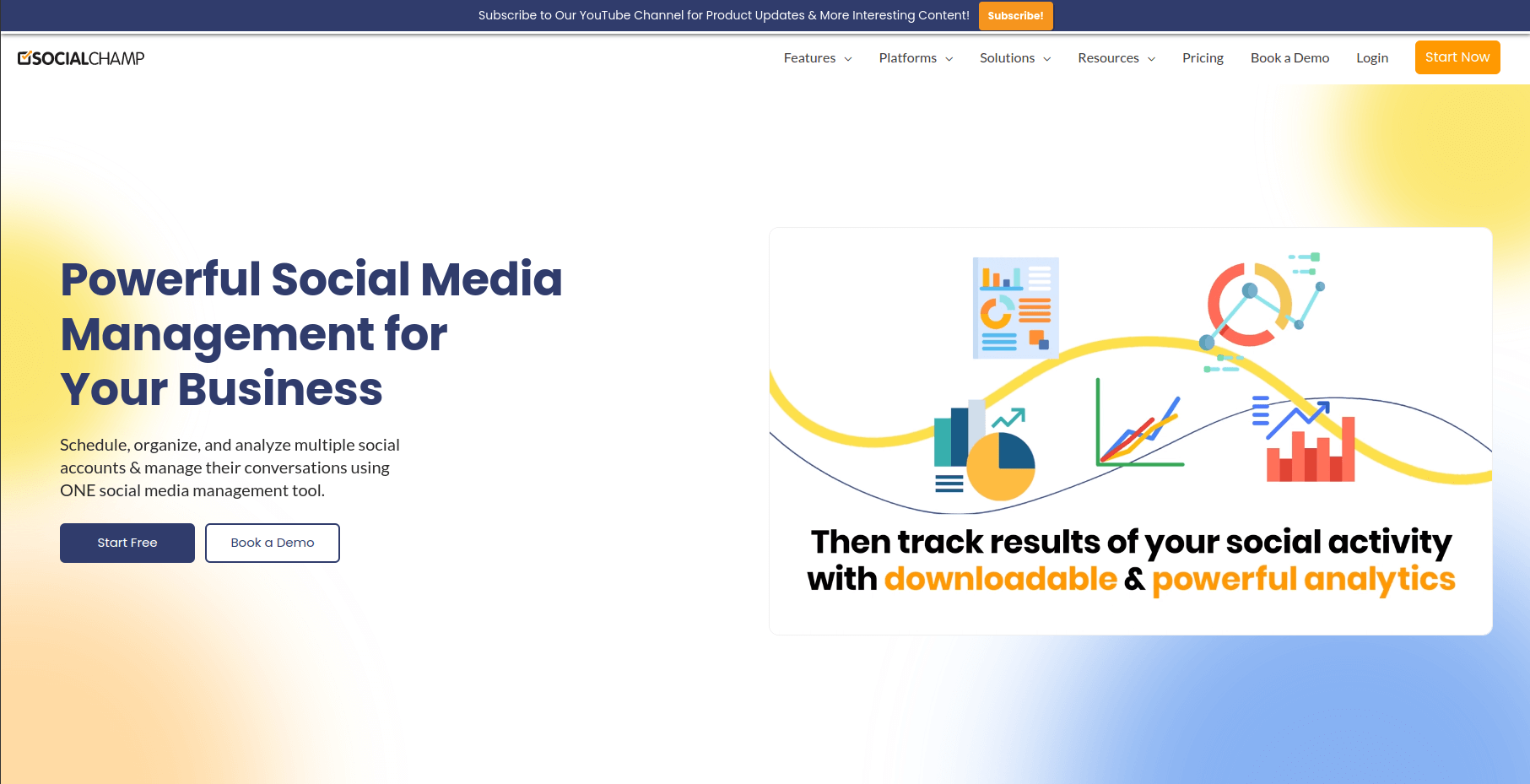 With Social Champ, you can help schedule and publish content on social media, track your performance with detailed analytics, and more.
Black Friday Deals:
Save credits on all plans; Save $11 on two months, $69 on bi-annual, & $174 on annual Champ plans! Save $39 on two months, $235 on bi-annual, & $594 on annual Business plans! The deal is valid for new users and existing users (only if they upgrade). Coupon Code:BFCM2022
Offer Validity: From 17th November to 5the December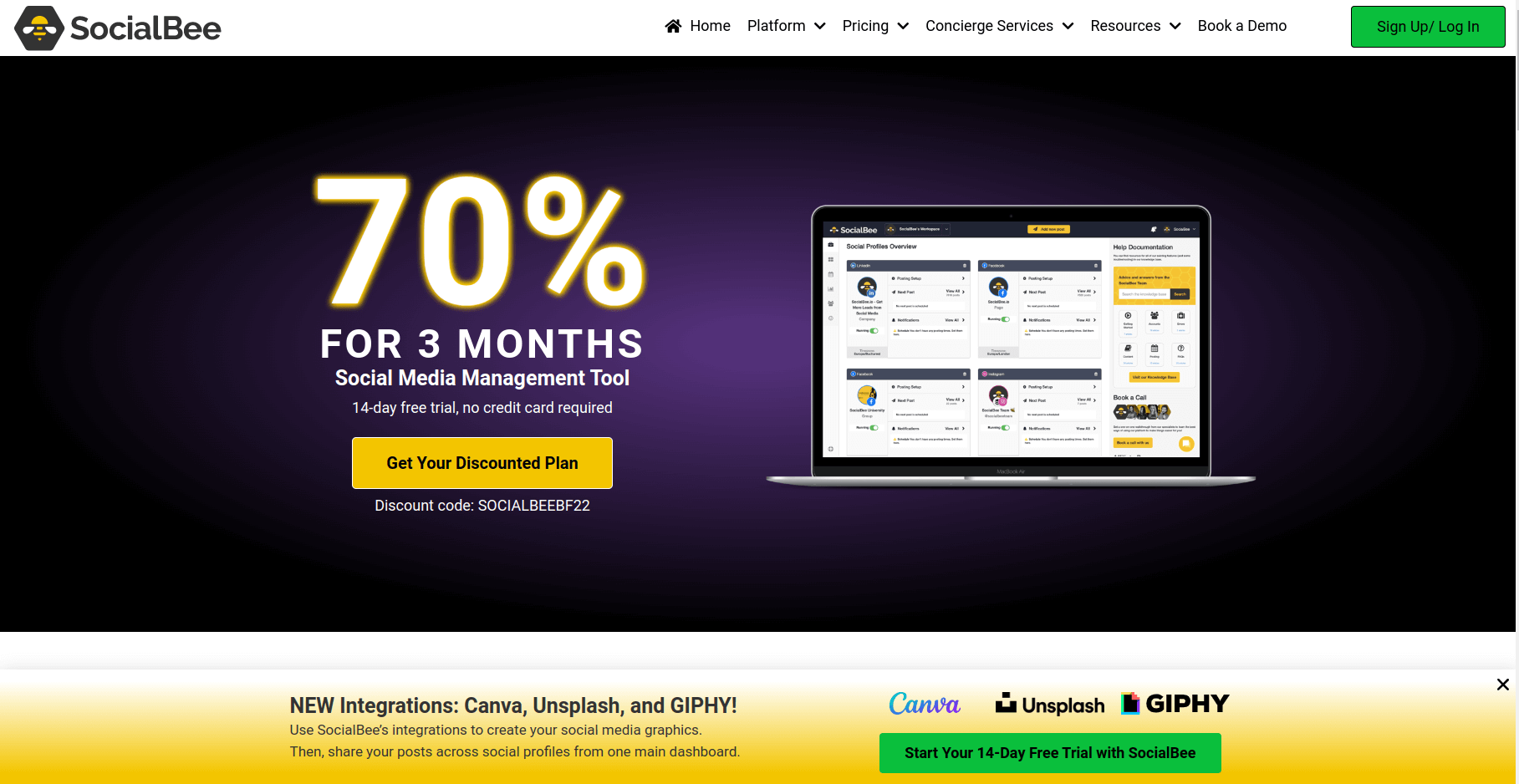 SocialBee is a social media management tool that allows users to create, schedule, and post content to every major social platform from one place.
Say goodbye to manual posting and time-consuming tasks—it's time to centralize all your tasks within one platform and maintain a consistent posting schedule with utmost ease.
This Black Friday, get ready to save time and money on your social media management. Use coupon code SOCIALBEEBF22
Black Friday Deals:SocialBee offers a "cant-miss" 70% discount on all tool plans.
Offer Validity: 21st and 28th of November to get the deal.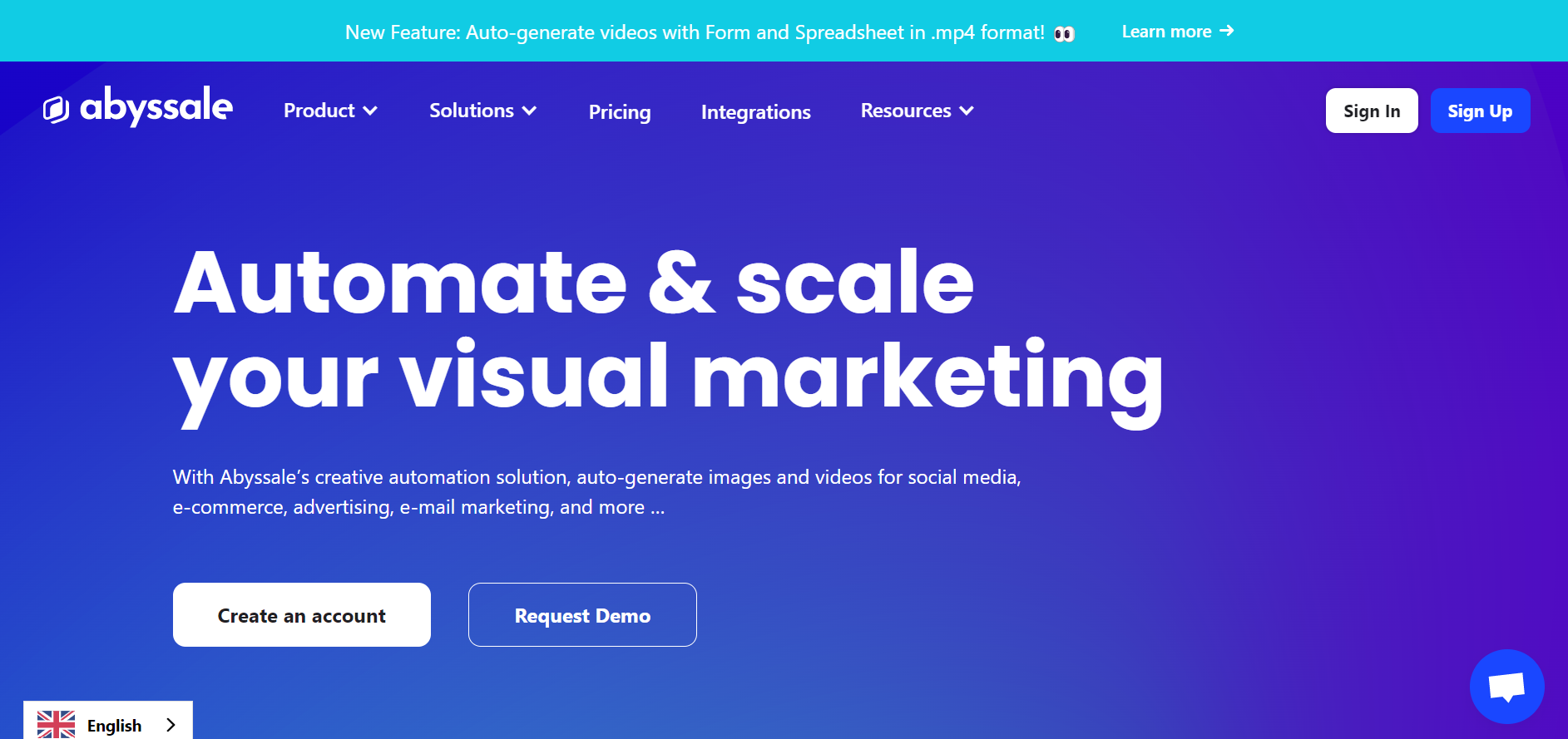 Abyssale relieves design teams by eliminating the repetitive task of creating hundreds of slight variations of a single design. Marketing and content teams gain autonomy by having a simple solution that allows them to generate hundreds of variations of a single visual template quickly.
Black Friday Deals: 50% OFF all annual and monthly plans for 1 year; Coupon code: BLACK50
Offer Validity: From 25th November to 2nd December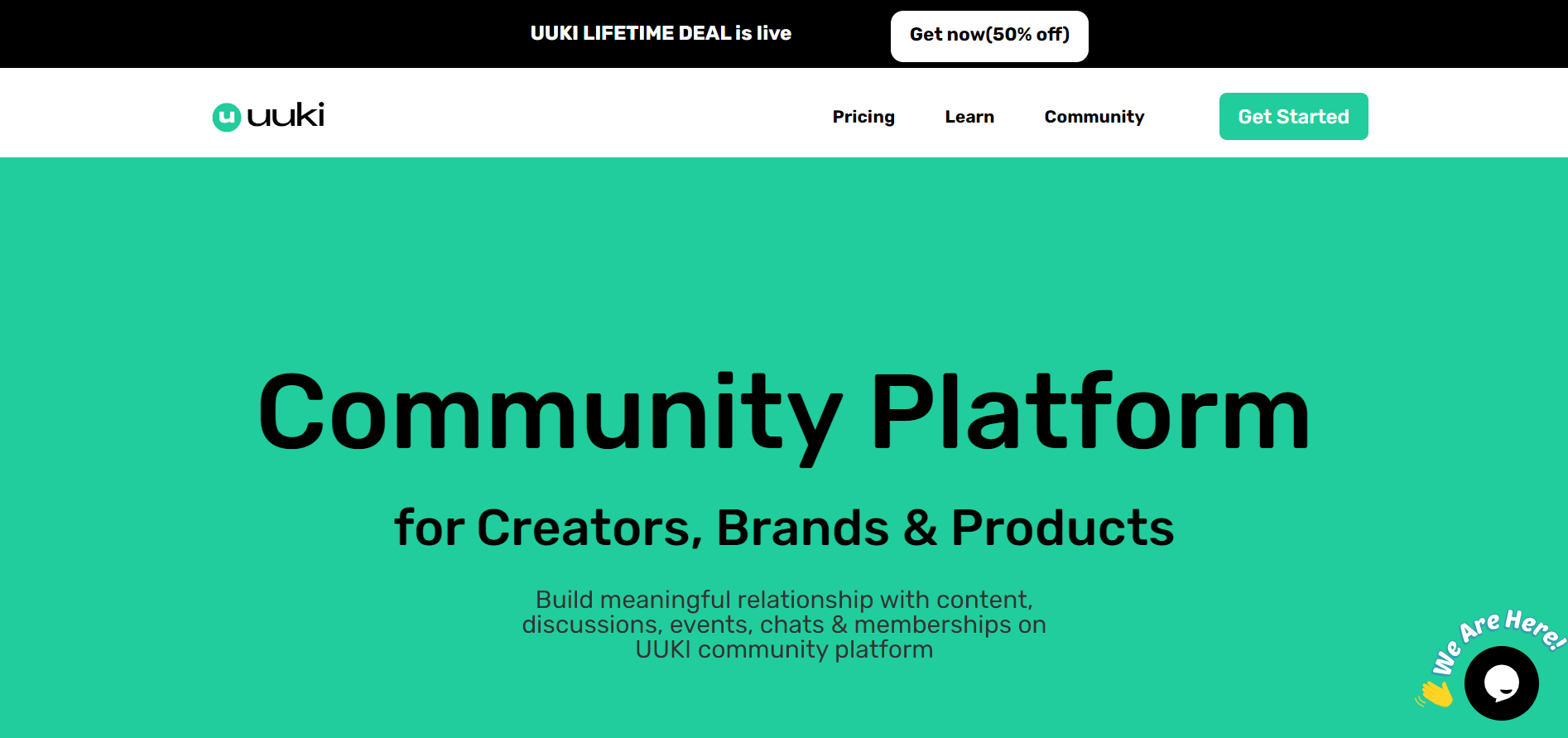 UUKI is a platform for creating an engaging and interactive community. With your content and integrations with different tools, UUKI makes it easy to connect with your audience and get them involved in what's going on.
Black Friday Deals: FLAT 20% OFF on all our premium plans
Offer Validity: From 22nd November to 5the December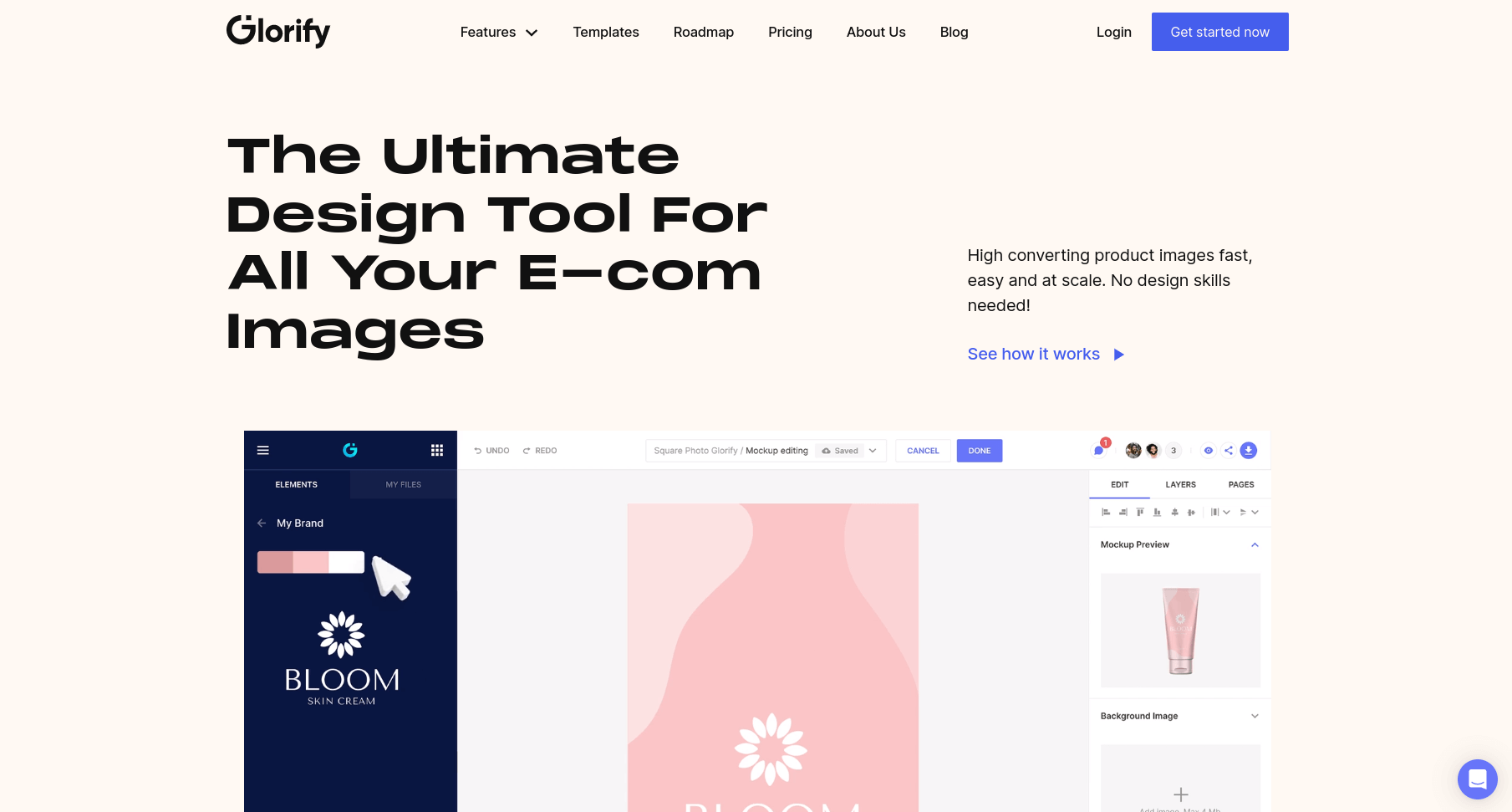 Glorify your brand with the best marketing tools this Black Friday. Offer your customers the best user experience and increase conversions with these top of the line marketing tools.
Black Friday Deals: 80% discount on the annual pro plan. This is a LIFETIME discount. This means that as long as you remain a Glorify user, you will be billed at this discounted rate. Coupon Code: BlackFriday2022
Offer Validity: From 10nd November to 26the November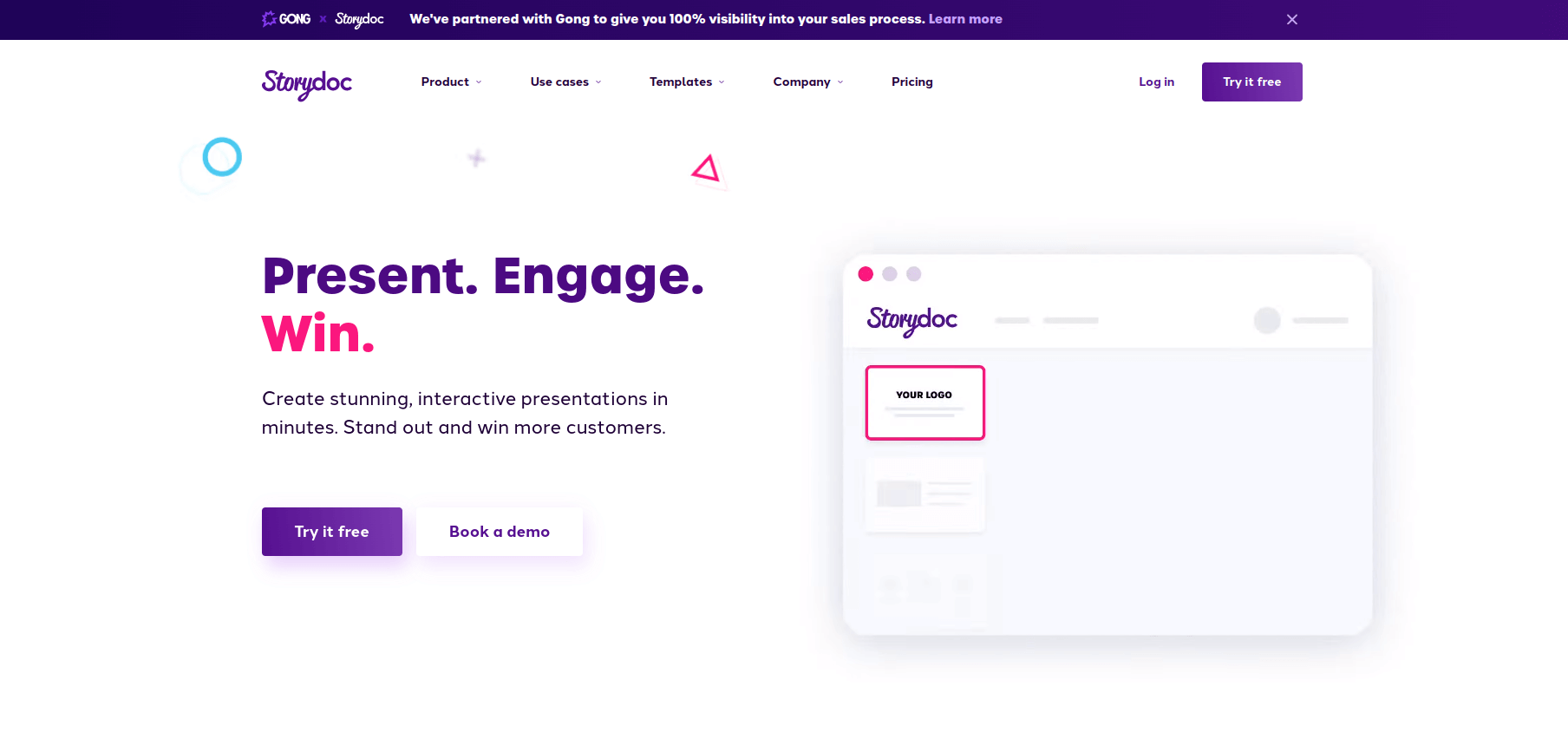 Storydoc is an interactive presentation maker that enables sales teams, marketers and founders create the most engaging collateral, from sales and pitch decks to case studies, and one-pagers. Coupon Code: BLACK30
Black Friday Deals:Get 30% off on all plans and start creating outstanding interactive business presentations that actually make a difference.
Offer Validity: From 21nd November to 28the November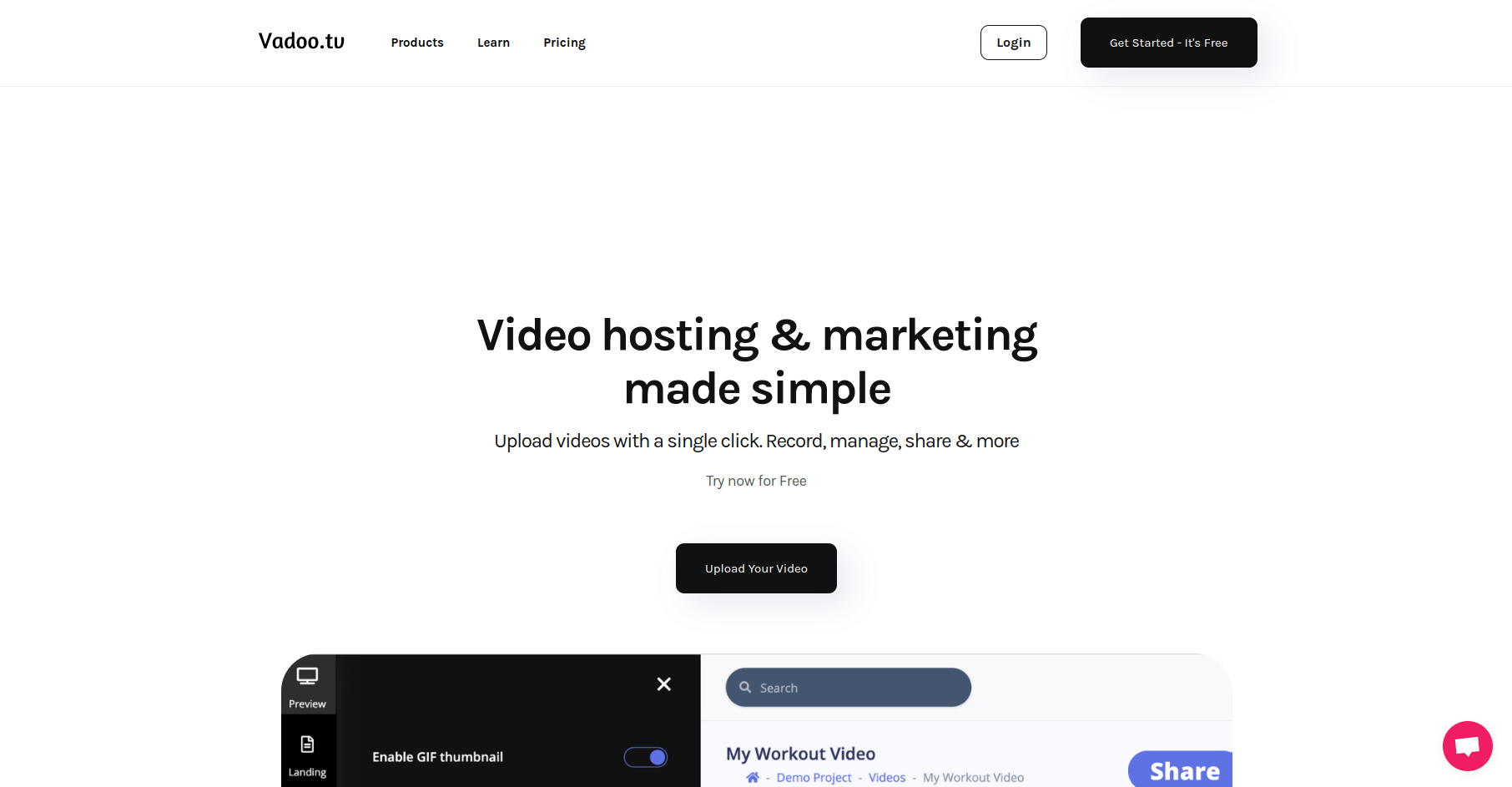 A powerful, all-in-one marketing platform that includes a website builder, email marketing, social media management, and more. Coupon Code: BLACKFRIDAY30
Black Friday Deals:Vadoo Lifetime deal at 50% off of the recurring plan and get flat 30% off on all premium plans.
Offer Validity: From 21nd November to 29the November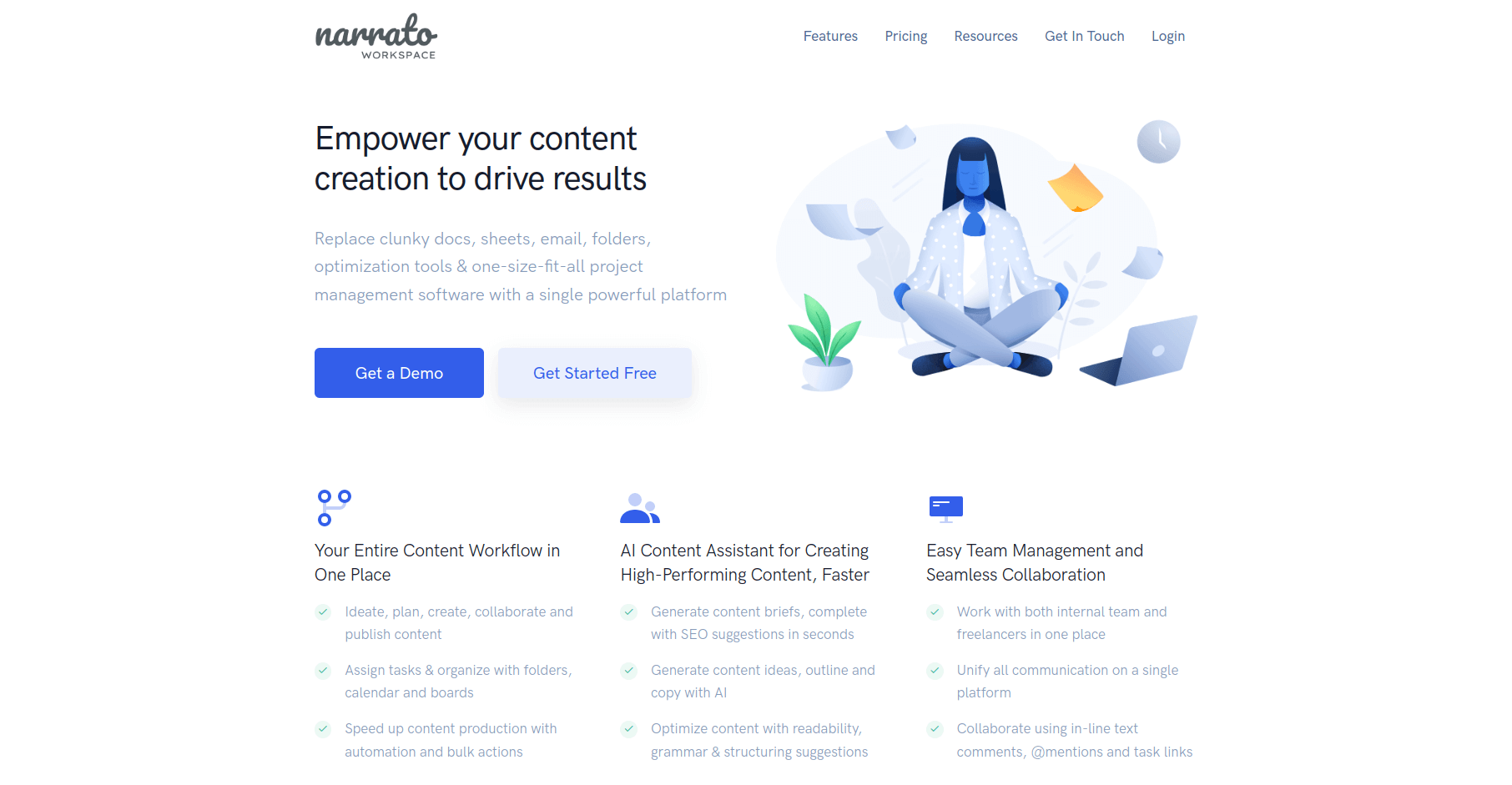 Narrato Workspace is an end-to-end content workflow management platform that helps you manage your entire content process and team in one place. Coupon Code: BFCM22
Black Friday Deals:Get flat 30% off Lifetime on any plan on Narrato Workspace. Create and publish winning content, collaborate with your team, and manage all your content and assets on a single platform.
Offer Validity: From 24nd November to 5the December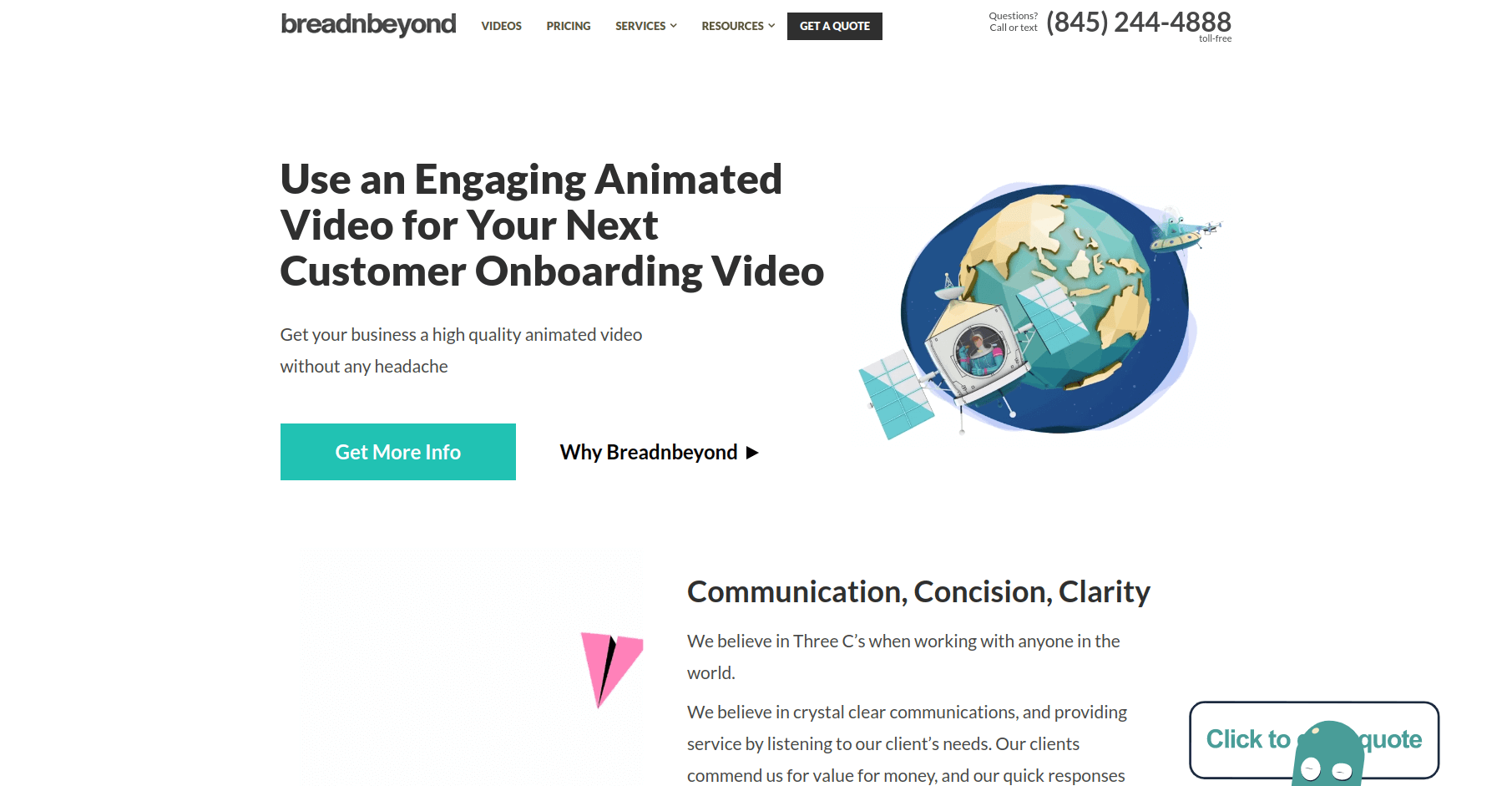 Breadnbeyond is an award-winning digital agency specializing in providing comprehensive solutions in the field of website design, web development, eCommerce, and digital marketing.
Black Friday Deals:Get up to 40% OFF for an explainer video!
Offer Validity: From 24nd November to 5the December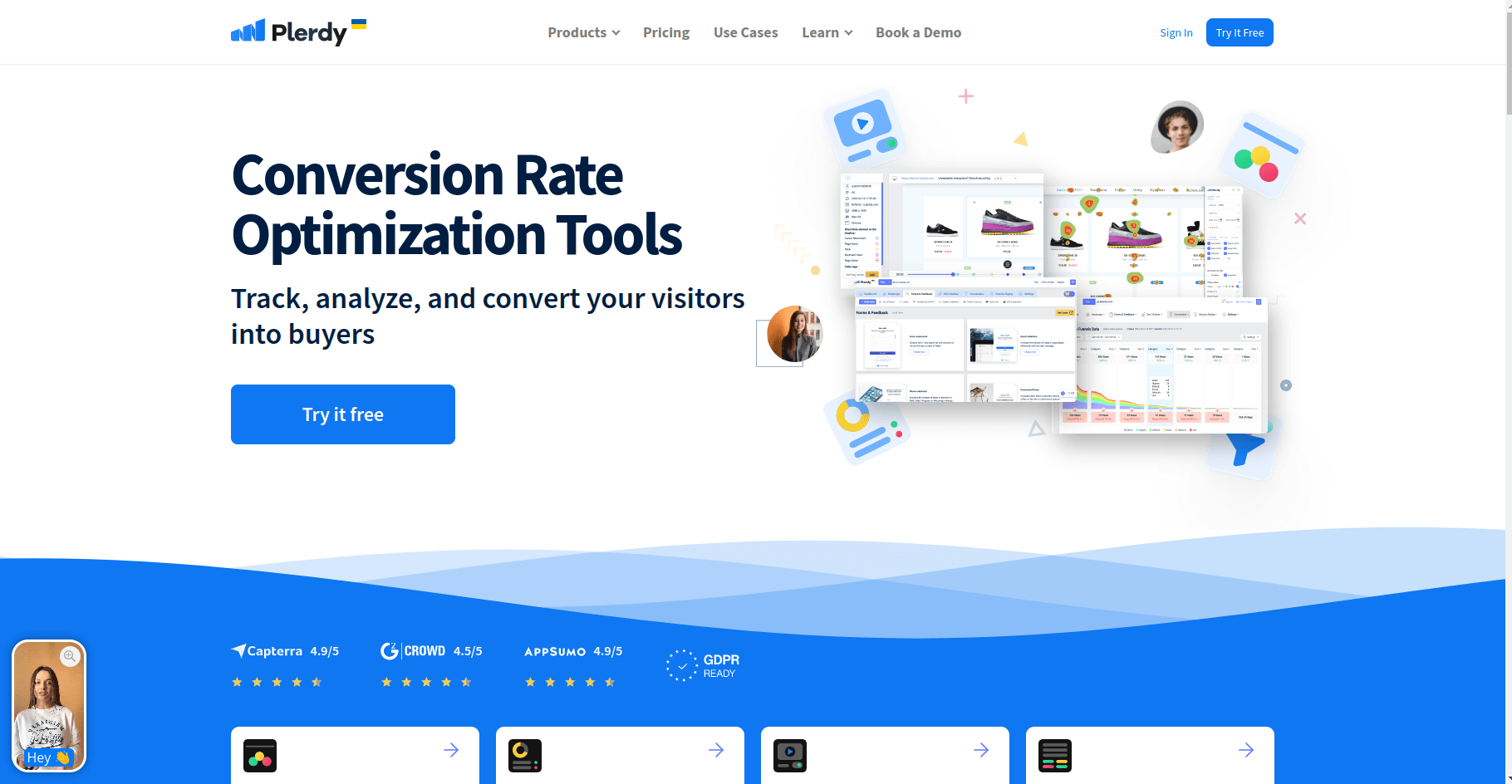 Plerdy is the professional suite of CRO, SEO & UX tools to track, analyze, and convert visitors into buyers. Coupon Code:plerdyBF2022
Black Friday Deals:40% OFF on annual plans
Offer Validity: From 24nd November to 1the December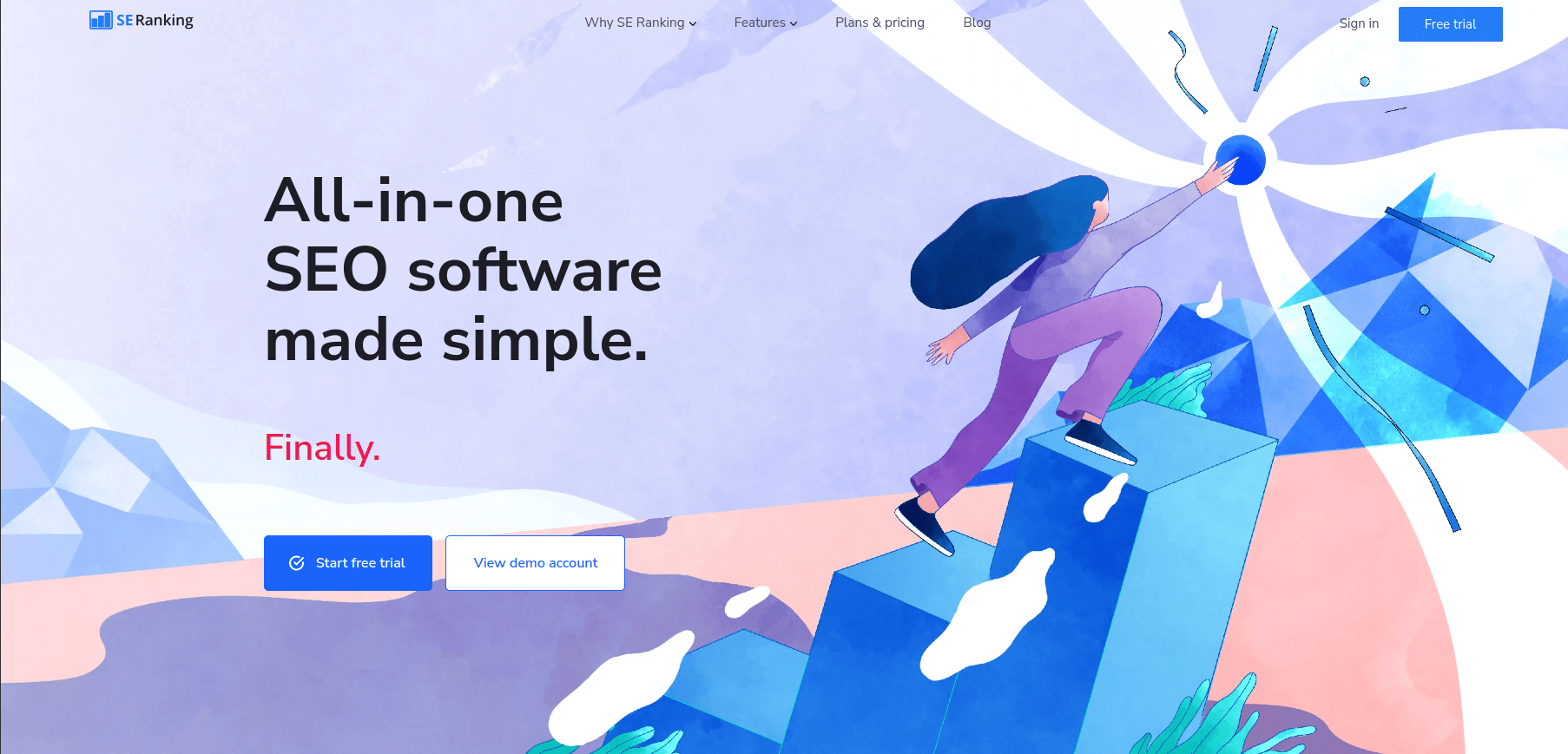 Depending on your needs, you can choose one of SE Ranking's Black Friday offers: Get an annual subscription at a 20% discount, free access to the Content Marketing tool, or save big on user seats. No promo code is required—your personalized offer is waiting for you at checkout.
Black Friday Deals:Get an annual subscription at a 20% discount
Offer Validity: From 23nd November to 5the December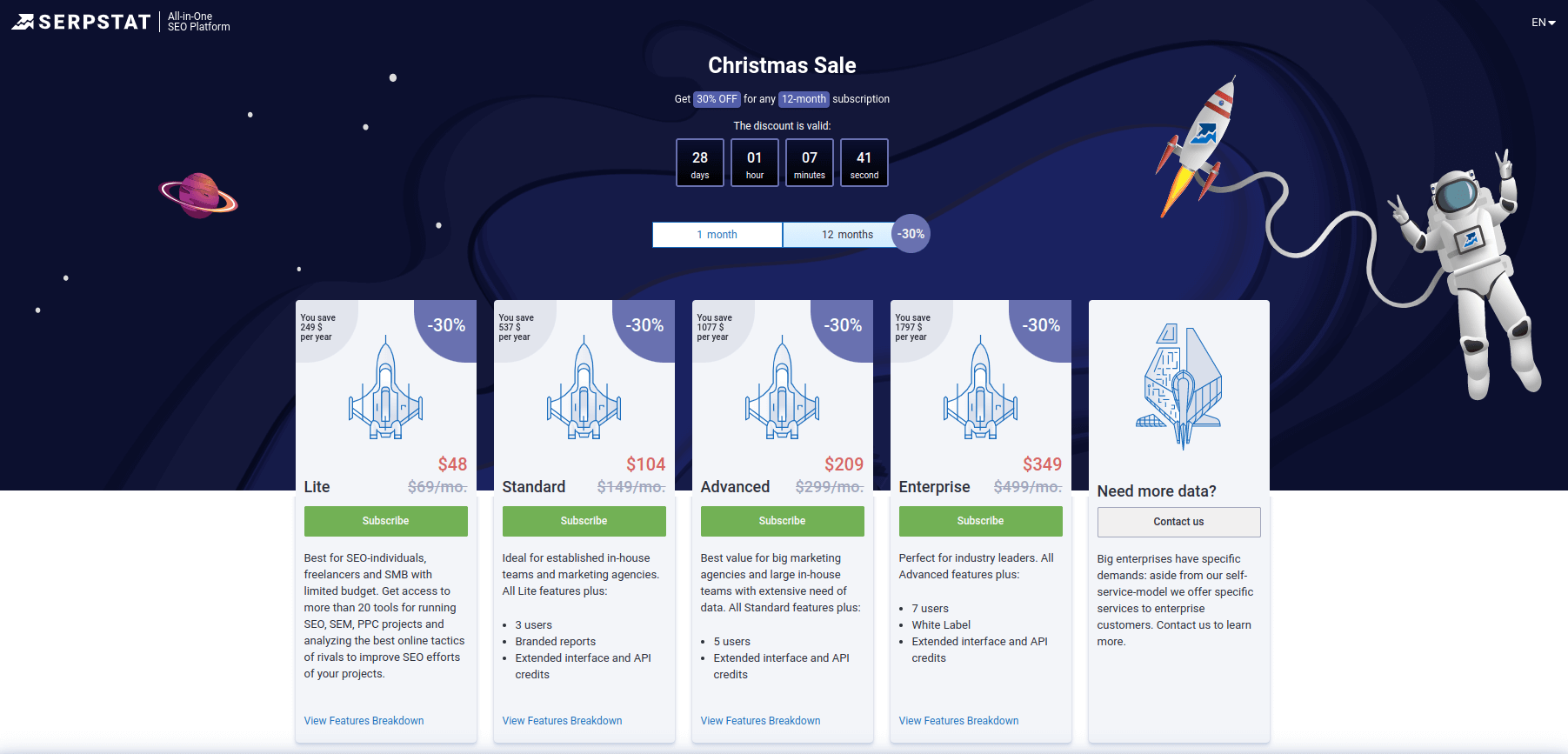 Serpstat is a go-to platform for digital specialists, which has more than 40 tools for competitor analysis, keyword research, backlink analysis, audit, keyword clustering, daily rank tracking, as well as AI tools for content generation. Improve your search engine rankings and work with your projects from one platform.
Black Friday Deals: Get 30% OFF on the 12-month subscription for all pricing plans!
Offer Validity: From 16nd November to 20the December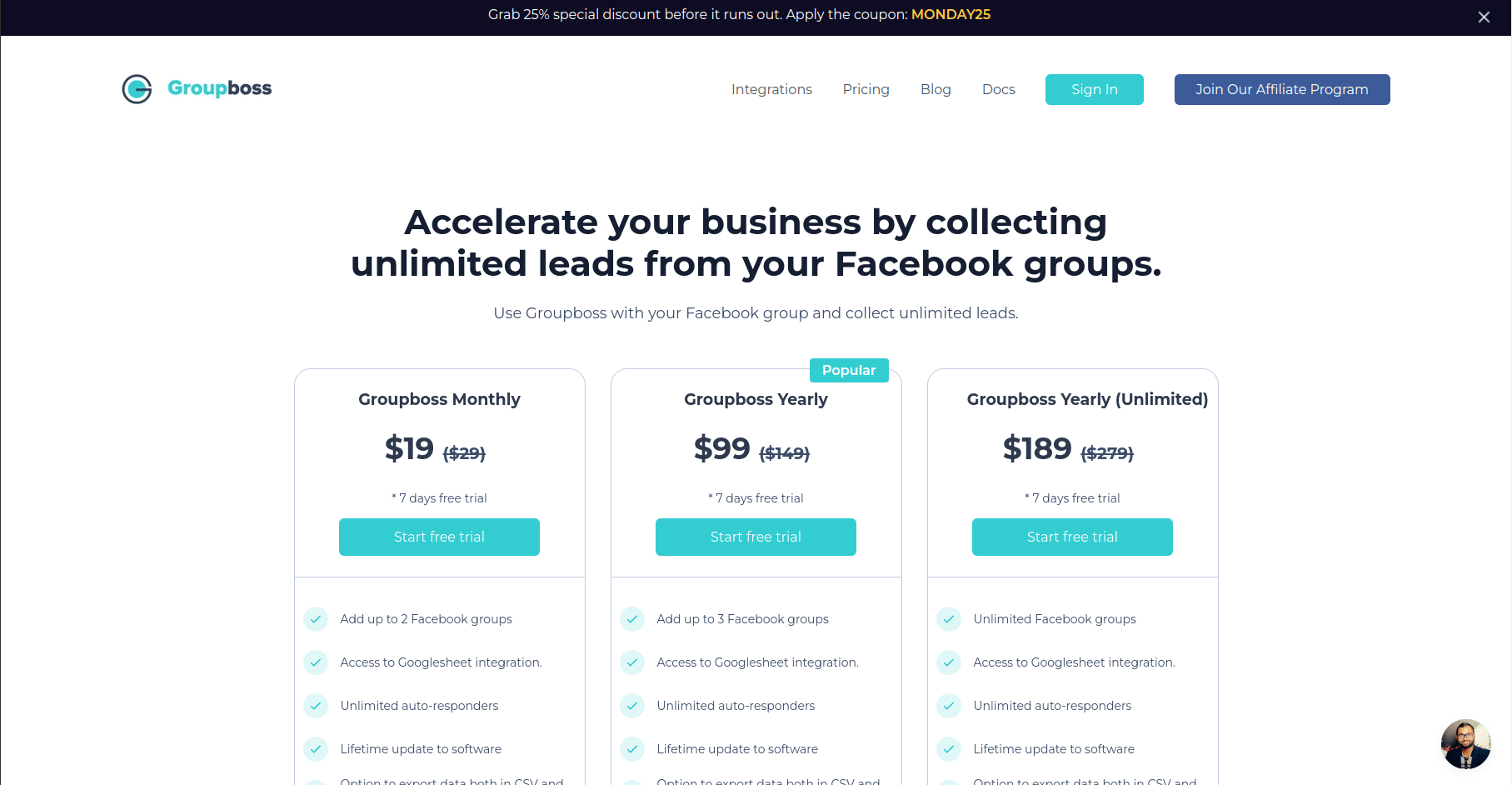 Groupboss is a Facebook Groups automation software that can assist you to collect responses from those who accepted your group invitations. It is a lead generation application that helps Facebook group owners and moderators to focus on important business matters instead of time-consuming manual copy-pasting.
Black Friday Deals: On Cyber Monday, Groupboss provides 25% off all price options. To get a 25% discount, use the code MONDAY25.
Offer Validity: From 22nd November to 31the December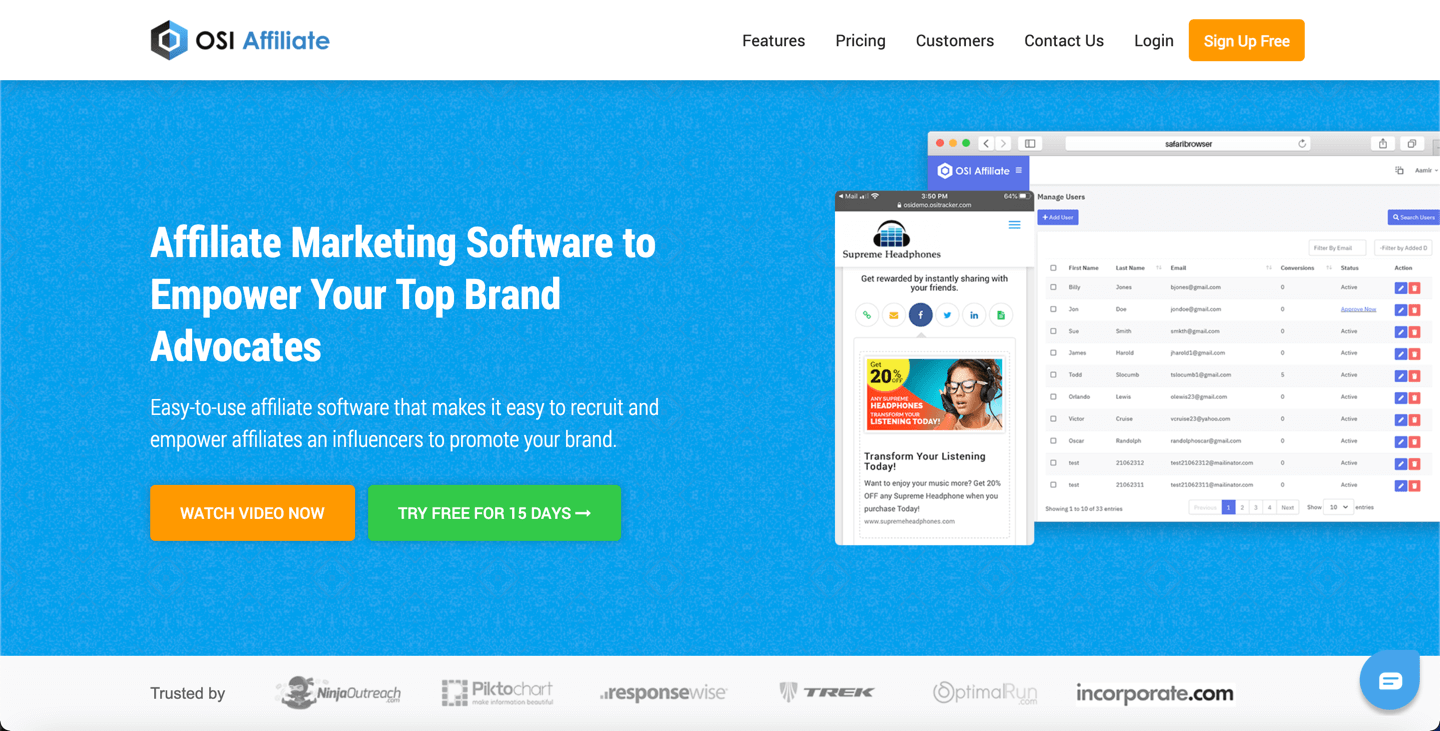 If you want to get your customers to promote your business, you must implement a referral program. This year, get 20% off of OSI Affiliate Software for Black Friday and Cyber Monday!
Our software can help you achieve the success you want. It is easy to use and offers a variety of features. Once you have your team of customers and affiliates using it, they can easily promote your products across social media platforms and online. Their efforts will be tracked and managed through a user-friendly administrative panel where you can reward them for their promotional efforts.
Black Friday Deals: This year, get 20% off of OSI Affiliate Software for Black Friday and Cyber Monday!
Offer Validity: From 14nd November to 5the December
20. PowerPack Addons for Elementor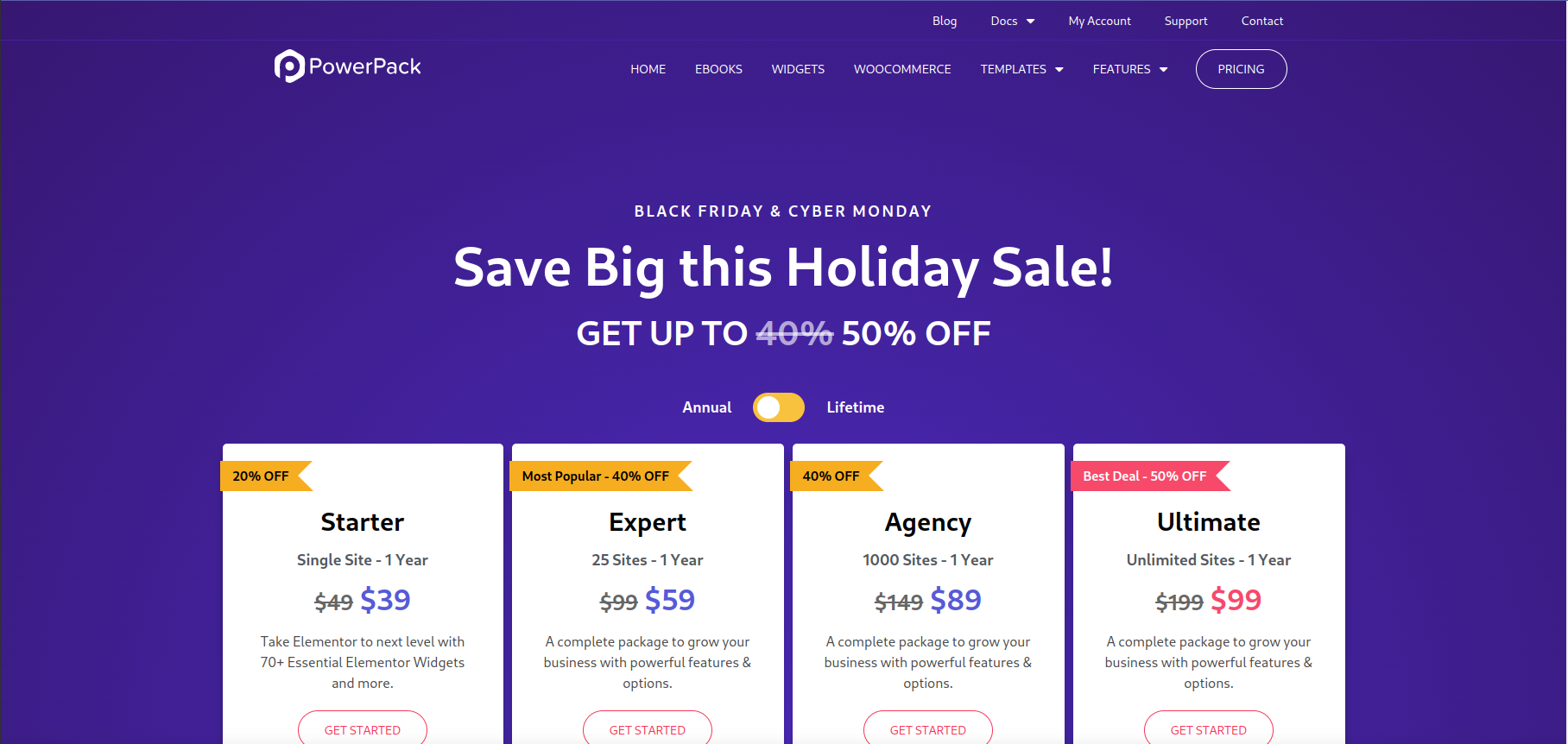 Supercharge your Elementor sites with 70+ Creative and Advanced widgets by PowerPack. Select from a wide range of SEO-friendly widgets and 150+ templates that meet your design requirements.
Black Friday Deals: Get up to 50% OFF on all plans & upgrades
Offer Validity: From 21nd November to 2the December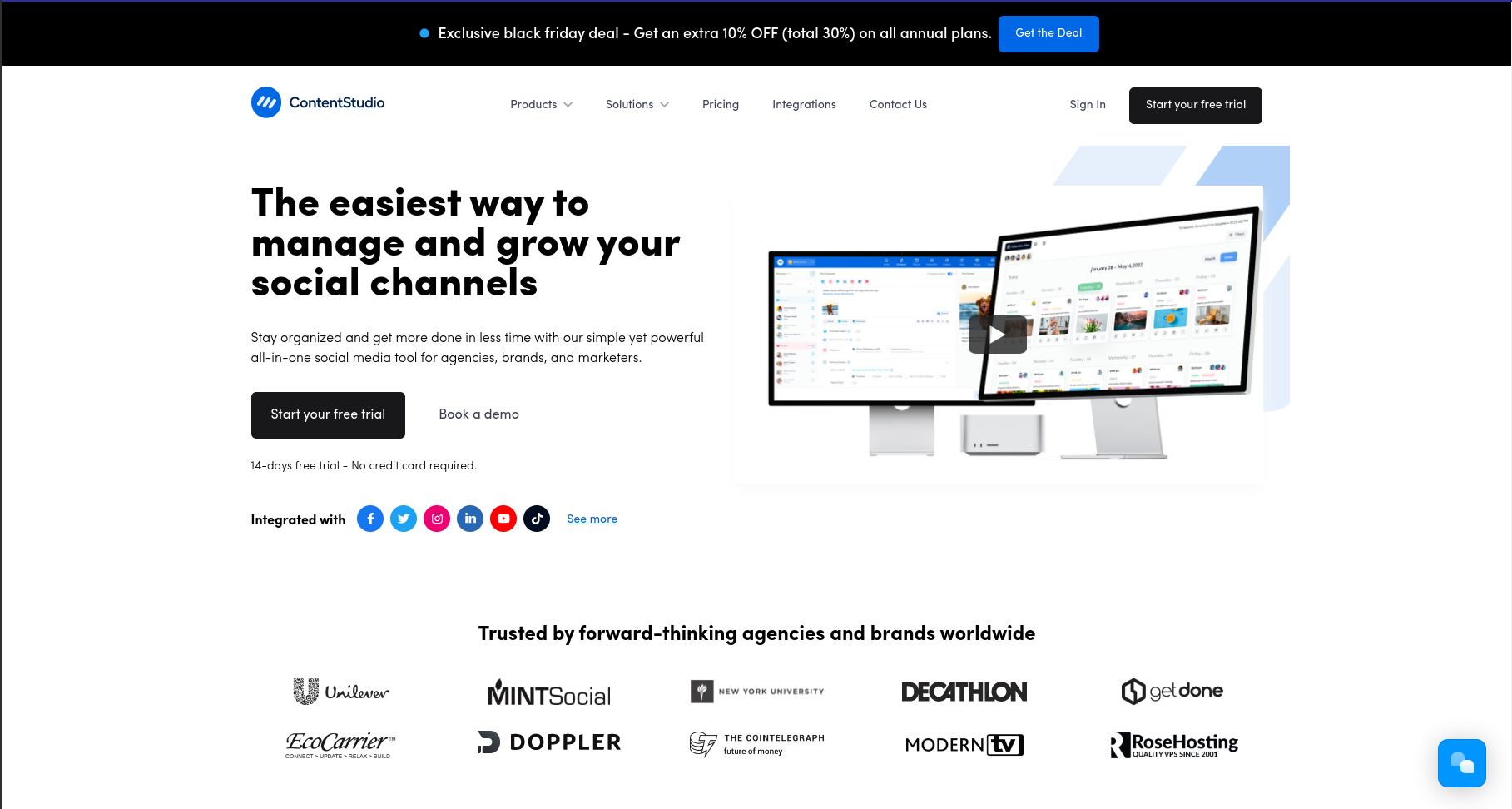 ContentStudio is the leading social media management tool for agencies, brands, and marketers. With ContentStudio, you can easily manage all of your social media channels in one place. Our simple yet powerful tool will help you get more done in less time.
Here's a quick overview of some of the things you can do with ContentStudio:
1: Schedule and publish posts across all of your social channels with just a few clicks
2: Build custom content calendars to stay organized and on track
3: Get real-time insights and analytics so you can see what's working and adjust your strategy accordingly
4: Generate more leads and drive more sales with our easy-to-use tools
Black Friday Deals: 30% off on annual plans
Offer Validity: From 2nd November to 30the November
Business Automation Tools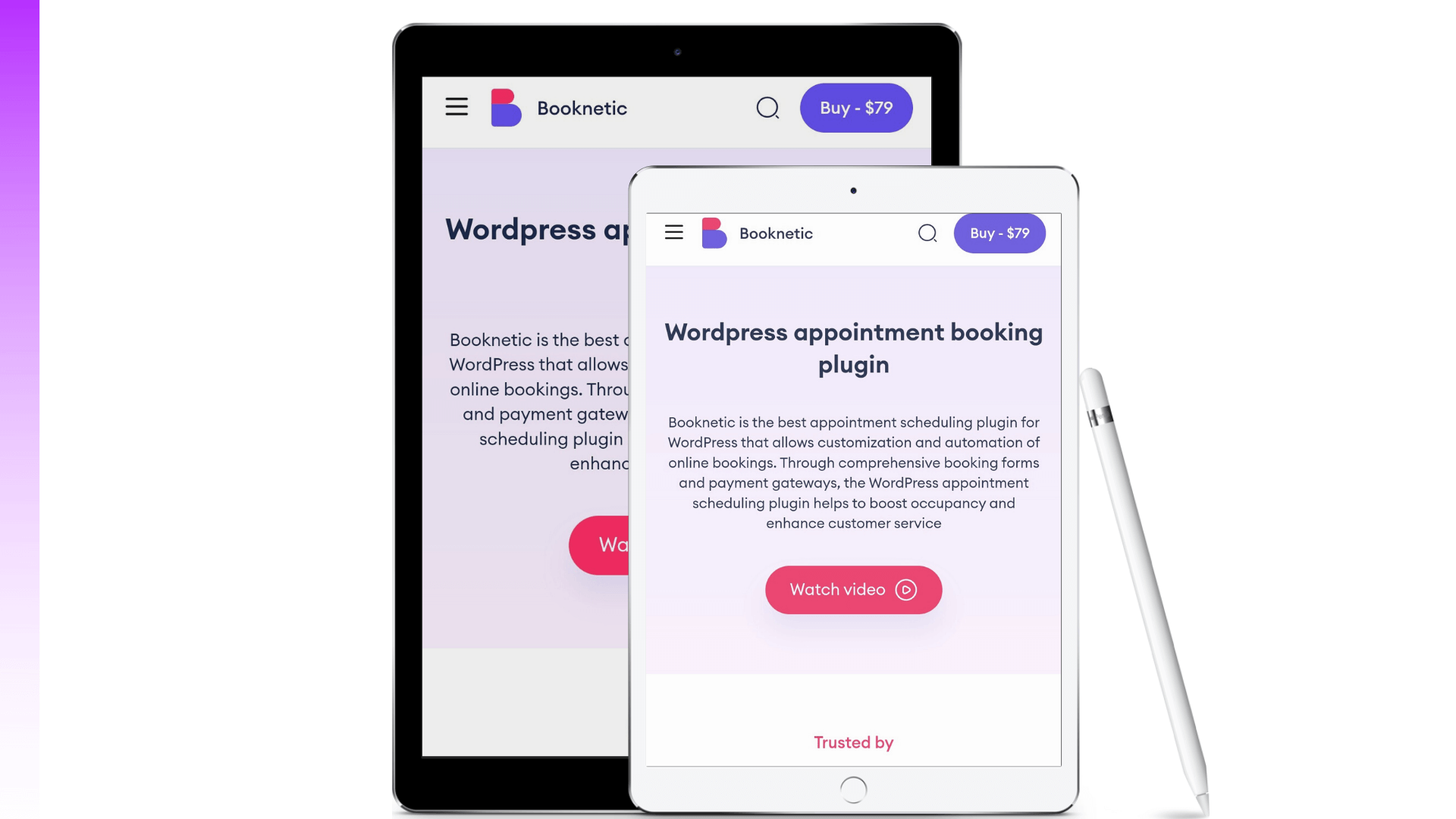 Booknetic is primarily a WordPress appointment booking plugin that helps businesses of all types streamline their scheduling process. This software is ideal for law firms, consulting firms, fitness trainers, educational courses, medical institutions, and other business types in any industry.
Black Friday Deals: 50% OFF for the lifetime and %30 OFF for all add-ons
Offer Validity: From 22nd November to 5the December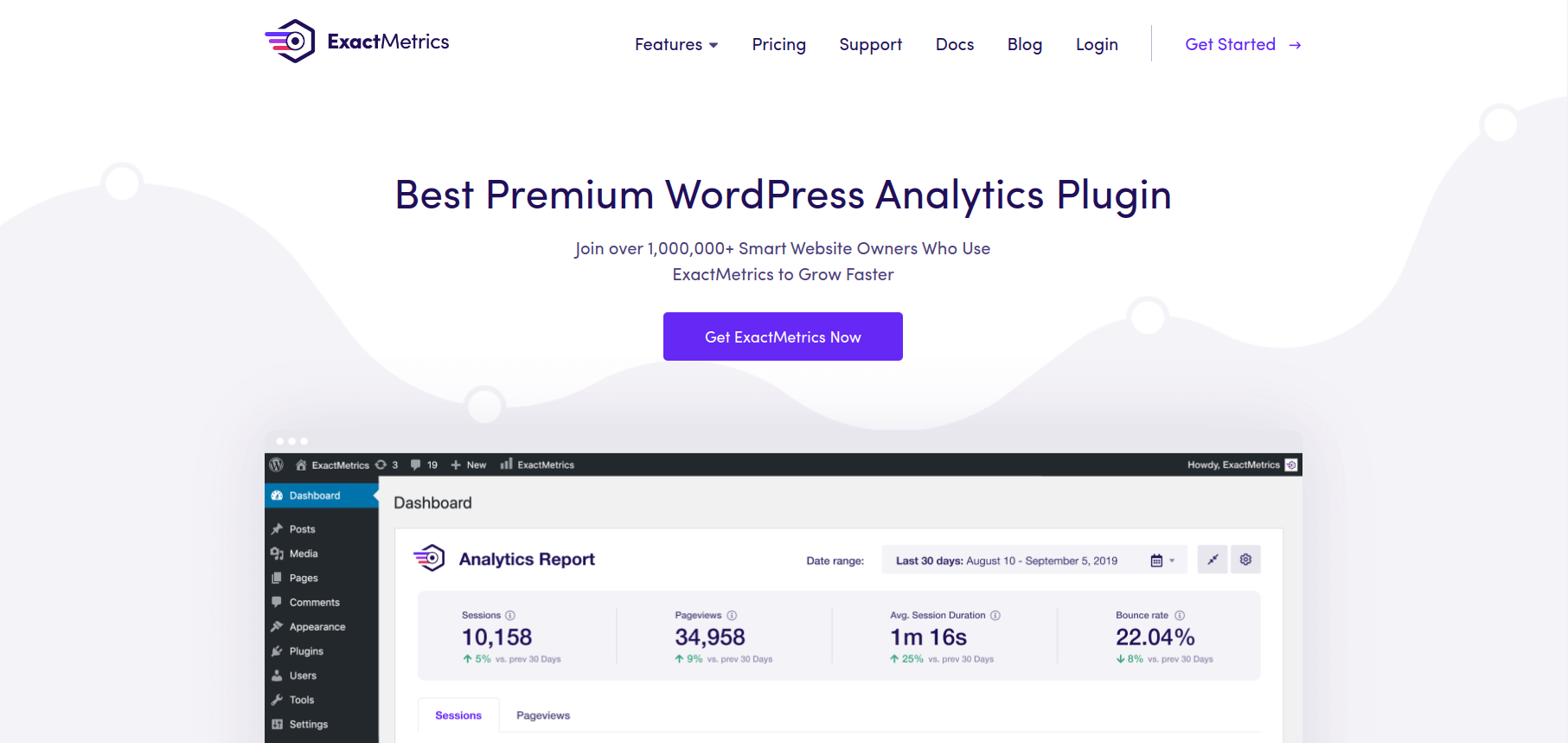 Join over 1,000,000+ smart website owners who use ExactMetrics to grow faster.
Black Friday Deals: Save up to 70% OFF, No promo code is required.
Offer Validity: The sale ends November 25th.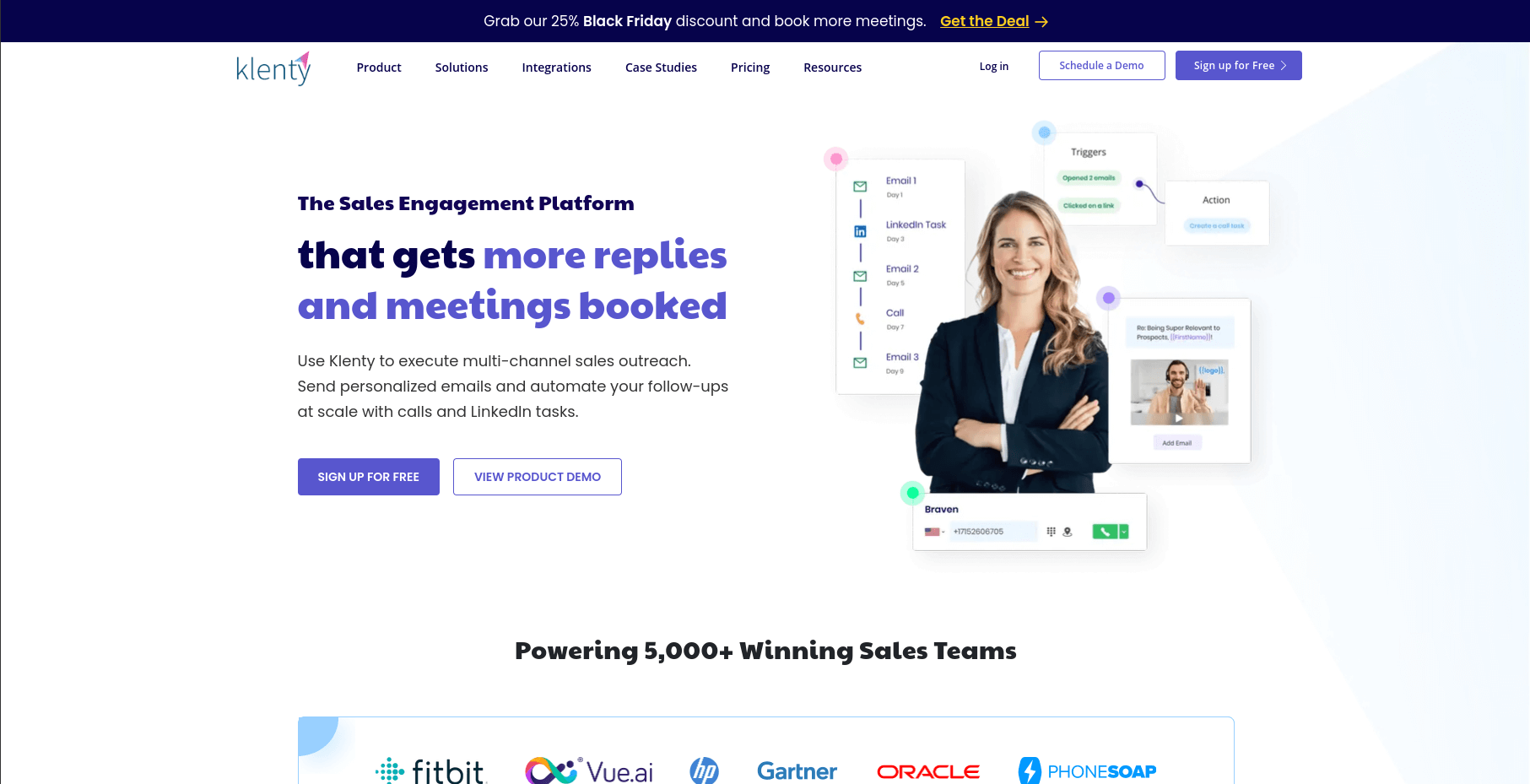 Klenty is the ultimate Sales Engagement Platform that helps sales teams book more meetings with less work. Using Klenty, sales reps can execute hyper-personalized, multi-channel outreach by leveraging emails, calls, LinkedIn, and text messaging. Klenty's deep native integrations with popular CRMs like Pipedrive, Salesforce, Zoho CRM, and Hubspot CRM enables reps to sync all engagement details to the CRM, and handle bounces, out-of-office replies, unsubscribes automatically without juggling between tools.
Black Friday Deal: Get 25% off on all of our annual plans. Coupon code "BLACKFRIDAY2022"
Offer Validity: Valid till Nov 30th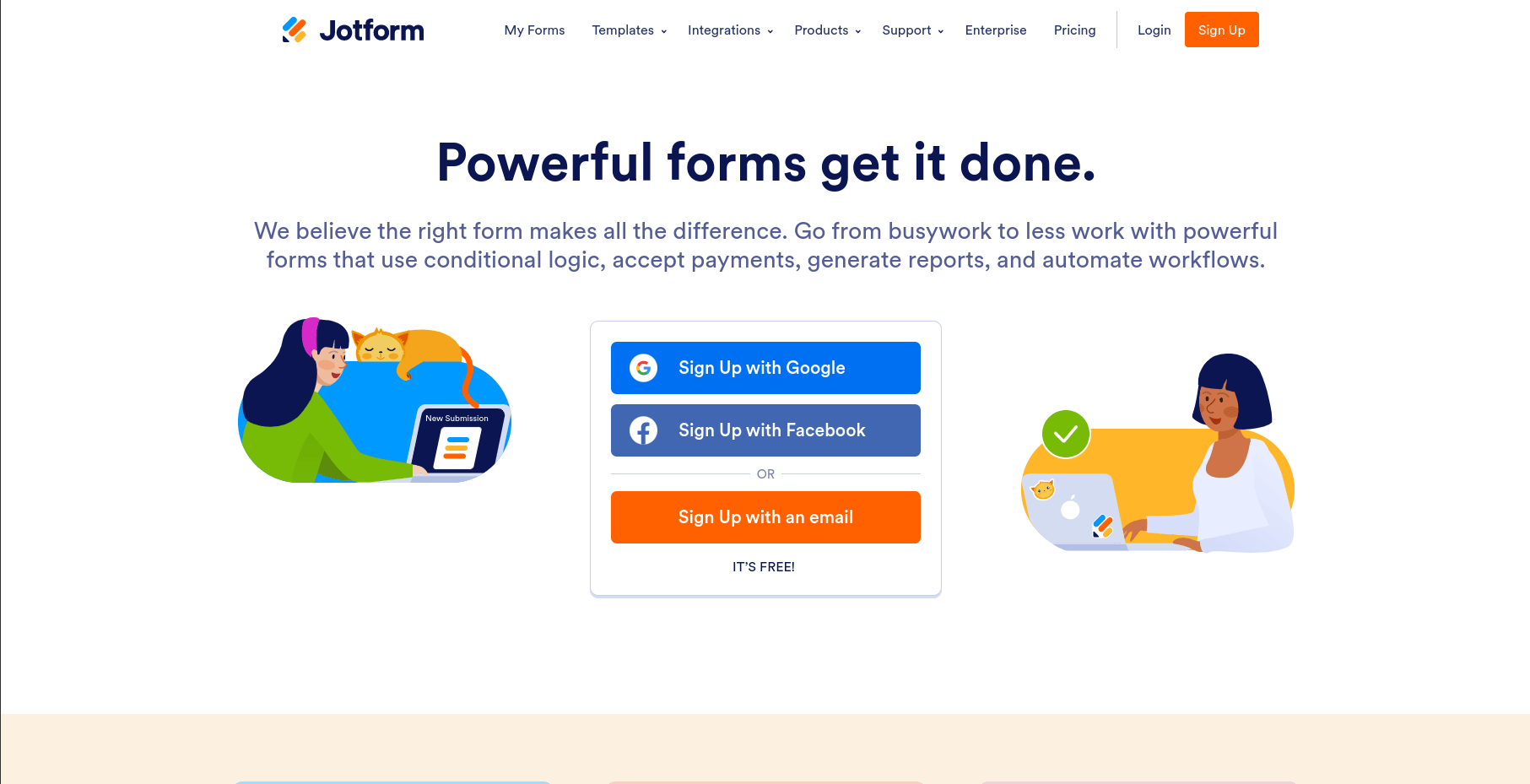 Jotform is an online form builder used to collect payments, gather feedback and create custom surveys to collect data from users. All paid plans are %50 off for new users.
Black Friday Deal: %50 discount on all plans
Offer Validity: Offer Validity: From 21nd November to 28the November
Project Management Tools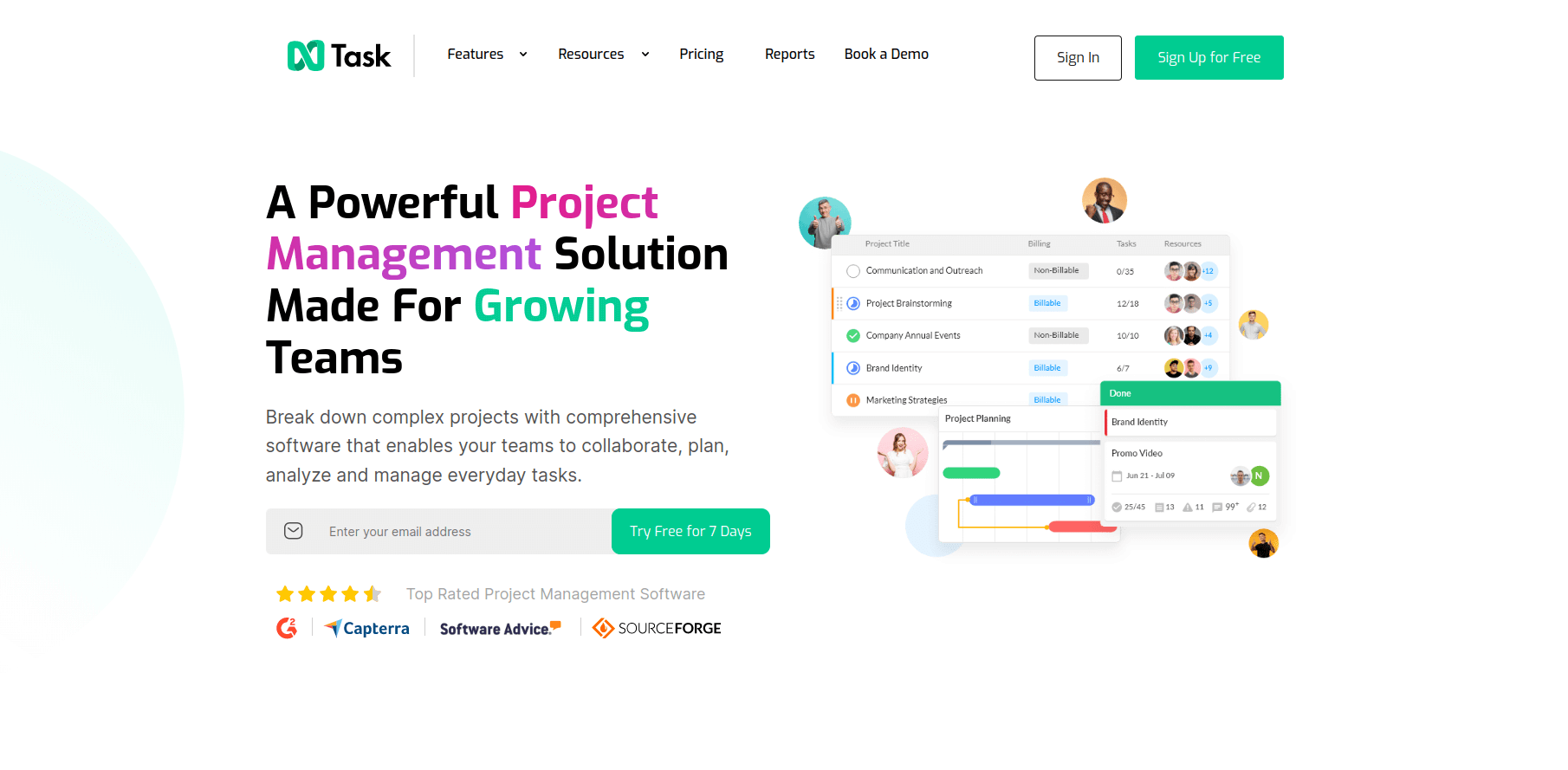 nTask is a simple and effective task management tool that helps you get your work done. It's perfect for individuals, teams, and businesses of all sizes. Coupon Code:BFCM2022
Black Friday Deals: 40% OFF on all Premium and Business annual plans
Offer Validity: From 25nd November to 30the November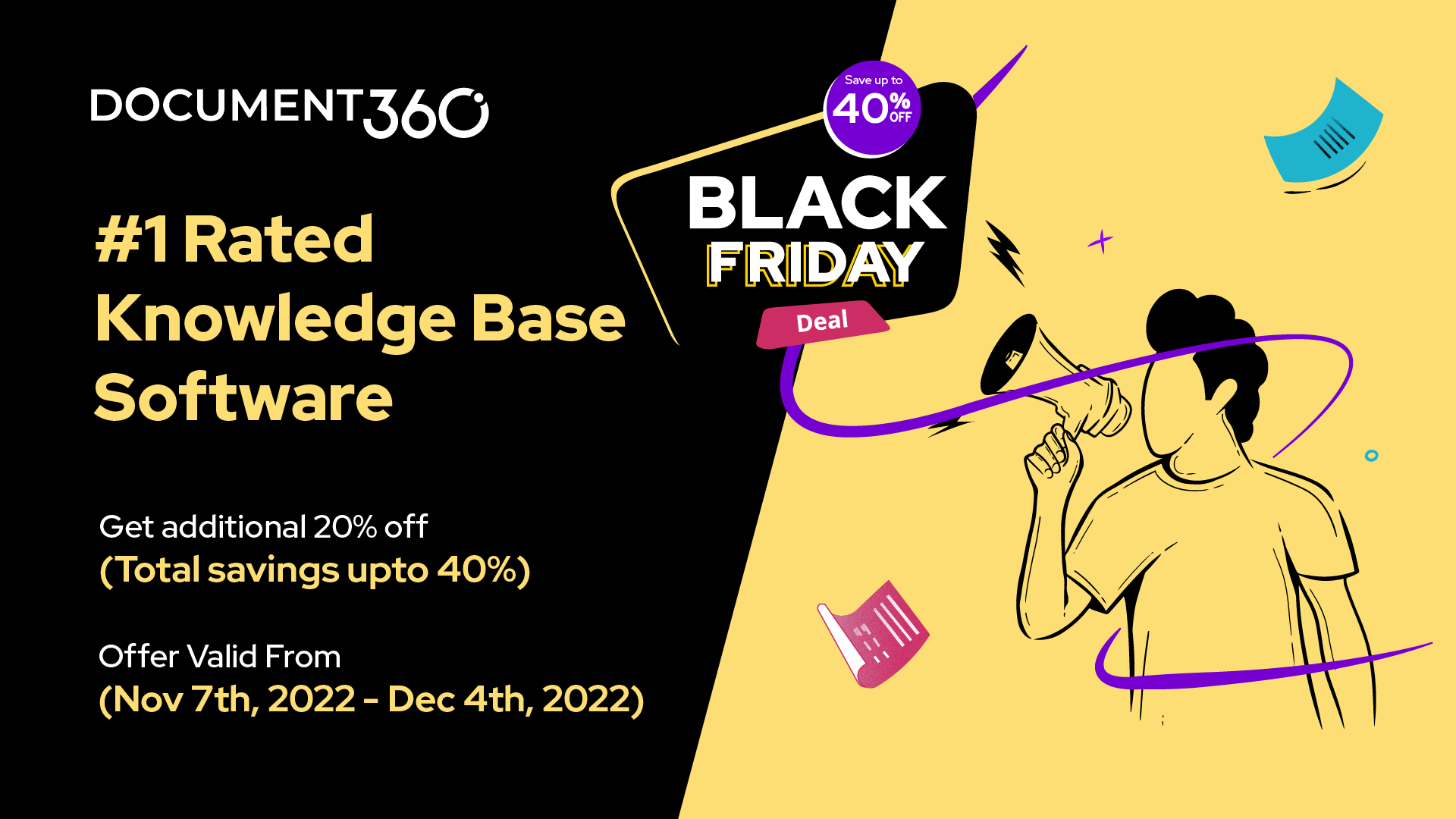 Document360 is SaaS knowledge base software that helps you to create an internal knowledge base for your employees and a self-service knowledge base for your customers (available publicly or privately) with powerful AI-based search. It comes with a Rich Editor (Markdown & WYSIWYG editor), Category Manager, Version control, Private Hosting, SSO, Backup & restore, etc.

Easy-to-configure capabilities allow you to create User guides, Internal Wikis, FAQs, Standard Operating Procedures, User manuals, etc. It offers a variety of integrations such as Intercom, Microsoft Teams, Slack, Freshdesk, Zendesk, Zapier, and many more. Use Coupon Code: BLACKFRIDAY2022
Black Friday Deals:Get an additional 20% off this Black Friday & save up to 40%
Offer Validity: 7th November 2022 to 4th December 2022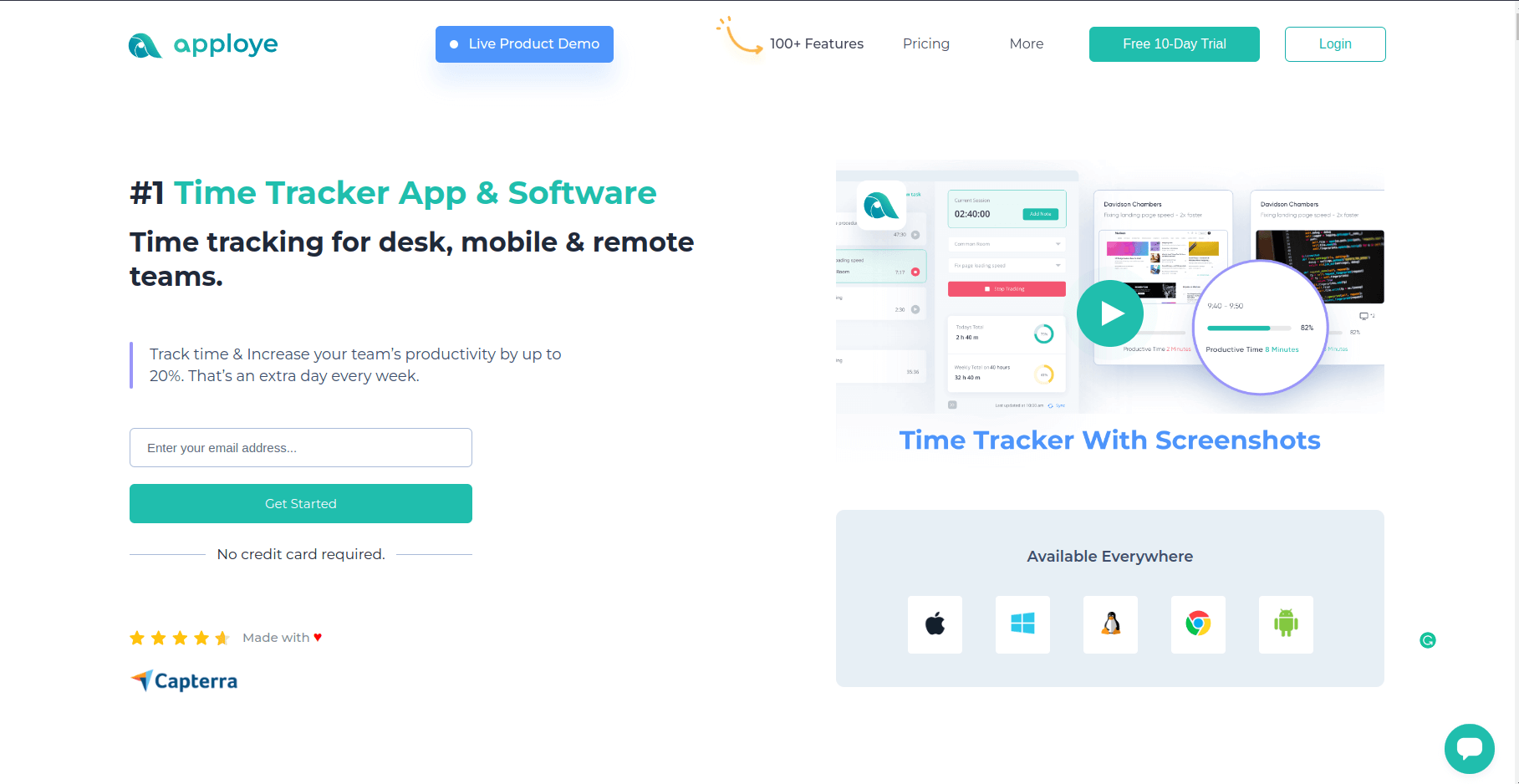 Apploye is an intelligent time-tracking and employee-monitoring software for in-house, remote, and mobile teams. offers features such as time tracking, screenshots, app & URL tracking, activity levels, payroll, invoicing, reports, team, projects & budgets, and GPS location tracking. Coupon Code:apploye-15
Black Friday Deals: Apploye is offering 15% off on all Apploye plans for Cyber Monday!
Offer Validity: 28th November 2022 to 3th December 2022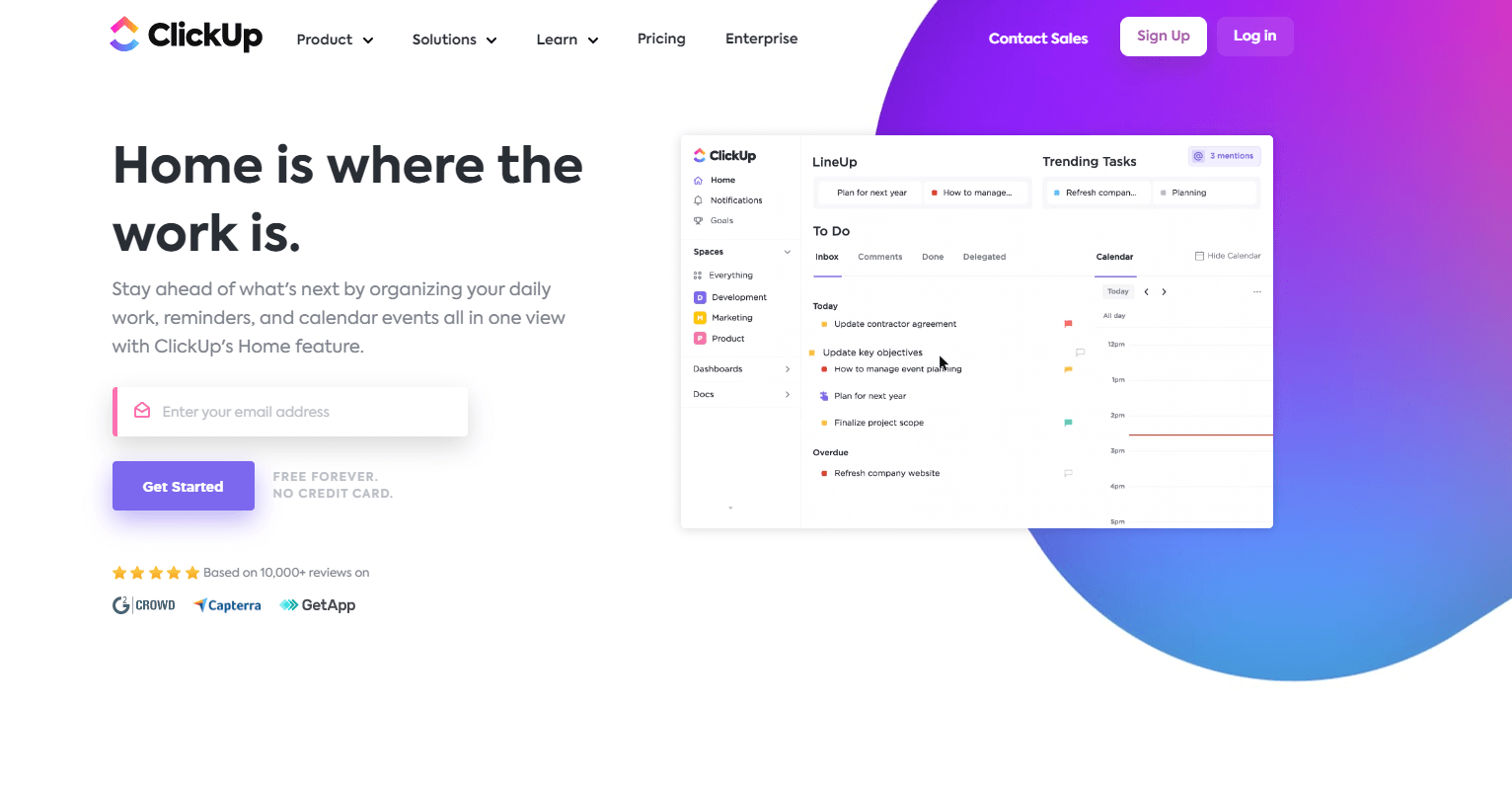 ClickUp is the ultimate productivity platform designed to centralize all of your work across apps into one dynamic and collaborative work hub. Teams of any size and across industries turn to ClickUp for its wall-to-wall solutions for managing everything from daily operations to complex projects, even your business' entire workflow. With over 15 unique ways to visualize your workflow and a scalable hierarchy, ClickUp offers much more flexibility than your average project management tool. This flexibility allows ClickUp to scale with your business as you grow, and makes it the perfect platform to take your idea from the ideation phase through completion.
Black Friday Deals:20% OFF Unlimited and Business Plans using the code CYBERUP
Offer Validity: 22th November 2022 to 25th December 2022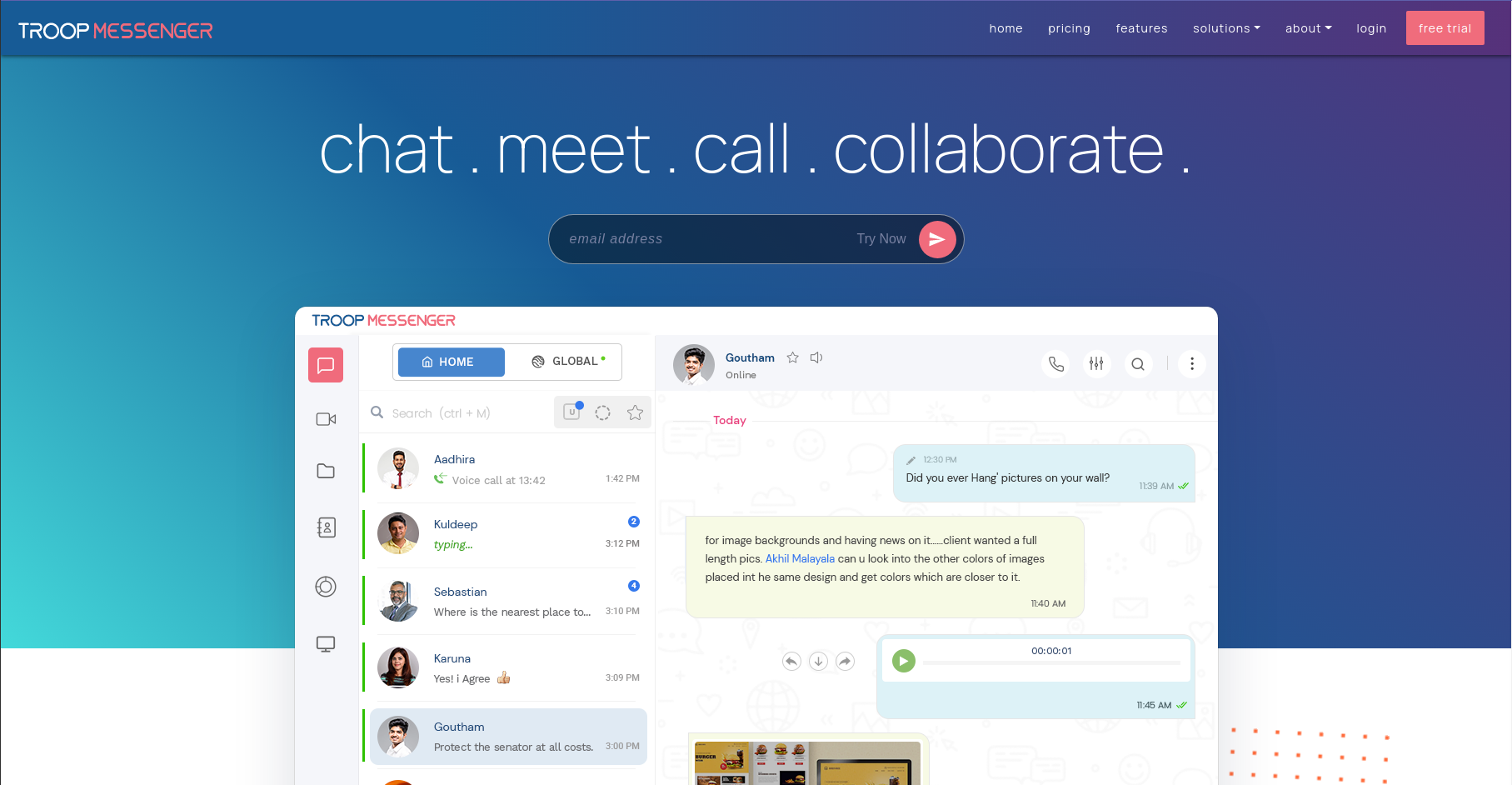 Troop Messenger is a powerful team communication tool, which can be used for office chat, team collaboration, and instant messaging for both office and remote teams. By offering highly secure end-to-end chat encryption, it provides highly reliable features to support the user's office chat experience. Best Features: Screen share, Burnout, Forkout, Video calling, Favorite Contacts, Groups, On-Premise, Chat APIs, etc. Coupon Code: BLACKFRIDAY60
Black Friday Deals:60% Off on the Enterprise plan for the First Year.
Offer Validity: 24th November 2022 to 2th December 2022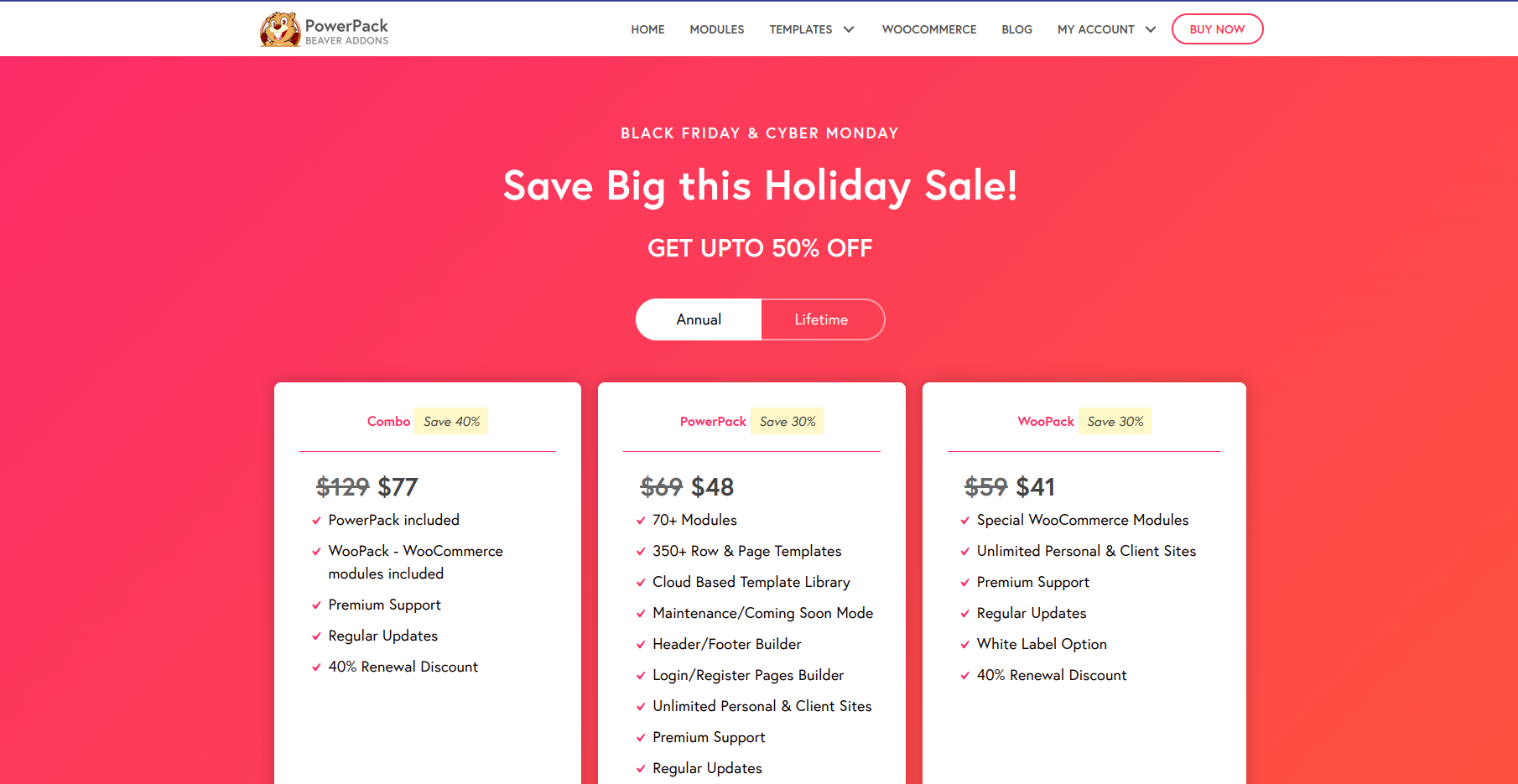 Build websites faster and more efficiently with 70+ unique, creative, solution-oriented modules and 350+ templates of PowerPack. Design your eCommerce store with Beaver Builder using WooPack modules especially built for WooCommerce.
Black Friday Deals:Get up to 50% OFF on all pans and upgrades
Offer Validity: 11th November 2022 to 2th December 2022
Business tools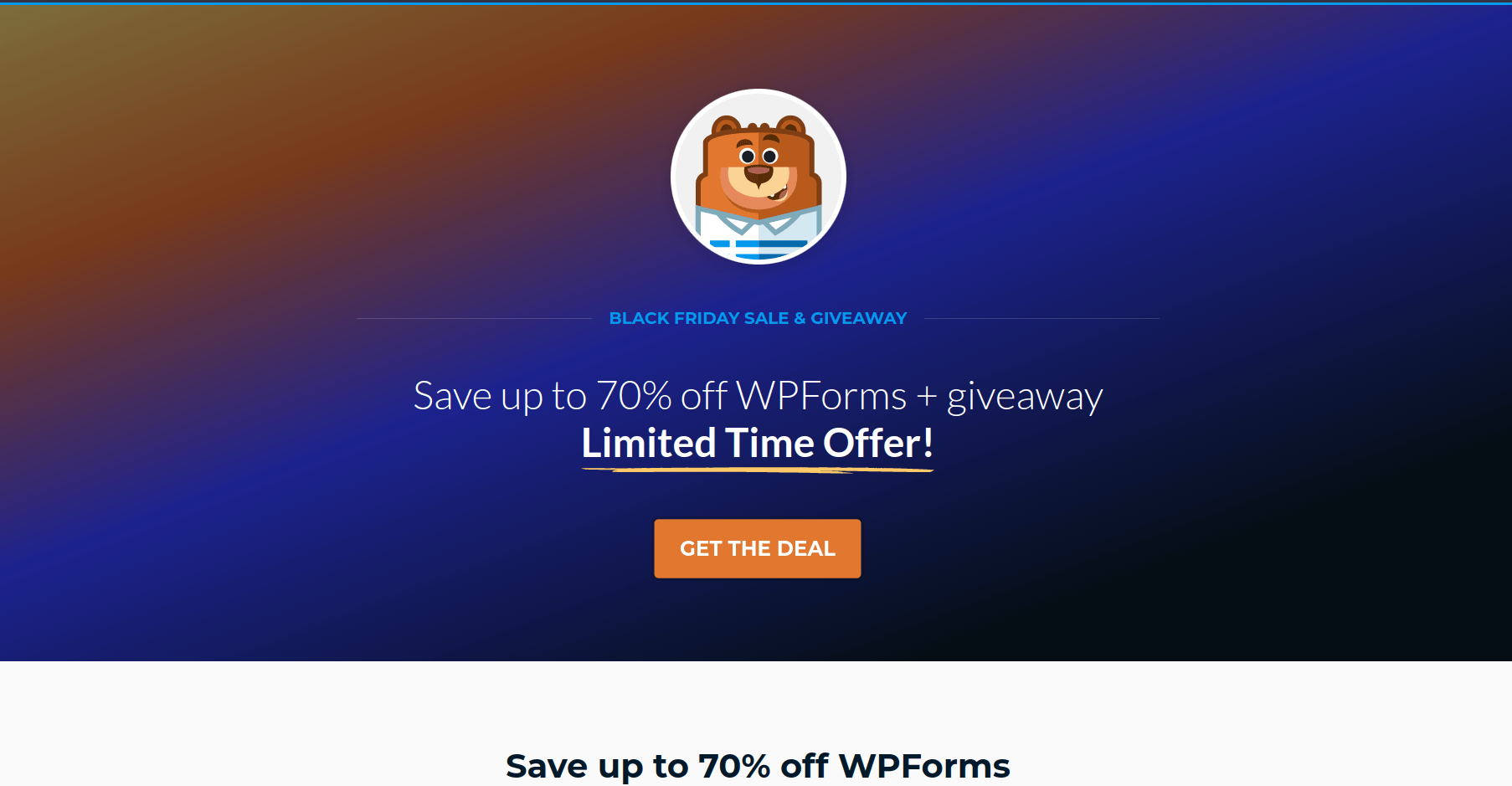 The best WordPress contact form — trusted by more than 5 million website owners!
Giveaway: 13" Macbook Pro
Black Friday Deals: Save up to 70% OFF. No promo code is required.
Offer Validity: 21th November 2022 to 25th November 2022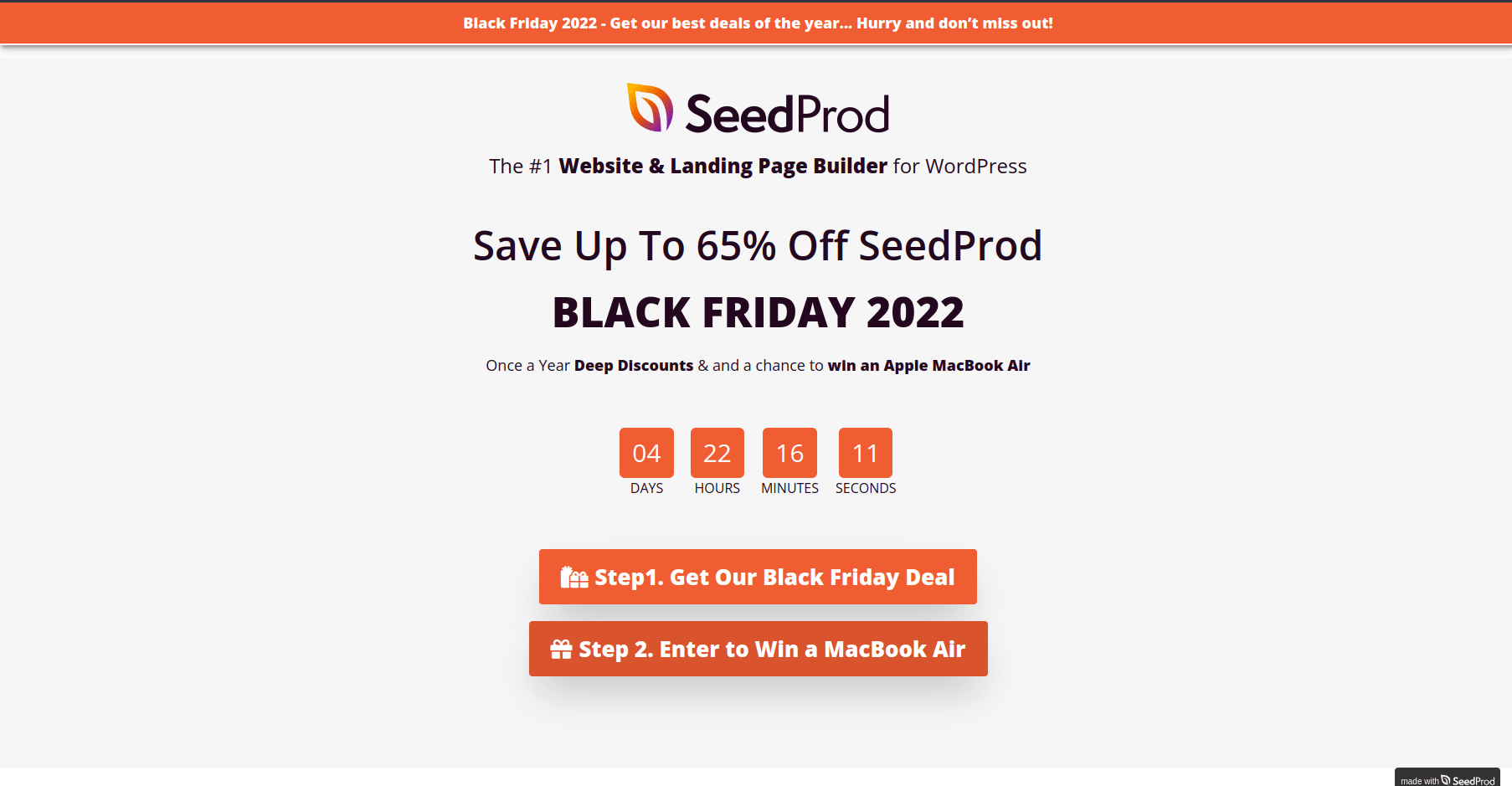 SeedProd is a powerful website builder plugin with easy drag & drop customization. No coding required!
Giveaway: Macbook Air M1
Black Friday Deals: Save up to 65% OFF. No promo code required.
Offer Validity: 21th November 2022 to 25th November 2022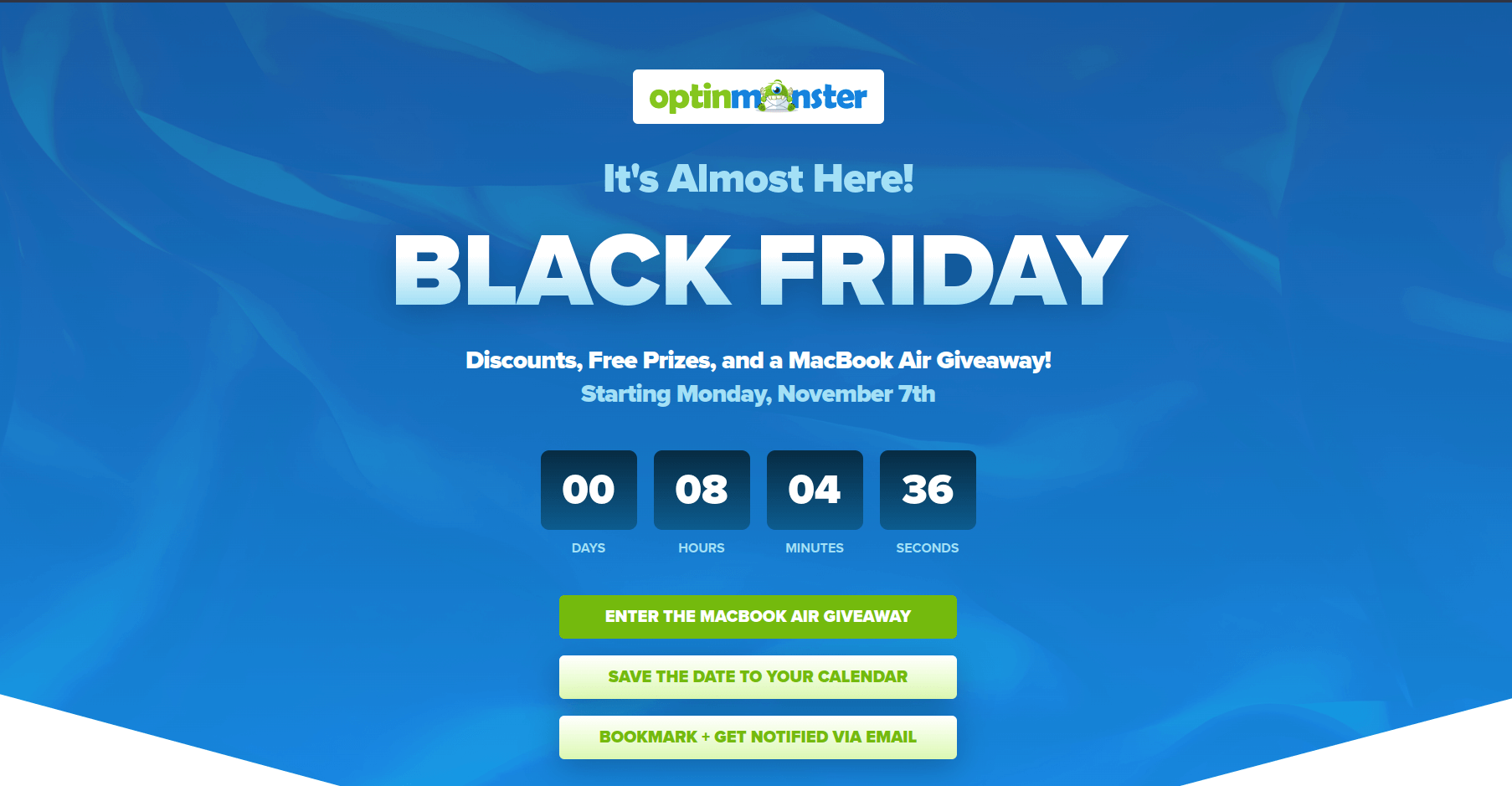 Instantly grow your email list, get more leads, and increase sales! Choose the #1 most powerful optimization toolkit in the world.
Giveaway: Macbook Pro
Black Friday Deals: Save up to 60% OFF. No promo code is required.
Offer Validity: 21th November 2022 to 25th November 2022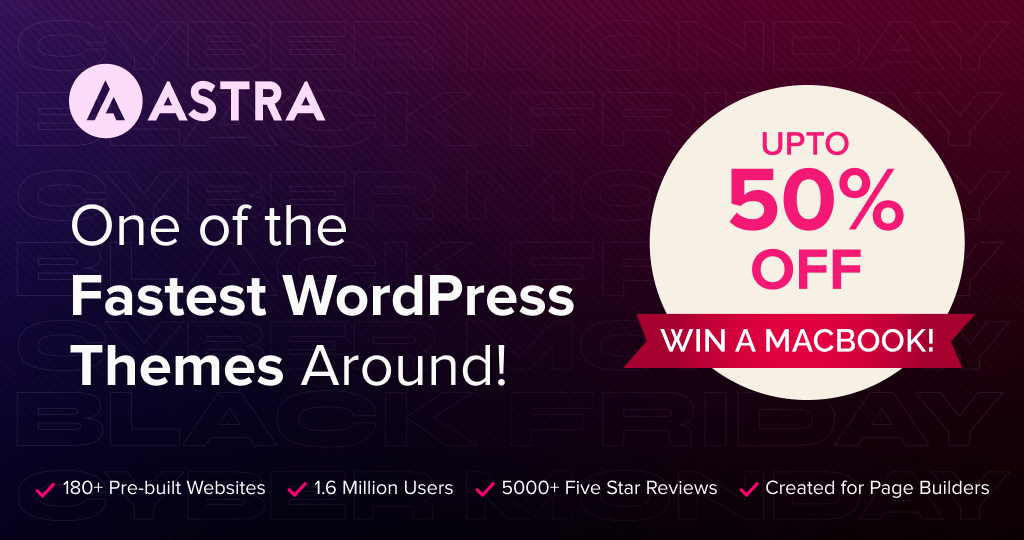 Astra is a lightweight WordPress theme ideal for building any type of website. With over 1.6 million users, Astra is the most popular theme in the WordPress ecosystem. It offers an ever-growing library of pre-built Starter Templates created with your favorite page builders.
Astra Pro comes with add-ons like custom layouts, mega menus, sticky headers, and advanced benefits like priority support. Coupon Code: Auto-applied
Black Friday Deals:Up to 50% off and a Macbook Air giveaway
Offer Validity: From 22nd November to 2nd December 2022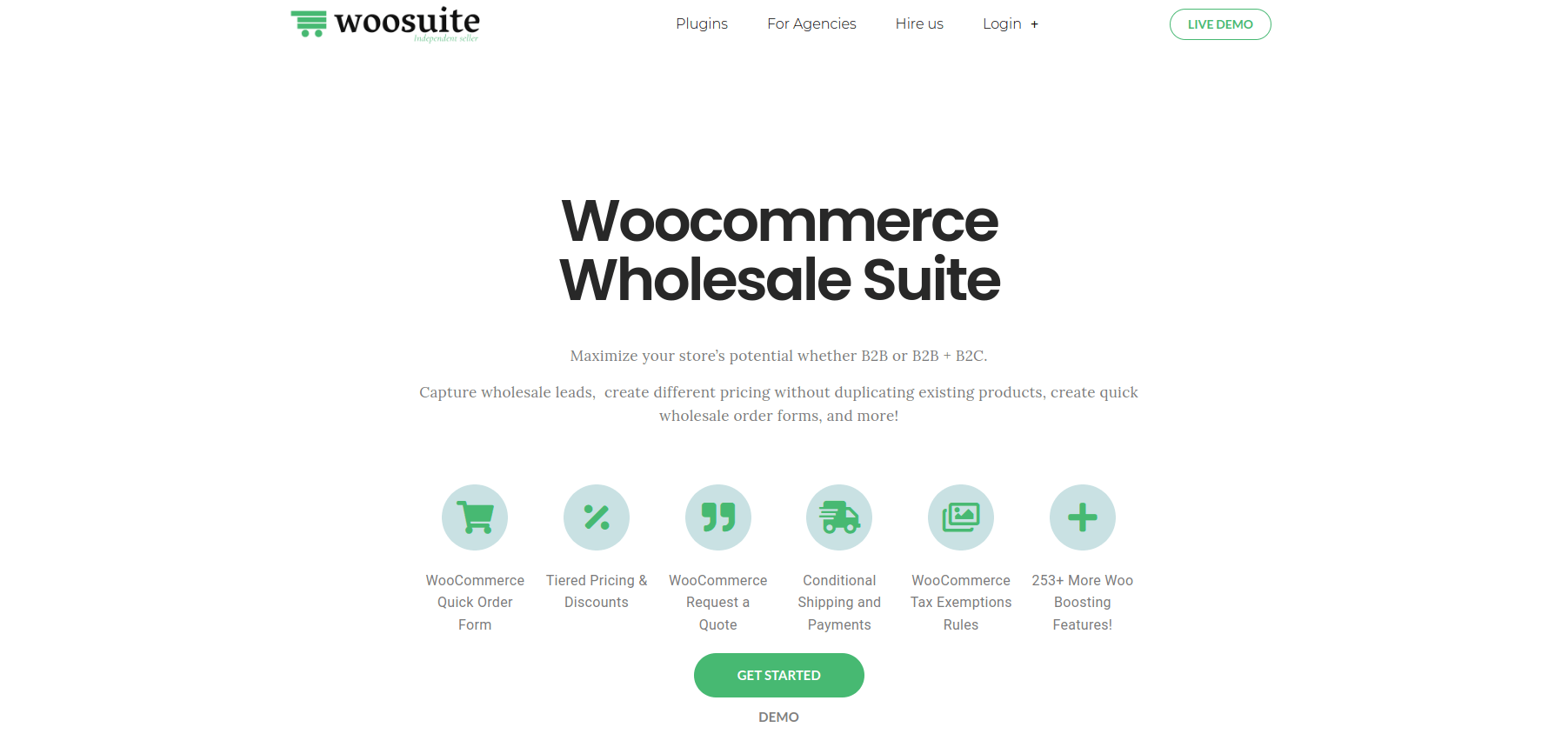 Create a robust wholesale system on your WooCommerce store to sell to B2B or B2C and B2B. Coupon Code: BFCM35
Black Friday Deals:Get 35% off yearly plans
Offer Validity:21th November 2022 to 6th December 2022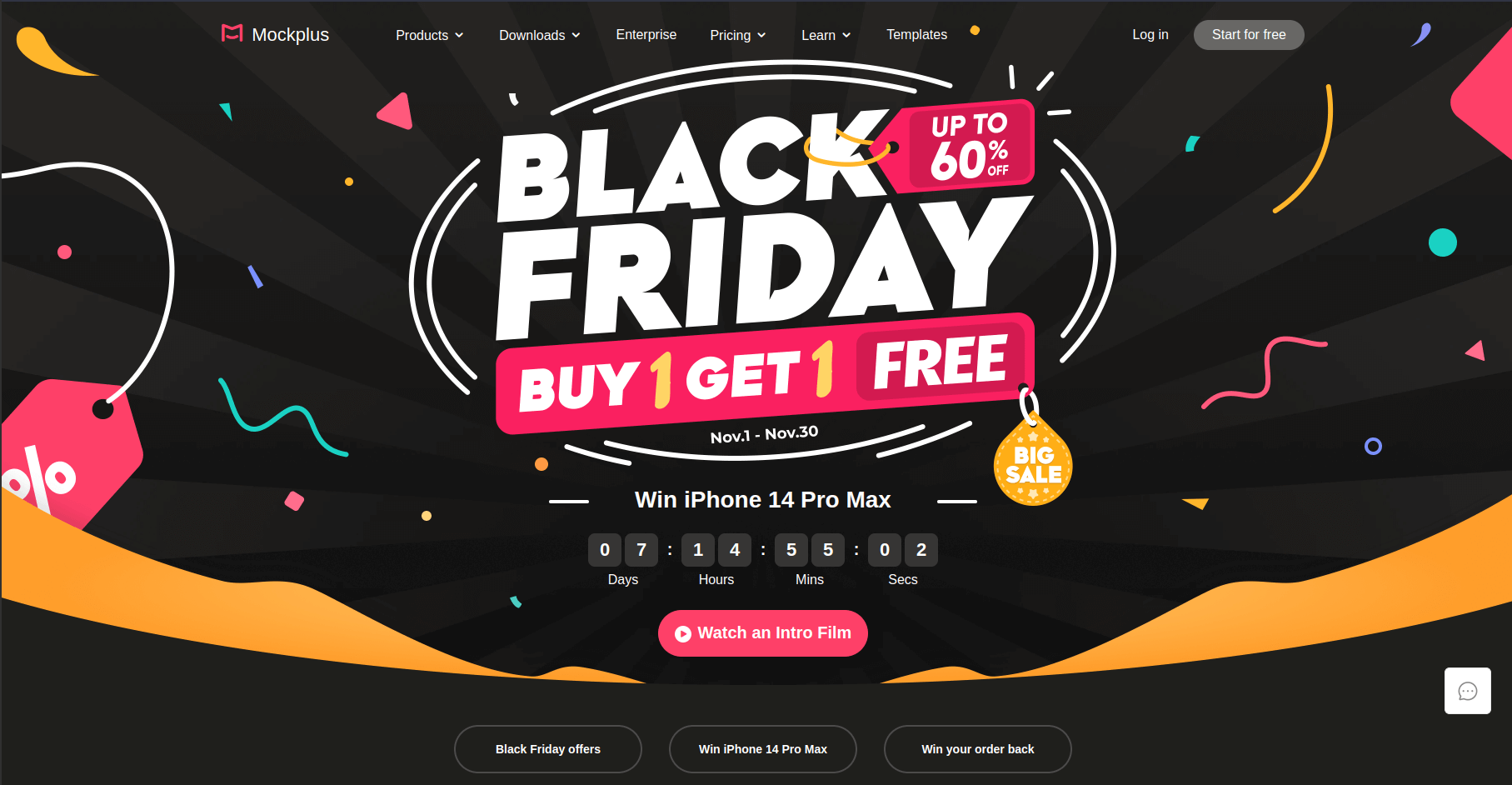 Mockplus RP is a powerful web-based prototyping tool that allows you to create, test, and share prototypes. You can create all levels of visual designs, from sketches, and wireframes to interactive prototypes that work like real things. With Mockplus, also co-design with your team anytime and anywhere, create responsive prototypes and test them out on any real devices, and share them via a single link to collect first-hand feedback, all without code. Use this promo code MPBLACK2022
Black Friday Deals:get up to 65% discount on all Mockplus plans and get chances to win iPhone 14 Pro Max! Grab it before it's gone!
Offer Validity:1th November 2022 to 30th November 2022
7. ShopLentor (formerly WooLentor)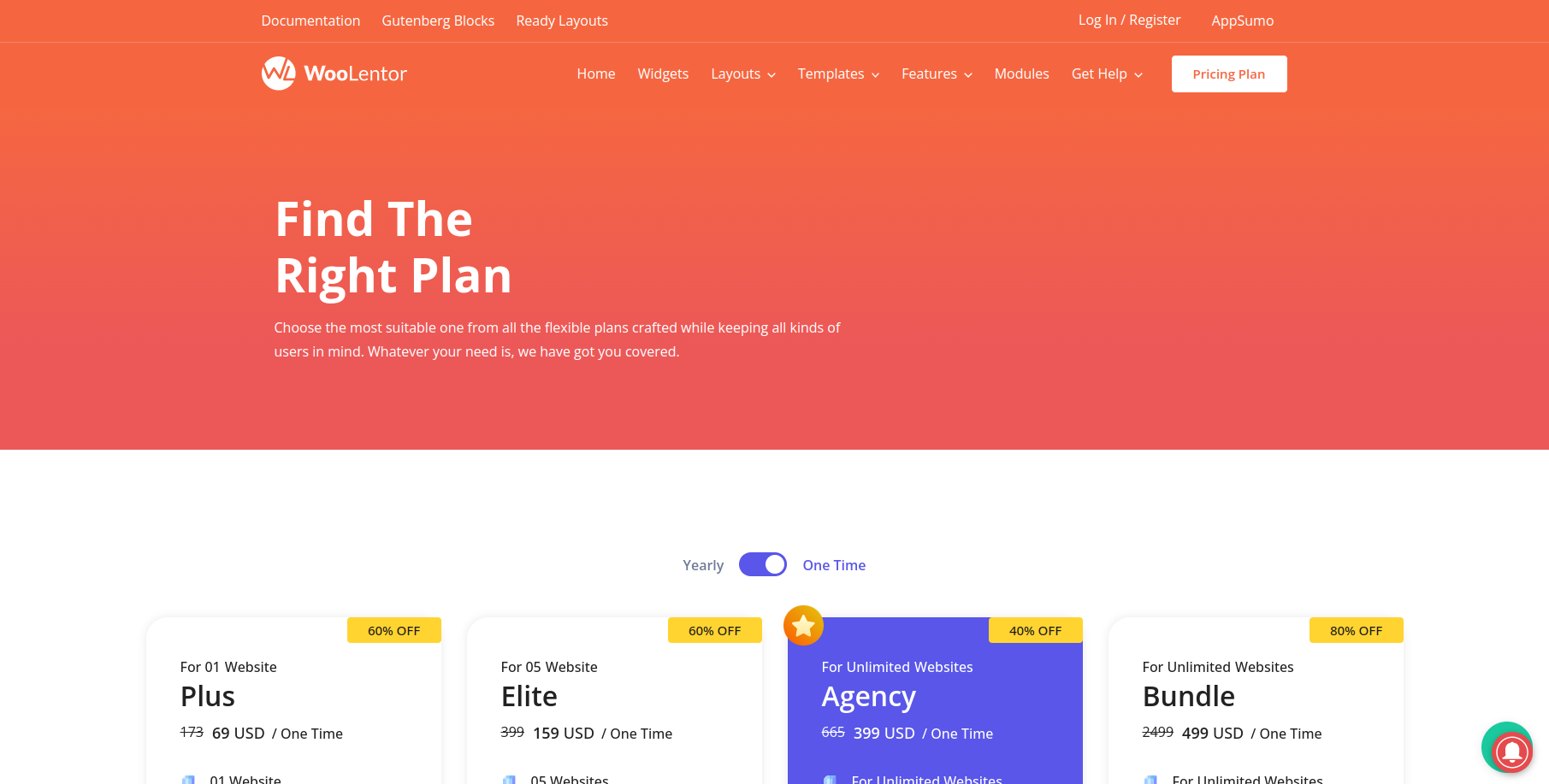 ShopLentor (Formerly WooLentor) WooCommerce page builder for Elementor and Gutenberg is a professional, easy-to-use WooCommerce page builder that will help you quickly create beautiful WooCommerce pages without touching any code.
ShopLentor WooCommerce page builder comes with a wide range of features, widgets, templates, and options that will allow you to easily create beautiful WooCommerce pages. With WooLentor WooCommerce page builder, you can easily add products, Cart, Checkout, Order tracking, My account, and many other WooCommerce pages.
Black Friday Deals: 80% OFF
Offer Validity:  10th November 2022 to 2th December 2022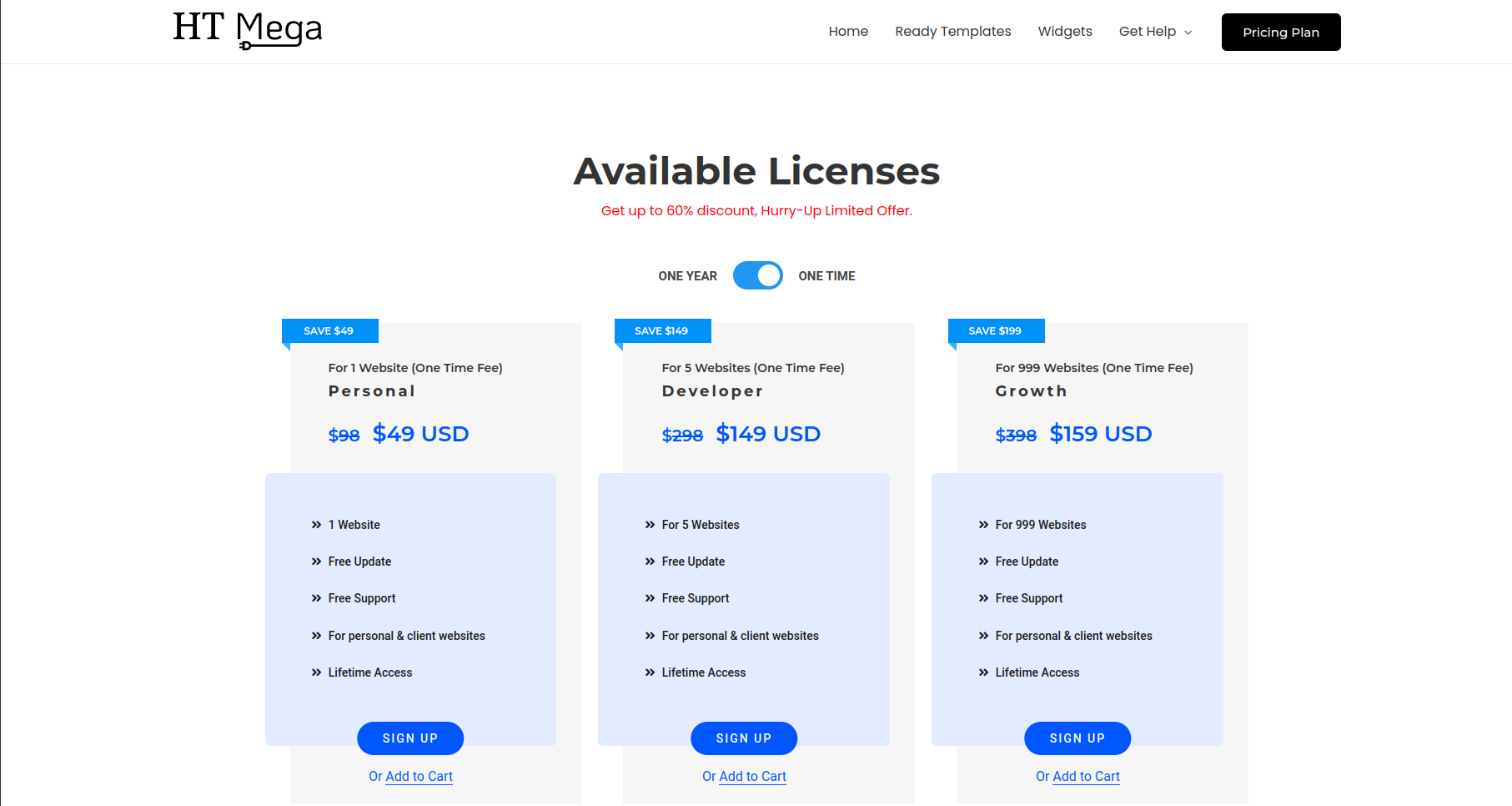 HT Mega is the ultimate add-on for elementor. With HT Mega, you can easily create beautiful mega menus, tabs, accordions, sliders, carousels, and other content blocks without having to write a single line of code. HT Mega comes with 107+ Elementor widgets, 782 Elementor blocks, and 91+ pre-designed templates that you can use to create your own custom layouts. In addition, HT Mega offers a powerful drag-and-drop interface that makes it easy to customize your designs.
Black Friday Deals: 60% OFF
Offer Validity:  10th November 2022 to 2th December 2022
Cyber Security Tools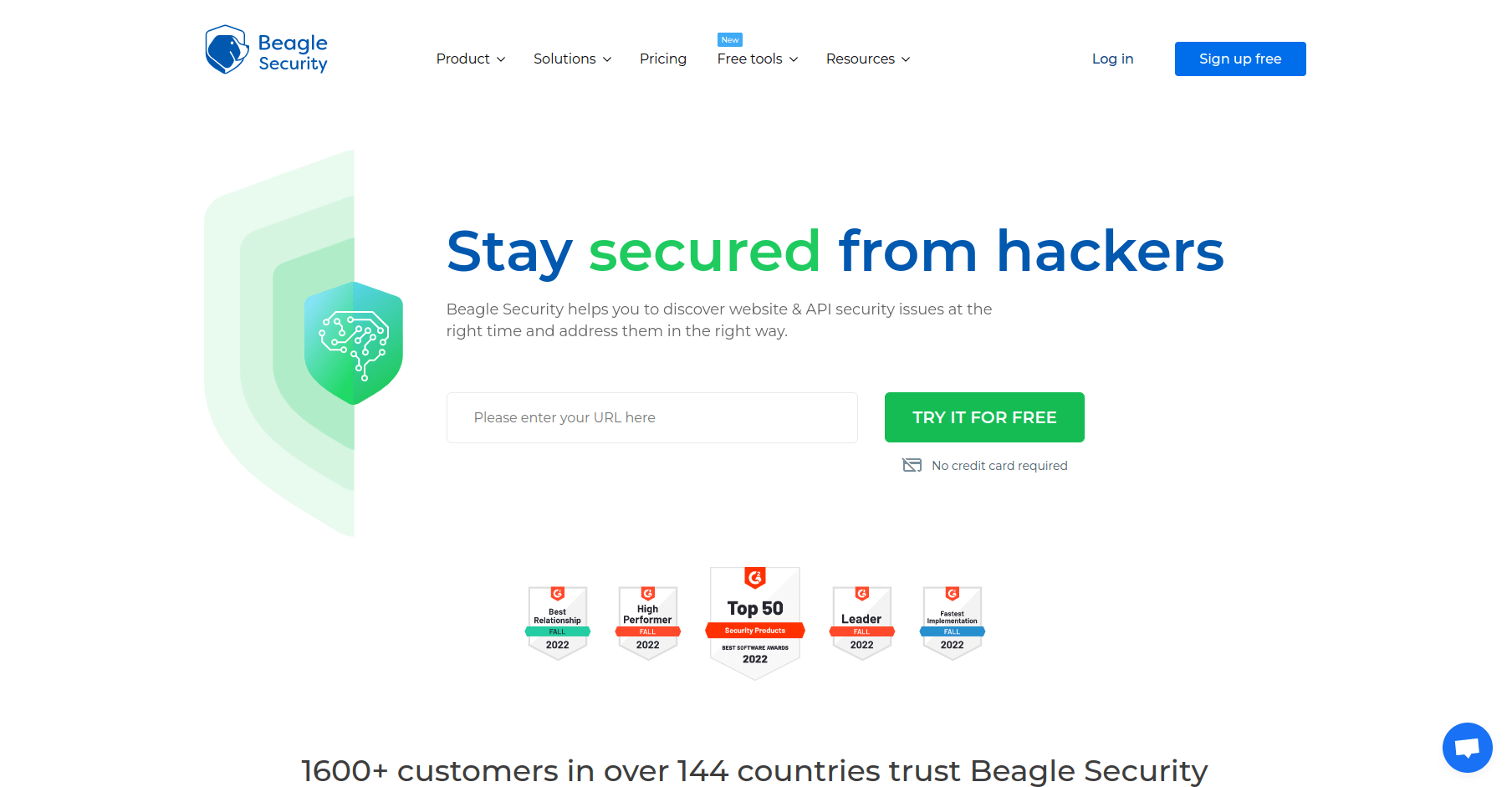 Beagle Security is an automated penetration testing solution (DAST) that helps you identify vulnerabilities in your web applications, APIs & GraphQL endpoints and remediate them with actionable insights before hackers harm you in any manner.
Beagle Security allows you to transform your application security process by building automated workflows with your CI/CD tools, bug-tracking tools, and communication apps.
Black Friday Deals:40% OFF all annual plans.
Offer Validity:  23th November 2022 to 5th December 2022
SaaS Software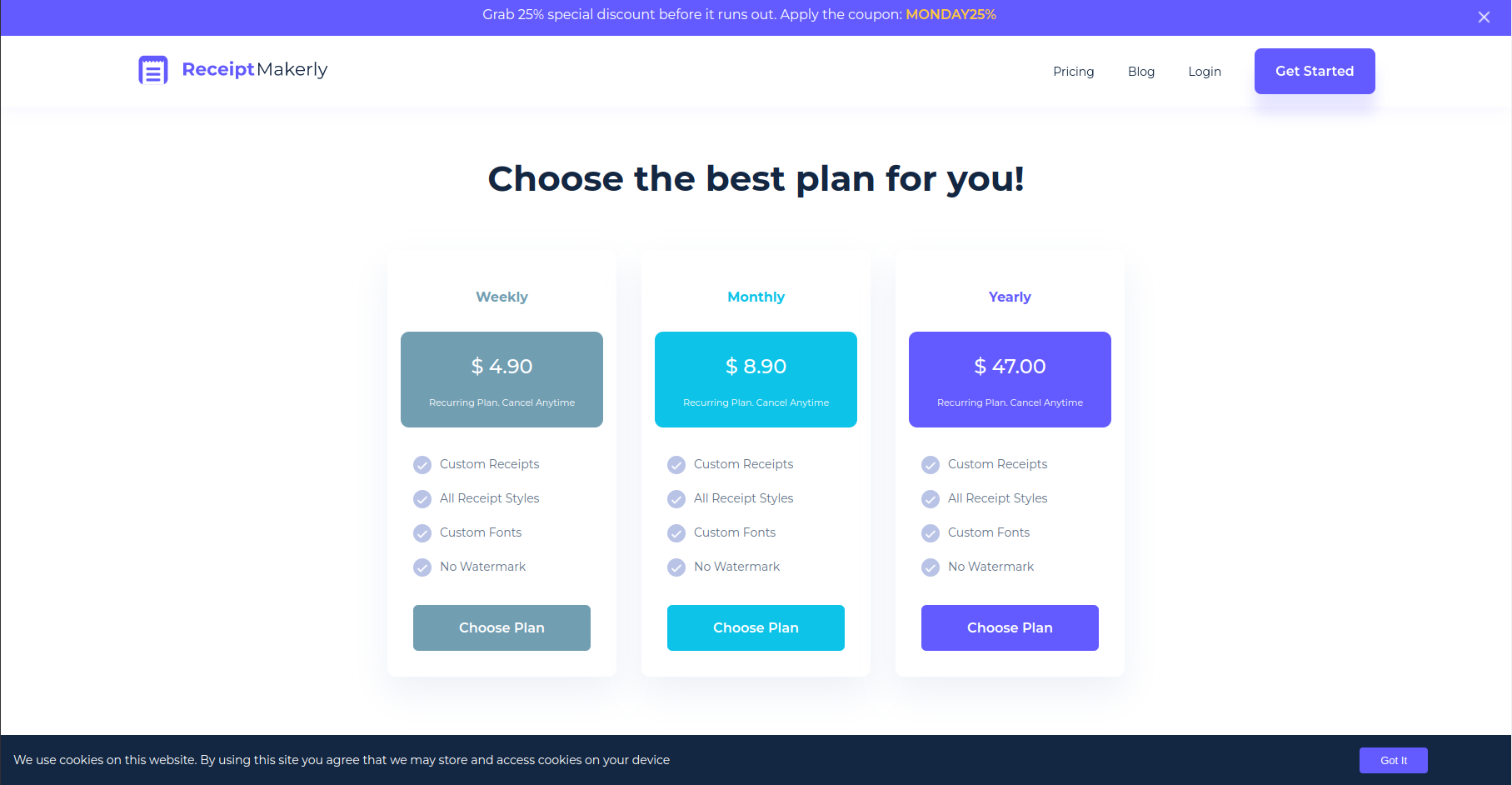 Receiptmakerly is a well-known receipt maker that gives you more than 50 receipt templates to choose from. With this helpful app, anyone can make receipts that look like they came from a business. Once receipts are made, they can be sent to clients quickly in either jpg or pdf format.
Black Friday Deals:On Cyber Monday, every package from Receiptmakerly is 25% off. You must enter the coupon code MONDAY 25% to get the discount when you check out.
Offer Validity:  This offer is only applicable for Cyber Monday, from November 22 to December 31, 2022.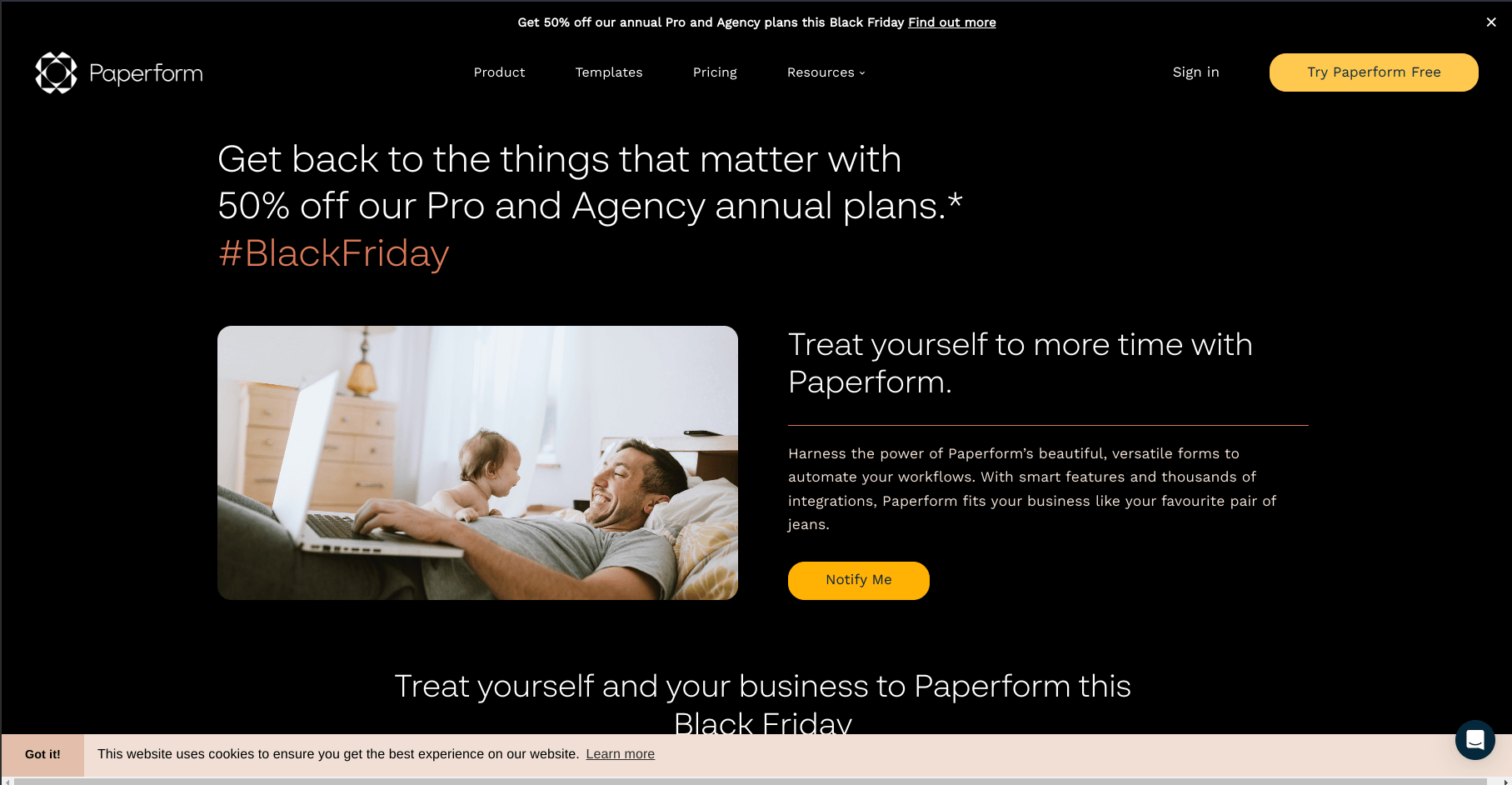 Paperform is a digital Swiss Army Knife for small businesses looking to cut down on busy work and simplify life. Take payments, manage bookings, collect information, or run an entire company. Harness the power of Paperform's beautiful, versatile forms to automate your workflows. With nearly unlimited customization and advanced workflows baked in, so you can build the gorgeous solutions you need your way.
Black Friday Deals:Get back to the things that matter with 50% off Paperform's Pro and Agency annual plans for the period of 12 months from the date of purchase. The deal is only for annual plans - monthly plans are not included.
Offer Validity: This offer is only applicable for Cyber Monday, from November 25 to November 29, 2022.
Hosting Platforms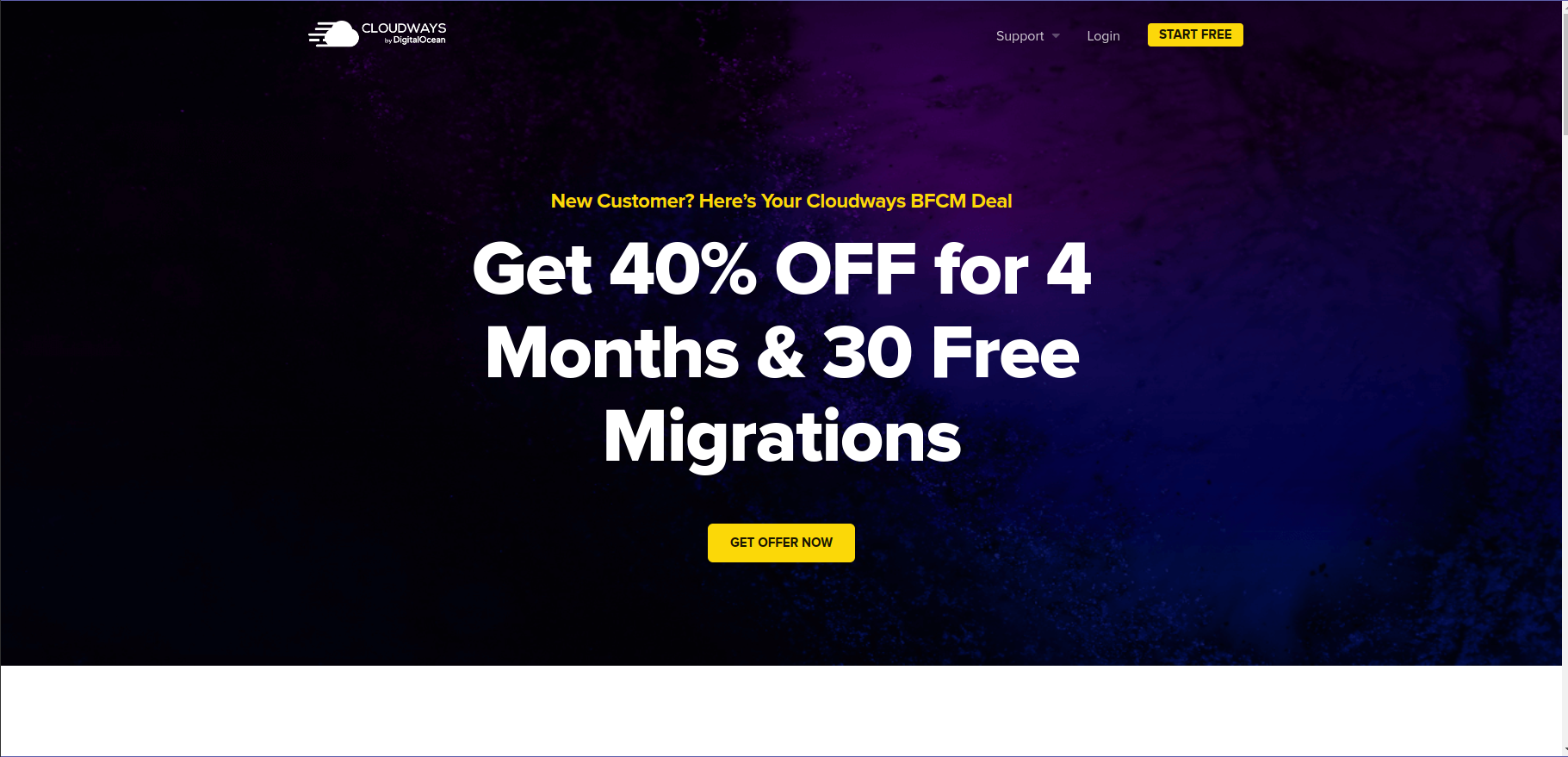 Cloudways is a managed cloud hosting platform that offers hassle-free site experience and allows you to launch managed servers on top of five IaaS providers, including Digital Ocean, Linode, Vultr, GCP, and AWS. The Code: BFCM4030
Black Friday Deals:Get 40% OFF for 4 Months & 30 Free Migrations
Offer Validity: This offer is only applicable for Cyber Monday, from November 25 to November 29, 2022.
Offer Validity: 16th Nov - 1st Dec
Bottom line
Black Friday and Cyber Monday are the biggest shopping events you can join as a SaaS company. Customers are desperately looking for the best Black Friday deals to save money. This gives you a great opportunity to increase your sales, acquire new customers, and collect data.
If you are interested in getting your SaaS Black Friday deal included in the article, please fill out this form.
Don't take Black Friday and Cyber Monday SaaS opportunities for granted. These are the days that your company and team will always remember and refer to. Make sure everything is on the palace with the right messaging, targeting, and proper offers. Prepare deals specific for Black Friday and Cyber Monday for SaaS companies.
Once the campaign is over, track and report the results and compare them to your set goals. Analyze how to better optimize your campaign in the next year.
Now you have all to get started.
Sign up for our newsletter
Be the first to know about releases and industry news and insights.
Let's

get started

on something great
Booknetic is a simple yet powerful plugin for accepting online bookings & payments on your WordPress site.