8 Best WordPress Calendar Plugins for Seamless Scheduling and Organization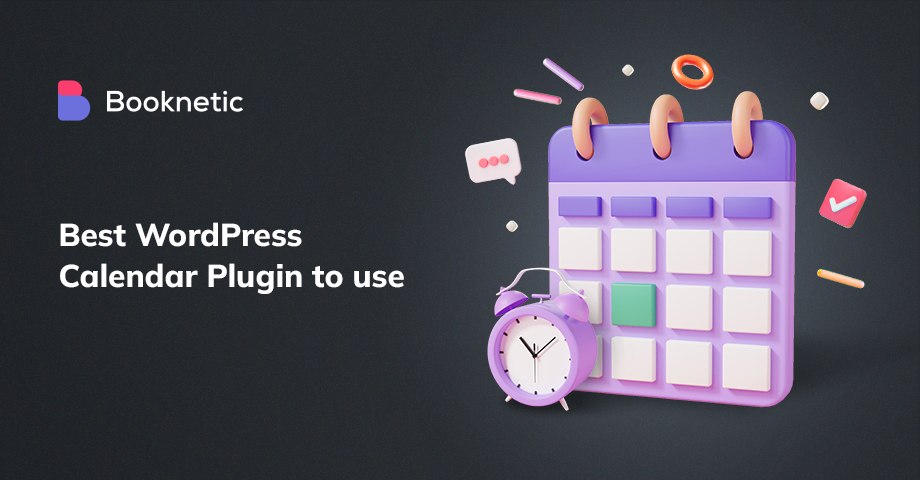 If you are looking for a WordPress calendar plugin, then look no further! In this blog post, we will discuss some of the best plugins available and how they can benefit your business.
A calendar plugin is a great way to keep track of your events, appointments, and other important dates. We will also discuss some of the features that you should look for when choosing a plugin.
It's essential for WordPress users as it provides an intuitive way to manage time and events directly on their site; this is especially crucial for businesses that rely on scheduling, like a local community center that organizes weekly classes and events, needing a system to publicize their schedule and allow community members to reserve spots effortlessly.
We will also discuss some of the features pros and cons that you should look for when choosing a plugin, such as ease of use, customization options, mobile responsiveness, and integration capabilities, which are essential for enhancing user experience and efficiency. So without further ado, let's get started!
8 Best WordPress Calendar Plugins to Use
1. Booknetic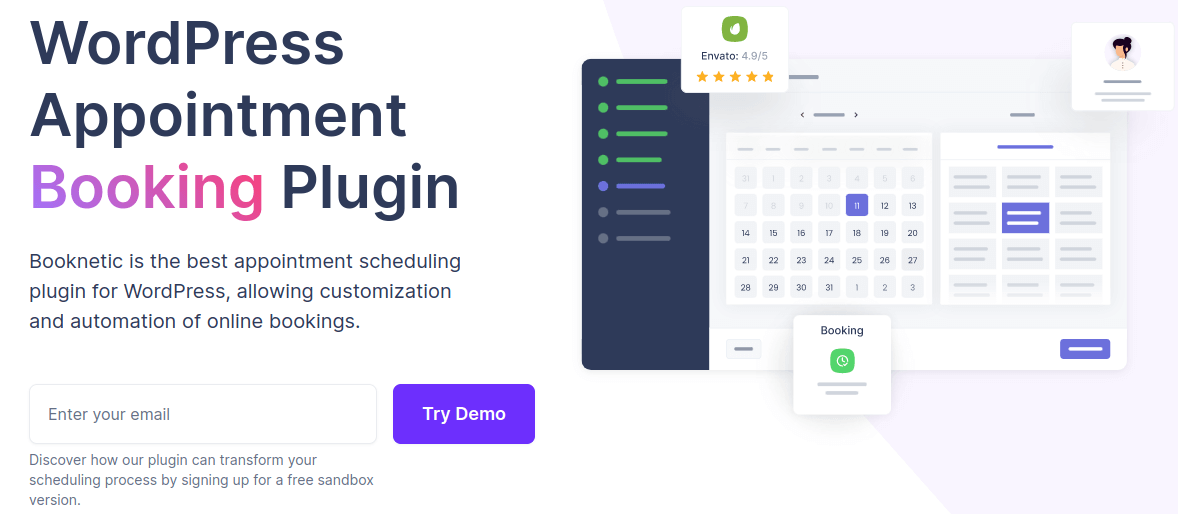 Booknetic is one of the best WordPress plugins that come with a calendar out there. It has many features that make it perfect for businesses and organizations.
Booknetic has a drag-and-drop interface that makes it easy to add events and schedule them. You can also add Google Calendar or iCalendar feeds to your Booknetic calendar.
This makes it easy to keep your Booknetic calendar up-to-date with your other calendars.
Booknetic also has a built-in payment system. This makes it easy to take payments for events. You can also use Booknetic to manage bookings and appointments.
Booknetic Features
Appointment Booking
Calendar Management
Customer Panel
Group and Individual Bookings
Recurring Events
Notification System
Google Calendar Sync
PayPal, Stripe, Mollie, Square, Razorpay payments
Multi-Language and RTL Support
Notifications from SMS, email, WhatsApp, Telegram, and Webhook triggers
Manage appointment schedules
Pros:
Booknetic page is separate from WordPress page, so employees are less likely to change critical things
It has a top quality support
Cons:
There are minor bugs that might cause inconvenience
Pricing:
Our opinion:
Booknetic is exceptional for small and medium-sized businesses.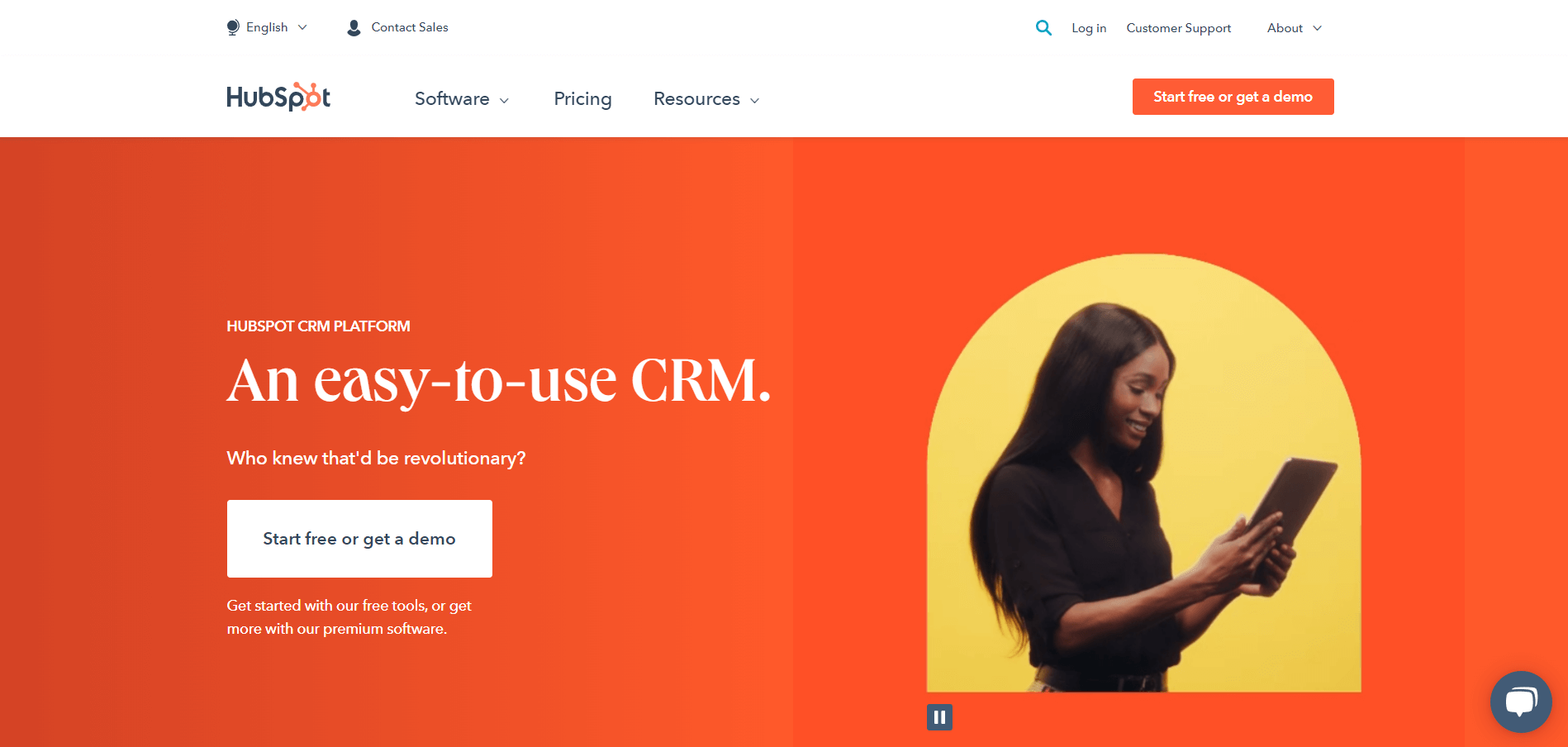 Hubspot's plugin is the best WordPress plugin choice with calendar support for those looking for an all-in-one solution for their sales and marketing needs. The Hubspot WordPress plugin includes a free CRM, live chat, forms, analytics, and more.
With the Starter Plan, you also get access to HubSpot Sales' premium features. If you're looking for a simple embedded calendar solution that integrates with your existing contact management system, HubSpot is an ideal choice.
Hubspot features
Free CRM
Live chat support
Forms and analytics
Simple embedded calendar solution
Integrates with the existing contact management system
The starter plan is only $20 a month.
Pros:
HubSpot is an extensive ecosystem; you can manage an entire website from just one place
There are a plethora of sources to learn about HubSpot
Cons:
Prices can quickly scale up
Some users report that it is hard to navigate the app
Pricing:
Starts from $20/Month and scales up to $1200/Month
Our opinion:
HubSpot is a behemoth in the service industry, but it is too heavy and too complicated for the needs of a small business.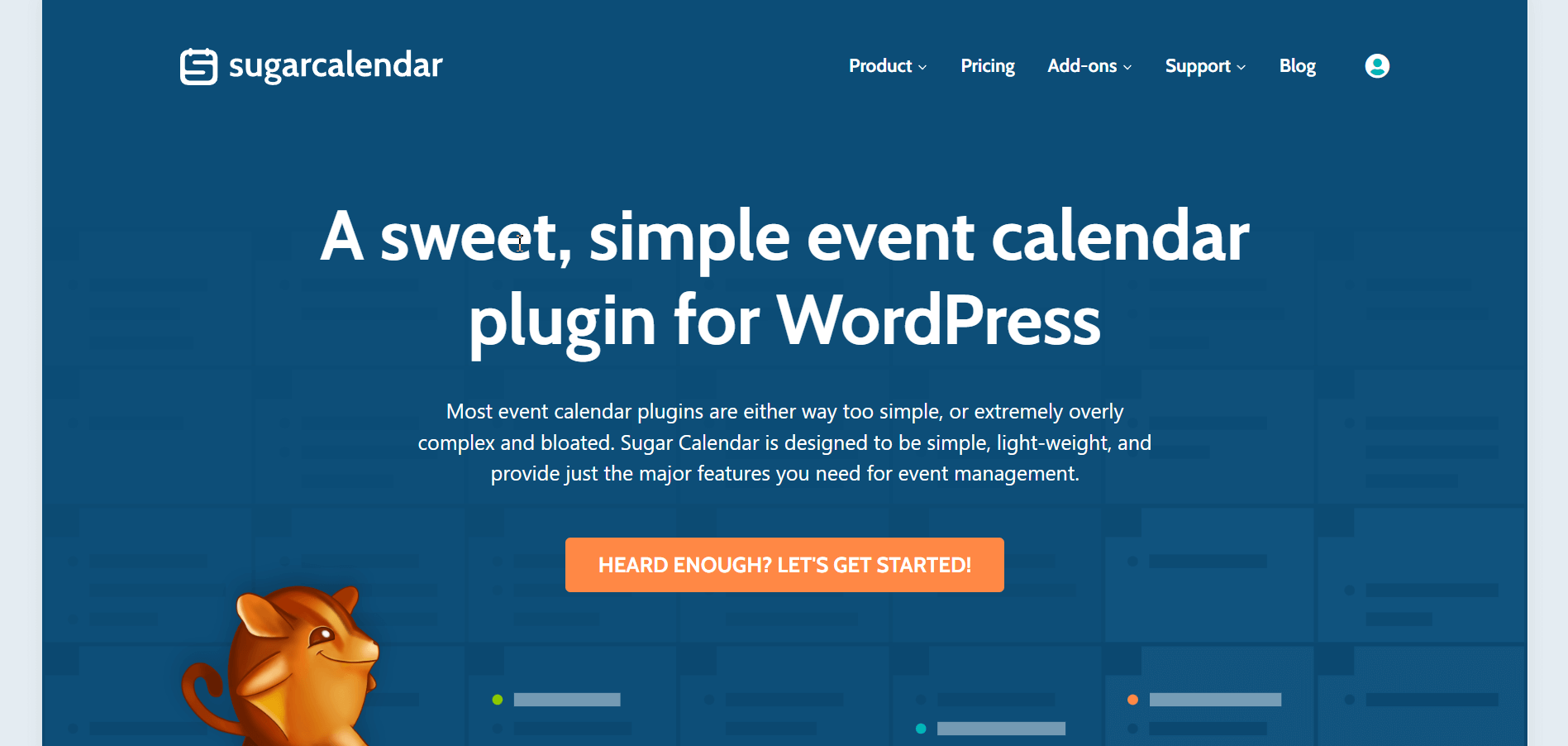 Sugar Calendar is the best WordPress calendar plugin for power users and developers who need a flexible and extendable calendar solution. The plugin is also great for beginners as it is easy to use and comes with all the features you need to get started with creating calendar events.
If you are looking for a plugin that is both easy to use and powerful, then Sugar Calendar is the perfect choice for you.
The plugin comes with all the essential features you'd expect, such as the ability to create calendar events, start and end times for meetings and appointments, set event time zones, sync with Google Calendar, and much more.
Sugar Calendar Features
Create calendar events
Start and end times for meetings and appointments
Set event time zones
Sync with Google Calendar
Powerful add-ons, including Event Ticketing
Integrates with other WordPress plugins and marketing platforms including WooCommerce, WPForms, Gravity Forms, Google Calendar, and more.
Pros:
Supports event booking
It lets you see different time zones
Cons:
The design is a bit outdated
Pricing can be a little expensive compared to other options
Pricing:
$449 for lifetime license with full access, $199/Year for Pro license with full access, $99/Year for Plus without pro add-on support (3 websites), $49/Year for personal license
Our opinion:
Suga Calendar is great if you are a venue manager and you constantly have events. It can also help businesses manage their webinars in an efficient way.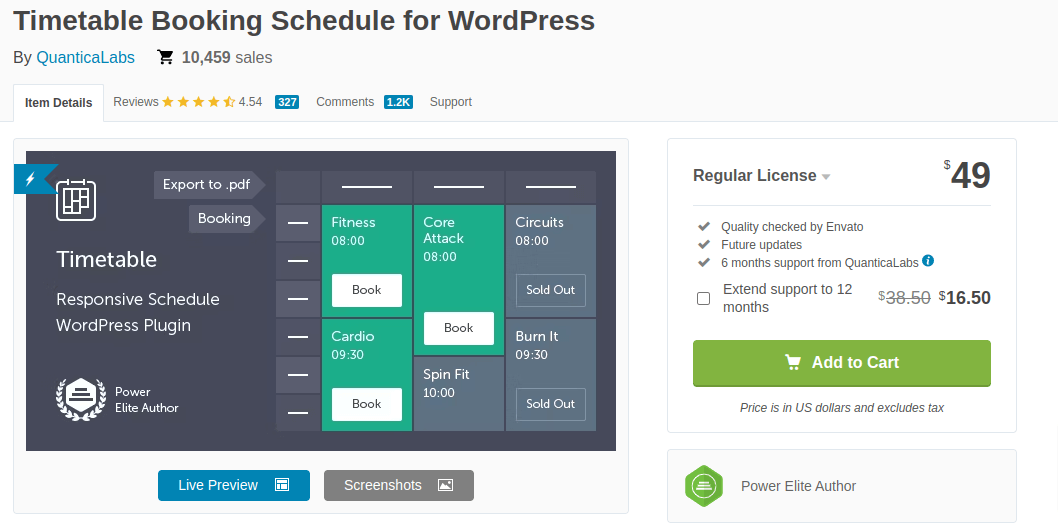 Timetable Responsive Schedule WordPress calendar plugins are to use for displaying daily and weekly schedules. With Timetable, you can easily add new events to your calendar, name them, adjust its settings, event hours, and event frequency, set dates, and publish.
Once you've published it, copy the autogenerated shortcode and paste it anywhere you want to display it on your site.
Timetable Responsive Schedule Features
Free lifetime updates
Fully responsive
Custom CSS option to modify it to match your brand look
Shortcode generator for display on any site page or blog post
Event filtering to easily search for specific event listings
Lots of customizable color options for events, days, event text, and more
Pros:
Allows event management
It is simple to use with shortcodes
Cons:
Some users report poor customer support experience
Documentation is not helpful
Pricing:
Our opinion:
Although Timetable Booking Schedule is a powerful plugin, it has shortcomings. We recommend checking out their documentation and video guide, see if it is helpful, read the reviews and make the decision for yourself.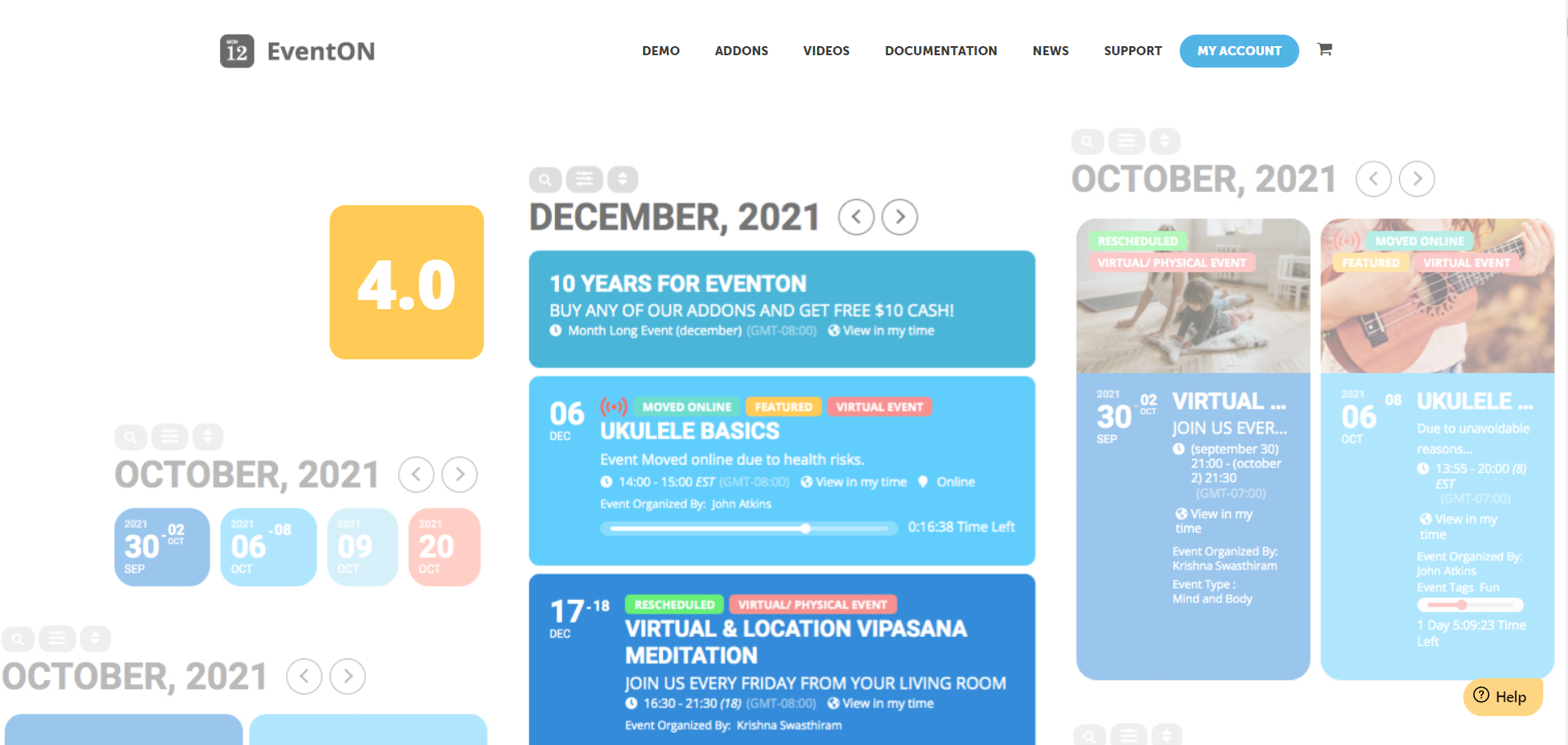 EventON is a great plugin to use if you want eye-catching calendar displays that are easily customizable. With EventON, you can create colorful calendar bubbles that open up to display a calendar card with every event detail.
You can also create tile calendar views with bigger calendar "tiles" that display each of your events with readily available details.
Another great feature of EventON is that it generates shortcodes that you can quickly grab and plugin with Gutenberg. Overall, EventON is a great plugin to use if you want an easily customizable and eye-catching calendar display.
EventON Features
Generates shortcodes you can quickly grab and plugin with Gutenberg
Great for hosting virtual live events
Developer friendly for advanced feature altering capabilities
Expandable calendar details for each event
Add unlimited images to each event to better inform your audience
Has "add to Google Calendar" options for increased engagement
Easily filter and sort events with a few clicks
Add custom repeat events so you can set it and forget it
Easily change custom time formats to display according to your preferences
Pros:
Offers a clean and customizable calendar design
Comes with different layouts, such as event tiles or event lists
Cons:
Some essential features, like RSVP functionality, require purchasing premium add-ons
Backend design is can be quite tiring for the eye
Pricing:
Our opinion:
Eventon is a low-cost option to manage events and business. However, it has a lot of addons, which might scale up the costs quite a bit.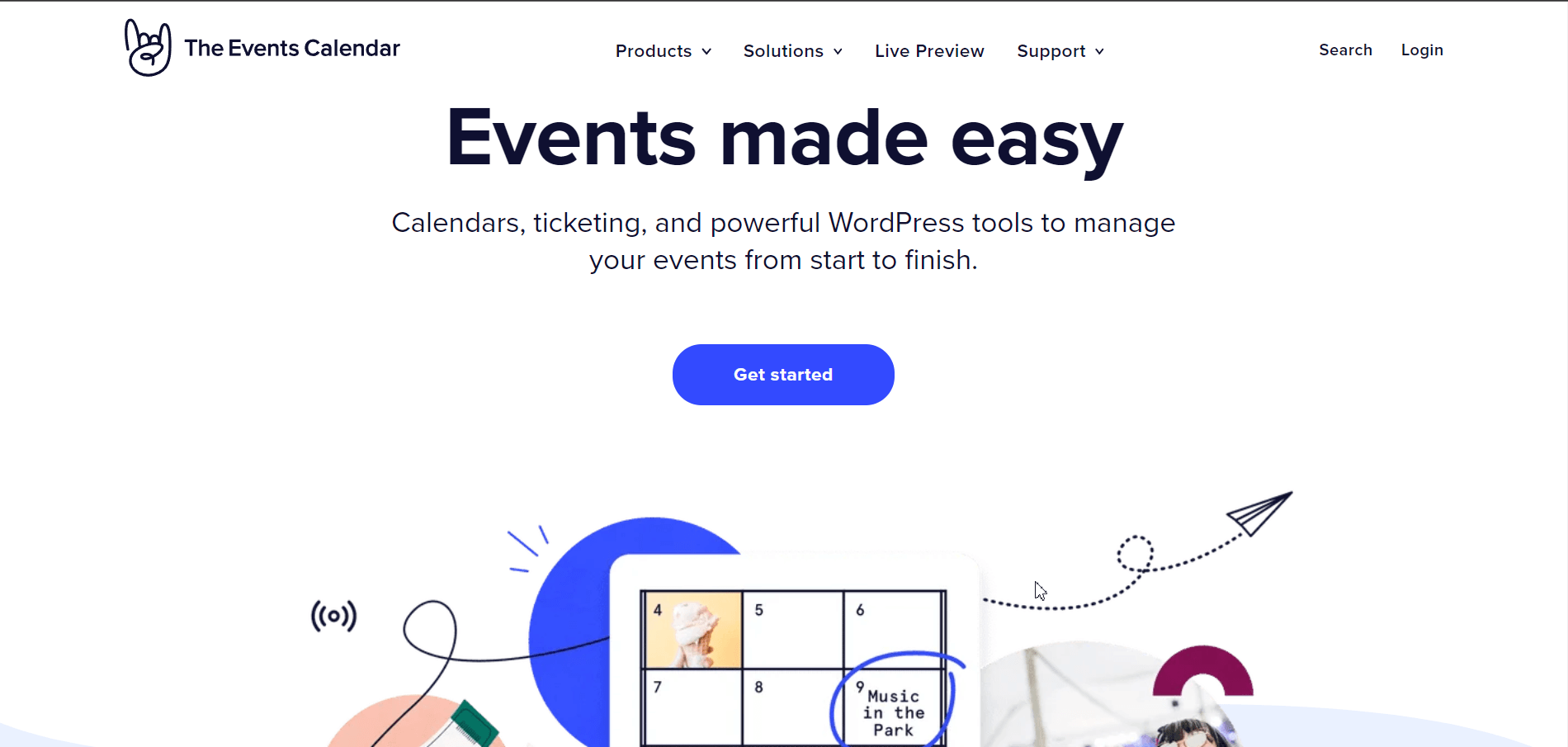 The Events Calendar is a great WordPress calendar plugin because it is very popular, has a lot of features, and is backed by a big team. The free version of the plugin includes features like the ability to create unlimited events, save venues and organizers, and display your events in a calendar or list view.
The Pro version extends these features with additional views, recurring events, community event submissions, and ticketing. Overall, The Events Calendar is a great choice for anyone looking for a comprehensive WordPress calendar plugin.
The Events Calendar Features
The ability to create unlimited events
Save venues and organizers
Display events in a calendar or list view
More views with the Pro version
Recurring events
Community event submissions
Ticketing
SEO friendly with JSON LD structured data
Pros:
The plugin is extremely customizable
It is responsive and seems beautiful in any screen
Cons:
There is a steep learning curve for using the product
Pricing:
There are a lot of pricing options. The core product is $99, and the bundle with all the features is $699
Our opinion:
If you want a solid product with stunning visuals, this one is for you. However, it is more suited for hot venue with lots of events happening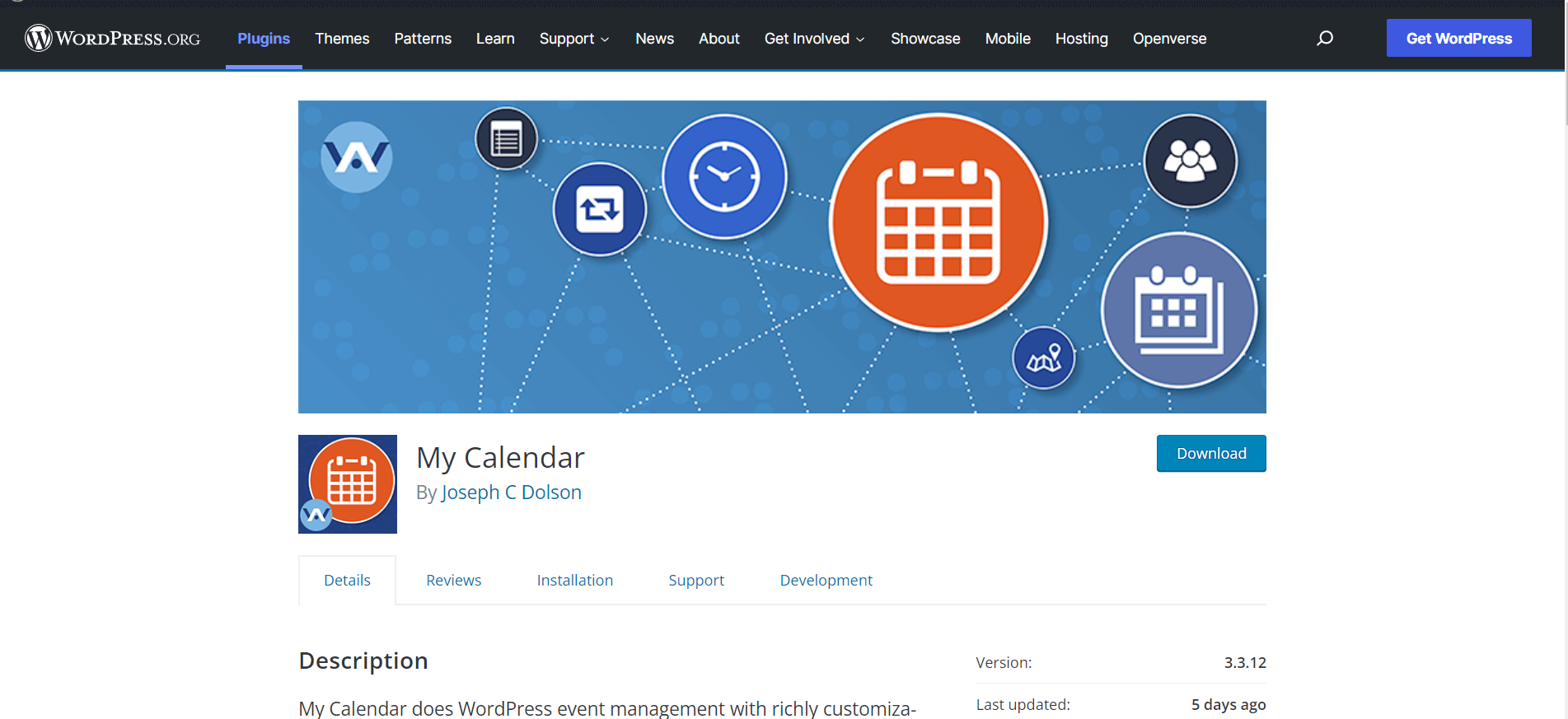 My Calendar is the best WordPress calendar plugin for those who want to have a lot of control over the look and feel of their calendar. The shortcode generator is particularly useful if you want to customize your calendar to match your website's design.
And if you need even more advanced features, the pro version is available for $59.
One downside of My Calendar is that it doesn't offer integration with Google Calendar. However, other plugins offer this feature (see our list below). Overall, My Calendar is a great choice for those who want a lot of customization options for their WordPress calendar.
My Calendar Features
Integrated help for shortcodes and tags
Calendar grid or list view
Calendar access restrictions
Custom templates for event output
Location Manager feature for frequently used venues
Ability to fetch events from remote databases
Pros:
Allows customers to submit their own events to turn the it into a multi-vendor system
Has a powerful workflow integration
Cons:
The design is a bit outdated
Pricing:
$59/Year for 1-3 websites, $199/Year for 4-10 websites and $399/Year for unlimited websites
Our opinion:
You can use My Calendar for a quick solution with extensive accessibility features. If you have a community and a vision to form a multi-vendor event planning community, you can also use this plugin. Or, you know, open a Facebook group.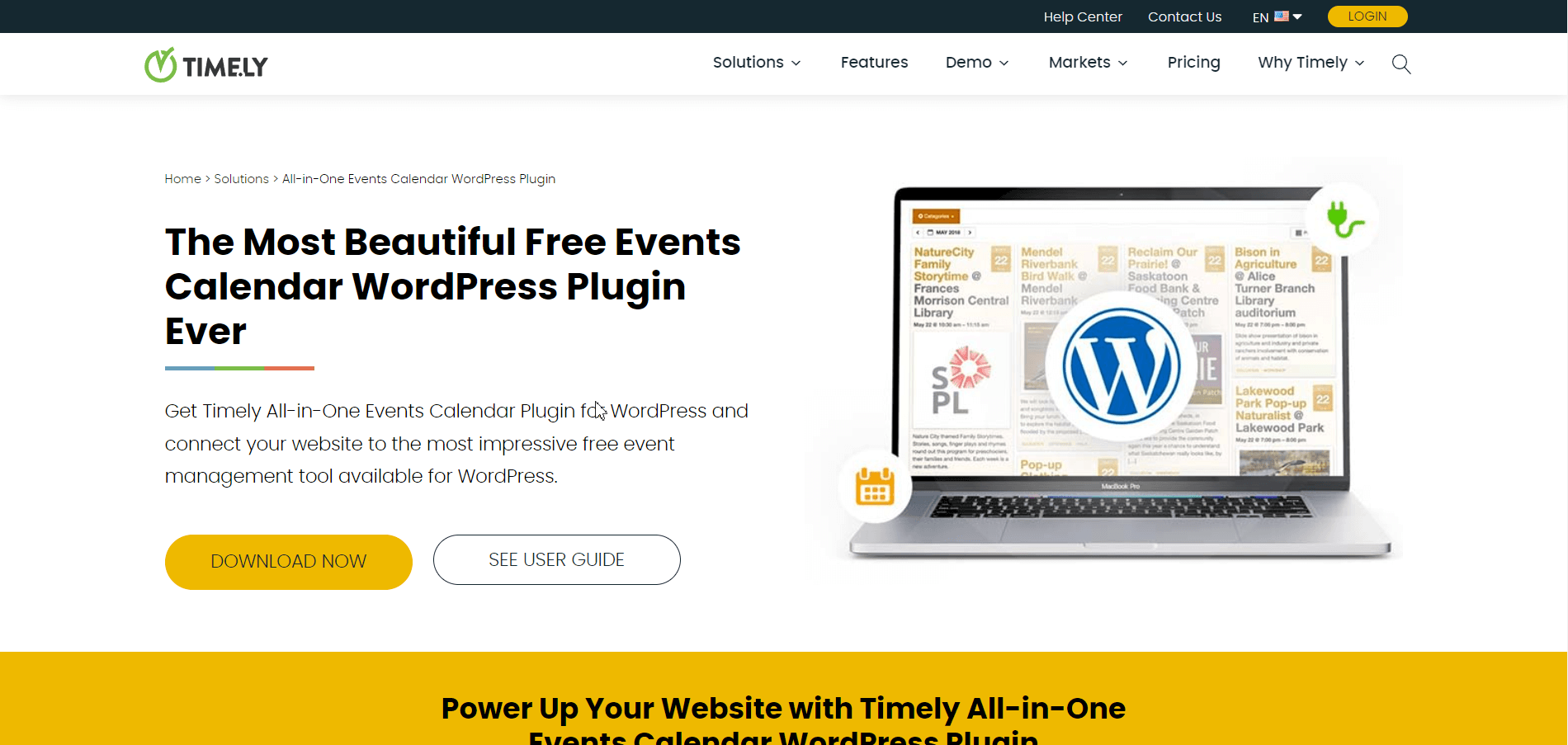 Timely is the best WordPress calendar plugin for those who want an extremely easy-to-use interface and robust features. It's also a great choice if you want to be able to tweak the look of your calendar display. If you need ticketing integrations, however, you'll need to look elsewhere.
Timely Features:
Easy-to-use interface
Built-in themes
Google Maps integration
Ability to add events from any other calendar that supports the iCal format
Multiple views for calendar display, including month, week, day, and list view.
Pros:
Supports a multitude of event types
Responsive design
Cons:
The core plugin is not enough for most realistic scenarios. You need to buy additional plugins to use it effectively
Pricing:
There is a free version for individuals. For more premium access, you need to contact them
Our opinion:
It is a really good plugin to manage events. But if your business is more booking focused, you might want to pass on this one.
Conclusion
Whether you're looking for a plugin to help manage your editorial calendar or one that can keep track of events, we've got you covered. In this blog post, we shared our best WordPress Calendar Plugin picks and gave you a few tips on choosing the right one for your needs.
Sign up for our newsletter
Be the first to know about releases and industry news and insights.
Let's

get started

on something great
Booknetic is a simple yet powerful plugin for accepting online bookings & payments on your WordPress site.