Best WordPress B2B Plugins to Use For Your Business Website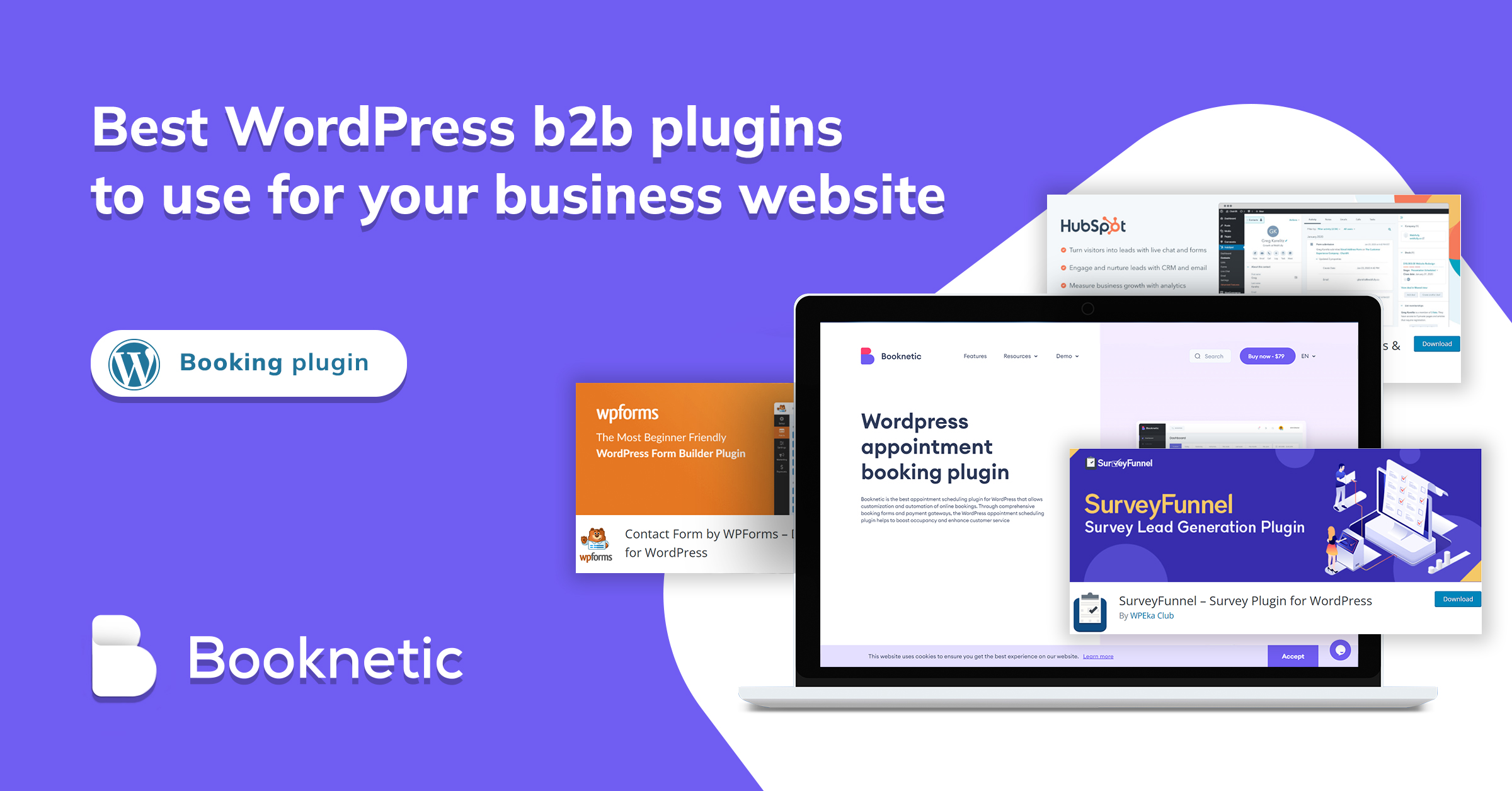 Compared to B2C businesses, finding the best WordPress B2B plugins can be difficult. The value of WordPress B2B plugins is that they supply you with crucial features to satisfy your business-minded prospects and convert them into clients.
Best WordPress B2B plugins to use to scale your business website
Once you finish creating a B2B WordPress website you will need additional plugins to strengthen its functionality. We gathered the list of B2B plugins for WordPress from different aspects of your business website. While some of them may share similar features, all of them serve distinct purposes in general.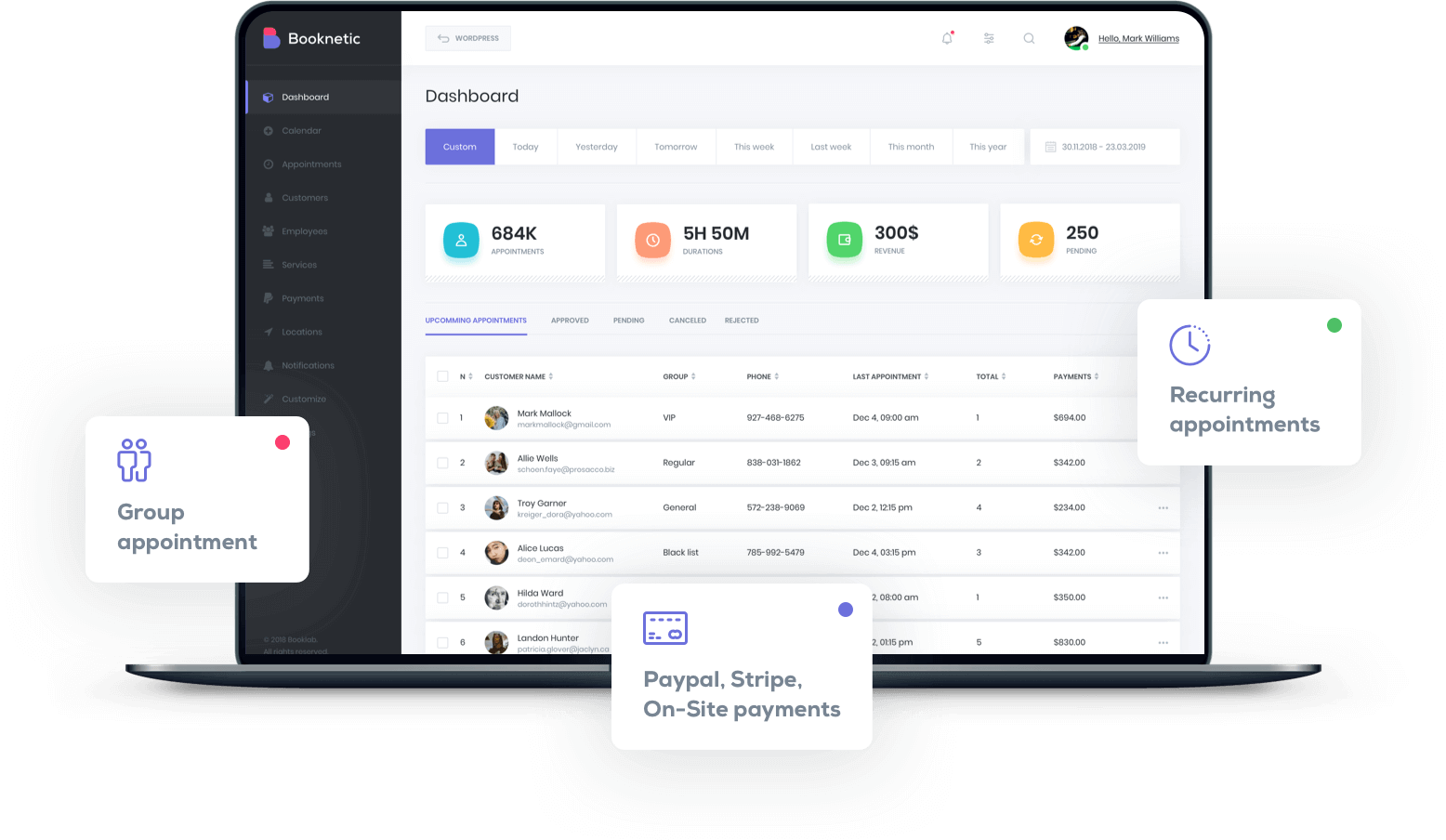 Booknetic is an advanced appointment booking plugin that enables you to optimize your appointment scheduling processes. An extensive list of features lets you fully automate your appointment booking process.
You can customize booking forms to create the most suitable user experience for your visitors. You are free to add or remove extra steps, rearrange them. Customization also includes the design of the booking panel. You can pick appropriate colors that align with your brand image.
Also, Booknetic lets you place the booking widget anywhere on your website. Plus, visitors can register on your website through their Gmail or Facebook accounts. Once they sign up, their data will automatically be saved on your database.
This further helps to gather and store customer information and use it for marketing and promotional purposes.
Through Google Calendar integration, you can share available time with your prospects. Additionally, Zoom integration is an out-of-the-box feature for all appointment-friendly businesses. Clients can access Zoom meetings through your booking plugin.
With enhanced notifications, you will be able to minimize delays. You can send reminders, emails, SMS, or WhatsApp messages to keep business clients around your business.
If you also sell products as part of your appointment-based service, Booknetic also supports sales of WooCommerce is a great extra for B2B websites to increase upsells or cross-sell their products within the appointment scheduling process. You can charge payments via PayPal, Stripe, or WooCommerce payment gateways.
By using Booknetic as your appointment booking plugin, you can handle different fields of appointments from a single dashboard. You need to pay a $79-lifetime payment to get access to all features and future updates Booknetic provides.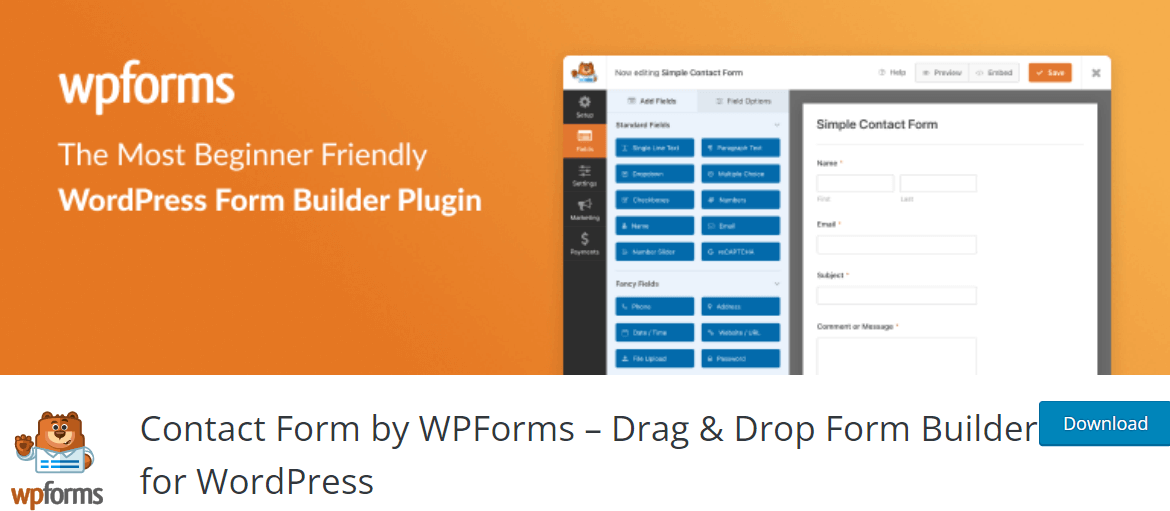 Contact Forms by WPForms is a powerful WordPress B2B plugin to create any type of form including registration, payment, contact, login forms, and more. You can even set up surveys and polls to gather customer feedback to improve your business.
The plugin uses drag & drop from builders to adapt to customers' workflow. You can add custom fields, rearrange their order without a hassle.
It also comes with 300+ form builders inside of a contact form builder. You can add star ratings, file upload, multi-page contact forms to your contact form. The plugin also allows you to integrate your email marketing and payment gateways for orders.
By supporting PayPal, Stripe, Square, Authorize.net gateways, it lets you accept credit and debit card payments.
It uses smart form logic that helps to create dynamic contact form change based on the user's answers. This helps to boost conversion and completion rates.
Also, Contact Form is a mobile responsive and SEO optimized plugin. Hitting over 5 million active installations, it is by far the best WordPress B2B plugin for facilitating the contact gathering process. You can pay $40 to get essential features for a single site.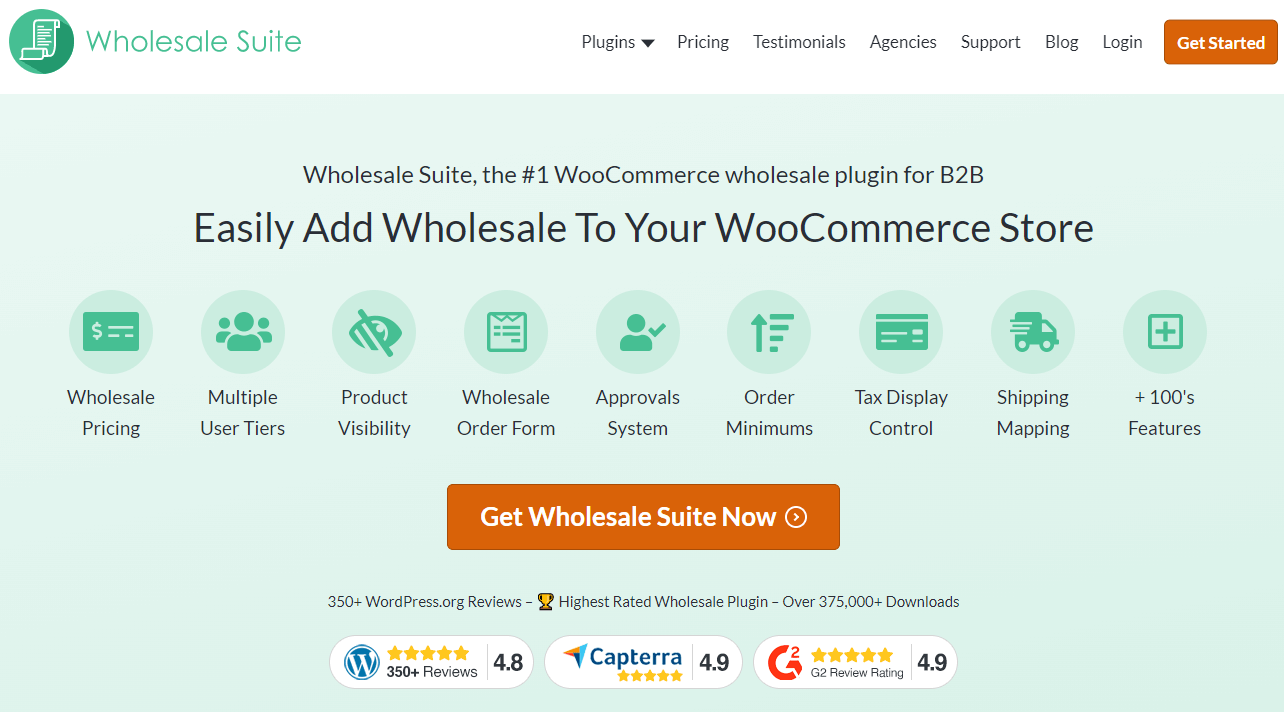 Wholesale Suite is a multi-purpose WordPress B2B plugin for WooCommerce websites. It serves 3 different wholesale e-commerce functionality within a single platform.
The wholesale price plugin lets you display different price rates. By setting minimum quantity requirements, you can inform store owners that they can get a better price with more quantity. When you differentiate wholesale customers from regular customers, you can create hierarchical pricing based on their roles.
All you need is to enter the product into the wholesale category and the customer's user role in the Wholesale category. This way, users will directly see the wholesale price for products.
As an order form plugin, it lets you create one-page WooCommerce catalogs that load on scroll. You can limit access to these pages to only wholesale customers.
It is also a lead generation plugin. You can create registration, login, thank you pages, and customized email templates.
It has separate sections to add shipping, payment, and other charges. For a single website, you can pay $297. If you have multiple stores you can pay $597 and unlimited websites.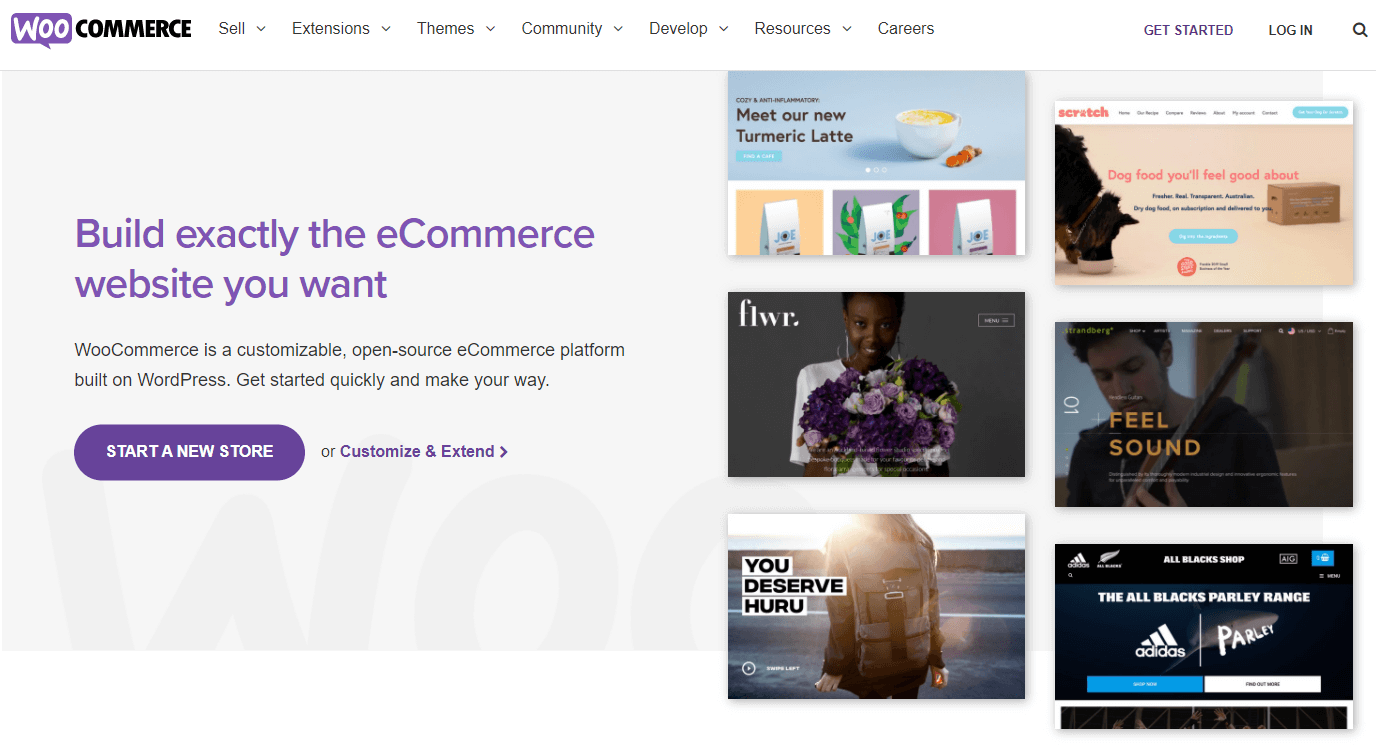 Could not pass the list of best WordPress B2B plugins without mentioning WooCommerce. It is the most popular and the most used e-commerce plugin in the WordPress market. The open-source nature gives you full control over your store's content and data.
To set up your store, it offers a range of themes for industry and product types. Then, there comes product blocks to design homepages and product pages, add product variations, and affiliate items. You can identify payment and shipping options when you configure the plugin.
Flexibility in payment options is another outstanding feature of this B2B plugin for WordPress. Woocommece supports various payment gateways including WooCommerce, PayPal, Stripe, Square, and also digital wallets for ease of use.
Mobile optimization ensures that you can manage your store from anywhere you want. You can view the dashboard, access tax calculations, and other features from iOS and Android devices.
As a master WordPress B2B plugin, WooCommerce integrates with several other B2B software like HubSpot, Mailchimp, and Google Analytics.
You can extend its functionality with free and paid WooCommerce extensions. All core features of the plugin are free. If you newly started your e-commerce website you can start with the free plan. Once your sales revenue gets increased, upgrade to paid plans to optimize your online store. Plugin fees change based on the extensions and features you add to your website.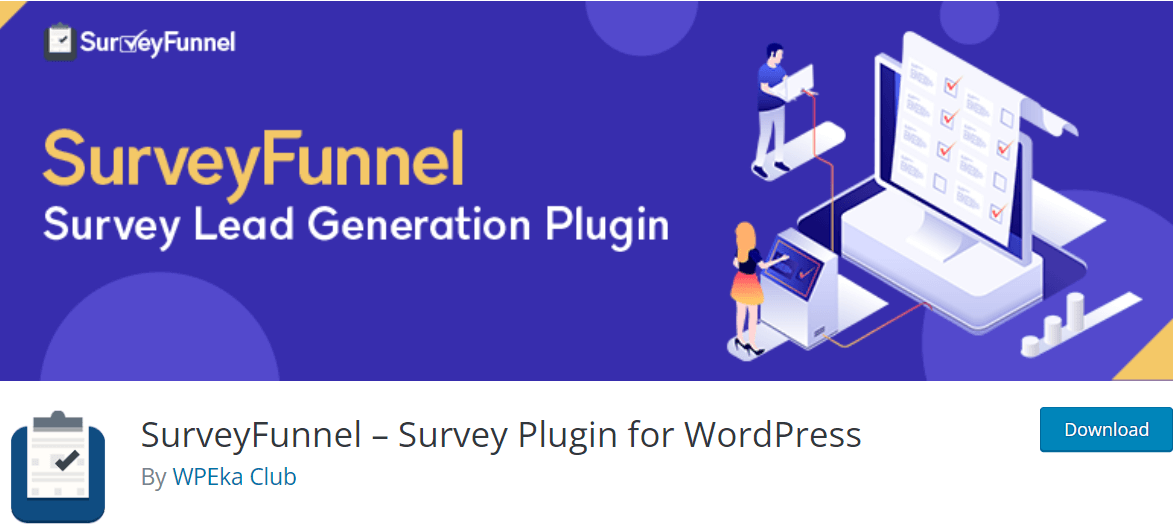 A big part of B2B operations passes through lead generation practices. Survey Funnel is a form builder for launching quizzes, surveys inside your website. It lets you understand the needs of your audience and take further steps to convert them.
It offers drag & drop survey builder, custom design, and thank you pages to optimize your lead generation process. When you build surveys you can add questions, rearrange their order, add different colors to differentiate them, and grab users' attention.
This WordPress B2B plugin also provides detailed reports for each survey. Such as the number of most answered questions, form completions, and opt-in forms.
The responsive feature makes sure that you will reach out to all users regardless of their device types. Using display logic, the B2B plugin for WordPress displays surveys in single or multiple pages. You can pay $47 for a year to get all features and convert more visitors into leads.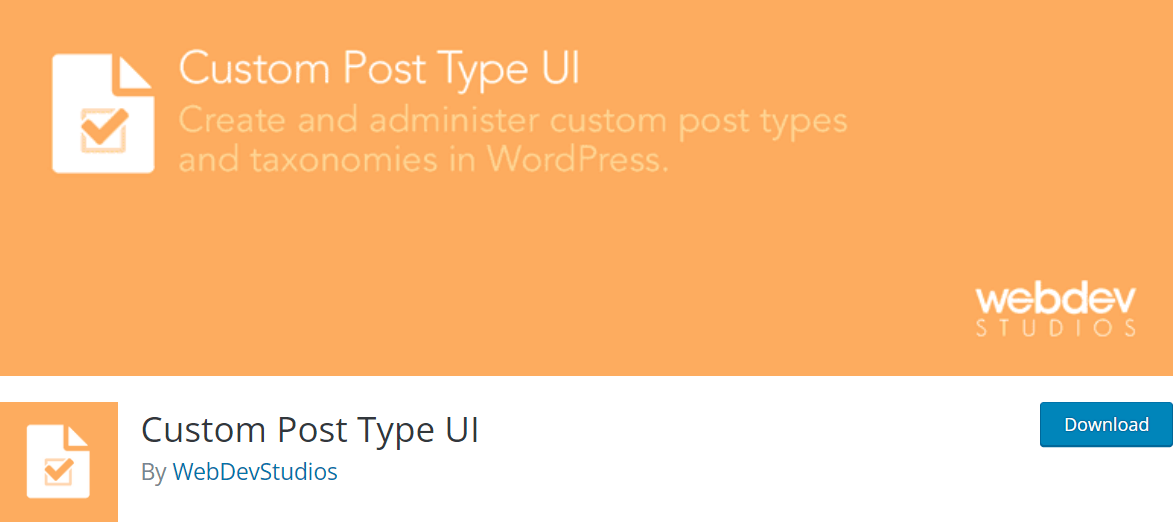 By default, WordPress has two content types: pages and posts. These types do not meet the needs of B2Bbusiness owners. The problem of creating custom post types is solved by Custom Post Type UI B2B plugin for WordPress.
The plugin offers an easy-to-use interface to add custom post types and taxonomies to your WordPress website. To differentiate post images from data it offers responsive layouts with various imagery styles. For example, you can show products or services using grid layout, list, or single styles forms depending on their features, types, and other defining factors.
If you have a range of information that has to be categorized on your website it is one of the essential WordPress B2B plugins to add. Apart from products, you can display other data like team members, and events which are pretty effective strategies for B2B operations.
CPT UI has three-tier pricing packages. The fee for a single website is $29. The upper-tier plan costs $84 to use on an unlimited number of websites.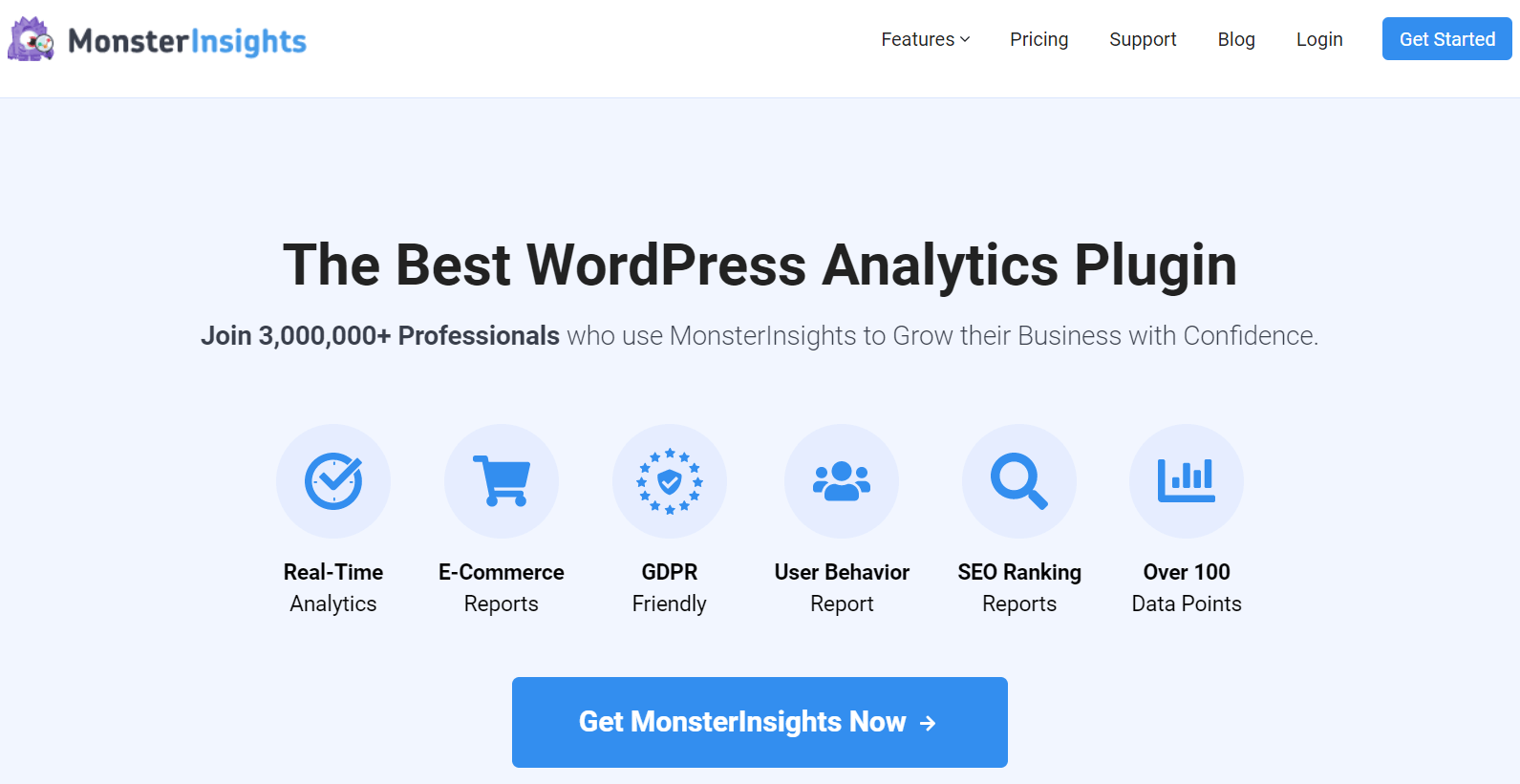 Scaling your business is impossible without having statistics on your operations and marketing efforts. MonsterInsights is one of the best WordPress marketing plugins to add to your website. Adding built-in analytics B2B plugins for WordPress sites should be one of your priorities.
MonsterInsights is a powerful Google Analytics plugin among the best WordPress B2B plugins. Connecting your website to Google Analytics lets you get valuable insights into your website.
It turns complex data into easy-to-read reports. You can also view customized reports with this WordPress B2B plugin. This excludes invaluable data from the list and removes any fluff data. These include form, behavior, content, site speed, custom dimension reports to provide a deeper understanding of separate parts of your website.
This helps to understand your audience better, track your KPIs better, and take the required steps.
If you have a WooCommerce website, it lets you craft valuable data using tracking functions. All your crucial e-commerce data will be visible in your WordPress dashboard. Such as conversion rate, order value made in a transaction, etc. You can use a data-driven strategy to increase conversions and sales in the end.
You can pay $100 per year to get analytics and integration features for a single website.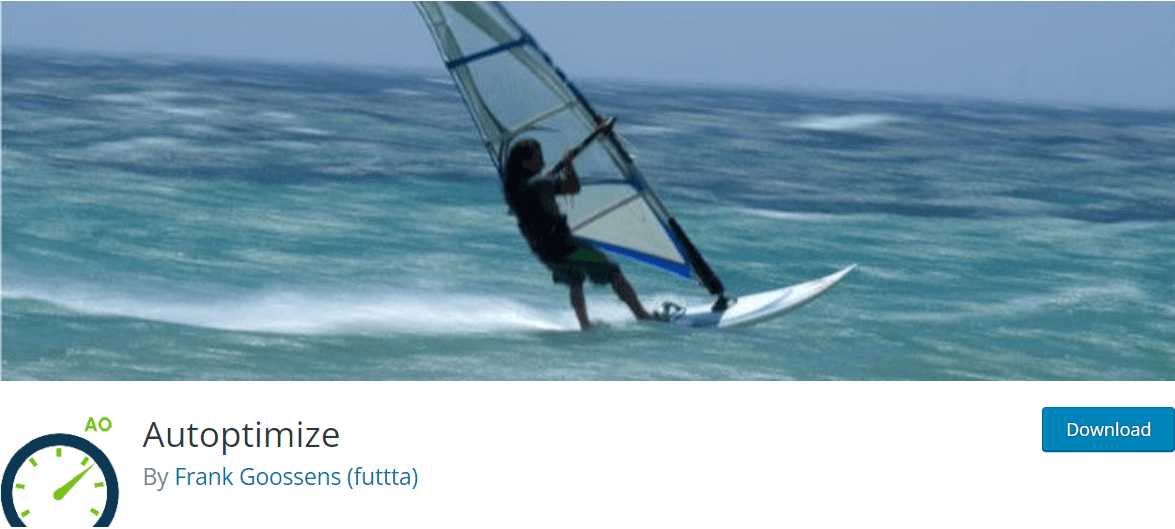 In addition to content, your website needs to be optimized for technical requirements. Bad website experiences such as slow loading, and unorganized front-end can shy potential customers away. The fact that B2B clients are more sensitive to website experience can result in loss of lead and revenue.
Autoptimize takes care of your website operations in terms of speed. By minifies, caches scripts and styles, and also compresses websites images to increase load time. Using this B2B plugin for WordPress, you can also optimize Google fonts, and async non-aggregated JavaScript.
Also, it tweaks CSS to improve website performance. Autoptimize can either inject CSS in the page header, or inline critical CSS in the header and put aggregated full CSS and defer scripts to the footer, and minify HTML.
If you have a content-rich website, these modifications will drastically improve your site operations without disrupting your code. At $299, Autoptimize provides tailored solutions to your websites. If you look for complete speed optimization, you can pay $799.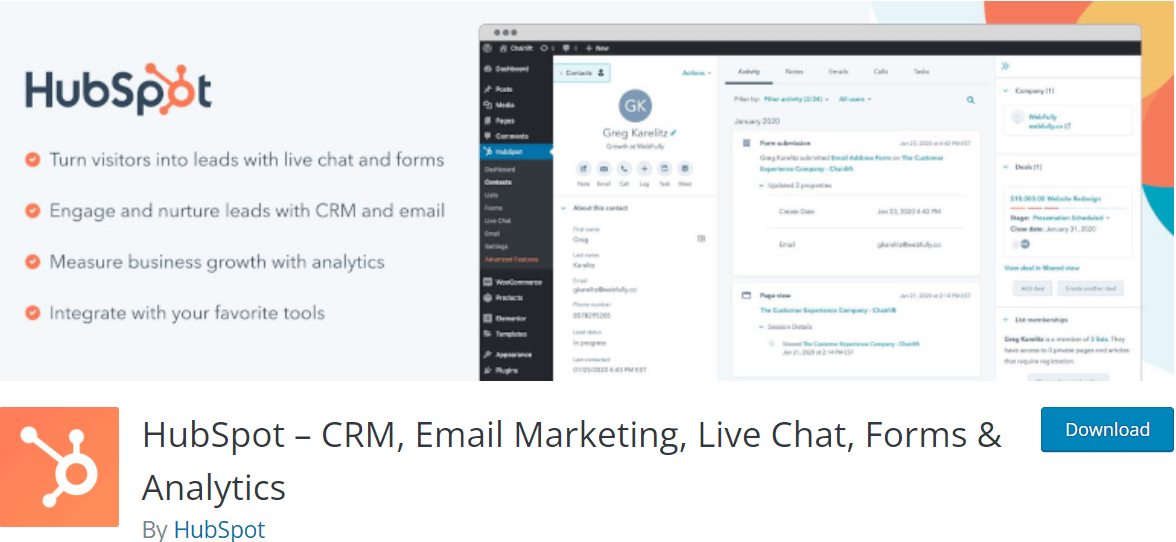 As a CRM tool, HubSpot revolutionized business operations for both B2B and B2C businesses. Its plugin helps business owners to incorporate their marketing, and customer service into their websites.
Its features help to turn visitors into leads, nurture customer relations, and grow your business. In this regard, live chat, chatbots, contact forms, and forms help to start and proceed with conversations with prospects.
Using a built-in list builder, you can manage your entire contact list. You can also send email newsletters using the drag & drop email builder. You can define personalized messages for each subscriber, run A\B testing, and track email campaigns. Analytics provides results and gives clear insights into your lead generation procedures.
It is the best WordPress B2B plugin for uniting all crucial components of B2B lead generation. You can access essential features for free. For more advanced options like list segmentation, and custom field mappings, you can pay $45 per month.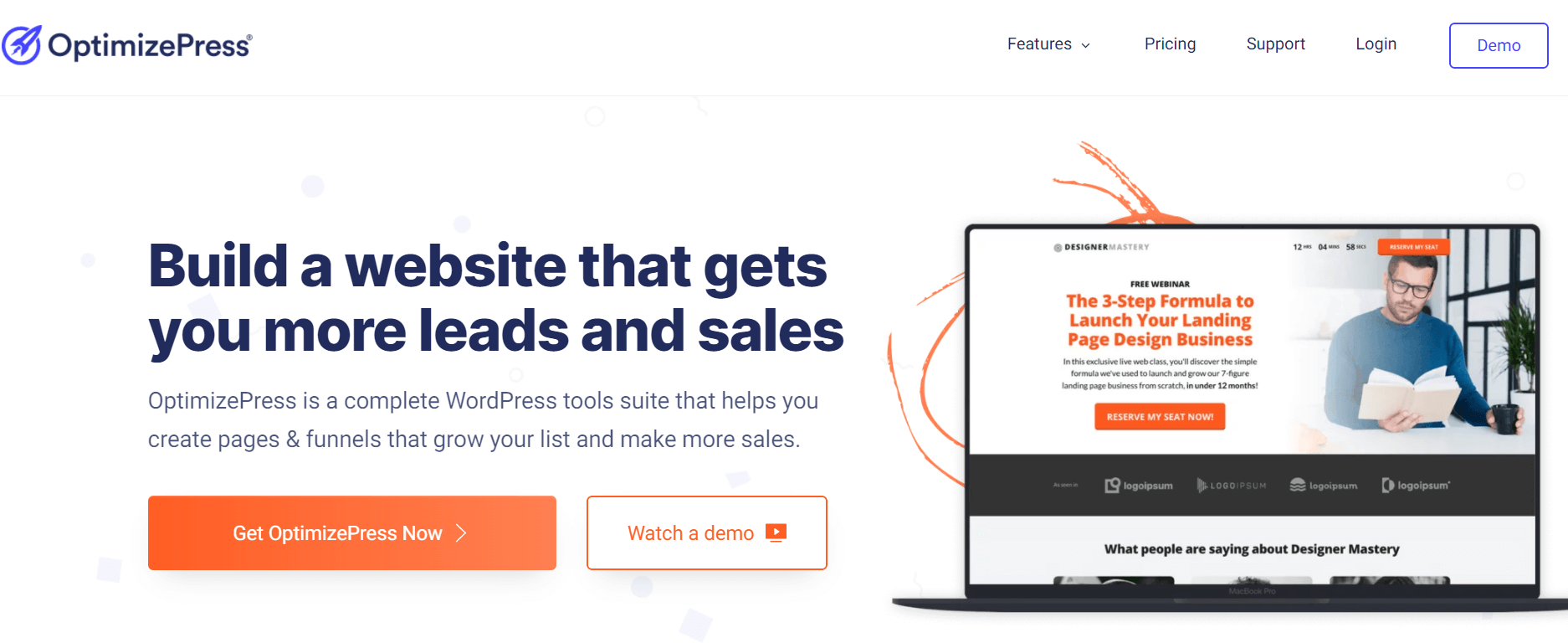 It is needless to mention the importance of great landing pages for engaging and converting websites. OptimizePress is a complete WordPress tool that contains plugins and themes to create high-converting landing pages.
It includes opt-in & landing pages, sales pages, checkout pages, lead funnels, and more from creating prospects to the end of the sales funnel. Drag and drop editor makes designing pages much faster and more effective. The preview option lets you see the design of pages before launching them.
The plugin also considers payment processes such as pages for discounts, coupons, credit \ debit card payments, and file sharing after completion of payment.
A live editor page builder is also provided within this B2B plugin for WordPress. You can either use it to choose a blank page to design a landing page or use prebuilt templates for that.
The plugin works for freelancers, agencies, solo enterprises, and eCommerce sites that provide solutions for businesses. The premium account for a single website costs $149 where you can build unlimited pages and get 30+ integrations.
==> Also read: Benefits of Appointment Booking for Law firms
Final words
By addressing the different needs of business owners, B2B plugins for WordPress provide crucial functionalities to scale your business website.
Some of the arm you within the product or service delivery process by directly interacting with customers. While some give you insights to make data-driven decisions during business development.
Having the best WordPress B2B plugins on your website, you can efficiently manage your work, access different tool integrations within plugins, and raise your revenue in the end. By identifying your core needs, you can figure out what type of plugins you need to get. These WordPress B2B plugins are from essential categories that you will eventually look for.
Sign up for our newsletter
Be the first to know about releases and industry news and insights.
Let's

get started

on something great
Booknetic is a simple yet powerful plugin for accepting online bookings & payments on your WordPress site.