Popular WordPress Blogs to Read and Stay Updated in 2023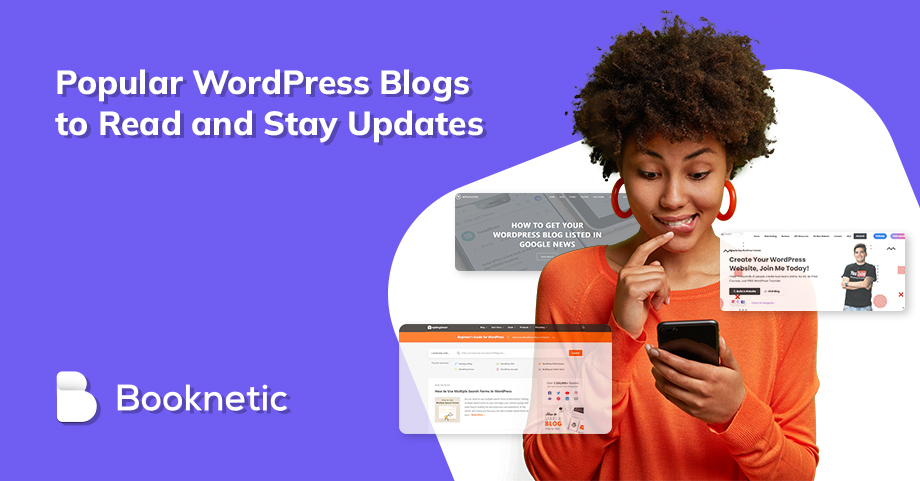 Looking for the best WordPress blogs to read? Want to stay informed about the latest updates and business tips? Then read this blog to find them.
WordPress is the largest Content Manage System in the world. It allows individuals and entrepreneurs to start blogging, own websites, and make money. While noteworthy WordPress blogs to read help this process by sharing tutorials, reviews, and tools. Just like influencers, these blogs have the power to change the purchase decisions of users and their further product development.
In this blog, we will introduce you to the best and most popular WordPress blogs to read and stay on top of your business.
14 Best WordPress blogs to read

FS Code is a popular WordPress development blog that covers all things coding in WordPress. FS Code is a great blog to follow if you want to keep up with the latest WordPress information.
It is a great resource for anyone who wants to learn more about coding and developing with WordPress. The blog features tutorials, tips, and resources for both beginners and advanced WordPress developers.
In addition to being a great resource for WordPress information, FS Code offers automation plugins that will make your work easier.
If you're serious about learning WordPress development, this is a blog site you don't want to miss.

Booknetic is a multi-purpose WordPress appointment booking plugin with strong features. Plus to providing the best booking solution for WordPress websites, we also have a dedicated blog page. We put customer experience and satisfaction at top of our priority list. Rather than limiting our blog's focus on our plugin features, we set a big picture to blog page coverage.
Our blogs address a wide range of topics including WordPress plugins, themes, hosting services, WordPress development, integration, and deployment. Also, we take a holistic approach to the overall business enhancement of our customers.
Medical clinics, spa and wellness centers, fitness studios, life coaches, educational trainers, law firms, and many appointment-led businesses can find business, marketing, tips and tricks, and best practices to optimize their businesses in the digital era.
Along with the authenticity and coverage of our topics, we are also dedicated to the consistency of our blog sharing. We upload blogs on a daily basis based on the hot topics of different industries. If you want to stay connected and updated about your business and WordPress, subscribe to our blog page.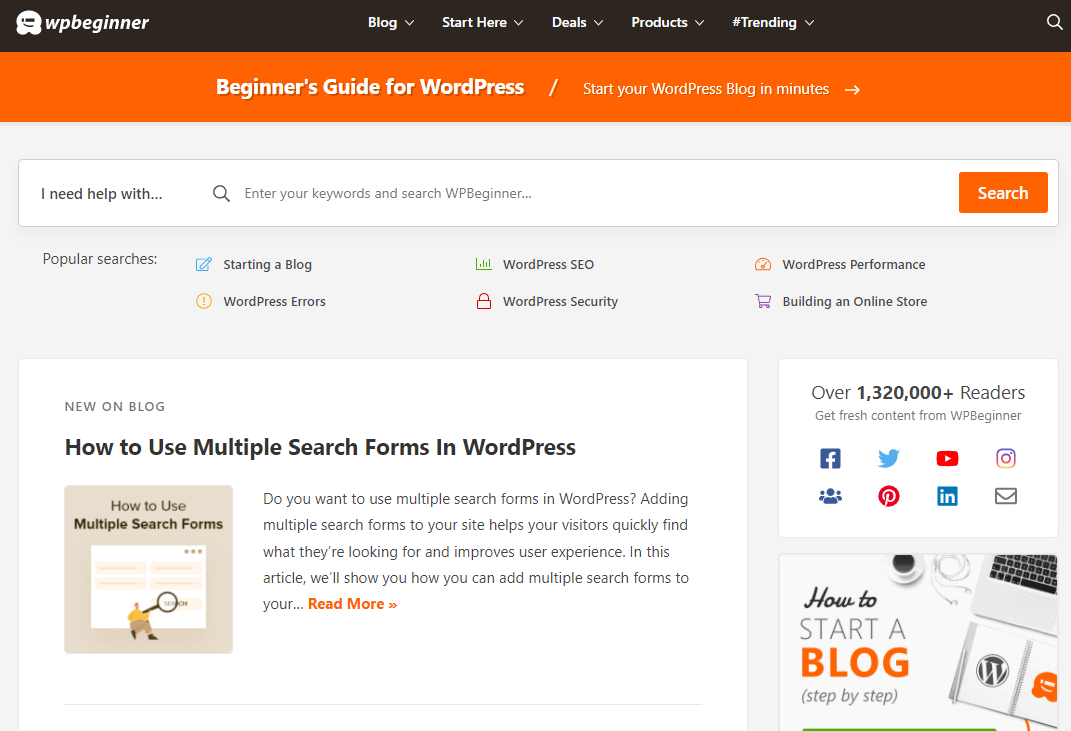 WP Beginner is the largest free WordPress resource for beginners. Because of its simple explanations and in-depth tutorials, it is one of the best WordPress blogs to read. It helps non-techies to understand and apply development practices to their websites.
Its structured writing style makes it easy to understand the topic. Though this site is mainly considered for beginners, the covered topics are also applicable for professionals and WordPress experts.
You can find lots of WordPress tutorials and guides around different topics. Such as plugins, themes, WordPress security, WordPress SEO, building an online store. They also partner with different service providers and give coupons and discounts for readers.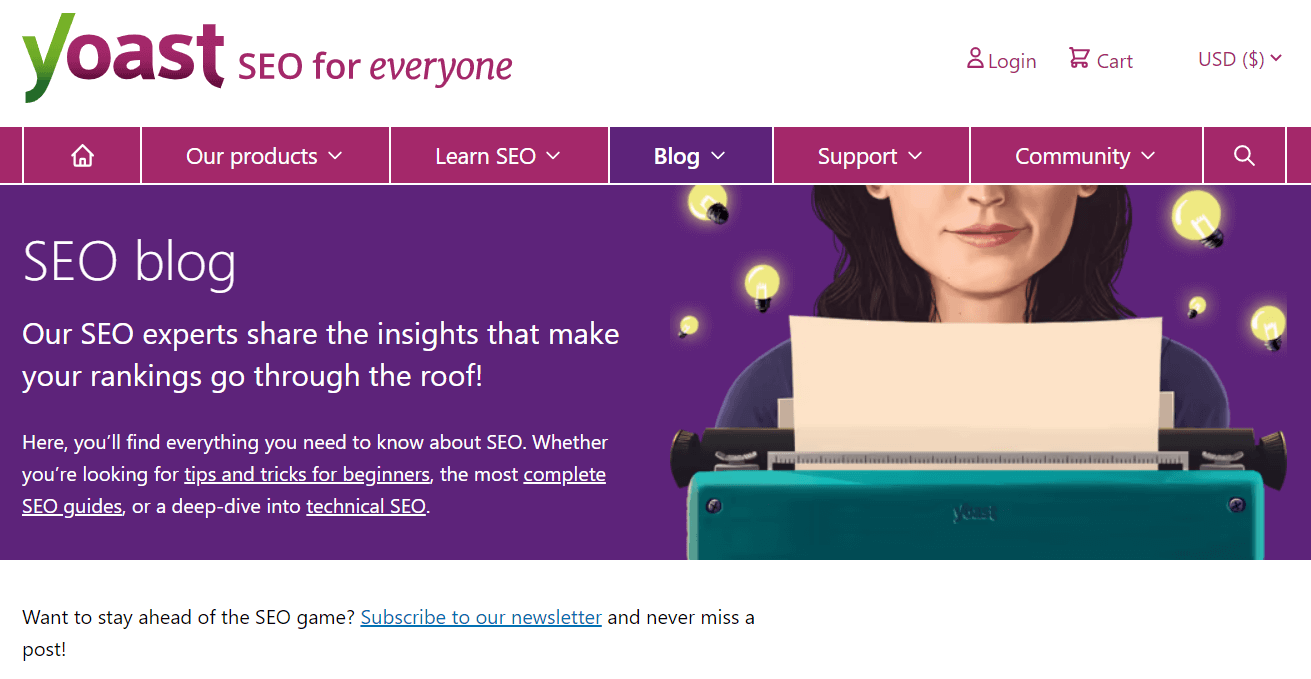 If you are in WordPress for a while, you have definitely heard about Yoast SEO. it is one of the best WordPress SEO plugins you can use for free or paid. While other WordPress blogs listed here deal with complex WordPress development, Yoast SEO blog is a complement blog for SEO.
You can find SEO basics, guides, Shopify SEO in different categories. They share insightful content about On-page SEO, Off-gage SEO, copywriting.
If you care about the performance and SEO score of your site, subscribe to their blogs. From beginners to WordPress savvies, everyone can use their content to improve their website performance.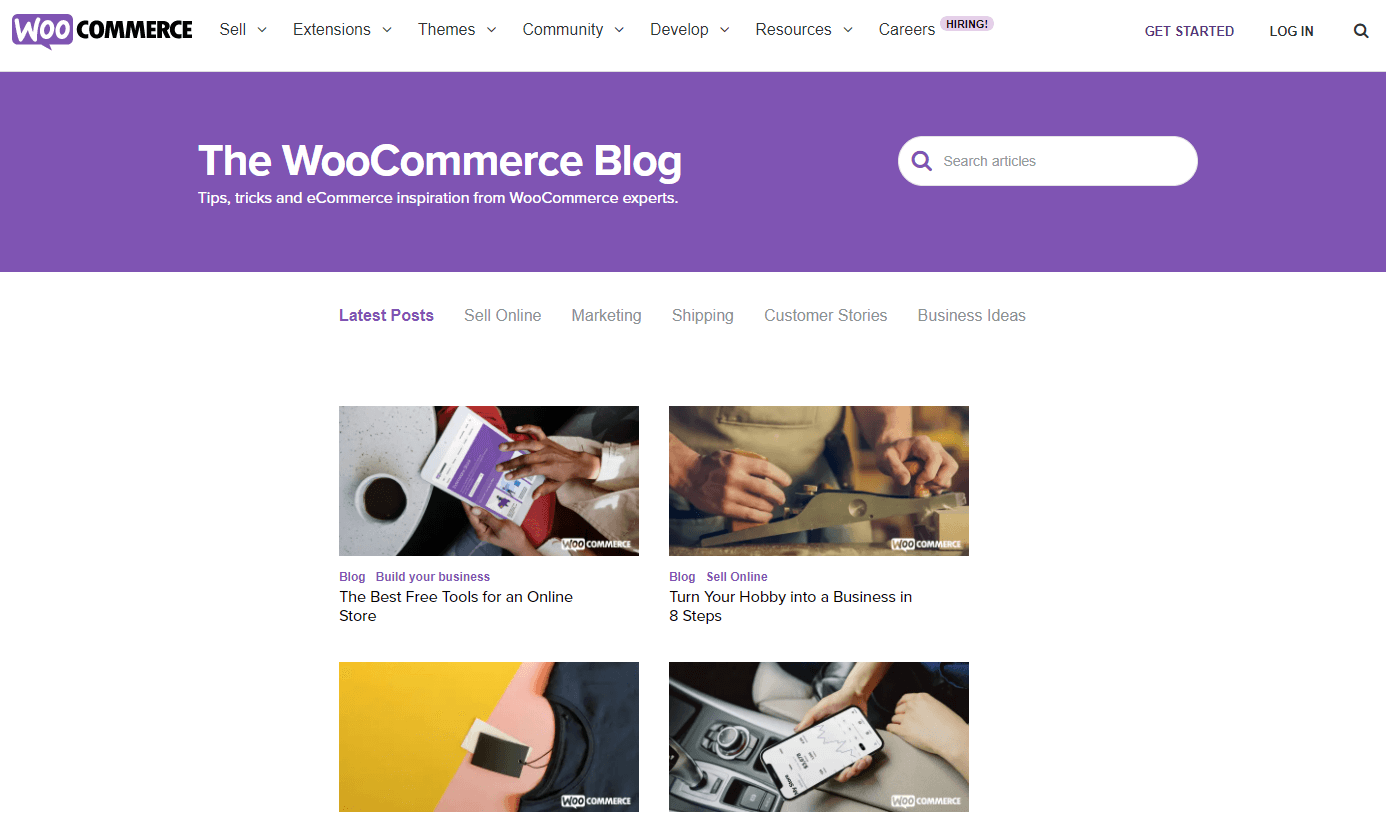 WooCommerce is the most used eCommerce platform in WordPress. There are hundreds of plugins, themes, and add-ons built by different developers to optimize WooCommerce websites.
WooCommerce also has one of the best eCommerce WordPress blogs to read about online store optimization. Its blogs help users and newbies to start an online shop and improve it. In fact, it has separate blogs for developers and business owners to make the shared content understandable for each side.
Developer blogs talk about migration, integration, neü releases, and changes. While the business blogs talk about marketing, online selling, shipping, and customer experience subjects.
Along with review and comparison posts, they also share tips for improving the eCommerce site experience, generating revenue. You can find the latest news and updates on WordPress, WooCommerce, new extensions, and add-ons.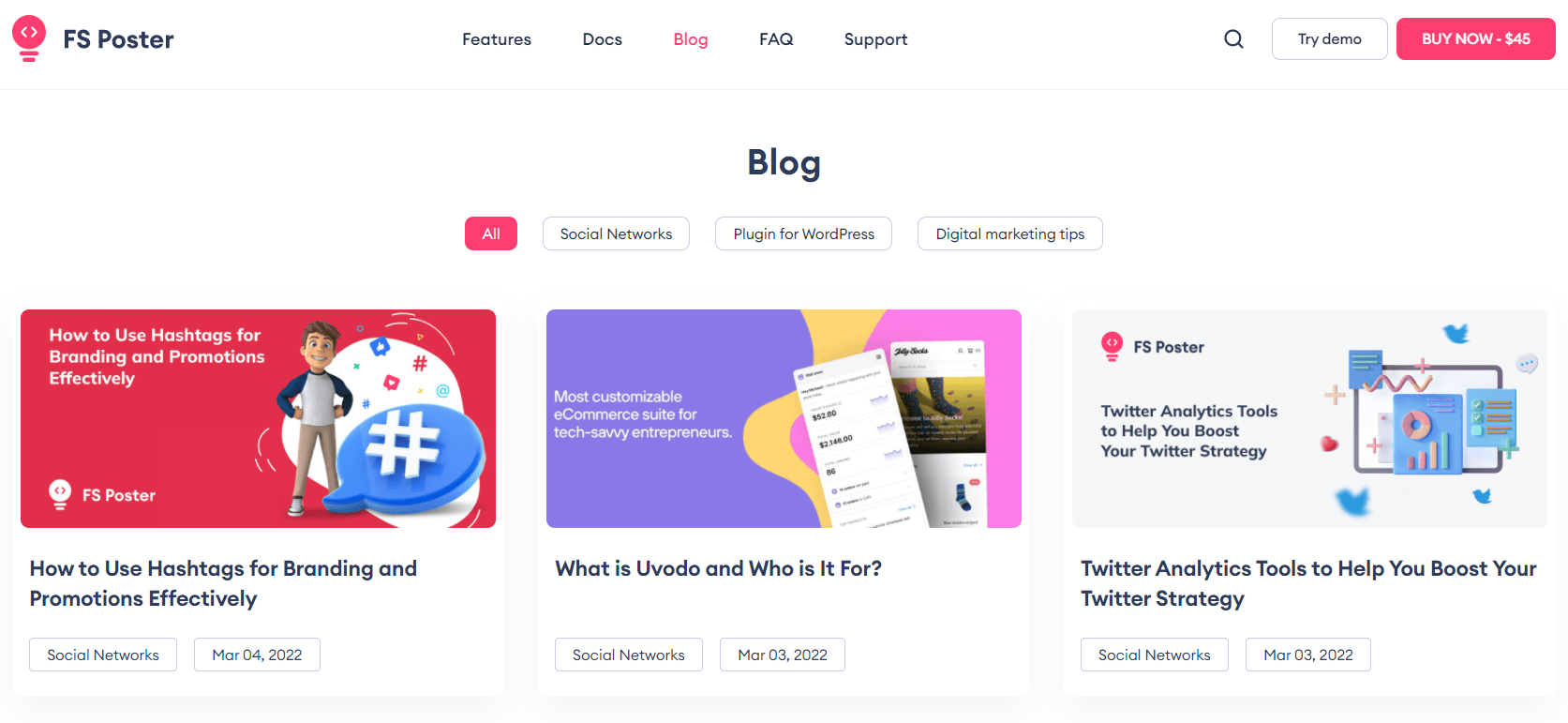 FS Poster is a WordPress auto poster plugin with 15 social network integration. It is one of the best social media feed plugins allowing users to auto share or schedule unlimited posts, images, or videos to profiles, pages, and groups,
Its blogs cover broad topics to help WordPress websites to utilize social media experience. You can find lots of themes, plugins, and tools developed for different social platforms in this blog. Comparison and review posts help users to make better decisions on their purchases.
Also, you can find valuable tips for paid and organic promotion of your WordPress website through different marketing channels and on platforms.

Chris Lima is one of the most active members of the WordPress community. He has over 15 years of writing, coaching, and speaking experience in WordPress development. His website is one of the best noteworthy WordPress blogs to learn about website development and optimation.
His blog covers a wide range of topics including eCommerce, agency growth, WordPress themes, hosting, and personal insights from his experiences. All of his topics can assist individuals and companies to grow their websites. We highly recommend you subscribe to his weekly blogs to stay on top of WordPress technicalities.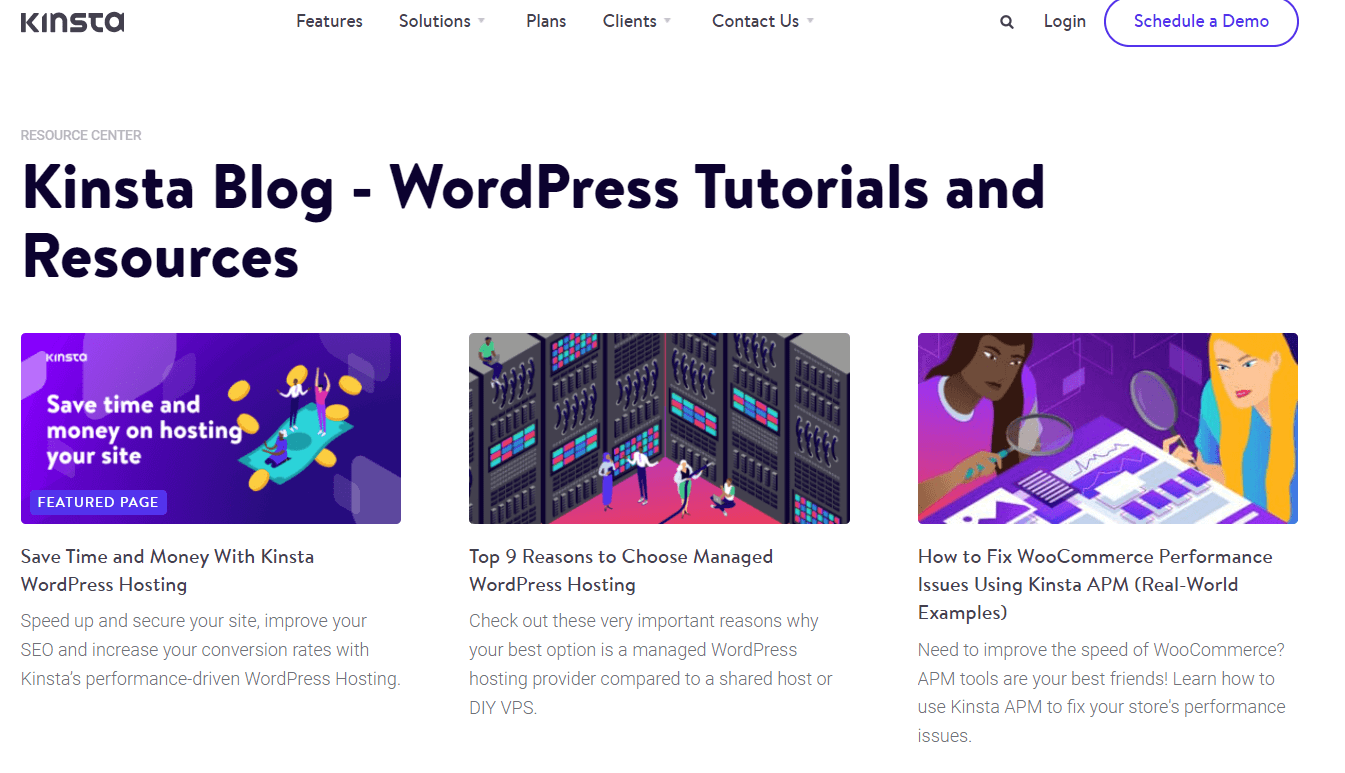 Originally, Kinsta is a WordPress hosting provider for online shops, websites, enterprises, and agencies. They are well known for their premium quality on the market. Yet, they are among the best WordPress blogs to read in terms of their tutorials and technical guides.
You can find different types of topics about WordPress SEO, hosting, WooCommerce tutorials, site migration, and more. If you are in trouble with your website, you can use their detailed tutorials and best practice blogs to find a step-by-step solution.
Additionally, Kinta shares one-on-one comparison reviews of different products, hosting providers, and other services to make you easily make a decision.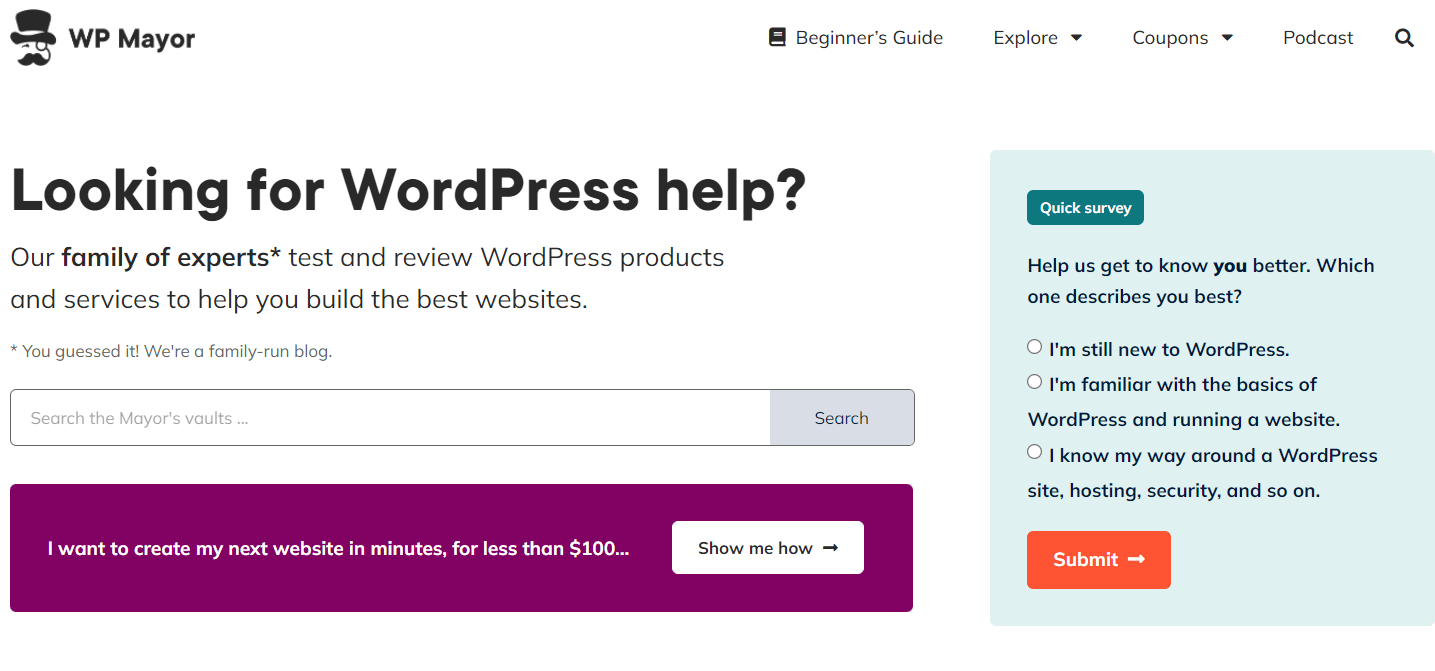 Founded as a personal blog, WP Mayor turned out the be one of the most popular WordPress blogs to read. It is a top WordPress resource for tutorials and reviews. To simplify the readers' understanding they categorize blogs under beginners' guide to WordPress and extensive blogs.
You can find many articles and blogs about plugins, themes, WooCommerce, social media, page builders, services, hosting. Although, they mostly cover review content, they often tutorials, guides, and the latest news around WordPress.
In addition, WP Mayor also has an eLearning part where you can learn everything about site-building and optimization from scratch. Moreover, they usually partner with premium WordPress plugin, theme, or page builder developers and give discounts for their readers.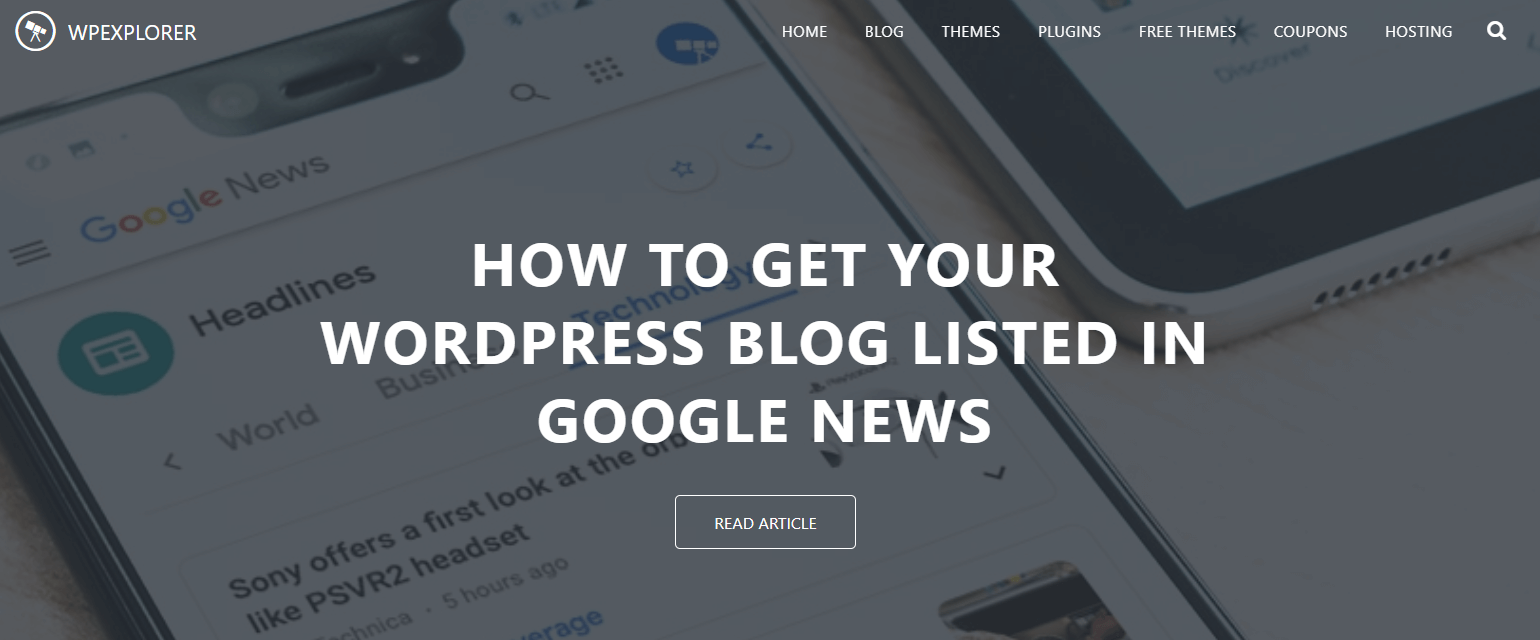 WPExplorer is a developer of drag & drop WordPress themes and also has one of the most popular WordPress blogs to read. They cover all aspects of WordPress to provide readers with all-around knowledge.
You can explore blogs under tips, news, tutorials, SEO, security, reviews, and plugins categories. They publish extensive lists of themes, plugins, and comparison reviews to make users take the maximum benefit from the site.
Plus, they also share coupons and deals for WordPress themes, plugins, and hosting providers for affordable usage.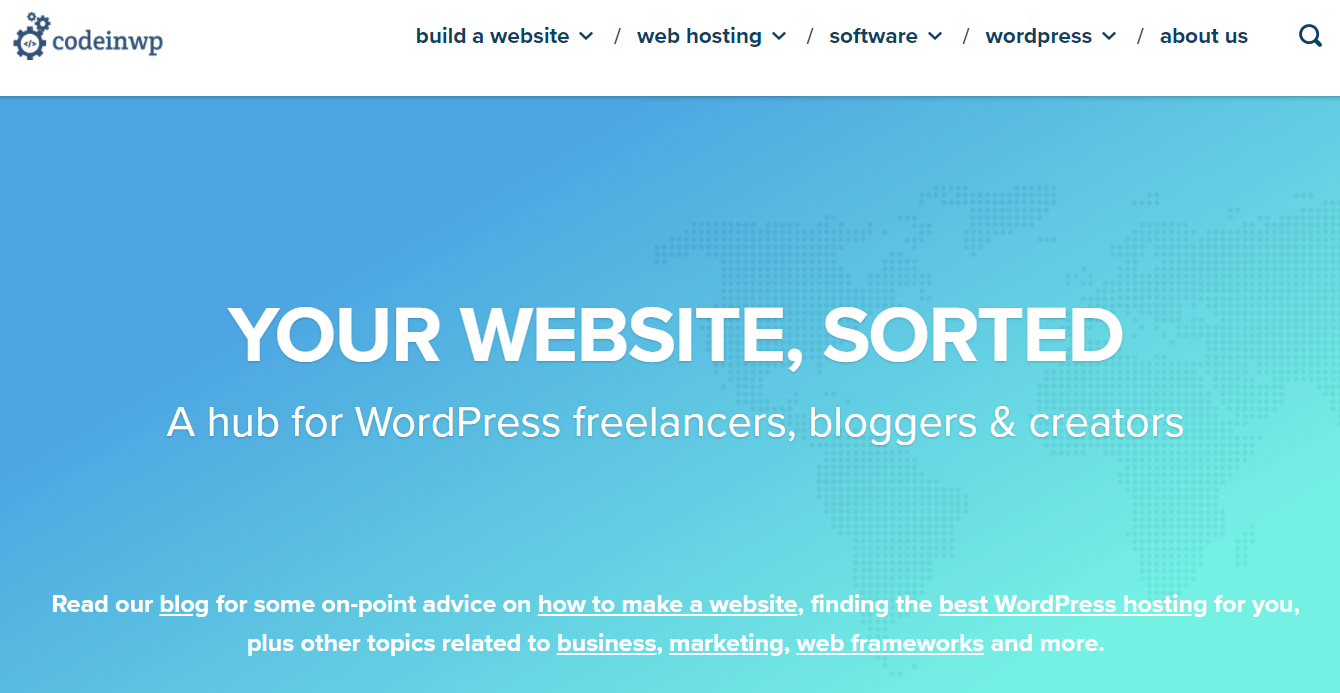 CodeinWP is another reliable and noteworthy WordPress blog to read. You can think of it as a hub of WordPress community with creators, bloggers, and developers. They cover detailed and quality content for the development and improvement of WordPress websites.
You can find various blogs about making websites, blog pages, online stores, eCommerce platforms all in separate articles. They also share reviews and comparison blogs about WordPress themes, plugins, and hosting providers.
Along with WordPress products, they also introduce lots of valuable tools for email marketing, cloud backup, live chat, helpdesk software that can be integrated into WordPress to power up your website.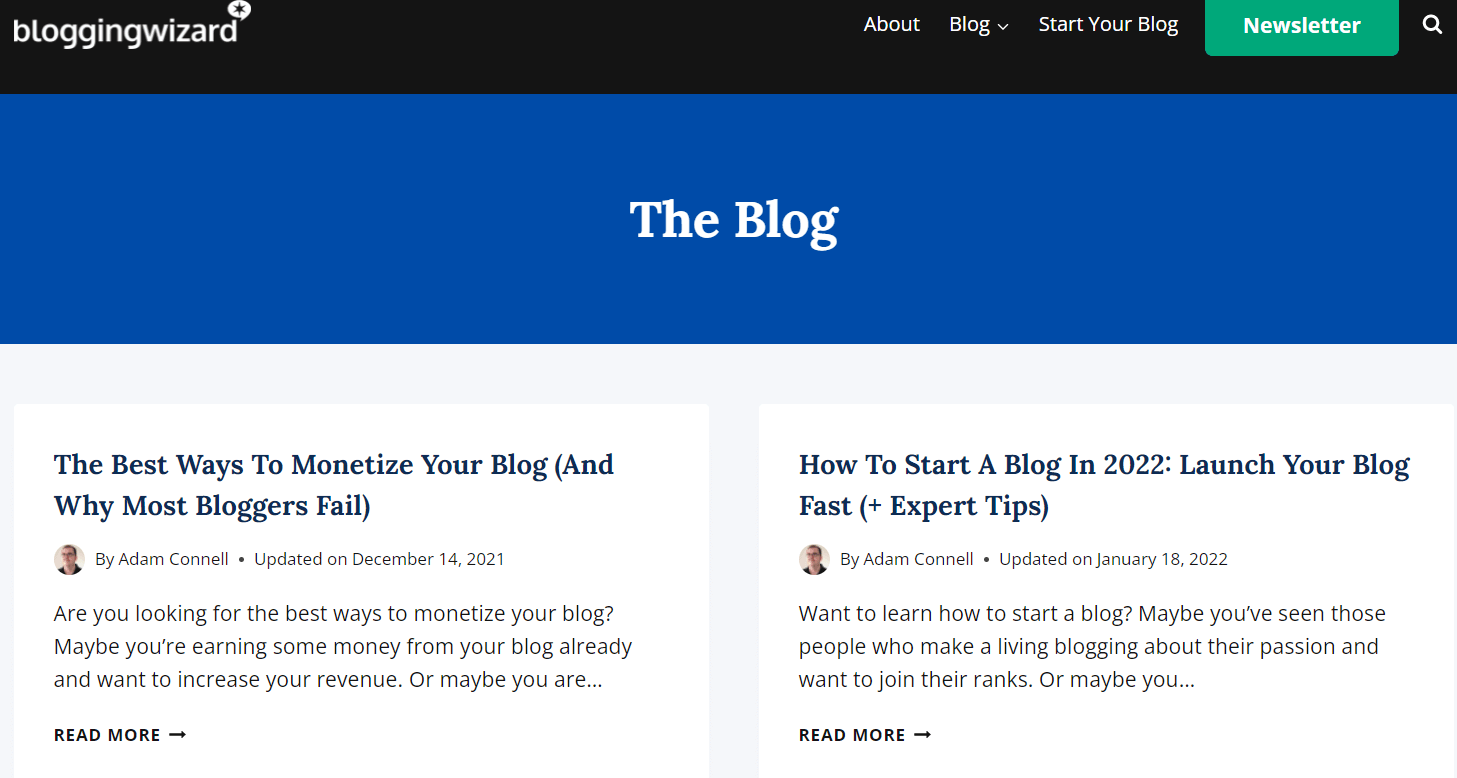 BlogginWizard provides valuable resources to the WordPress community. Their content coverage helps entrepreneurs and bloggers to make money from their WordPress blogging. As an award-winning blog, they have been mentioned in lots of well-known journals including Forbes, Microsoft, and Search Engine Journal.
You can find lots of blogs and resources about plugins, themes, hosting providers for WordPress. Also, they often write about the latest marketing and business statics to help you make smart decisions.
In addition to WordPress products, they also share much about social media, digital marketing automation tools to help you grow your business.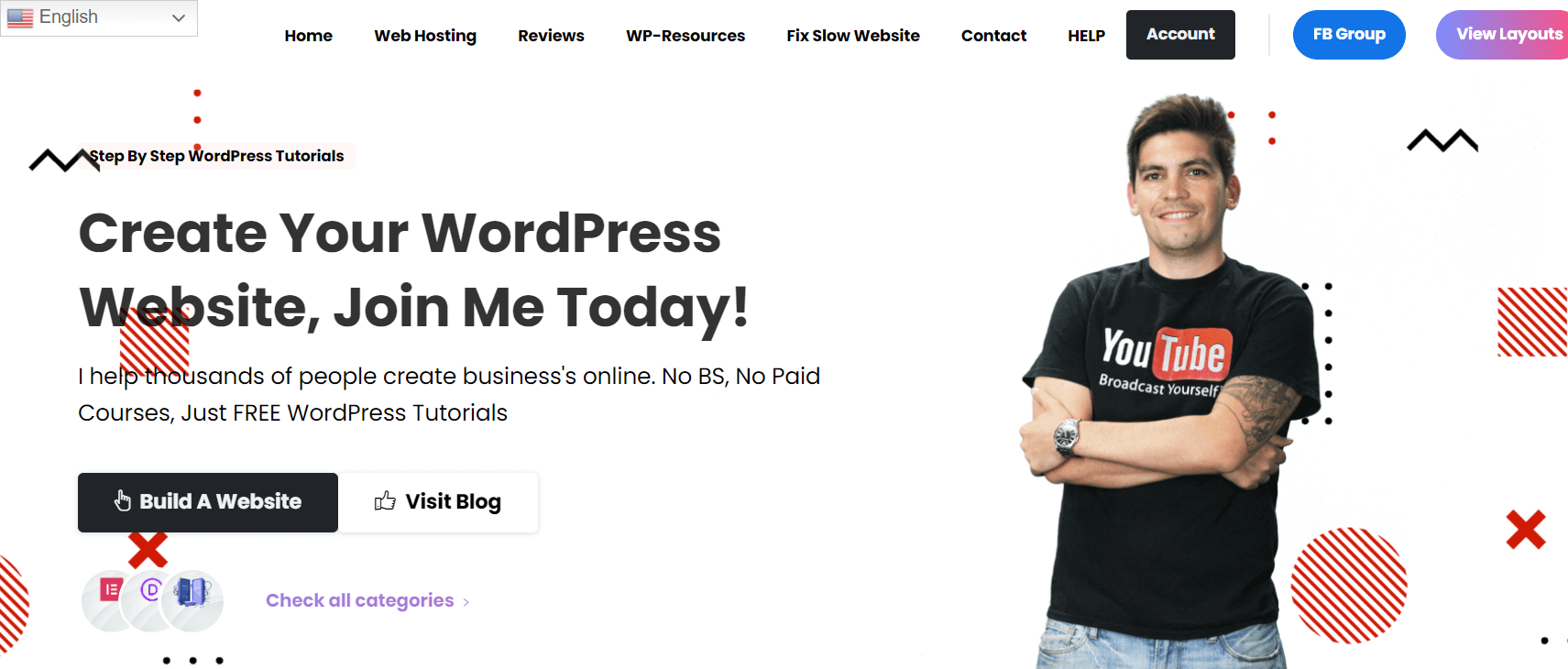 If you are on the WordPress community for a while, you have probably have encountered Darrel Williams. He has a whole website dedicated to WordPress development from WP resources, hosting, review content for a variety of WordPress plugins, themes, and other products.
The main topics you can find on his blog are templates, hosting, themes, plugins, hosting providers, complete review blogs, and comparison posts. His how-to tutorials are one of the best WordPress blogs about site migrations, deployment, and tips & tricks.
He also has a YouTube channel where you can view his tutorials one-on-one.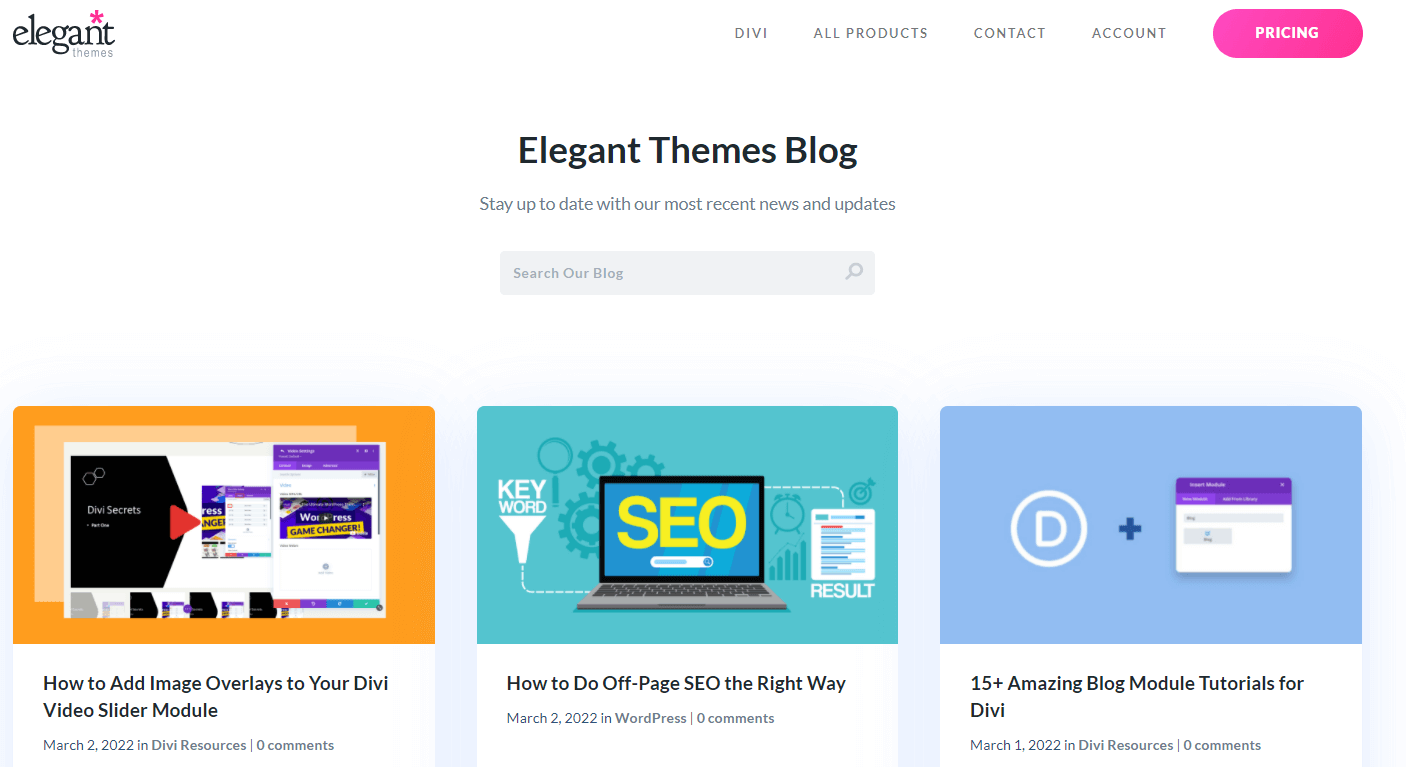 As a prominent WordPress themes developer, Elegant themes also have a great WordPress blog page. Plus to covering themes and templates, its blogs consist of WordPress blogs, tutorials, integrations.
Plus to regular listing blogs, Elegant themes talk about all the events and updates about WordPress. Some of the categories you can find extensive information on our business, SEO, WordPress community, site mapping, business, deals of a week, and more.
From beginners to WordPress savvies, all readers can benefit from this blog to stay updated on the WordPress ecosystem.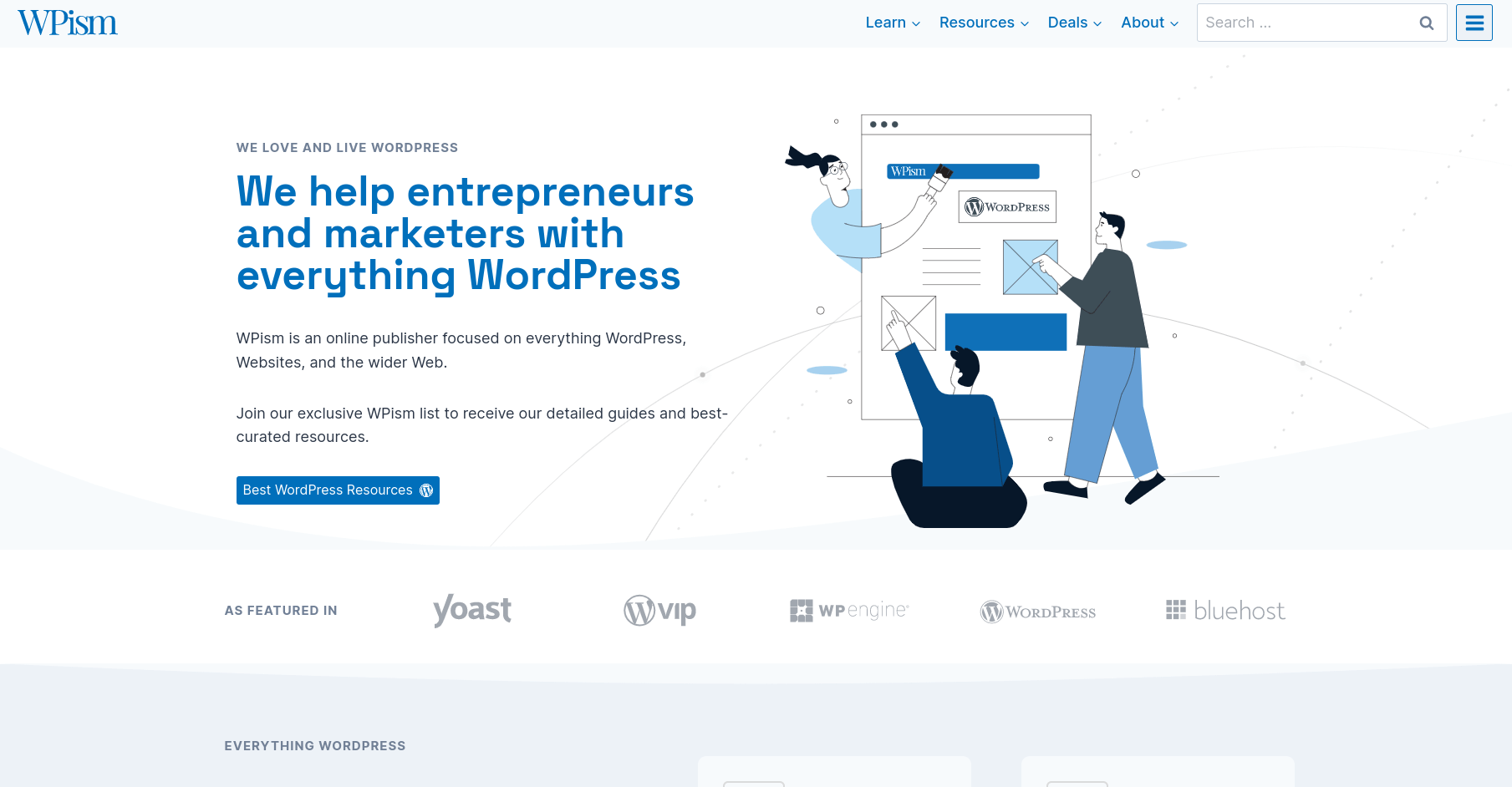 If you are just starting to learn WordPress, WPism will be the blog site for you. There are blogs that help you with more advanced explanations than simple explanations.
It's filled with tips, tricks, and tutorials on everything WordPress. If you want to stay up-to-date on all things WordPress, then WPism is the blog for you. Whether you're a beginner or an experienced user, WPism is a valuable resource for anyone who wants to stay up-to-date on the latest in WordPress.
Besides the blogs, the site allows you to earn WordPress coupons and opportunities/

Wrap up
Sure, there are lots of other popular WordPress blogs to read that deserve to be on this list. We focused on the once that every website needs these blogs' content to improve their site performance.
These provide technical guides and business tips that help you to reach your business goals in the digital environment.
Keep eye on these best WordPress blogs to read and follow them to stay updated on the latest changes.
Sign up for our newsletter
Be the first to know about releases and industry news and insights.
Let's

get started

on something great
Booknetic is a simple yet powerful plugin for accepting online bookings & payments on your WordPress site.