6 Step Method to Naming a Medical Practice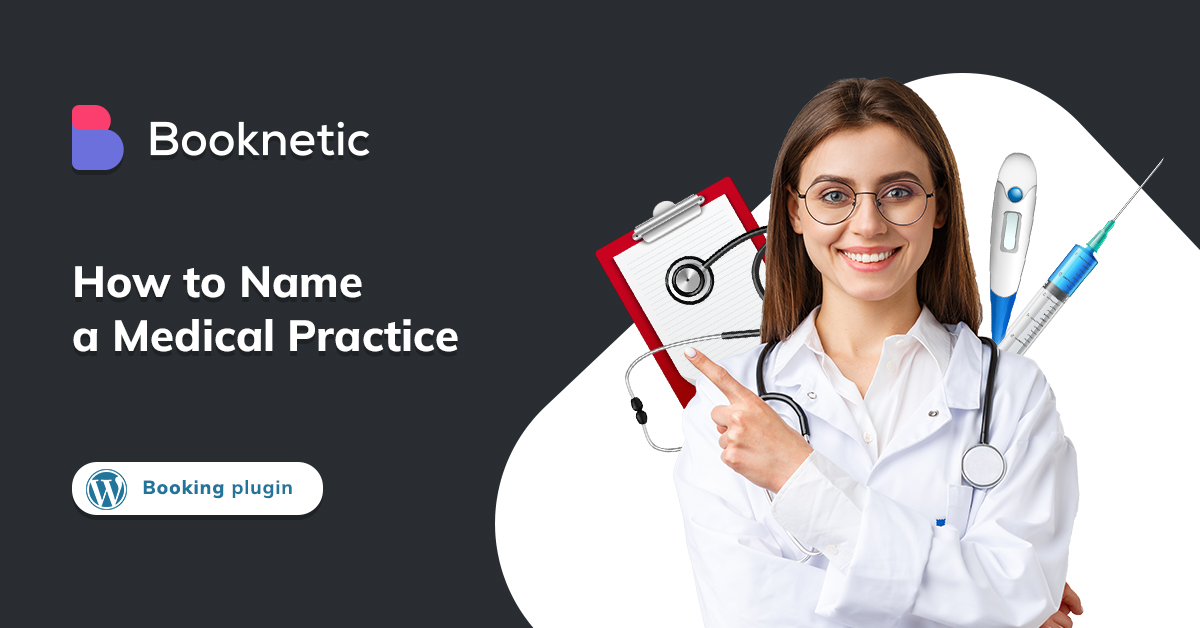 You are scratching your head for how to name a medical practice that decently resembles your healthcare service and is tied with your marketing efforts.
The importance of catchy medical clinic names
Alright, doctor. You have made the biggest part. You decided that you want to go out and start your own clinic. Now, the second most important decision to make is how to name a medical clinic. As the cornerstone of medical practice identity, it will determine how people will find you online, how they will remember you, and transfer that concept to the people around them.
If you fail to find the appropriate name on the first try, you will face numerous issues in the future. That counts the time, registration requirements, trademark, marketing and PR, and financial costs of rebranding a clinic name. Not to mention the hidden costs of it, like loss of patients due to name change, the bad reputation associated with the previous name, huge SEO issues for the website, and the list goes on.
How to name a medical practice?
There are several proceedings to consider before sitting down and generating medical clinic names.
1. Set off from your niche
As in every business, it is important to define who is the target audience for your practice. You want to speak to the needs and interests of the audience you aim to reach. For this, you have to start off from your niche.
Does it cater to women, seniors, children, people with physical conditions, mental issues? Niche has so much to do when deciding how to name a medical clinic.
The words that are associated with common clinic names may not work for more specific fields.
2. Evaluate the competition
It is also important that you know your competitors. Make sure to investigate the recent rebrandings, and new openings to see the naming intent of the competition.
Just because you know the top competitors, do not assume that you know everything about how the competition is going on. As you are reaching out to the patients, they also have ongoing branding strategies to attract patients as well.
Understand the pattern behind their naming practices and how they position their names online and offline.
And, most importantly, take your time to come with unique medical practices names. Even the best clinic names can be already taken or may sound like they are already existing.
If the names of the two clinics sound similar, there is a high chance that it will cause confusion among patients and in the worst-case scenario, result in the loss of potential clients.
Plus, a unique medical clinic name will also help in the process of registering and trademarking your name.
3. Think about the website
Twenty years ago, it did not have much of what you call your medical practice. As long as you had great stuff, necessary equipment, and a nice location, you had all to grow and make revenue.
But things have changed with the rise of technology and the internet. With the majority of patients going online to find doctors or therapists, it has been important to find out the best medical clinic names.
Due to search engine marketing, picking a catchy medical clinic name can significantly affect the success of your business. Search engines present more crucial considerations like keywords, locations that affect how patients will search and find you.
In this regard, your URL parameters have a great impact on your naming. Once you have a few ideas for medical clinic names, start searching their URL availability. It is better to keep the character count low. It creates real challenges with online directory websites and social media accounts.
4. Plan for future
The name that you choose paves the way for your future business plans. Set off from your long-term vision to come up with a name that will always fulfill your goals. Do you plan for a local practice or aim for a nationwide brand with multiple branches?
Stay away from geographic descriptors if you plan to expand your visibility as part of your growth plan.
You may need to change common clinic names once you grow up if they are too general or overused. Changing your name, website URL, online mentions, and marketing materials can eliminate your online rankings and can even kill your existing business.
Not to mention to clean up the perception of your old identity and engrave the new name in patients' minds.
Apart from branding, your medical practice name also has to be versatile enough to be included in various places, from business cards to outdoor prints.
5. Pay attention to spelling
When thinking about how to name a medical clinic, it is essential that the name creates a positive public image. By conveying professionalism, it ensures that you attract and sustain a secure client base. Can patients easily recall after the first impression?
Anything that is difficult to say, pronounce, or spell will negatively affect your reach.
Certain names look cool on the paper but do not sound authentic when saying out loud. If the name leaves patients tongue-tied, word-of-mouth marketing will not work in your favor.
Though it is difficult to make a short and descriptive naming, once you do it will be easier for the community to remember. Plus, URLs love short names.
Is it original? Getting inspired by competitors is nice unless you copy them. Copying will help your competitors more than it does you. Oddly, people confuse originality with complication.
Using many unknown words or phrases will again have a reverse impact on your marketing. Patients will search cardiology rather than heartbreak doctor.
6. Do not loan out your professionalism
The rule of thumb is to be professional rather than cute or fun.
You are a doctor and your job is to care about the health conditions of people, not to entertain. Avoid using fun or trendy clinic names unless it is part of your clinic service.
You need a name that is descriptive of your specialty.
The names like HealthWealth, KidzCare will sound memorable but definitely not professional. Can your name endure how the practice operates now and then? If suspicious, move on for more fulfilling ones in your clinic names list.
Best practices of generating best medical clinic names
1. Name of a doctor
It is one of the most common practices to use the name of the doctor in the clinic's name.
This is a super personalized tactic that works for solo practitioners. But it does not work for all solos whom patients do not know much yet. Few professionals have a personal brand that stands out from the crowd and has a settled patient base.
Adding other associates may not communicate the practice mission or specialization. Another variation can be using the initials of the doctors' names or their abbreviations in the case of two or more doctors involved.
2. Specialty
When patients search for their conditions online, one of the first things that enter the search bar is the specialty care they are looking for. It is always a winning solution to keep your prominence at the front of the center of your name.
Particular practices have different variations of names or abbreviations that may cause confusion about which one to put in your medical clinic name. If yours is one of them, conduct a keyword analysis to see which terms are most commonly used by searchers. Then, use your findings to guide your practice name. For example:
ENT vs ear, nose, and throat vs otolaryngology
Cosmetology vs dermatology
3. Geographic area
In this type of practice, geographic location is the most important point in the generation of the best clinic names. If you are in a larger metropolitan area, opt for a square or neighborhood name as a visible descriptor. Instead, in small cities, consider large areas of your town.
But always remember that geographically owned names can be too limiting when you temp to go outside of its borders. Soon, they may become common clinic names that people confuse with other local clinics.
To elevate these names, you can add the practice activities along with the location name. It also makes the audience easily find you through your location and specialization.
4. Follow keywords
Before moving to our clinic names list the fourth recommendation to take into account is following the keywords. There are preset naming patterns that come in handy when finding medical practice names.
The names that contain "doctor", "health", "care", "clinic", "med", "dental", "oncology" sound both professional and descriptive enough when looking for the best medical clinic names.
So, here is our clinic names list to help you with the process.
Catchy medical practice names
Pediatric offices
Kids world
First Steps Pysican Center
Anderson Kids Physician Center
Family Care
Little Princes Maternity Center
Mother and child
Best clinic names for general purpose
Doctor Health
Corporate Wellness Solution
McLauren Hospital
Overlake Health Center
Health First Clinic
Multi-care Washington Hospital
Express Med Care
Belfast Health Center
Seattle Medical Group
Medstar London Clinic
Quick Care
TeamDoc
Euroasia clinic
West Sydney Cardio Center
MedLA
Sothern Medical Clinic
Longevity Medical Aesthetics

Specialty related names
32 Dental
Smile Formula
Neurologist Doctor
Nephrologist officers
Forward Heart Health
Doctors In Heart
Manual Therapy
Royal Therapy
Virginia Cardiovascular Center
Skin Clinic
DermaDoc
Proderma Clinic
CosmeMed
Examination of medical clinic names
Whether you are just starting your own medical clinic or partnering with other professionals, it is genuinely stressful to hover on a name that perfectly matches your criteria. It goes a long way to define how to name a medical practice that satisfies your professional background and future growth plans.
Once you pick the best medical practice name, your next task is to put it everywhere possible as part of your branding and search engine strategy. Soon, patients will easily find your site. To improve the chances of landing a new appointment, offer them an online clinic booking system for their convenience.
For WordPress websites, appointment plugins make it easier and affordable to add scheduling into websites. Builtin features can be used for adjusting clinic financing, employee engagement, and customer relations. With online payment gateways, you can fully automate your business operations and avoid the hassle of manual work.
By using notifications and reminders, you can keep patients in the appointment loop and also use them as part of your marketing campaigns.
As one of those plugins, Booknetic can help organize appointments and scale your business.
Plus, Booknetic offers customer relations, employee management, and reporting tools where you can smoothly coordinate all your internal and external operations. With the help of online payment gateways, you can fully automate your activities. To know more about its features, check out the live Demo.
Follow these prescriptions for healthy and live-long medical practices.
Naming your medical practice is a crucial step in establishing a strong brand identity and attracting clients. A unique and captivating salon name can set you apart from the competition and leave a lasting impression on potential customers. If you're looking for inspiration and guidance on how to choose a unique name for your beauty salon, you've come to the right place.
Sign up for our newsletter
Be the first to know about releases and industry news and insights.
Let's

get started

on something great
Booknetic is a simple yet powerful plugin for accepting online bookings & payments on your WordPress site.