Top 5 WordPress Custom Login Plugins to Use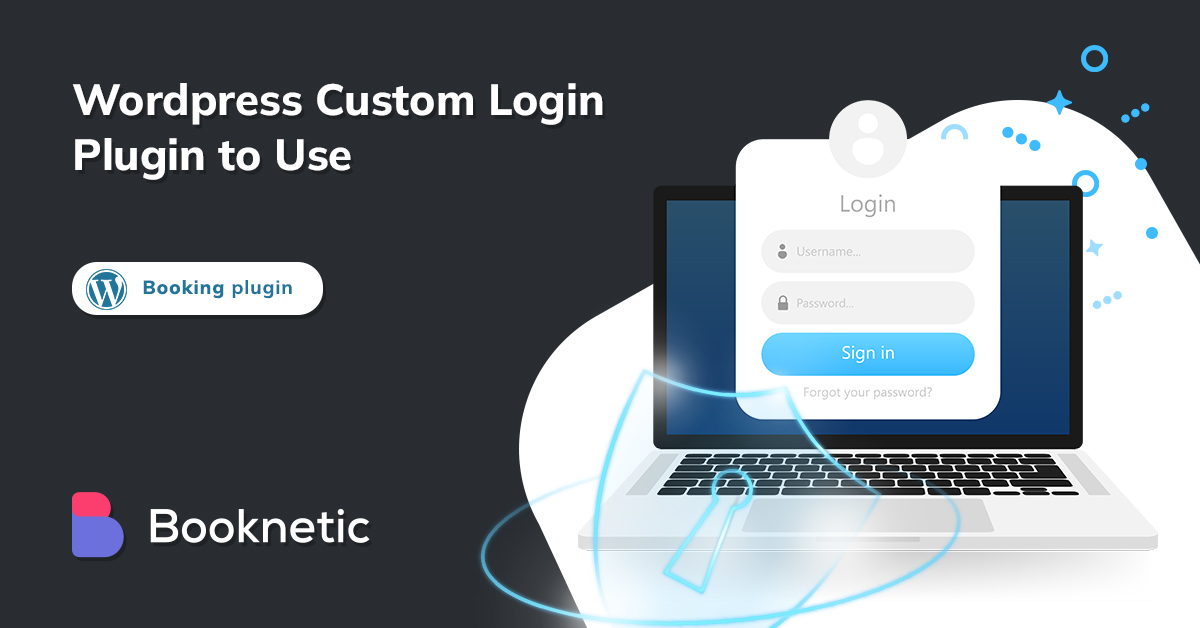 WordPress is one of the most used CMS systems today. Having a wide range of possibilities and all kinds of customization abilities increases the usability of the system. Although WordPress has a wide range of possibilities and power potential, the login page seems very plain and ordinary.
Whether it is in terms of optimization or simplicity, it still has a structure that is highly appreciated by everyone.
By using various plugins or themes, we can make our site look different from other WordPress sites. But the WordPress login page is the same for almost every WordPress site.
Of course, in case you don't take a step to change it. So, it is possible to change it using some plugins and customize it almost as you wish. We have listed the best of these plugins for you. We tried to choose free or budget-friendly custom login plugins that are also useful.
1. Custom WP Login (Free!)
Custom WP Login replaces the WordPress login flow with custom pages. It allows you to have complete user registration and login experience on the public-facing pages of your WordPress site.
This is useful for sites who want to use WordPress' built-in users functionality, but only want to keep users on the front-end of the site and not in the WordPress dashboard.
FEATURES
Set pages for Login form, Registration form, Reset Password form, Select New Password for, and Account Profile form.
Customize the Login Page, with a logo, background, image, form colors, and more!
Add reCaptcha to the Login form.
Customize the welcome email users receive after they register
Simple & lightweight plugin which allows users to login-signup anywhere from the site with the simple pop-up without refreshing the page.
Don't like the default WordPress login and registration design?
Use the shortcode feature to have a brand new page that is similar to your popup and use a different layout using style parameters.
FEATURES
10 Style Available
30+ pre-built layouts
Ajax Login, Signup, and Forgot Password
Firstname and Lastname field
Confirm Password field
Login, Signup from anywhere on the page using shortcode
Custom Background Color
Login Form Before and after add Content option.
Google Recaptcha – Protect spam from bots.
First Time users always show login popup option
After Login and Signup Redirect URL Option
User Role base Redirect
Password Strength Indicator
Fully Customizable
Layout Import/Export
WPML compatible
WP Admin White Label Login is a premium WP login page customization plugin that can be used to customize your default login page with the WordPress Customizer options.
Packaged with 25+ beautifully pre-designed templates, the plugin offers lots of customization possibilities. With no coding skills, you can create an outstanding login page in no time.
This full customizer-based plugin comes with an intuitive interface that allows you to configure your admin login page as per your preference.
The plugin supports an image/video background. It includes inbuilt Google reCaptcha version 2, inbuilt Social Login, 20+ social icons. WP Admin White Label Login is the ultimate plugin to customize your admin login page in a unique and stunning way.
FEATURES
Fully Customizer based plugin
Packed with 25+ awesome layouts
Full customization options with unlimited colors
Fully Documented with easy Configuration and video guidance.
Supports Image (Media Library) and Video (YouTube/Vimeo/MP4) background
Fully Responsive
Custom Titles / Texts and Logo
Customizable Back to link / Registration link / Logo link
In-built Google reCaptcha version 2
In-built Social Login (Facebook/Twitter/Google+)
Template feasible WYSIWYG containers
20+ Social Icons
Custom CSS section
Are you a beginner with absolutely zero coding skills? No problem! User Registration's drag and drop form builder lets you create custom registration forms of any kind for your WordPress site. Go for simple forms or create complex multi-step forms. It's all up to you.
Moreover, this free, lightweight, and 100% responsive plugin comes with a beautifully designed login form ready for you to use. It automatically creates a user profile account for WordPress users as well.
The best thing is that there are unlimited customization options for each field and form. To add more extendibility to this, you get premium addons to include extra functionalities in your registration forms. So, you've got yourself a fantastic WordPress user registration and login plugin.
FEATURES
Easy Drag and Drop Builder: Simply drag and drop the form fields into a blank slate and create a registration form in no time. No code, no fuss.
Custom Form Fields Apart from Default User Fields: User Registration removes the limitations posed by the default WordPress fields while registering users. Use custom form fields like Country, Privacy Policy, and Profile Picture to design any kind of form you need.
Email Notifications for Users: Send customized email notifications to your users as soon as they complete the registration process. Additionally, you can send notifications regarding payments and changes made to profile details as well.
Beautiful User Profile Account Page: User Registration automatically creates a WordPress user profile account for all your registered users. Even better is the fact that you're still in complete control of the customization of this page.
In-built Login Form: No need to make a separate login form for users as you get an in-built login form with User Registration. Just redirect your users to this page from the registration page.
Strong Spam Protection with Google reCaptcha and Honeypot: Block spam attacks like fake user registration and spam submissions with our Google reCaptcha and honeypot feature. Just enable the features for selected forms from the plugin settings.
Assign User Roles and Capabilities: Assign default WordPress user roles like Editor, Author, Subscriber, and more while creating registration forms. This lets you control who has access to which sections of your website and what actions they can perform.
Customize every aspect of WordPress to fit your brand with Branda, the only premium and 100% free white label plugin for WordPress.
Transform your dashboard, customize system (default) emails, quickly toggle maintenance mode and coming soon landing pages, change every aspect of your login screen, remove or replace logos, create color schemes, and much, much more.
Branda has everything to rebrand WordPress for free without touching any code.
Save time, eliminate plugin compatibility problems, and improve security with one plugin and no more hack modifications.
Even the best WordPress theme builders leave WordPress branding all over your site. Branda helps you rebrand!
On your personal blog, it is not a huge problem, but for a small business, design and development agency, or any professional site, a finished look with a complete brand package is important. That's where Branda comes in! Turn WordPress into your own white-label solution.
FEATURES
Admin Area / Dashboard
Admin Bar – Replace WordPress logo, show toolbar to logged out users, and customize menu items.
Admin Footer – Display custom text in the footer of every admin page.
Admin Menu – Customize the admin menu by user role or custom user type.
Admin Message – Display a custom message in the WordPress admin pages.
Color Schemes – Set custom color schemes and manage color schemes.
Custom CSS – Add custom CSS to customize the header of every admin page.
Help Content – Change the existing help content, add a new help item or add a help sidebar.
Widgets
Dashboard Feeds – Customize the news feed dashboard widget.
Dashboard Widgets – Remove default widgets, customize the welcome message, or add new text widgets in the dashboard.
Meta Widgets – Rebrand the default meta widget in all multisite blogs with one that has the "Powered By" link branded to your network. Replace the "WordPress.org" link in the meta widget with your website's title and link it to your site.
Front-end
Author Box – Adds a responsive author box at the end of your posts, showing the author name, gravatar, description, and social profiles.
Cookie Notice – Inform users that your site uses cookies to comply with the EU cookie law GDPR regulations.
DB Error Message – Create a custom database error page so next time your visitors don't just see the "Error Establishing a Database Connection" text error.
Document – Allows you to change defaults for entry display.
Footer Content – Insert content into the footer of every site in a Multisite network, i.e. embeds, terms of service, etc.
Header Content – Insert content into the header of every page on your website, i.e. news/notifications on top of the regular website header.
Login Screen – Customize the default login screen. Start with a pre-designed template or use the builder to redesign it from scratch to completely rebrand it.
Signup Screen – Customize signup functionality and require a signup code for registration.
Utilities
Comments Control – Disable the comments on the posts, pages or on your entire website with advanced options for whitelisting IPs.
Images – Add a Favicon and override the default image file size upload limit based on user role.
Site Generator – Change the "generator information" and "generator link" from WordPress to something you prefer.
Text replacement – Replace any text from your admin pages and/or front-end pages with an easy-to-use interface. For example, you can use this to replace the word "WordPress" with your own website name.
Tracking Codes – Insert tracking codes into your website at different locations with options to insert the code on the whole website or conditionally.
Website Mode – Custom Maintenance Mode or Coming Soon mode pages for your website.
Branda lets you make all the brand customizations your theme doesn't include. A must-have best-in-class WordPress admin plugin.
Theme My Login (Free!)
Ever wished that your WordPress login page matched the rest of your site? Your wish has come true! Theme My Login allows you to bypass the default WordPress-branded login page that looks nothing like the rest of your site. Instead, your users will be presented with the login, registration, and password recovery pages right within your theme.
The best part? It works right out of the box, with no configuration necessary! Take back your login page, WordPress users!
FEATURES
Have your users log in from the front end of your site.
Have your users register from the front end of your site.
Have your users recover their passwords from the front end of your site.
Customize the slugs used for login, registration, password recovery, and other pages.
Allow your users to register with only their email.
Allow your users to set their own passwords upon registration.
Allow your users to log in using either their email and password, username and password, or a combination of the two.
Allow your users to be logged in automatically after registration with auto-login.
Conclusion
There are many plugins available for customizing the login form of the website, and we have listed the lesser-known and also useful plugins for you. Almost all of these listed plugins also offer registration features. Some of these plugins attract attention with their appearance, some of them with their functions. Some of these plugins are lucky enough to have both.
This list is especially intended for users who want to set up a standalone login form instead of customizing the wp-admin login. Therefore, plugins that are well known and customize the wp-admin login page such as LoginPress are not included in the list.
Especially if you want the appearance of your login page to be the same as your theme, and if you want to do this automatically without additional customization, the plugin we recommend as a bonus is just for you! This plugin will customize the login page appearance in accordance with the CSS codes of your theme. Just like a chameleon!
Sign up for our newsletter
Be the first to know about releases and industry news and insights.
Let's

get started

on something great
Booknetic is a simple yet powerful plugin for accepting online bookings & payments on your WordPress site.