Top 10 vet clinic software | Reviews and Pricing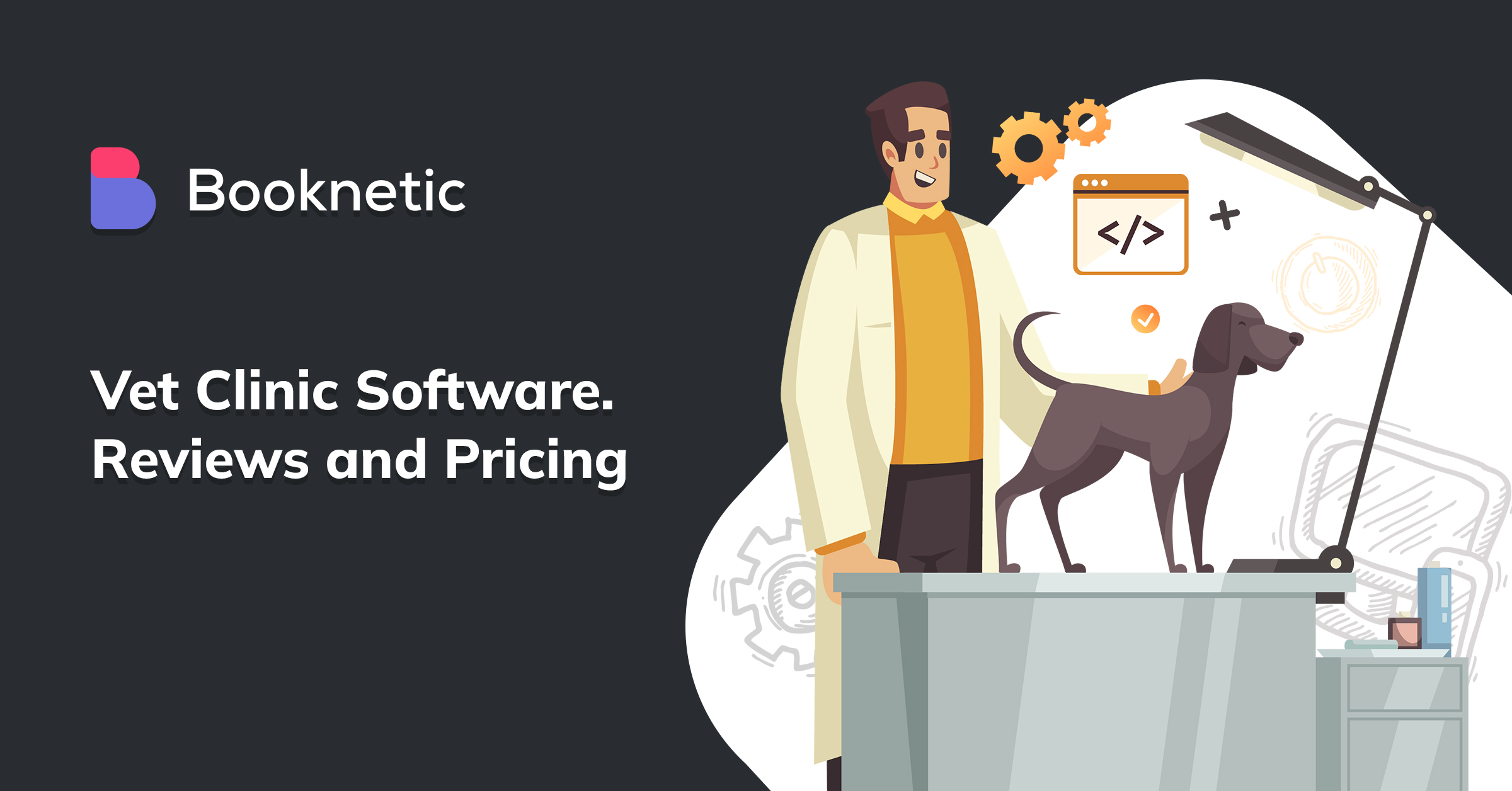 Looking for vet clinic software? Take a look at our blog to understand the essence of vet management software and see some examples.
What is vet clinic software?
Continuous integration of technologies into our lives made several businesses go online. Veterinary practitioners are no exception. Pets have become part of our family and friends. Our animal friends deserve the best care, best management system, thus being served by the best vets.
To provide their needed care we refer to the internet to find the best vet clinic management software.
Veterinary clinic software is for animal healthcare centers to support their daily operations. The software assists veterinary hospitals on e-medical records, inventory recordings, reporting, accounting and invoicing, client database management.
The basic idea is that vet clinic management software should define answers clearly. Such as the services, about, prices, location, timings, and the profile of vets. A good design will provide answers while scrolling the page.
10 best vet clinic software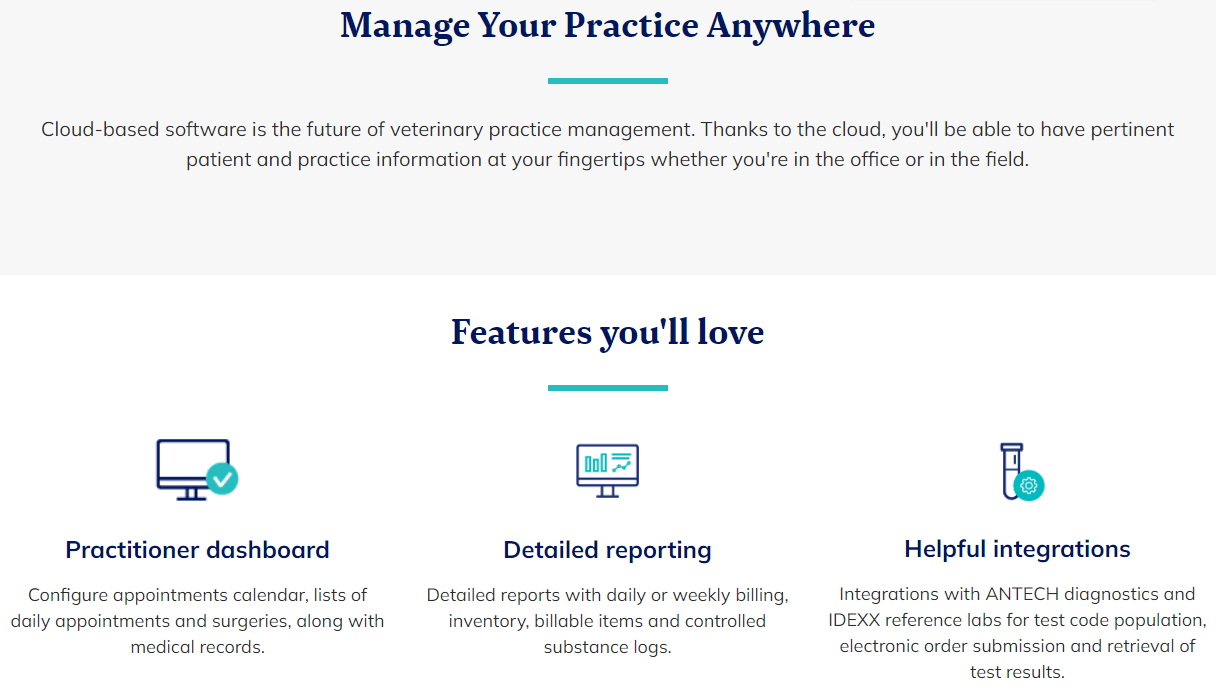 eVetPractice is a cloud practice management software fully integrated for every type of veterinary practitioner. It has a centralized system to manage appointment reminders, Electronic Medical Records (EMR), online payments. It provides a subjective, objective, assessment, and plan (SOAP) approach to diagnosing.
Patient management features include test history, document storage, payment history, account balances. Patients can request appointments through mobile or web devices.
While practitioner's dashboard provides configurable appointment calendars, the list of daily appointments, and medical records.
Practitioners can expand other features like pharmacy management, practice software, supply chain services through the Covetrus integrated platform (a single platform that combines products, services, and technologies for empowering animal healthcare).
While detailed reporting gives provides weekly or monthly billings, inventory, and. billable items.
The tool is good for vet clinics with up to 150 practitioners. While they do not explicitly share the price, they provide a 30 day free trial for customers.

NaVetor is a cloud vet clinic management software to streamline daily operations. The easy-to-use platform allows you to minimize steps and quickly access the searched information.
Dashboards can be utilized to track upcoming events, checked-in patients, notifications, and announcements. It lets users customize appointment calendars to facilitate check-in, blocking, scheduling, and rescheduling. You can create an automated checklist and task assignments to manage patient care.
With the whiteboard, you can see a snapshot of the status and appointment details of all checked-in patients. Integration with labs from IDEXX, Antech, Zoetic allows you to request lab tests from them and download results into the patient records.
As a vet clinic management software, it also has a mobile app. You can add new patients, check client check-ins and outs, update medical records, and prescribe a medicine. Its billing system is capable of giving estimates on recommended treatment, capturing changes in EMRs, and including them in the invoice.
Overall, the product appeal to the needs of private practitioners and clinics. Up to two users can purchase at $129.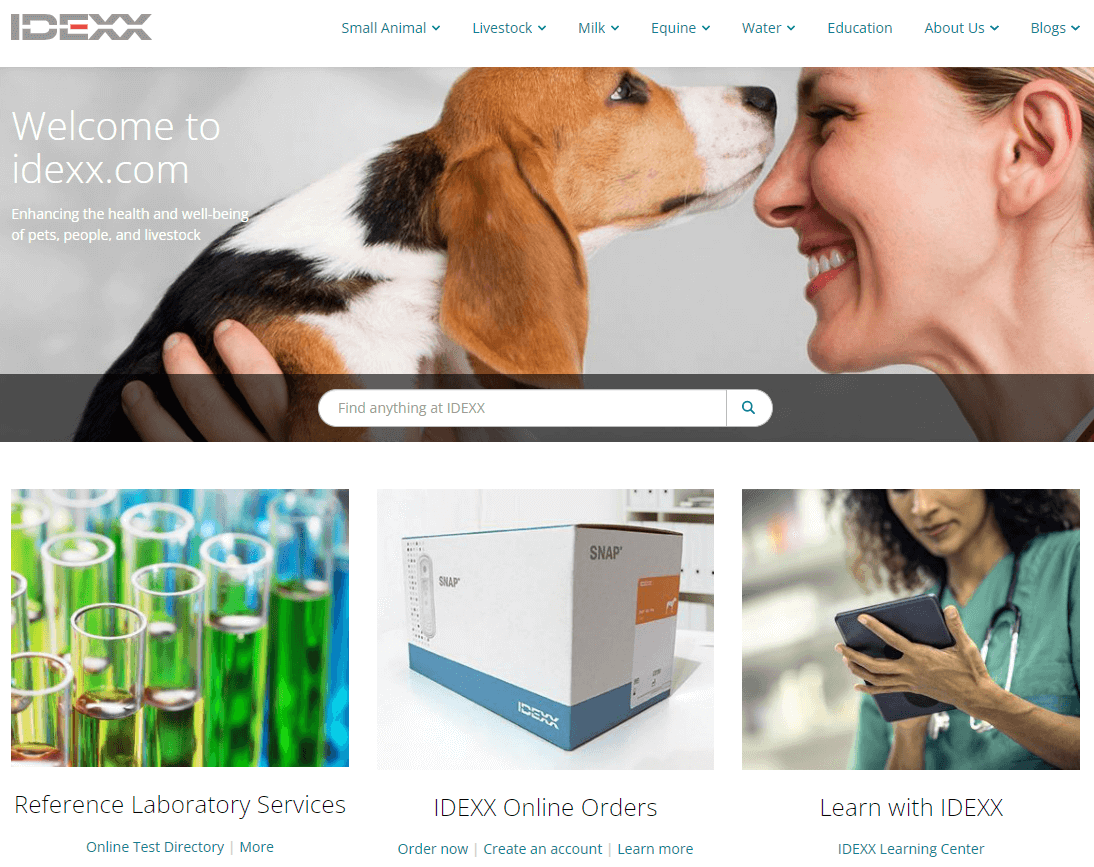 Idexx Cornerstone is a practice management software for private vet practitioners. It solves the clinical and managerial needs of vet practitioners. The key features include a practice dashboard, patient workflow, scheduling, online payments, and reporting to keep everything in hand.
The dashboard shows a snapshot overview of overdue, invoices, draft invoices, reminders, and remaining appointments. But users can have customized dashboards for based preferences and needs. The dashboard is also powered by a search feature where you can quickly find clients from anywhere.
While patient workflow can be accessed from any device and anywhere. You can view full patient history, examination reports, diagnosis lists. The system uses an electronic signature for patient approval.
Idexx Neo also carries vet clinic scheduling software features. This enables staff to create a customizable booking panel, view and confirm appointments, invoice directly from the system, and send customizable SMS notifications.
Client communication is also provided by this vet clinic software. You can use built-in tools, templates, automated emails for streamlined time management between visits.
The software is backed with on-site and virtual training and customer support for easy switching.
It is best for small or individual practitioners. The cheapest price is $199 per month for three users.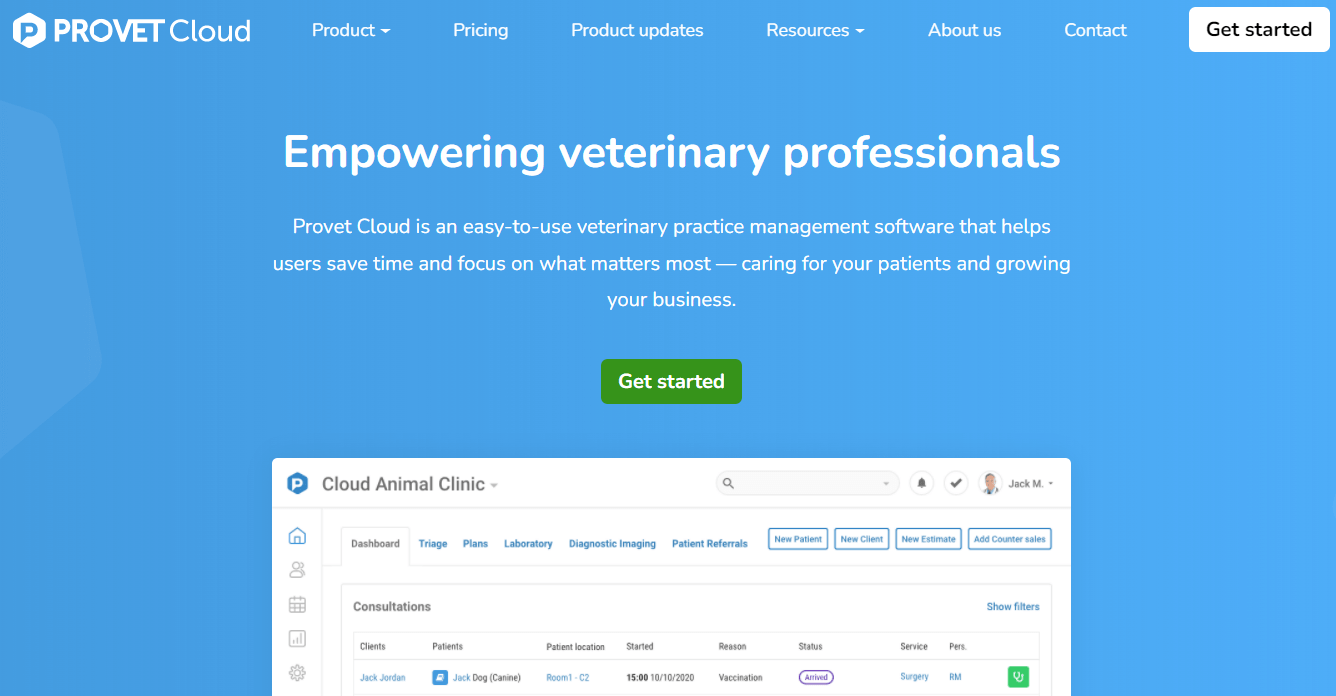 Provet.cloud is cloud vet clinic management software for small and large vet hospitals. Since it is a web-based service, patients and staff can easily access the system. Through integrations channels, clinics can use their payment processors, labs, and other software.
Multiple patients is a unique feature of this vet clinic software. Here, you can add more than one patient for the same or different treatments at the same time. Its enterprise product offers complex solutions for large-size vet clinics.
You can dig deeper into analytics, manage multiple practices within a single database. Plus, it uses REST API that allows you to integrate any of your own tools into the platform.
Provet set pricing based on the unique needs of customers. But it is subscription-based pricing with monthly fees per number of practitioners and add-ons you use.

VetPort is a cloud-based veterinary software for large veterinary hospitals, clinics, and universities. It allows users from anywhere and of any device to access your system very easily.
It requires no technical or design skills to use the application.
As a world-class vet clinic software, its SOAP format has helped over 50 + million patients' health records to this date.
To simplify internal communication, it uses chat tools and digital bulletin boards that show public messages. Through VETport's marketplace, you can integrate with payment gateways, lab tools accounting, and microchip software.
It also provides a built-in vet clinic scheduling software that allows clients to self-schedule and pick their favorite providers. Common features like check-in managers, automated notifications, reports are also available with this vet clinic management software.
All types of vet clinics can utilize VETport's features. It gives 15 free trial period. But the actual prices are set up to the unique needs of customers.

AviMark is vet practice management software designed for vet hospitals and veterinarians. It deals with appointments, patient records, prescription plans, inventory management, and all matters that an average vet clinic manages.
The software is available both on cloud and on-premise deployment options.
AVImark's vet clinic scheduling software lets vet professionals plan their appointments based on their availability. Once an appointment is confirmed, it automatically reflects in the staff's calendar. It also streamlines client communication by sending automated reminders. Its forward booking feature prompt you to create a new appointment once you conclude the invoice.
Through the whiteboard, you can view the patient history, payment history, and given prescriptions. You can use enhanced search for multiple categories to find your clients.
AVImark offers integration with lab machines which allows you to import their data into the platform. Like many vet clinic management software on the list, its offer is customized for the patients' needs.
7. Hippo Manager
Hippo Manager is a simple yet effective cloud-based veterinary management software. Using its inventory manager, you can view your stock levels, add or remove quantities, and track margins.
Through Google Calendar integrations, all events will be automatically saved on staff and clients' calendars. Internal teams can send appointment reminders, SMS notifications e-statements, and other communication documents directly to customers.
It costs $119 per month full-time. Treatment sheets help to automate and streamline documentation and ensure your patient needs are visible in a workflow.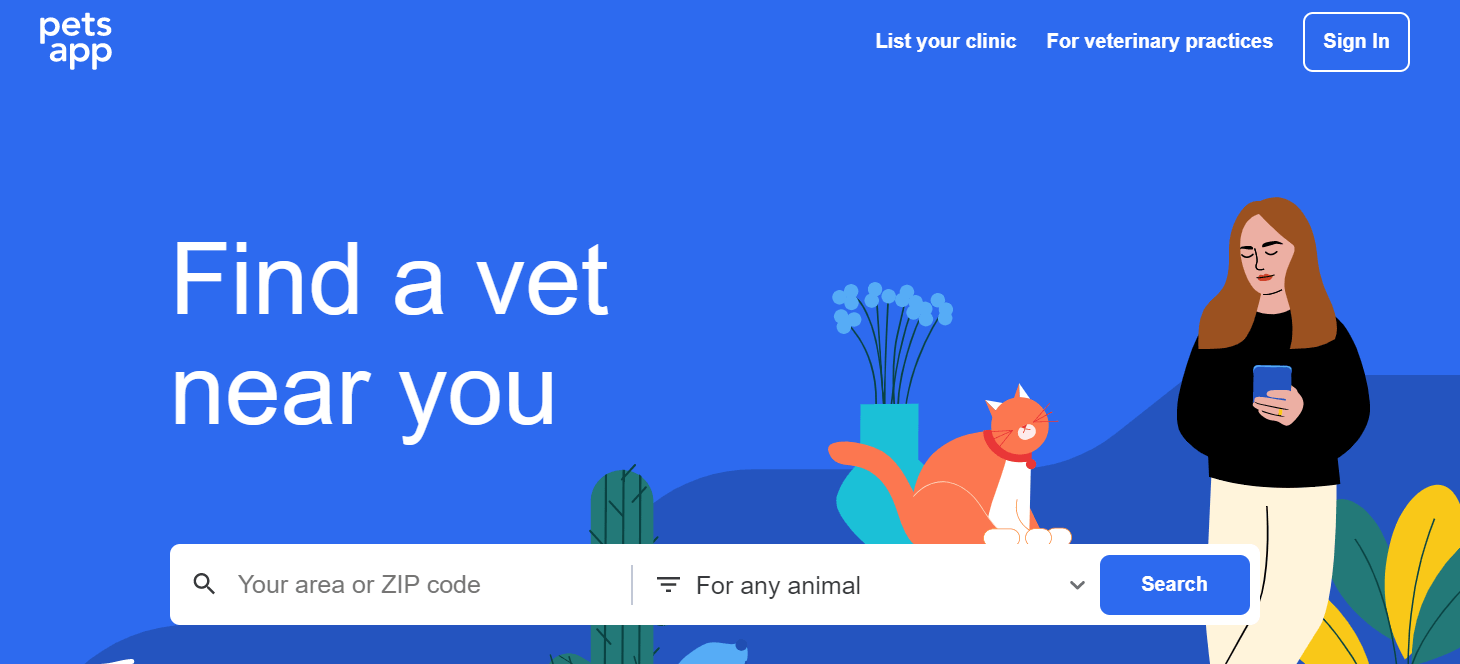 PetsApp is a full-scale pet care app for veterinarians to communicate with their clients. It provides app-based client communication and digital payments for clinics to effectively engage with patients.
The most popular services include surgery, dental, grooming, and video consultation. Plus, PetsApp also provides a role-based text chat with the potential to reach the entire vet team.
Through the appointment booking, you can select the areas to find available vet clinics. It is free to list your vet clinic in the system. However, to get access to all features like chat, reporting, payments you will need to contact the team.
VisionVPM is a platform to streamline appointment bookings, client management, and marketing.
The dashboard shows the state of the business at a glance. Its vision health manager lets you manage all aspects of animal health. While mobile vet facilitates the workflow of recordings, products used, and payments are taken, both in and out of the mobile connectivity.
Automated email and SMS notifications help to build client compliance and improve communication. Apart from in-house integrations, it has more via integration API. Like other clinic management software from Covetrus, it requires you to book a demo to get the customized fee.

ezyVet is another cloud-based practice management software for vet hospitals to manage daily operations. It is an all-in-one solution for universities, primary care, emergency specialty and universities.
The offered features are boarding, financial management, appointments, lab results, inventory, treatment, and marketing management.
Its structured clinic module stores patient records, prescriptions, treatment history, and appointments. Multiple teams can access the clinic module and edit records at the same time.
Its vet clinic scheduling software uses color-coding and status flags to create customized booking pages. The calendar manager enables staff to make last-minute changes in appointments.
While finance management system has different views to indicate whether the payments are pending or approved. Overall, ezyVet helps to stabilize operations for any size of a vet clinic. You can book a demo to see the appropriate price for your needs.
Final marks
It is vital to keep the health records of every patient, assess their medical needs, and correctly diagnose them. Digital solutions make this process much easier and more accessible. Each of the software we mentioned is visually stunning and fully functional for vets.
Yet they offer services that differ in size or budget depending on the veterinarians' needs. You can contact their teams to see what they include in their offers. Analyzing their features will help you to decide which vet clinic software is the right match for you.
==> Also read: Using a Booking Plugin to Abide by New Social Distancing Rules
Sign up for our newsletter
Be the first to know about releases and industry news and insights.
Let's

get started

on something great
Booknetic is a simple yet powerful plugin for accepting online bookings & payments on your WordPress site.