Top 10 WordPress eCommerce Tips for Beginners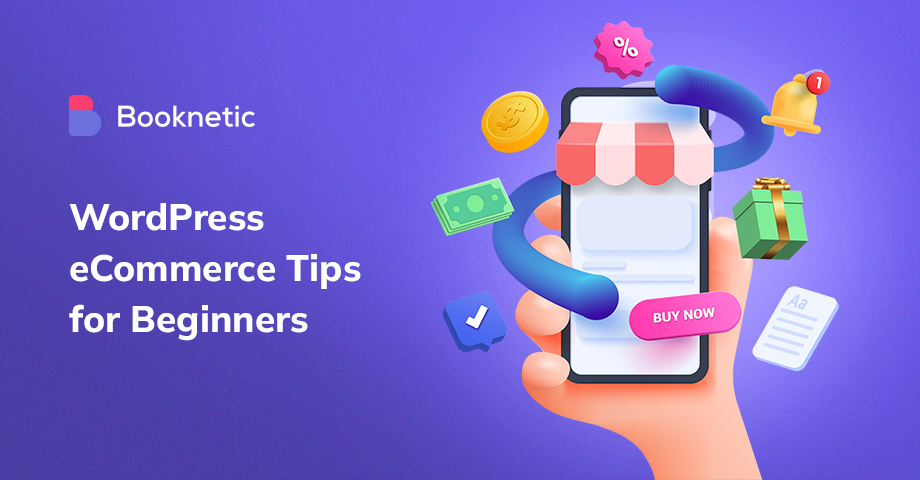 It's a common misconception that WordPress is only suitable as a blogging platform and not for eCommerce. However, the CMS has become one of the most popular website builders for eCommerce websites.
If you're thinking of launching an eCommerce site on WordPress, here are some of the best eCommerce tips to help you build an online shop using this CMS.
These ten WordPress eCommerce success tips will ensure the success of your ecommerce platform, especially as a beginner. They include utilizing SSL to improve rankings and making your page mobile-friendly for better client engagement.
Further, choose the right platforms based on your target audience, and be willing to try new things until you find the right fit for your business. Advertising diversely and creating a friendly user experience is also essential for reaching and retaining new clients.
It is also paramount that your theme is responsive and that the platform optimizes SEO for maximum visibility. Ensure that the platform is up to date and be keen on offering top security for your customers and your ecommerce platform.
Ensure It Mobile Friendly
Currently, over 50% of online purchases are done over a mobile device, and about 79% of smartphone users made an online purchase in the last six months. You stand to lose significantly in an ever-growing mobile audience by failing to cater to mobile users.
That's why priming your site for mobile use is paramount. Some good ways to do this include programming your site to adapt to different mobile devices. You can also make it easy to tap action areas like phone numbers, links, and CTAs.
You can do this by making them the right size and placing them appropriately on the site. Offering tap-to-call options and making it easy to copy or dial essential details on the site also improve the user's experience.
You should also ensure you select the best visuals for mobile use, including infographics and videos, and keep texts short.
Always Use SSL
Since online businesses are conducted without face-to-face meetings, ecommerce sites must build trust. An excellent way to build trust is by ensuring your site is secure and that your customers' information is safe.
SSL is a good security measure and will help your site rank higher in Google's search results. SSL (Secure Sockets Layer) certificates will help your WordPress eCommerce be more secure by encrypting connections, therefore, protecting your site.
Some recommended ways for users to check on the security of a site include looking for the green padlock symbol or a branded URL bar that shows up when they open a link.
There are different types of SSL certificates, including the Positive SSL, which is affordable and offers up to 256-bit encryption ensuring high levels of security. There's also Comodo SSL which is fast and offers higher validation to secure sites.
Build a Responsive Website
Another WordPress eCommerce success tip is to build a responsive website for optimal results. This means that your website will update itself automatically. Not only does this make your website easier to maintain, but it also makes it easier for customers to find the information that they're looking for.
Pick a dynamic website over a static website to ensure you're not missing out on potential customers. A static website is a website that doesn't update itself regularly. This means that you'll have to manually update your website with new content whenever you want to publish a new article or product.
A dynamic website is highly adaptable, changing content based on the user. It's also highly scalable, which makes for a smoother experience even with business expansion and increased traffic to the site.
Don't Be Afraid to Experiment
As a beginner, there's a chance that it's your first time building a website of this nature. If that's the case, don't be afraid to experiment with different themes and plugins to find the right fit for your online store.
To find the right fit for your eCommerce website, you need to test the waters and see what will work best for your website. Even if you use a pre-existing WordPress eCommerce theme, don't be afraid to tinker with it and try out different things.
Diversify Your Advertising Channels
One of the reasons why online stores fail is because they fail to diversify their advertising channels. You can't expect all your customers to come to your eCommerce site through Google searches or just one platform like Facebook.
Instead, you must create advertising campaigns across all major platforms like Facebook, Instagram, and Pinterest to drive traffic to your site. Be creative with your advertisement channels, and you'll see a significant increase in traffic your eCommerce site receives.
Ensure that the content you create and your advertising platform is relevant to your target audience.
Make Your Site User-Friendly For Shopping
The most important thing you need to do when building an eCommerce site on WordPress is to make it user-friendly for shopping. There are a few crucial factors in mind if you want to make your site user-friendly for shopping.
Place your products front and center. Products are why your customers are visiting your eCommerce site in the first place. So, you need to ensure they are easy to find and view. Therefore place them front-and-center on your homepage and inside your navigation menu.
Make your checkout process as easy as possible. The last thing you want your customers to experience is any kind of difficulty when checking out. Make sure that your checkout process is as easy as possible.
Make the site easy to navigate by adding breadcrumbs and a search button so users don't have to scroll endlessly to find what they want. Ensure the speed is good and use the right colors, visuals, and CTAs.
Don't Forget About Seo
WordPress eCommerce sites perform very well in Google's search results. However, if you forget about SEO when building your eCommerce site on WordPress, you could miss out on significant traffic.
To optimize SEO, there are a few things that you can do. You can install SEO plugins on your WordPress site to automatically optimize your content for SEO. You can also use SEO-friendly WordPress SEO themes to make the process even easier.
You can also use SEO plugins to automatically add keywords to your navigation menu so that your eCommerce site pops up in Google searches. Popular plugins include Yoast SEO and All in One SEO (AIOSEO).
Also, remember always to confirm that your visibility to search engines is on from your settings.
Use A Responsive WordPress Theme
A responsive WordPress theme is a must if you want your eCommerce site to succeed. This means the website will be easy to navigate on all devices as it can adapt to different devices and screen sizes.
With over 40% of all online shopping done on a mobile device, an unresponsive theme will cut out a significant amount of traffic from your page. Your site will look unprofessional across devices and lower your rankings.
To make your theme more responsive, find a suitable theme for your page, install plugins, add menus, work with pages and posts and ensure your site is mobile-friendly.
Leverage WordPress Strengths
WordPress has several strengths which you can leverage to boost your ecommerce business. One of these strengths is its adaptability and flexibility. You can use it for multiple purposes based on your company's constantly changing needs.
It also provides numerous user-friendly features you can tweak to fit your target audience. With its multiple themes, you can create a responsive theme for your site and add plugins like SEO plugins to improve functionality.
WordPress offers support that, if utilized well, can go a long way in creating a seamless experience for you and your clients.
Don't Skimp on Security
Because WordPress is such a popular CMS, it also attracts a lot of hackers. To make sure that your eCommerce site isn't hacked, you need to make sure that you're using a strong, reliable hosting company.
You must also install a security plugin on your WordPress site to keep hackers at bay. You can also use a CDN service or a VPS hosting plan to ensure your eCommerce site is as secure as possible.
Now that you know what to look for when building a WordPress eCommerce site, it's time to start! WordPress is a powerful CMS perfect for creating any kind of website. With suitable themes, plugins, and SEO techniques, you can build a highly optimized eCommerce site on WordPress that is sure to bring in tons of sales.
Sign up for our newsletter
Be the first to know about releases and industry news and insights.
Let's

get started

on something great
Booknetic is a simple yet powerful plugin for accepting online bookings & payments on your WordPress site.