9 Best physician scheduling software for hospitals and clinics in 2023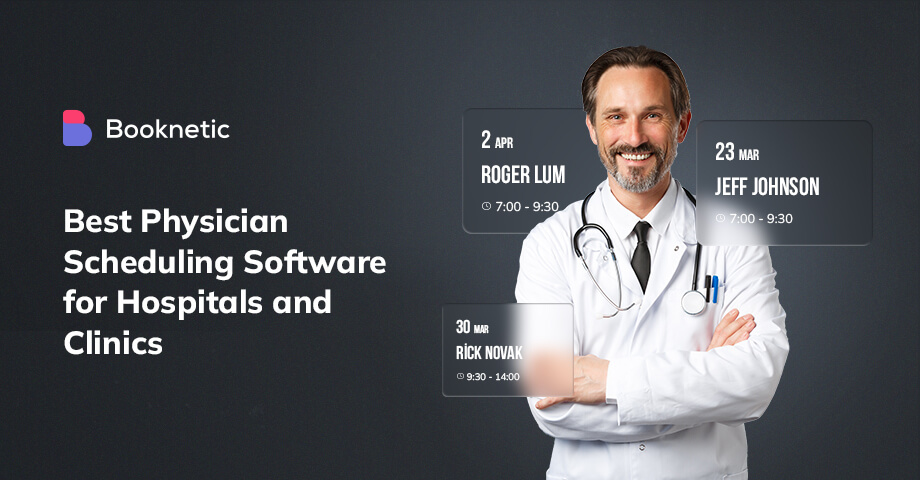 Are you looking for the perfect physician scheduling software to enhance efficiency and simplify scheduling? Good news! There is a whole range of physician on-call scheduling software options you can choose from.
We compiled a list of the best physician scheduling software and its features to help you make an informed decision. Join us as we discover the world of physician scheduling software and find the perfect fit for your healthcare organization.
Why use automated scheduling software as a physician?
As someone with extensive business experience, weighing the potential benefits and drawbacks of any new technology or tool before making a decision is essential.
Here are a few key benefits of automated physician scheduling systems.
Save time: By automating the tedious part of scheduling, cancellation, and rescheduling, physician scheduling apps save a vast amount of time.
Save money: By freeing up canceled or rescheduled timeframes, scheduling systems accept new bookings and make you money automatically.
Increase communication: By keeping track of each individual patient and their schedule, automated software sends reminders and text messages and establishes a high level of communication.
Receive detailed reports: By analyzing your recent business performance, advanced scheduling software gives insights into your venue's performance.
So, if you are looking for ways to improve clinic and hospital appointment booking system, you should give a shot to automated physician scheduling software.
When choosing a scheduling system for a physician's business, you must consider many factors. Its features, user experience, learning curve, and price influence your decision.
We included information about all these factors to help you make a better decision while saving time.
9 Best physician scheduling software for hospitals and clinics in 2023
Booknetic
Upvio
Setmore
10to8
Acuity scheduling
Booksy
+PX
Bookafy
Appointy
Let's look at some of the best physician scheduler software for hospitals and clinics.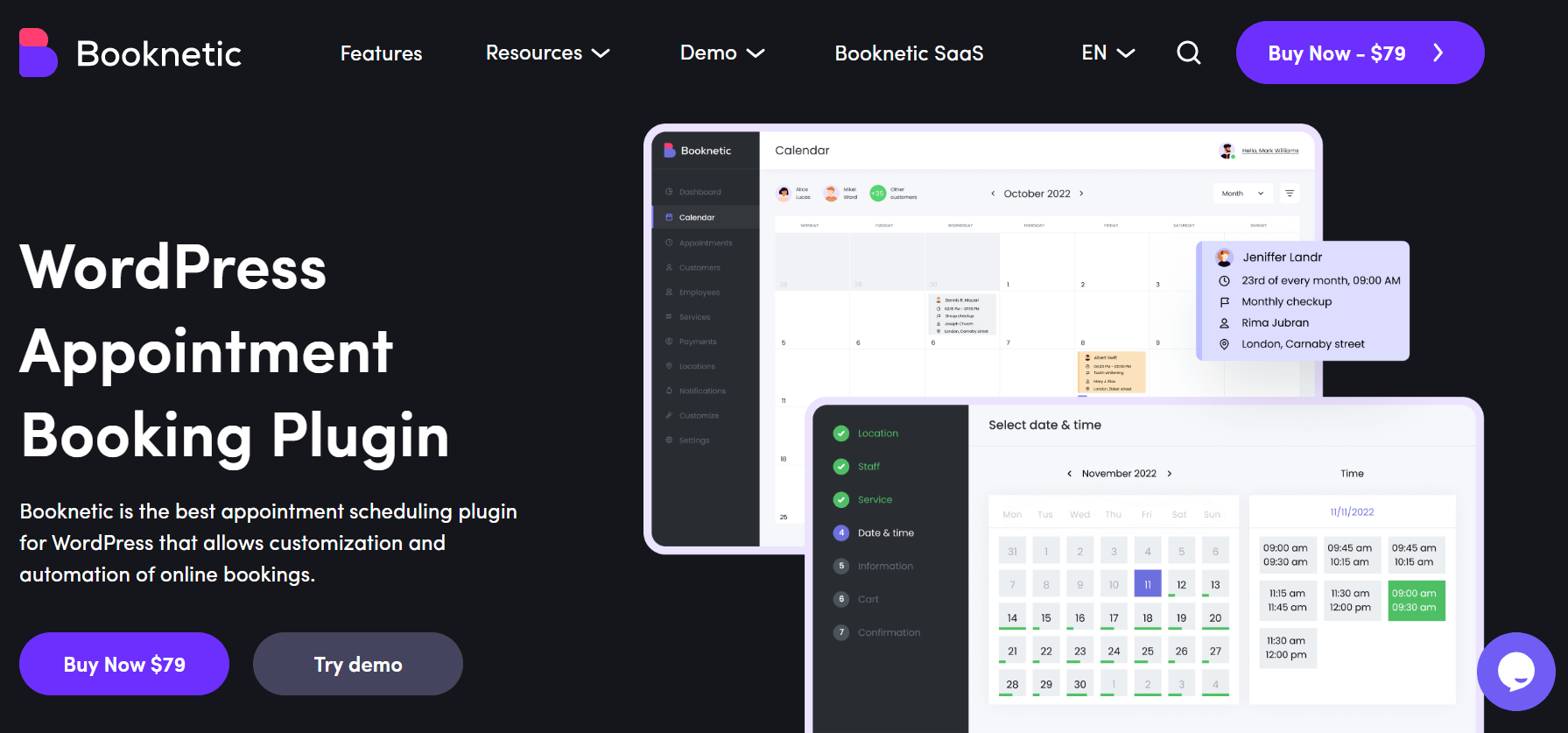 Booknetic is a top-of-the-class, fully automated physician appointment scheduling software that helps professionals increase conversions and optimize their business.
With Booknetic, physicians have access to a wide range of features that make it easier to manage their business operations. Online scheduling, automated reminders, and waiting lists help ensure that patients are always informed and appointments are not missed. Additionally, the software offers a fully customizable booking widget that practices can use to build a comprehensive sales funnel and drive conversions.
Conversion tracking is a critical feature of Booknetic, as it allows practices to collect extensive data on how patients engage with their website and booking system. Using in-website notifications with webhooks, practices can continually develop their website experience and make data-backed decisions.
The physician scheduling software is also incredibly user-friendly, with a straightforward setup process that lets practices quickly set up an automated booking system and start seeing the benefits. And, if there are any questions, Booknetic offers top-notch support and step-by-step documentation to guide practices through the process.
Booknetic is an exceptional physician scheduling app with a robust feature set to help practices manage their operations and enhance the patient experience. With its focus on driving conversions and optimizing the sales funnel, it is an excellent choice for any practice looking to take its operations to the next level.
Features:
Email, SMS, WhatsApp and Telegram notifications
Automated workflow module
Webhook integrations (Zapier, IFTT)
Conversion Tracking
Ratings & reviews
Waiting list
Multiple locations & services
Recurring & group appointments
Responsive design
Deposit payments
Zoom virtual event integration
2 way Google Calendar synchronization
Square, PayPal, Stripe, Mollie, Razorpay, WooCommerce payment gateways
Price: $79 for lifetime license
Upvio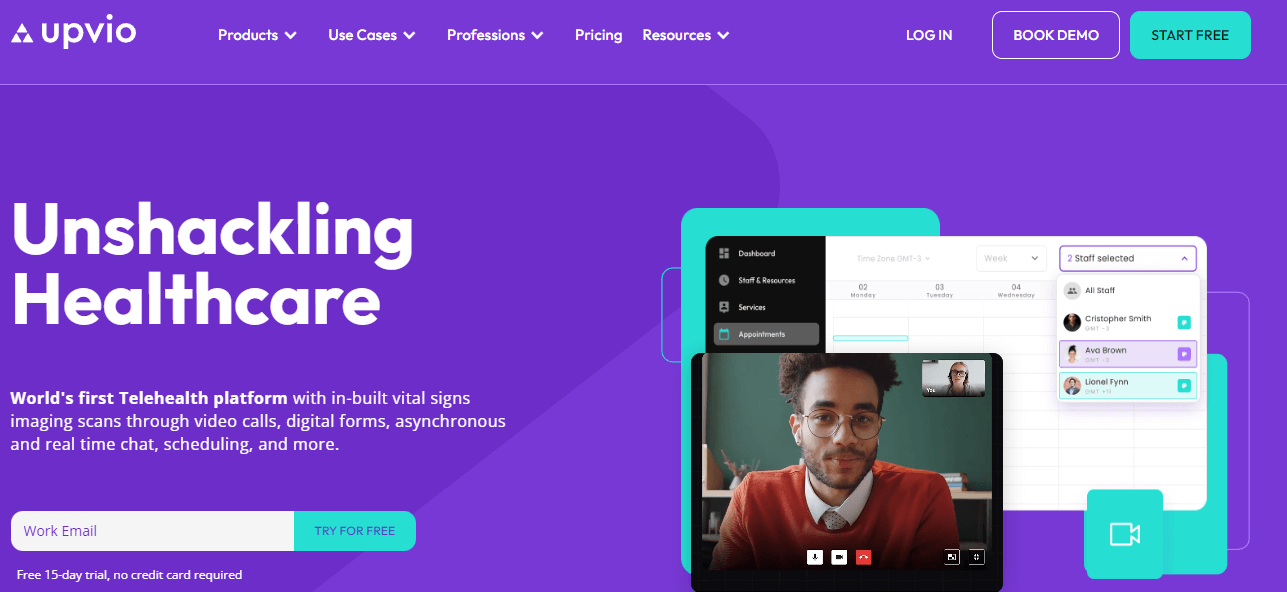 Upvio is a comprehensive physician scheduling software that helps medical practices manage their operations efficiently. This all-in-one software is packed with features designed to streamline practice management, employee scheduling, collaboration, billing and invoicing, e-prescribing, and more.
The physician scheduling app, Upvio, simplifies patient scheduling and attendance tracking with an automated appointment scheduling system. The physician appointment scheduling software sends automatic appointment reminders, reducing the likelihood of no-shows and missed opportunities.
Upvio offers patient queue management and client management features for multi-provider practices, allowing physicians to work together seamlessly while providing a streamlined patient experience. SOAP notes, lesson notes, and learning plans are also available to organize all aspects of patient care.
Upvio is exceptionally easy to use, providing question-based documentation to help you find answers much easier.
Whether you are a solo practitioner or part of a larger healthcare team, Upvio physician scheduling software is an excellent booking funnel conversion solution, ensuring your practice runs smoothly and your patients receive the best care possible.
Features:
Automated scheduling
E-Prescribing
Progress Tracking
Appointment Reminders
Waiting lists
Care planning
Zoom integration
Mobile app
PayPal and Stripe payment gateways
Price: $20/Month per user
Setmore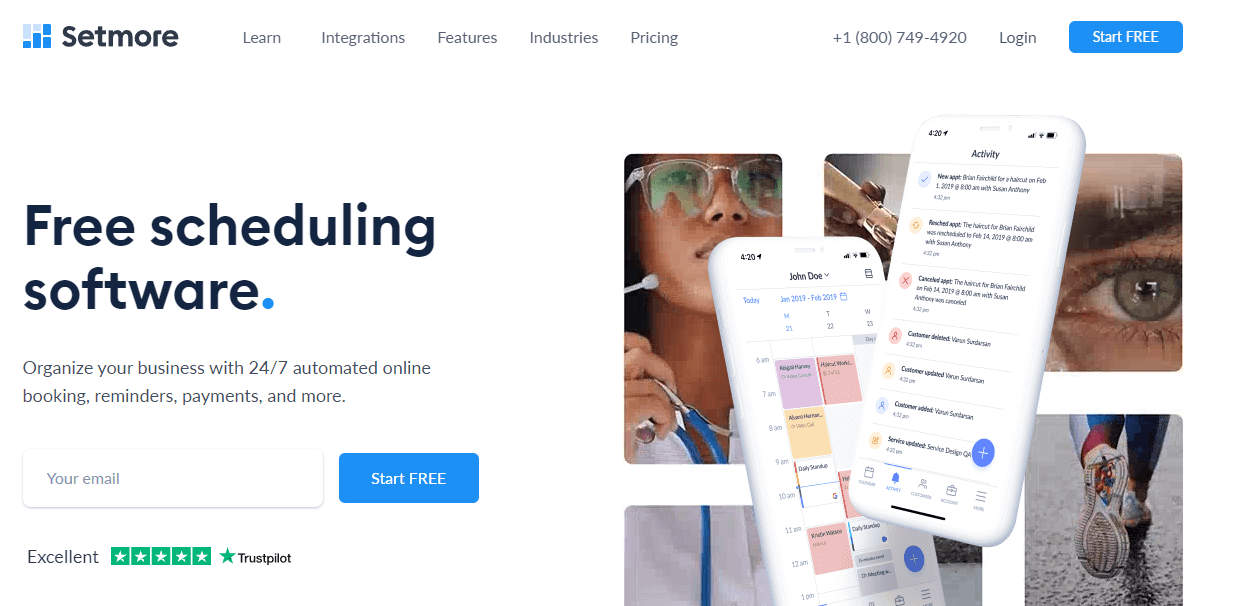 Setmore is a robust physician scheduling software that offers a comprehensive suite of tools for healthcare providers looking to manage their schedules and appointments with ease. This scheduling software is perfect for solo physicians, group practices, and healthcare facilities.
One of the significant features of Setmore is its automated physician scheduling system, which saves time by eliminating the need for manual scheduling. You can easily set up the online scheduling tool to match your practice's schedule, and your patients can then schedule appointments according to their availability.
This physician scheduling system also offers comprehensive calendar management features that make it easy to view your schedule at a glance. You can set up alerts and notifications to help you stay on top of upcoming appointments, and patients can reschedule appointments as necessary, saving you time and improving patient satisfaction.
Another great feature of Setmore is the ability to personalize the booking process. You can customize the booking page with your practice's logo, color scheme, and branding, ensuring a consistent patient experience across all touchpoints. Additionally, the physician scheduling software offers surveys that allow you to gather feedback from patients, which can help you improve your practice and patient satisfaction.
Regarding the learning process and user experience, Setmore is a step ahead of other competitors. It packs a sleek design, easy-to-understand documentation, and a supporting community.
Overall, Setmore is a powerful free physician scheduling system. Its automated scheduling system saves you time, improves patient satisfaction, and allows you to focus on providing quality care to your patients.
Features:
Teleport video meetings
HIPAA compliant with signed BAA
Customized notifications
Recurring appointments
Custom booking page with unique URL
Social media integrations
CRM integrations
Website/CMS integrations
Analytics integrations
Google Calendar and Office 365 Calendar 2-way sync
Square, Stripe, or PayPal payment gateways
Price: $9/Month per user
10to8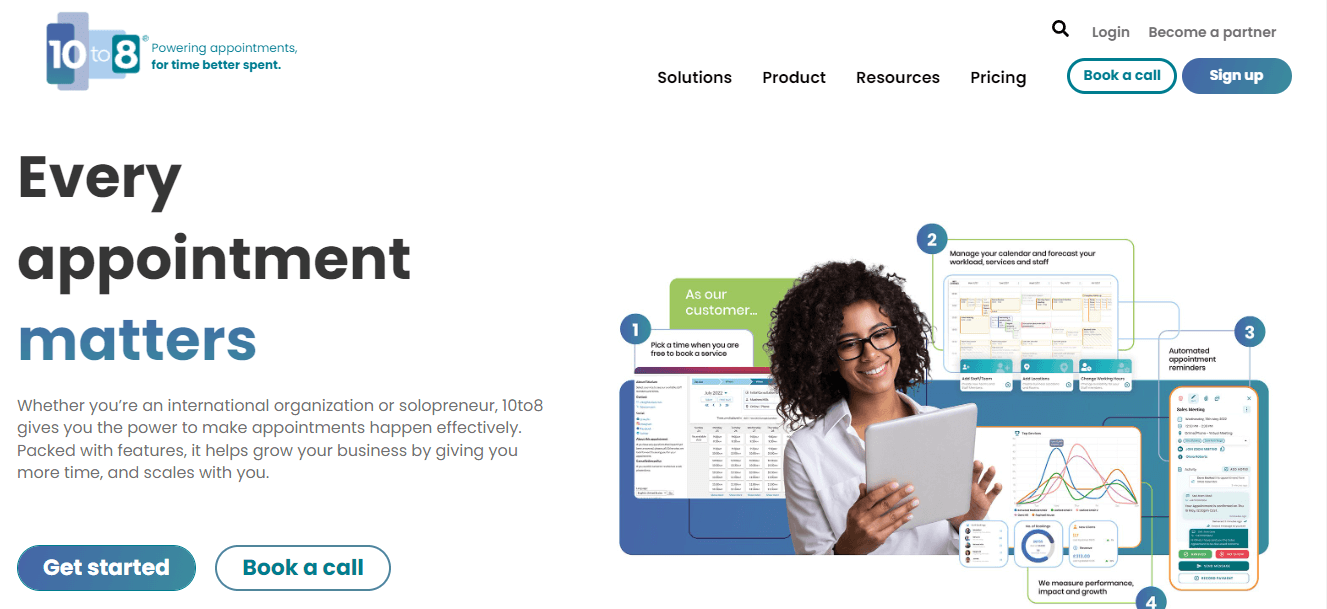 10to8 is a cloud-based physician scheduling software. It is one of the well-known scheduling solutions in the market.
This physician scheduler software comes with electronic medical records, referral management, inventory control, billing and revenue cycle management, patient registration, patient flow management, and more, making building your business operations around it easy.
In addition, the physician scheduling systems send automated email and SMS reminders to patients and staff, which help reduce no-shows and last-minute cancellations. It also supports recurring appointments and waitlist management, making it easy to manage high demand.
The software also has analytics, allowing clinics and hospitals to track their performance and make data-driven decisions.
10to8 is a winning physician scheduling app in terms of user experience and learning curve parts. It is designed with an intuitive interface that allows users to navigate the software easily. The software has a simple and clean layout that enables users to access features and tools quickly and efficiently.
In conclusion, 10to8 is an excellent solution for physician scheduling systems, whether a small private clinic or a large hospital.
Features:
HR & Payroll
HIPAA compliant
Prescription management
Appointment reminders
Handwriting recognition
Patient portal
Bed management
Stripe payment gateway
Price: $7.20/Month per user for Pro, $19.00/Month per user for Premium plan
Acuity scheduling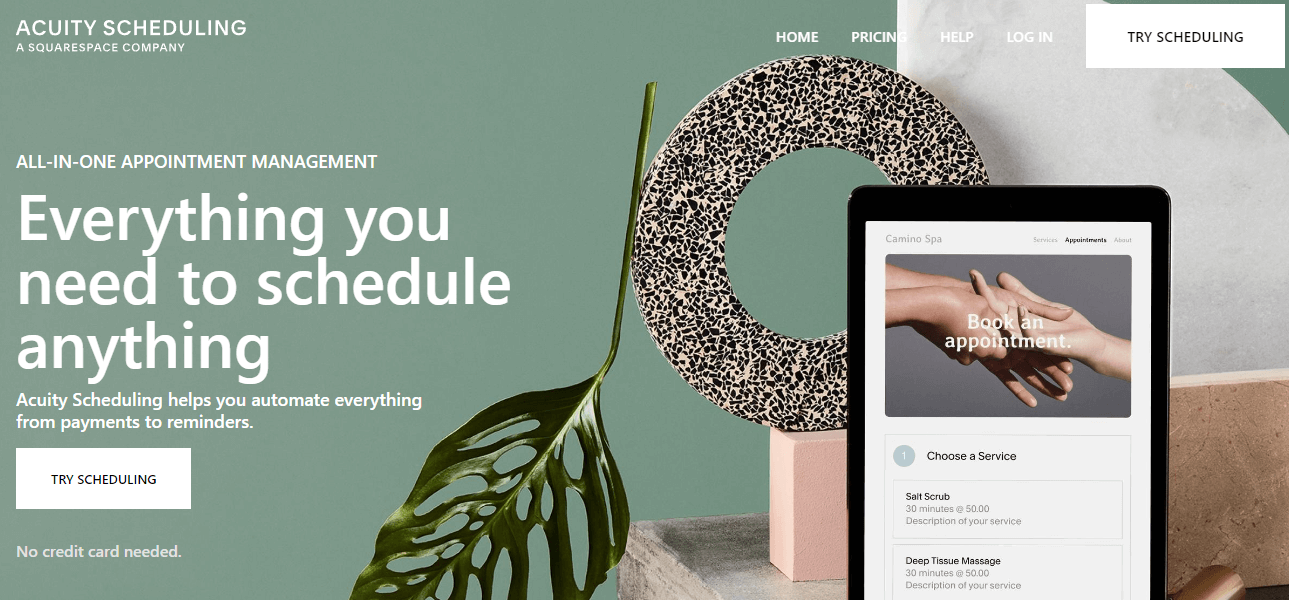 Another great physician scheduling software for hospitals and clinics is Acuity Scheduling. It is highly efficient and comprehensive physician scheduling software for various situations, including hospitals and clinics.
Acuity's standard features are appointment management, contact management, online booking, payment processing, appointment scheduling, client database, mobile access, appointment reminders, and rescheduling.
This physician appointment scheduling software also provides advanced features like time zone conversion, multiple time zones, and customization options. It offers text message reminders, appointment packages that shows appointment confirmation email best practices and templates, and the ability to sell subscriptions, memberships, and gift certificates.
Additionally, the software allows for online payments, alerts and notifications, and multi-location support, making it a powerful physician appointment scheduling software for practices of all sizes.
It is super simple regarding usability. It also is one of the easy-to-learn physician scheduling software out of the bunch.
Features:
Sync with Google Calendar, iCloud, Outlook.com, Exchange, and Office 365
QuickBooks and Freshbooks integration
MailChimp, AWeber support
Pipedrive integration
Text reminders
Multiple time zones
Google Meet, Zoom, and GoToMeeting video conferencing
Stripe, Square, and PayPal payment gateways
Price: $15/Month for Emerging, $25/Month for Growing, $50/Month for Powerhouse plan
Also read our 11 Best Acuity Scheduling alternative for your appointments blog.
Booksy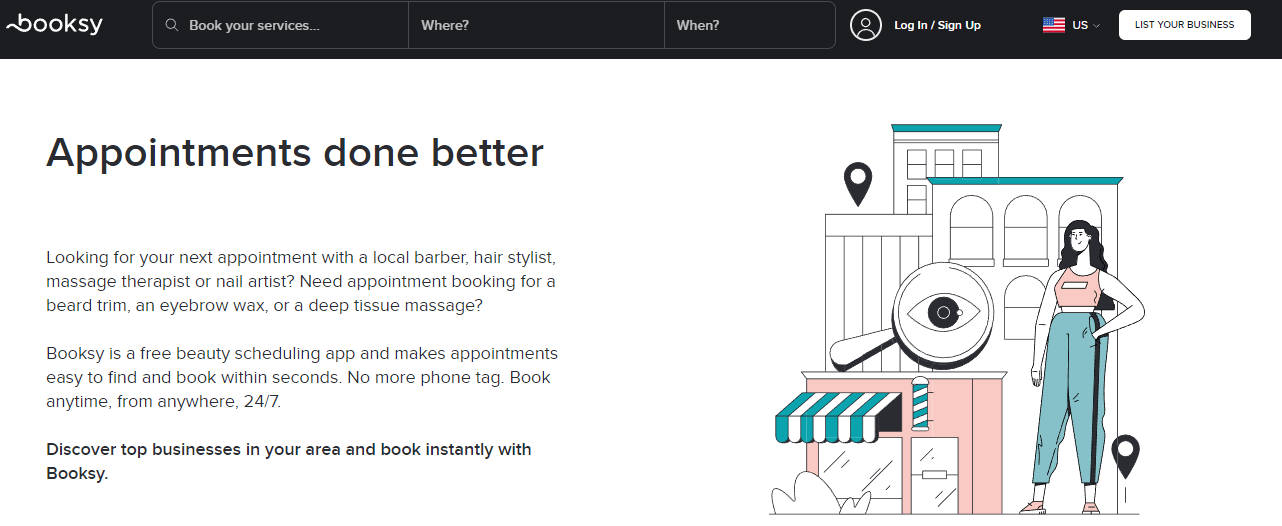 Booksy is a modern-looking automated physician scheduling software that can help medical practices of all sizes. As a premium physician scheduler software, Booksy offers a range of features that can help you save time, reduce costs, and improve patient care.
Some key features of this physician scheduling app include appointment management, client management, customizable forms and reports, real-time data, and mobile access. You can also use features like reminders, performance metrics, and historical reporting to help you stay on top of your scheduling needs.
In addition to its powerful features, Booksy is a highly accessible and user-friendly physician scheduling system. With a mobile app and online portal, you can manage your scheduling needs anywhere, anytime. And with its customizable branding, you can create a scheduling solution tailored to your unique needs and preferences.
Whether you're looking for automated physician scheduling software, Booksy has everything you need to take your scheduling process to the next level.
Features:
Activity dashboard
Database for client management
Portal and profiles of clients
Drag and drop builder
Payroll
Reporting and analytics
Mobile app
POS and payment via mobile app
Price: $29.99/Month per user
+PX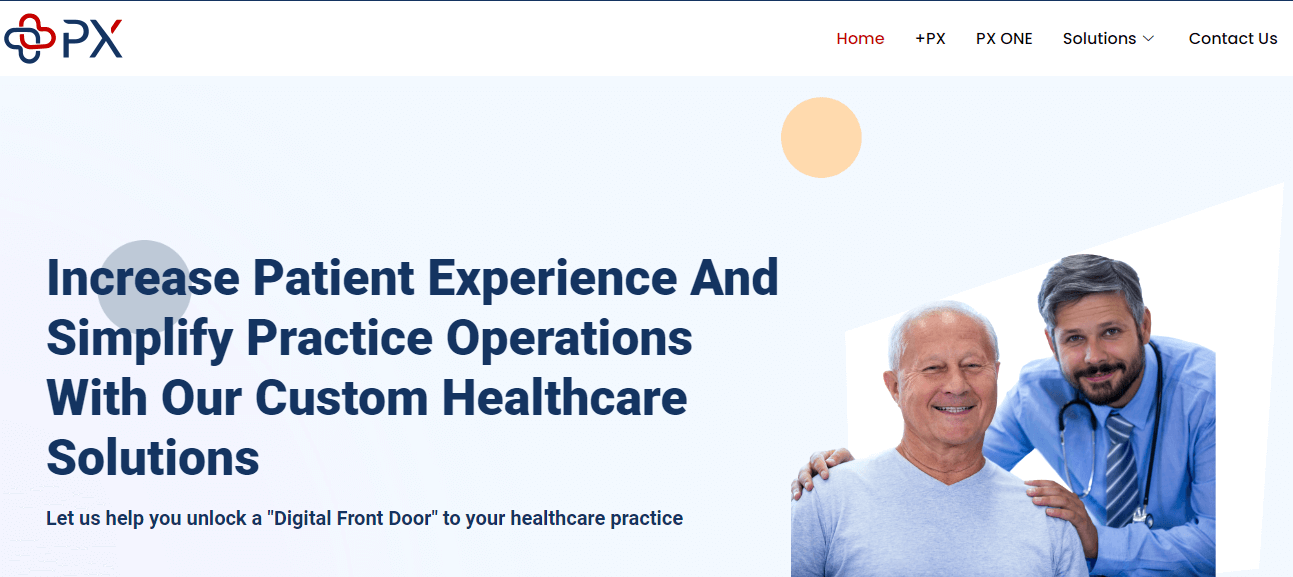 As a medical professional, you do not have time to manage everything manually. You have to trust capable software to minimize all the manual tasks. +PX is one such software. It is effortless and helpful physician scheduling software for hospitals and clinics.
When we say physician scheduling app for hospitals and clinics, we mean it. As seen from the key features, +PX has a comprehensive patient management system, which includes appointment management, patient scheduling, medical history records, and patient communications.
It has a customizable dashboard that allows medical professionals to access and manage patient data easily. The HIPAA-compliant physician scheduler software ensures patient data remains secure and confidential.
The physician on-call scheduling software is also helpful for managing multiple clinics. It supports multi-physician and multi-location practices and has the ability to manage staff schedules, patient eligibility checks, co-pay, and deductible tracking. It also supports chat and messaging, allowing following physician appointment scheduling best practices and creating a basis for effective communication.
Although the physician appointment scheduling software packs an extensive feature set, it is incredibly user-friendly and has a low learning curve. It's intuitive interface and a drag-and-drop feature that allows users to schedule and manage appointments easily.
In conclusion, +PX is must-have software for streamlining appointment scheduling, patient management, and practice management.
Features:
Real Time Reporting
Billing & Invoicing
HIPAA Compliant
Patient Flow Management
Waiting Time Tracking
Patient Records
Customizable Dashboard
Facility Scheduling
Chat / Messaging
Co-Pay & Deductible Tracking
Paper-Based Claims
On Call Scheduling
No-Show Tracking
Health Record Access
Lab Results
Price: Quote based pricing
When I Work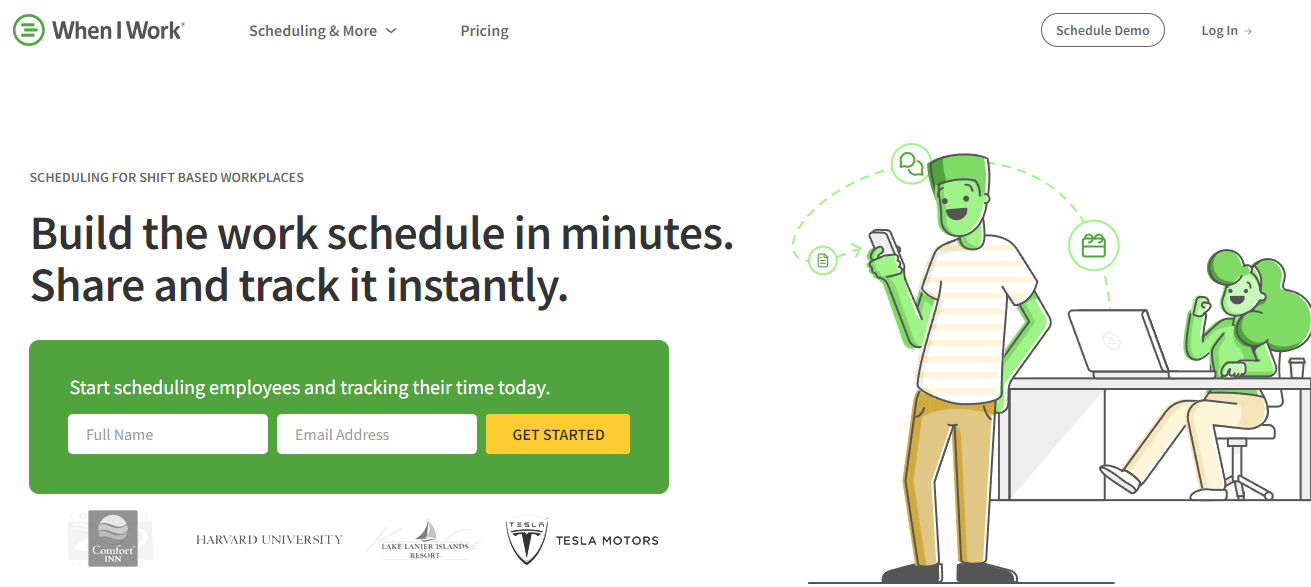 If you are looking for an easy-to-use, feature-rich and specifically tailored physician scheduling software, When I Work is the solution for you.
The software comes with several features that can fall in line with physician scheduling best practices, such as team messaging, availability management, time off management, and a workplace dashboard. Users can also take advantage of document storage, SMS and push notifications, and multifactor authentication (MFA).
For scheduling, When I Work offers standard scheduling, auto-scheduling, schedule builder, schedule templates, and multiple schedule views. The physician scheduling software also offers advanced capabilities such as role permissions, custom shift reports, and API key access.
Regarding usability, this physician scheduling app comes out as a strong candidate. The app includes a rich documentation with step-by-step guide to find out everything you need to know. The team behind the physician scheduler software also created a comprehensive guide for training managers and users to avoid common appointment scheduling mistakes and get familiar with the tool.
Overall, When I Work is a top choice for medical professionals, the advanced capabilities and integrations ensure that it fits your constantly changing and evolving needs.
Features:
SMS and push notifications
Multifactor authentication (MFA)
Schedule builder and templates
Multiple time frame views
Custom Shift Reports
API Key Access
Mobile Clock In/Out with GPS Enforcement
Early Clock In Prevention
Photo Clock In Confirmation
ADP, Gusto, Square payment gateways
Price: $2.50/Month per user for Standard, $6/Month per user for Advanced plan
Appointy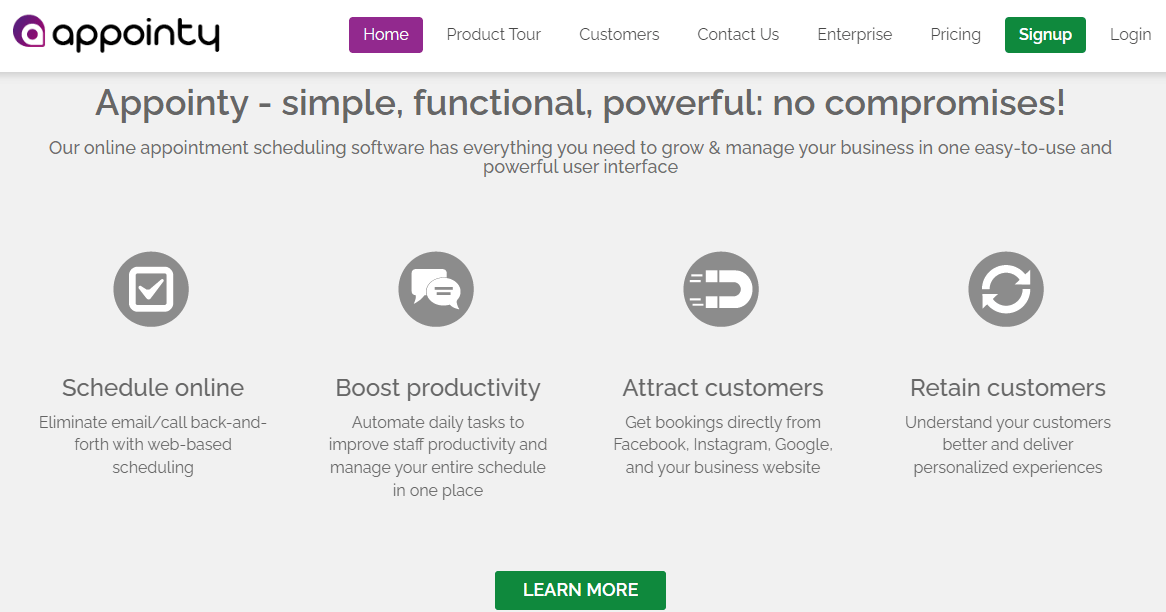 Appointy is specifically designed for business owners in mind. As a physician, you can customize to make it the best free physician scheduling software.
This software focuses more on creating a stable experience than providing extensive features. Regardless, the team has developed many useful features to make it a helpful physician scheduling software.
First of all, it is a solution for beginners, including all the features to build a scheduling solution from ground up. Even if you do not have a website, you get a free subdomain inside Appointy, the only thing you need to do is choose a name for your medical practice.
Another advanced feature is booking directly from Facebook page. Thanks to this feature, you add a separate tab to your Facebook page, where customers can book and make payments without leaving.
You also get Google Analytics and Tag Manager integrations to help you come up with reports and make informed decisions about your business. It is also incredibly easy to use and recuries minimal familiarity to use the app.
Overall, Appointy is an excellent free physician scheduling software to simplify your workload. With its wide range of features and automations, you will save time and focus on what matters most.
Features:
Automatic online scheduling
Multi-location support
Zapier and webhooks
Multiple calendar support (Google, Microsoft, Apple)
Automated notifications
Reporting & statistics
Meeting Room Booking
Recurring Appointments
Stripe, PayPal and Authorize.Net payment gateways
Price: $19.99/Month for Growth, $49.99/Month for Professional, $79.99/Month for Enterprise plan
Choose the best physician scheduler for you!
It is hard to decide, especially when all your business depends on it. We made this list so you can make that decision easier.
Whether you want to and manage all your operations from one place including patient data and employee tracking, or you want to create a straightforward scheduling process, there is physician scheduler software for you.
Go ahead, choose the best physician scheduling software for your needs and start accepting patients.
Sign up for our newsletter
Be the first to know about releases and industry news and insights.
Let's

get started

on something great
Booknetic is a simple yet powerful plugin for accepting online bookings & payments on your WordPress site.