Let me guess. You are starting your coaching website and surfing the web to find out the best free WordPress themes for coaches. Ture or not, your website is at the core of your professional and promotional activities. By the end of this blog, you will know the missing element that your website needs to reach a larger audience and get more clients.

It does not matter if you are a large coaching agency or an individual coach of a certain background, your website is the first place people will find about you on the internet. And, it is your turn to make that first impression look professional, memorable, and clickable. As an instructor, you know how important the presentation is. The same applies to your website as well. Your website needs to appropriately present your coaching services. WordPress themes have a variety of options for different coaching aspects that can help you to build the most fitting website for your service.
How to choose the best WordPress themes for coaches?
WordPress themes give you a strong base to start your website and scale your operations. However, you may have a hard time choosing the best WordPress themes for coaches as each theme has different functionality and design. We will list the things you should consider before a theme.
Business type
The nature of your service is crucial in choosing the theme. You also need to define your goals with your website. Whether it is for selling your services or portfolio-aimed. For example, if you are consulting on women's issues, you need to look for a theme with feminine elements. Or, if you are selling online courses, you need to look for woo-commerce functionality. For nutritionists, or health coaches blog is a must-have feature for a theme.
Fast loading
No one would like to get stuck on the page. Slow loading of pages severely affects website performance resulting in loss of visitors. It also reduces your SEO score. Choose a lightweight theme that meets your needs.
Design
Obviously, design is crucial to keep visitors on-site. Free WordPress themes for coaching websites should offer a simple and clear user interface. Inappropriate colors, small prints, complicated layouts are the design-related reasons that users vote down. There are lots of free WordPress themes for coaching business that come with great design.
Responsive design
In 2020, mobile traffic accounted for 68.1% of all website traffic. This is why you need to pick a theme that automatically adjusts for any browsing devices and screen size. Best free WordPress themes for coaches are responsive by default. And, plus to its responsiveness, a theme should also work for all major browsers.
SEO friendly
Organic SEO is a vital element for any website out there. Best WordPress themes for coaches have built-in SEO-friendly code.
Woocommerce compatibility
Since coaches or consultants can release their services online, the best WordPress themes for coaches need to have Woocommerce integration built-in. It can be paid-session, online courses, ready materials that make consultants' offers.
Customization
No matter how great the default design looks, you may want to personalize it to your taste. Best WordPress themes for coaches are flexible with the color combination, fonts, navigation, layouts, animation.
Plugin support
WordPress plugins help you to extend your website performance with extra functionalities like booking, sales, social media. Best free WordPress themes for coaches come with plugin support.
Booknetic is an appointment booking plugin for the automation of online bookings. Integration with Google Calendar, Zoom, online payment gateways allows you to fully automate your coaching business. With Booknetic's customization features, Booknetic helps you to offer the service clients need. Check Demo to get acquainted with all features.
Price
Premium themes start around $70 and increment. It is a decent investment to present your services at a satisfying level. However, there are lots of free themes that will get you there.
Best free WordPress themes for coaches
Get to know free WordPress themes for coaching business.
1. Blossom Coach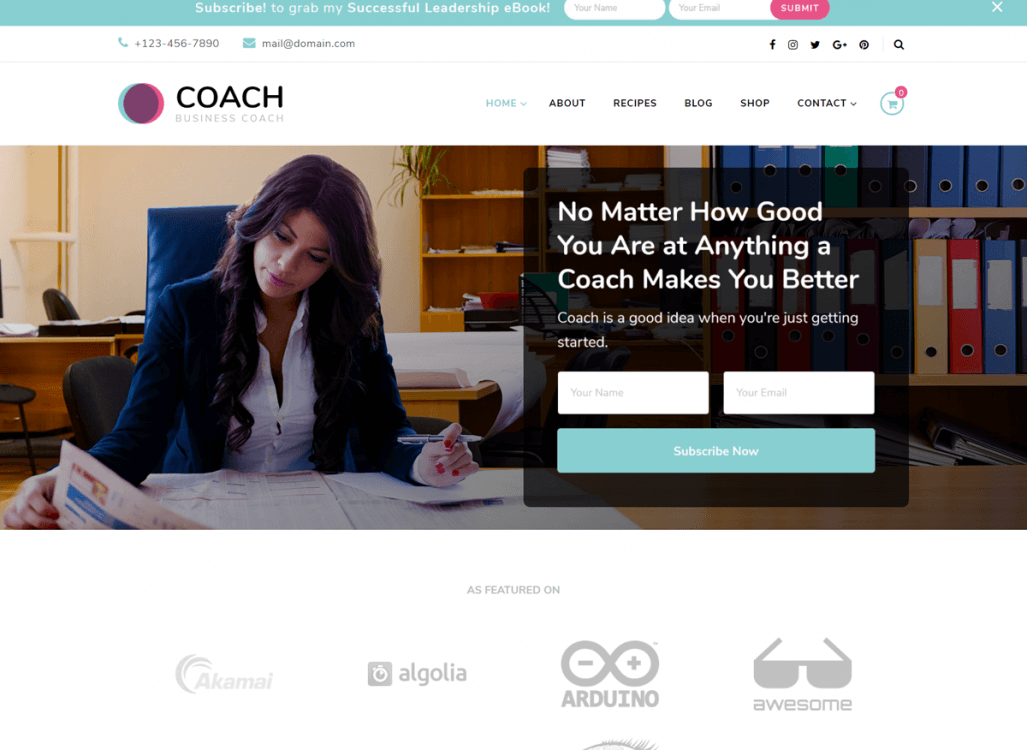 Blossom Coach is a free WordPress theme specifically made for life coaches, mentors, therapists. It has a clean look with modern design elements. The theme comes with various pages for blogs, shopping, contact, services. A full header section helps to accentuate your service. With customization, you can play with colors, fonts, change the layout.
Necessary premium features like custom CSS, RTL support, SEO friendly, social media integration, cross-browser compatibility, portfolio section are available in the free version. With Woocommer integration you can store and sell your services. With enhanced features and customer support, it is one of the best free WordPress themes for coaching business.
2. VW Health Coaching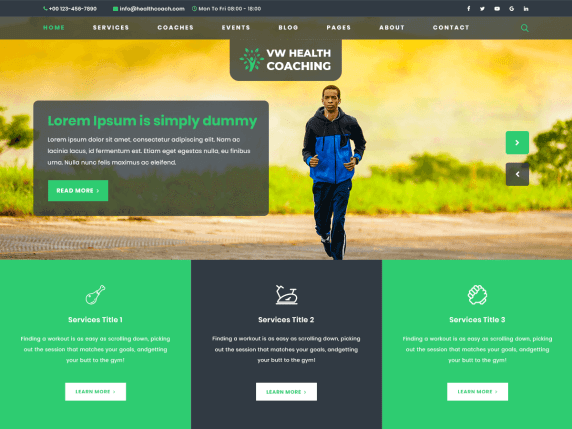 Among the best free WordPress themes for coaches, VW Health WordPress is designed for health consultants, yoga instructors, personal trainers. You can customize the website's look, add brand logo, and use slider settings. SEO-optimized codes and social media integration helps to enlarge your online reach.
Compatibility with the latest WordPress version, cross-browsers, multiple devices makes sure your website will be available for any internet user browsing for your service. You can further build up its features with third-party plugins. You have different page templates and layouts with RTL support. Woocommerce compatibility is another feature that helps to raise direct sales.
3. Online Coach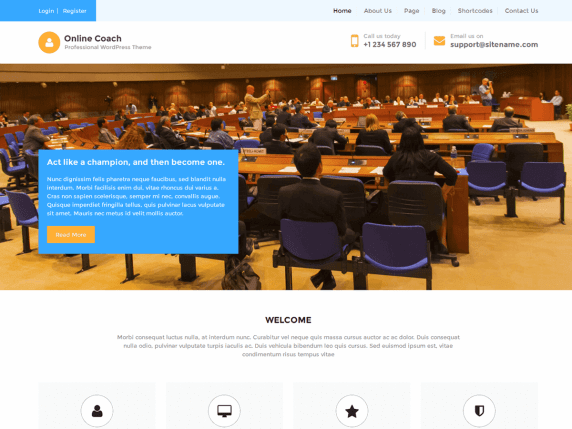 With a simple design and easy-to-use code structure, Online Coach is designed for mentors, life coaches, speakers. The CTA-rich theme allows to include a range of information into a single home page. It comes with sign-up forms, a staff bio section, a blog, and a contact page to fully support your online presence. It is a translation-ready and SEO-optimized theme making you reach larger audiences. By integration with Woocommerce plugins, you can sell courses or services.
You can use a customizer to change colors, upload a header image, edit the background. If your website is sales-oriented, it is one of the best free WordPress themes for coaches to choose from.
4. Ridhi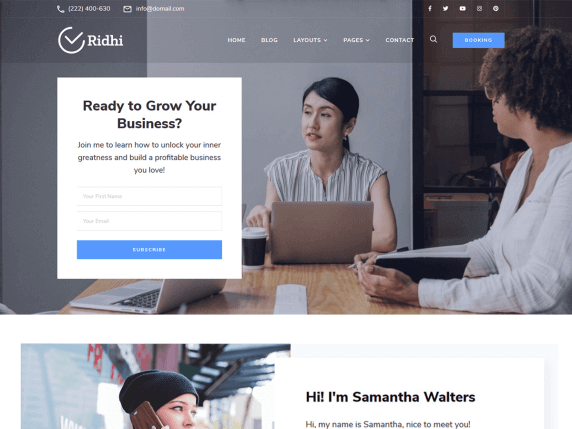 Specifically designed for small businesses, entrepreneurs, mentors, business coaches, Ridhi has a range of business-oriented features. If you do not want to spend hours on building a website, you can use the one-click demo and replace the default writing with your original content. The lead-generation theme has newsletter banners, forms placed on the home page to get to know visitors well and easily add them to your sales funnel.
Speed optimization, SEO friendliness, cross-browser and RTL compatibility, translation readiness are additional features that ensure higher ranks and provide better user experience to visitors. You can get 10 home page sections, portfolio layouts, theme background, 900+ Google fonts.
If long-term customer relations is your on-top priority, Ridhi is one of the best free WordPress themes for coaches. You can upgrade to more advanced features like 20 home page sections, multilingual support, testimonials, speed control with a premium option.
5. Bingle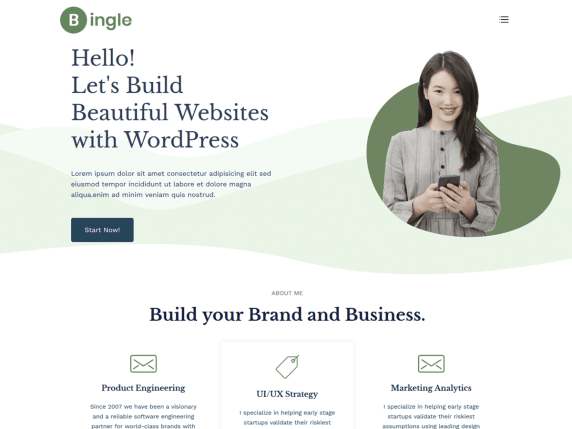 Bingle is a multi-purpose WordPress theme suitable for coaches, mentors, business consultants. Elementar-based theme comes with 10 starter demos where you can import your ready content to the theme. Coming with 3 footer layouts, 10 header layouts, inner page customizer, Bingle gives you the freedom to design the most appropriate website that matches your personal style and business needs. Speed performance, SEO optimization, and responsiveness are all provided within the service.
You can design a single page, event, full website, mobile app, sell online courses with this theme. It is one of the best WordPress themes for coaches, small agencies, technology consultants.
6. Rara Business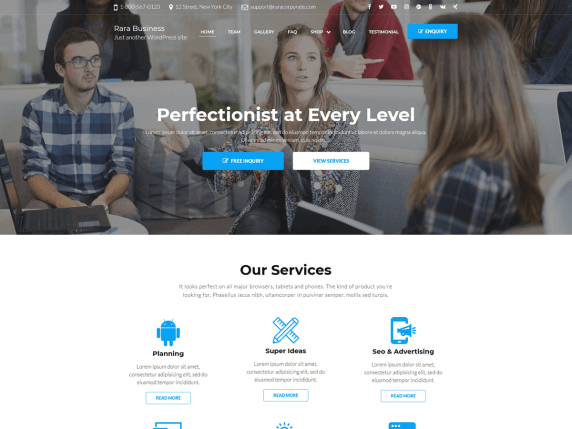 Another multiple-purpose WordPress theme working great for coaches and consultants is Rara Business. Full-width header image and typography are the first things to grab visitors' attention. It has separate pages to showcase services, blogs, portfolio. Home page has 12 sections to introduce who you are and how you run your business. You can upload your logo, embed social media channels, get customer support, add video banner, and import ready website content with a one-click demo.
Multiple CTAs and Woocommerce compatibility helps to generate leads and increase direct sales. Overall, it is one of the best free WordPress themes for coaches to present their services, sell their courses, books, publications.
7. Influencer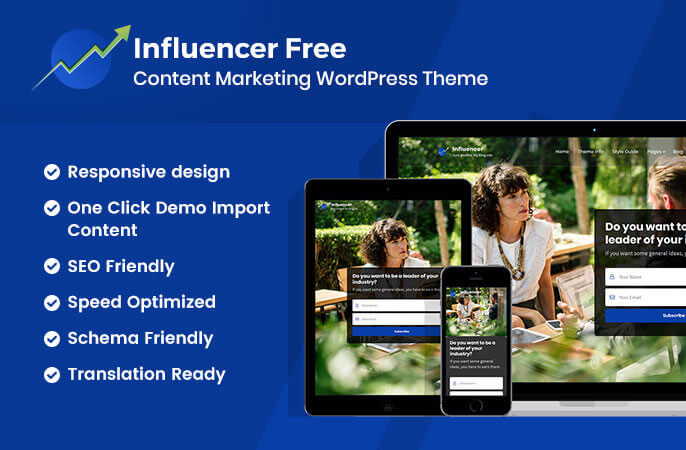 With an intuitive design and a clean codebase, Influencer is developed specifically for influencers and coaches in mind. Compatibility with the latest HTML and CSS versions ensures to have the modern website features.
As part of lead generation, Influencer offers a built-in newsletter and questionnaire forms aiming to build lasting relations with site visitors. A home page comes with multiple sections for an author bio, customer reviews, about me, service allowing you to clearly present your service to visitors. Plus, you can get premium-like features including a separate portfolio page for better presentation, translation readiness. With its code structure and variety of free features, Influencer deserves to be on the list of best free WordPress themes for coaching business.
8. Yogi Lite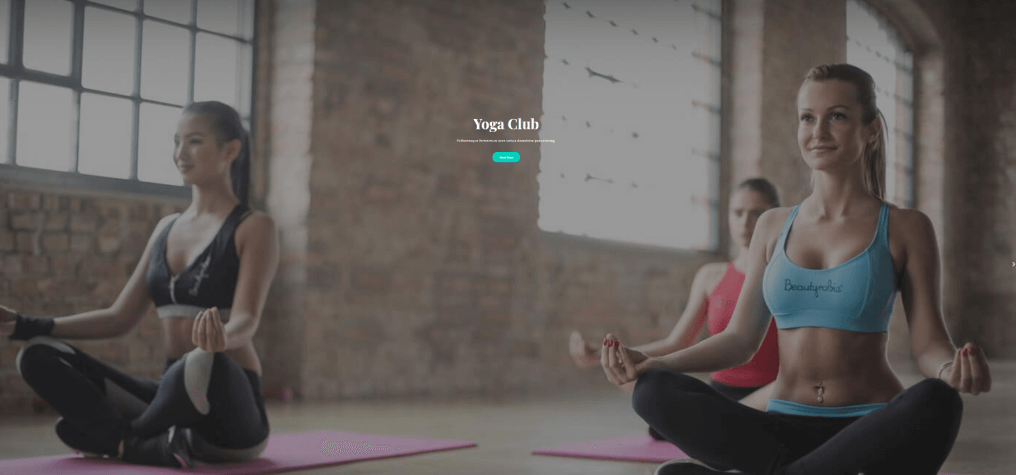 OK, time to relax. Yogi Lite is a free WordPress theme specifically designed for yoga instructors, wellness consultants, meditation, health-related services. Nextgen gallery compatibility can be used to display a portfolio or emphasize services with the help of images. Responsive and cross-browser compatibility ensures that images will look professional on any device.
Four different templates for the appearance of the home page and blog page. Contact forms, testimonials, and social media buttons in the footer make it easy to know you through different channels. HTML5 and CSS3 compatibility help to get better user interaction. With Woocommerce integration, you can make money from your wellness consultancy. Anyone in wellness consultancy can rely on Yogi Lite, as one of the best free WordPress themes for coaches.
Time to choose
Having an appropriate website appearance is mandatory for the further success of your online presence. While the site design should compel the viewer to stay on your site and yearn to learn more, the features should match your business needs to help you gain from instructions. Best free WordPress themes for coaches synthesize quality features and modern design to give the best results. Take a close look at our list and pick the one.